Sex, Sin & 69 – Documentary and Photo Exhibit Touring Across Canada makes a stop in Red Deer
August 14th, 2019 Red Deer, AB
Sex, Sin & 69 – Documentary and Photo Exhibit Touring Across Canada makes a stop in Red Deer
The pop-up exhibition Sex, Sin & 69 will be on display at the Red Deer Museum + Art Gallery (MAG) September 4th to September 15th, 2019. Making its way across Canada on a national tour, Sex, Sin & 69 is a ground-breaking feature length documentary and complementary photo exhibits. Together these pieces explore diverse voices from across Canada's contemporary queer community and shaping LGBTQI2S movements into the future. The documentary will screen at the MAG on September 11th at 7pm.
On June 27 in 1969, Canada enacted landmark legislation to "decriminalize" homosexuality nationwide. 50 years later, there is a need to explore how this history continues to impact our community. Currently on a national tour, Sex, Sin & 69 is a ground-breaking 80-minute documentary and complementary photo exhibit by Egale Canada and SandBay Entertainment with support from Canadian Heritage. Together the documentary and exhibit explore diverse voices from across Canada's contemporary queer community as they relate to Bill C-150 and shaping LGBTQI2S movements into the future. Sex, Sin & 69 has been making its way across Canada with stops in Toronto, Halifax, Montreal, Ottawa, Red Deer and Victoria.
"This summer we are, and should be, acknowledging the 50th anniversary of decriminalization – it marks the first step taken by the Canadian government to support LGBTQI2S people and it has allowed us break down many subsequent barriers," said Helen Kennedy, Executive Director at Egale Canada. "It is also a difficult time because we are all too aware of the work that is ahead of us before we will see a Canada that is equitable for LGBTQI2S people."
The history is far too intricate and ongoing to be captured in an 80-minute documentary. However, Sex, Sin & 69 starts by examining the 1969 'partial' decriminalization of homosexuality — what led up to the passing of this legislation, how it impacted LGBTQI2S communities and movements, and how the LGBTQI2S community in Canada has navigated this as we move forward in the continued fight for equality.
"It was important to us that Sex, Sin & 69 feature diverse voices from Canada's contemporary queer community," said Sarah Fodey, Partner and Filmmaker at SandBay. "Throughout the film and exhibit, folks from across Canada's LGBTQI2S community reflect on the contested history of Bill C-150 in a way that is relatable to our movements today."
The Sex, Sin & 69 documentary (rated PG) was created to resonate with a modern audience – largely removed from 'decrim' and LGBTQI2S Canadian history. A historical and retrospective film, Sex, Sin & 69 is narrated by Fazia Mirza and is told through a wide range of contemporary voices from across Canada's queer community including academics, activists, historians, artists, and community builders. This distance from the factual record of queer Canada provides a critical story driver in Sex, Sin & 69: calling into question dominant discourses about the significance of the decriminalization of homosexuality.
The Sex, Sin & 69 exhibit builds on the documentary by highlighting themes of Social Justice Through Action, Building Queer Community, Identity & Politics, and Sex & Gender Freedom. These themes are brought to life through the collection of assets from activists, artists, community members and folks who have or are currently working on the frontlines of LGBTQI2S rights in Canada.
First Fridays Red Deer –Opening Reception: Join the MAG from 5-8pm on Friday, September 6th for the opening reception of Sex, Sin & 69.
"Sex, Sin & 69" Film Screening – September 11th, 2019 at 7pm at the Red Deer Museum + Art Gallery. Free to attend. Rated PG.
For more details regarding the exhibition Sex, Sin & 69 contact Lorna Johnson, Executive Director [email protected], 403-309-8439.
Yvette Brideau's photography captures small and silent spots throughout Central Alberta.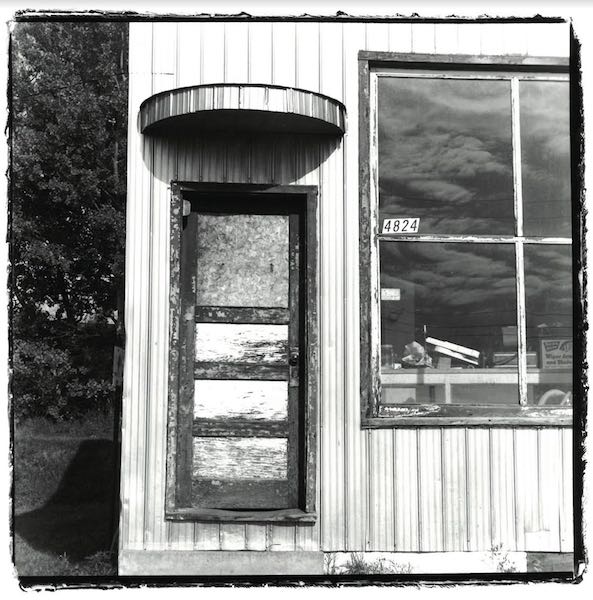 Yvette Brideau,"Tunnie" (Lorne) Nielsen's Welding/Mechanic Shop, Benalto, AB 1995.
Empty windows and empty rooms reflect and echo what once was.
Yvette Brideau's small black and white photographs of abandoned churches and quiet spaces reflect what is left behind by the passage of time. See the photographic exhibit Vestige: Photography by Yvette Brideau on display at the Red Deer Museum + Art Gallery (MAG) December 10, 2021 to February 27, 2022.
This is a hallway exhibit: a small collection of 2-dimensional works.
Vestige /'vestidᴣ/ noun [French from Latin vestigium sole of the foot, footprint, trace.] A mark, trace, or visible sign of something no longer present or in existence; a piece of evidence, an indication; a surviving remnant.
Words from Joanne Gruenberg, Curator of Art: "In Vestige, photographer Yvette Brideau's small scale black and white photographs take us to the quiet spaces that are often overlooked or left behind as people pass by and move on."
About the Artist
Born in northern New Brunswick of Acadian descent, Yvette Brideau attended St. Thomas University in Fredericton, graduating with a degree in French Literature in 1973. She developed a fascination for black and white photography and
studied with Dr. Harry Thompson, a devotee to the zone system of Fred Picker and methods of Ansel Adams. Yvette moved to Red Deer in 1984 and in 1994 Yvette and her husband David More re-located to the hamlet of Benalto and established a wee home and former church studio and a garden named Benhaven. Partners since 1977, Yvette and David's journey together is revealed in the Red Deer MAG book The Greatest Garden.
Red Deer Arts Council's fifth Open Studio Tour takes public behind closed doors in this two-day event!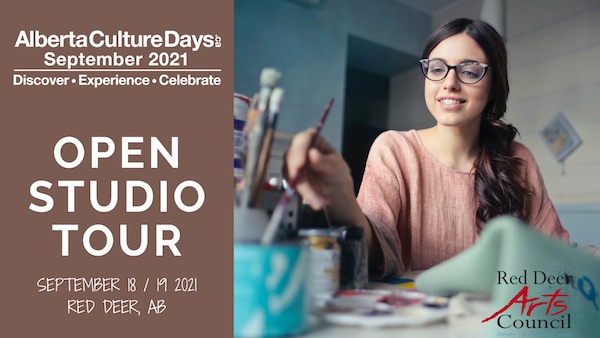 The Red Deer Arts Council is thrilled to announce its fifth Open Studio Tour, taking place September 18th and 19th, 2021! This is a self-guided tour of artist studio spaces and free to the public.
Seven visual artists in five studios bring you this amazing experience. They will open the doors to their private art studios from 10:00 am to 4:00 pm and welcome the public to see the process of creating fine art as each artist demonstrates their process. Fascinating techniques and works of some of Red Deer and area's most recognized artists will be on display for visitors.
This self-guided tour is free of charge. The artists will demonstrate the processes they use, and happily take questions about their media, style, technique, or anything related to art. Artists love to answer questions about their art!
Please Note: some artists are open both days, others open either Saturday or Sunday only. Please check each listing to see which artists are participating on that date or any additional hours they may host.
Download the complete list of artists and addresses HERE.
OPEN STUDIO TOUR LIST OF ARTISTS 2021
Saturday, September 18th Only – 10am to 4pm
Margaret R. Hall
Happy Yak Felt and Maggie's Millinery
48 Good Crescent, Red Deer, AB
[email protected]
403-346-8289
Margaret Hall is a fibre artist and enjoys fabricating whimsical functional items. Working mostly with wool, she enjoys exploring the sculptural properties of wool and combining hand felting and traditional millinery techniques to make unique hats.
Demo: Margaret will demonstrate the difference between blocking a hat with a hand felted hood and an industrially produced felt hood.
*****
Saturday, September 18th and Sunday, September 19th – 10 am to 4 pm
*Please note additional hour changes for individual artists
Susan Delaney
4611 – 48 Street, Red Deer, AB
403-341-9488
www.instagram.com/susandelaneyartist
Susan Delaney is currently making intriguing mixed media portraits and abstract compositions featuring photo image transfer, painting, drawing, collage, and embedded objects. Susan is also well known for her vibrant, expressive landscape paintings.
DEMO: Susan will be demonstrating image transfer and painting, including both deliberate and intuitive artistic decision-making.
*****
View Across the Vallery, Oil, 2021, Carol Lynn Gilchrist
Carol Lynn Gilchrist, ASA
Riverlands Artist Studio/Gallery IS
5123 – 48 Street (Alexander Way), Red Deer, AB
[email protected], 403-596-8890
www.clgilchrist.com
Carol Lynn celebrates the landscape in a range of media and styles. Her work in watercolour, acrylic, and oil are inspired by nature; skies and water worlds that are filled with light, colour and movement that are part real and part imagined. She has just opened her own studio and welcomes everyone to drop in and say hello!
DEMO: Carol Lynn will be working on a WIP (that's art speak for a 'work in progress') and will share her thoughts on composition and offer some plein air painting tips.
Guest Artist at Riverlands
Roberta Murray, ASA
Riverlands Artist Studio/Gallery IS
[email protected], 587-457-1201
www.robertamurray.ca
Roberta Murray is a full-time visual storyteller working in paint, pencil, and pixels. Roberta's work reflects her passions, dreams, and desires regardless of the medium she works in. Birds, wildlife, flora, and the land are all explored in her work. She tries to represent ordinary scenes in a poetic, expressive way to capture a fleeting mood or impression, not to mirror what is easily seen. "I don't paint the landscape. I paint the spirit disguised as a landscape."
*****
Country Sunshine-Watercolour, Marianne Harris
Marianne Harris
Paintwerx Studios
95 Piper Drive, Red Deer, AB
[email protected], 403-350-8106
Additional Hours: Friday 5 pm to 8 pm
Marianne creates 2D artwork in water-based media. Her work is prolific and varied in its subject, style, and size, from photographic realism to more semi-abstract pieces, often inspired from her photography. Her work is available at the A+ Gallery, and is also currently showing until October 11 in the Kiwanis Gallery at the Red Deer Library.
DEMO: Watercolour miniature landscapes demonstrating basic techniques.
Guest Artist at Paintwerx Studios
Winter Returns Again, Amanda Frost
Amanda Frost
Amanda Frost Artwork
95 Piper Drive, Red Deer, AB
[email protected], 403-596-6372
Additional Hours: Friday 5 pm to 8 pm
Amanda's artwork is bold and beautiful, from landscapes, to animals, or a combination of the two. Photographs are often used for reference, but colours from nature's palette are often improvised and enhanced. Her work can be seen at the A+ Gallery in downtown Red Deer.
Marlene Kallstrom-Barritt
Kallstrom Studio
5750 – 41 Street Crescent (West Park), Red Deer, AB
www.kallstromstudio.com, 403-307-3620
www.facebook.com/kallstromstudio
***Shortened Hours for Sunday, 1 pm to 4 pm
Marlene explores several water-based art mediums to create mixed media art that combines abstraction and realism. In other words, she plays with an alarmingly growing amount of art supplies to make paintings of familiar subjects done differently. Lately, she's been waxing watercolours and working on a new series.
DEMO: explaining waxed watercolours (and showing off latest art supply purchase)
The downloadable list of artists is available HERE.
The Red Deer Arts Council is a publicly funded, non-profit organization with a mandate to support all art forms and raise the profile of the arts in the community.