With the world's population soaring to 10 billion people, Robert Saik explores how farmers "might" be able to feed everyone
Earth's population will be close to 10 billion people by 2050. So consider this line from Robert Saik's "FOOD 5.0″…
"In order to feed the world, we have to grow 10,000 years' worth of food in the next 30 years, which means farmers worldwide must increase their food production by 60 to 70%."
If that doesn't wake you up… probably nothing can. How will farmers do it? Even with today's technology this it going to take an overwhelming international effort to avoid a mass-starvation.
His first book, "The Agriculture Manifesto – Ten Key Drivers That Will Shape Agriculture in the Next Decade" was a 2014 Best of Amazon Books and this TEDx Talk "Will Agriculture be Allowed to Feed 9 Billion People?" has been viewed over 150,000 times.
In a time where more and more people (in the first world) are demanding to know where their food is coming from and how food is being produced, "FOOD 5.0 How We Feed The Future" should be required reading.
Robert Saik in the Author Hour Podcast:
"Food 5.0, How We Feed the Future was written for an urban audience, more so than a farming audience. My mental image of who I wrote the book for was a 33-year-old mom in a city with some kids who is working and raising her kids."
"We live in a time now where all the technologies are smashing together–they are converging on the farm to reshape the farm in ways that urban people just simply do not understand. It is happening at a breakneck pace and farms are far more sophisticated, far more advanced than people realize."
" you're going to realize and learn a lot about food production and a lot about marketing."
In FOOD 5.0 How We Feed The Future, Robert Saik examines "how technology convergence is reshaping the farm and the consumer".
Robert has been hailed as an agriculture futurist with unparalleled insight into where the industry is headed. He's worked with a variety of agriculturalists from Nigeria's Minister of Agriculture to Bill Gates.
He is the CEO of DOT Farm Solutions, which supports farmers adopting autonomous robotics in broad acre agriculture. He's also the founder of AG Viser Pro, a platform that Uber-izes knowledge and wisdom, enabling farmers to instantaneously connect with agriculture experts worldwide.
Robert is a passionate keynote speaker and is executive producer of the Know Ideas Media a science based multi-media company addressing issues such as GMO's and their use in food production. (Know Ideas Media is a partner in Todayville.com/Agriculture)
He serves on several Boards, is an advisor to Olds College, is a member of the A100 (Alberta Tech Entrepreneur Network), a student of Strategic Coach and Singularity University and a member of Abundance 360. As a partner in Perigro Venture Partners he participates in early stage technology investments.
He been recognized for agriculture leadership by the Alberta Institute of Agrologists (Provincial Distinguished Agrologist of the Year) and in 2016 was awarded Canadian Agri-Marketer of the Year by the Canadian Agri-Marketing Association.
Here's a story produced by Todayville on Robert's visit to Seattle to brief Bill Gates.
USAID head urges crisis-hit Sri Lanka to tackle corruption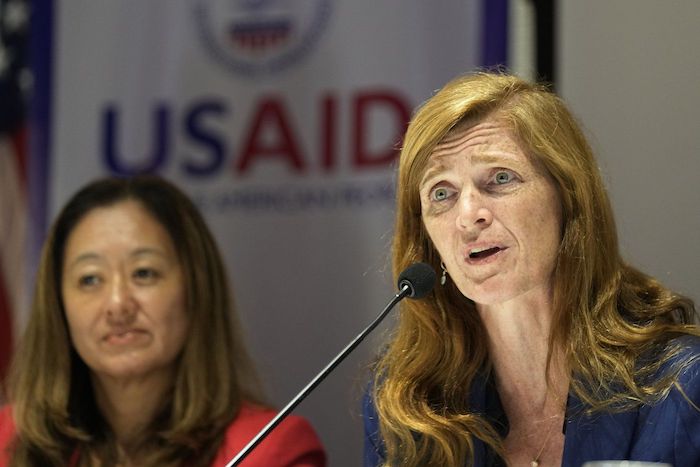 By Krishan Francis in Colombo
COLOMBO, Sri Lanka (AP) — A visiting U.S. diplomat on Sunday urged Sri Lankan authorities to tackle corruption and introduce governance reforms alongside efforts to uplift the country's economy as a way out of its worst crisis in recent memory.
USAID Administrator Samantha Power told reporters that such moves will increase international and local trust in the government's intentions.
"Assistance alone would not put an end to this country's woes," Power said. "I stressed to the Sri Lankan president in my meeting earlier today that political reforms and political accountability must go hand in hand with economic reforms and economic accountability."
She said that international investor confidence will increase as the government tackles corruption and proceeds with long sought governance reforms. "As citizens see the government visibly following through on the commitment to bring about meaningful change, that in turn increases societal support for the tough economic reforms ahead," she said.
During her two-day visit, Power announced a total of $60 million in aid to Sri Lanka. After meetings with farmers' representatives at a rice field in Ja-Ela, outside of the capital Colombo on Saturday, she announced $40 million to buy agrochemicals in time for the next cultivation season.
Agricultural yields dropped by more than half for the past two cultivation seasons because authorities had banned the imports of chemical fertilizers ostensibly to promote organic farming. She said that according to the World Food Program, more than 6 million people — nearly 30% of Sri Lanka's population — are currently facing food insecurity and require humanitarian assistance.
On Sunday, she said an additional $20 million will be given to provide emergency humanitarian assistance to vulnerable families.
Sri Lanka has faced its worst crisis after it defaulted on foreign loans, causing shortages of essentials like fuel, medicines and some food items.
It has reached a preliminary agreement with the International Monetary Fund for a $2.9 billion package to be disbursed over four years. However, the program hinges on Sri Lanka's international creditors giving assurances on loan restructuring. Sri Lanka's total foreign debt is more than $51 billion of which $28 billion must be repaid by 2027.
Power said that the U.S. stands ready to assist with debt restructuring and reiterated that it is imperative that China, one of the island nation's bigger creditors, cooperate in this endeavor.
Infrastructure like a seaport, airport and a network of highways built with Chinese funding did not earn revenue and are partly blamed for the country's woes.
Saskatchewan warns that federal employees testing farmers' dugouts for nitrogen levels could be arrested for trespassing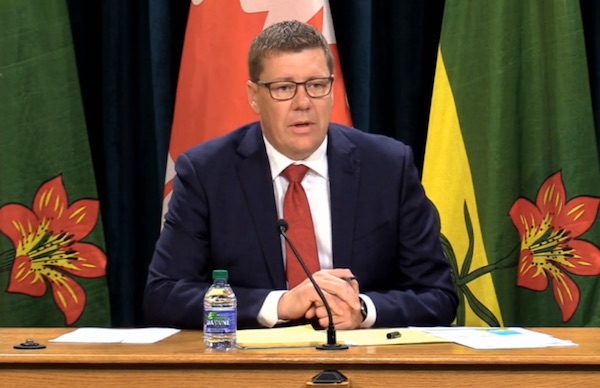 An escalating battle between Western Premiers and the federal government over restricting the use of nitrogen fertilizer has reached a new level of tension.
Premier Scott Moe
is demanding to know why federal employees of Environment Minister Steven Guilbeault are "trespassing" on private land in Saskatchewan. Moe signed a strongly worded letter (below) from Jeremy Cockrill, the Minister in charge of Saskatchewan's Water Security Agency.
The letter dated Sunday, August 21st states farmers from at least 3 different communities in southern Saskatchewan have reported Government of Canada employees in marked vehicles have been trespassing on their private land. When confronted, the agents have admitted to testing dugouts for nitrogen levels.
On his official Facebook page Moe says
"We are demanding an explanation from federal Minister Guilbeault on why his department is trespassing on private land without the owners' permission to take water samples from dugouts."
We are demanding an explanation from federal Minister
Steven Guilbeault
on why his department is trespassing on private land without the owners' permission to take water samples from dugouts. We have received reports of this occurring in several places throughout our province.
We have advised the federal government that this should cease immediately and if it does not, it will be considered a violation of the province's Trespass Act.
Violating this Act is serious, including a maximum penalty of $25,000 for repeat offenders, up to six months imprisonment following a conviction for a first or subsequent trespass offence, and a $200,000 maximum penalty for any corporation that counsels and/or aids in the commission of that offence.
Anyone wishing to report an incident of trespassing on private land can call 1-855-559-5502
Saskatchewan Premier Scott Moe has already
flatly said no thanks
to a federal initiative to restrict the use of fertilizer by up to 30%.
Premier Moe is not alone in this battle with Ottawa. Alberta's Premier Jason Kenney has already weighed in on the nitrogen restrictions in this strongly worded video shared two weeks ago.
Ottawa's planned attack on fertilizer will hurt our farmers.

It needs to stop.

Less fertilizer means less food.

Europe shut in about 50% of its fertilizer production.

Canada should not repeat the same mistake. pic.twitter.com/BztOiC1CPd

— Jason Kenney 🇺🇦 (@jkenney) July 27, 2022
The letter from Saskatchewan comes on the heals of another strongly worded letter from Manitoba's Agriculture Minister Heather Stefanson. In Stephanson's letter to Prime Minister Trudeau, she says this is no time to cut food supply and raise the price of groceries.