School in the time of COVID. A parent perspective
This post is from a parent in Red Deer.  He gave his permission to post this on Todayville and added "we haven't talked to the teachers about any of this yet. These were the accounts our kids had and the anxiety the felt after that first day."
Am I the only parent heart broken for our children?
Despite our two youngest girls having an "ok" first day of school, some of the stories all three shared were downright disturbing and saddening.
Picking up (our youngest), she was happy and bubbly, maybe just relieved the first day was over. Listening to her explain the "new normal" school rules was sad for sure. Probably more for the dad listening but unable to change how she was, in order to talk to a friend or anyone even in her class, required to wear her mask. Ok, fine…it's what society has deemed a necessary inconvenience. Then, at lunch, she was told to keep their eyes down on their lunch and if they were to talk to a friend keep looking downward at the lunch table to speak, don't look at your friend. She definitely did not enjoy wearing the mask but all and all she did ok.
(Our middle child), for the most part, had a great day. Just happy to be back in a social setting and willing to do whatever it takes. Her stories were different only to the fact that one teacher allowed them to remove their masks a bit more than the other, still tons of new rules, but she was still happy to be there learning.
(Our oldest) and her age group is where I start to get really concerned. Her day sounded more like a "break your will" first day of prison than covid precautions. She said her class was not allowed to remove their masks in class, even when seated separately facing forward. There was an expectation of no talking what so ever and their lunch was to be eaten in silence. She was so uncomfortable and awkward that we found her lunch had not been touched. The kid chose not to eat out of embarrassment. Apparently at recess, when the kids could finally take off their mask and were so excited to see their friends they've been missing, the school yard warden gave them shit for talking several times and deemed they weren't "distancing" enough. They were then forced to wear their masks for the rest of recess.
I didn't get as many details as (my wife) maybe, but what I heard broke my heart for all kids trying to have a life right now. Some of these little inconveniences seem to be more about obedience than safety and I just can't see it working.
For the record, I am not ragging on teachers or school admin for trying to comply with what has to be an impossible to navigate policy. Nor am I trying to down play the fear and anxiety some parents have over just sending their kid to school. But, how long can this last? Will there be a sharp increase of high school kids dropping out to avoid the control? It just feels like to me, despite all good intention, our kid's spirit and individuality will suffer the most.
Active COVID cases continue to fall – Mike York update for January 17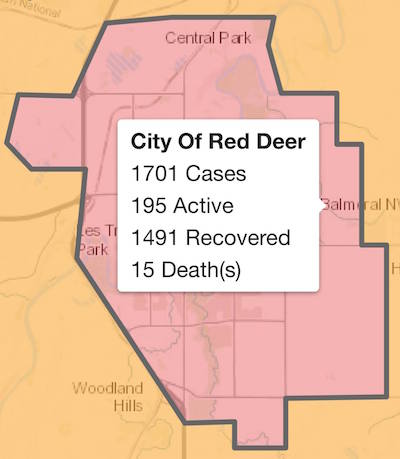 January 17 COVID update – noticeable drop of 15 active reported cases in Red Deer to 195 after 10 new cases but 23 recoveries. Unfortunately, there were also 2 new deaths bringing the total to 15.
Active cases are down from 1,209 to 1,182, with 8,209 cases to date. Hospitalizations sit at 65, down four, and ICU admissions are up one to 12. All ICU admissions in Central Zone are at Red Deer Regional Hospital.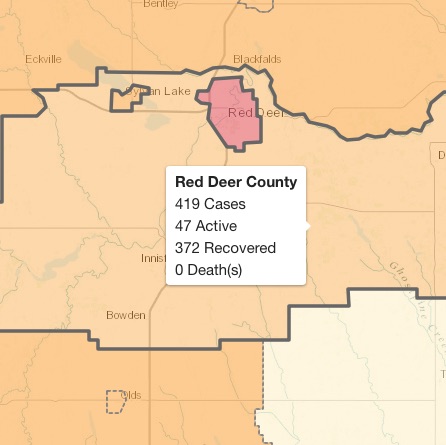 Red Deer County has 47 active cases, up one, the town of Sylvan Lake has 35, even with Saturday, and Olds has 27.
Lacombe County has 28 active cases, down one, and the city of Lacombe has 21, down six.
Ponoka County has 381, an increase of 15, though most cases there are in Maskwacis.
Clearwater County, which includes Rocky Mountain House, has 86 active cases, up two, and Brazeau County, which includes Drayton Valley, has 33, up two.
Mountain View County has 24, up two, Kneehill County has seven, down two, and County of Stettler has six, the same as yesterday.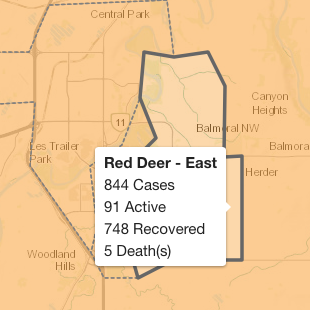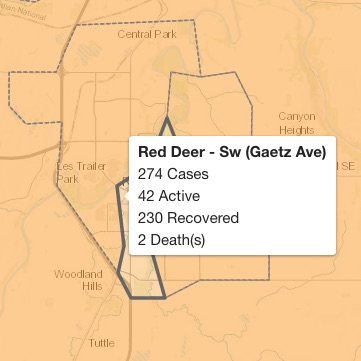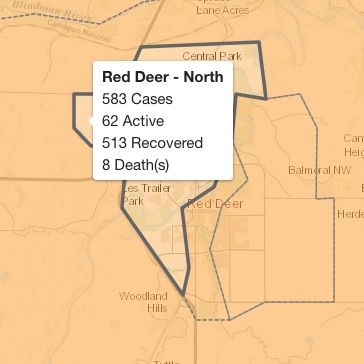 Meanwhile in Red Deer, the eastern section of town has dipped below 100 active cases for the first time in many weeks.  Cases are falling in Red Deer North (62) and in the South West as well (42).
COVID cases falling! Below 200 in Red Deer and under 1200 in all of Central Alberta – Mike York Update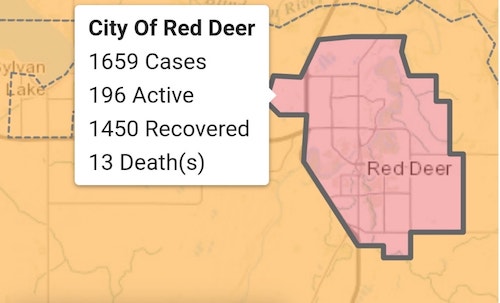 Thursday January 14th, 2021 Covid-19 update from AHS goes like this.
In the Central Zone, 64 new cases and 186 new recoveries.
Wow!
The total active cases has dropped dramatically since yesterday from 1275 to 1152 in our region.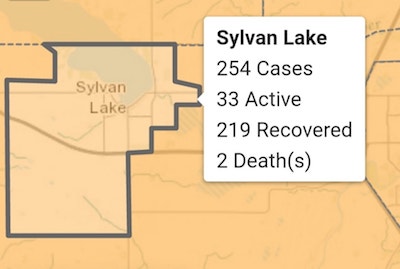 There are now 75 people in hospitals which is 5 fewer than yesterday's total. 15 of these people are in ICU. Sad to report 1 additional death in the zone since yesterday to bring that total to 65 to date.
Red Deer had some positive numbers also.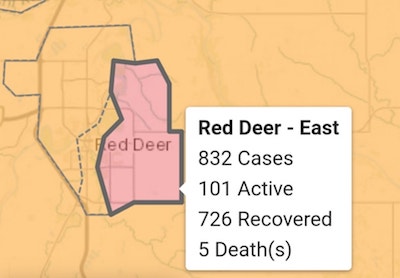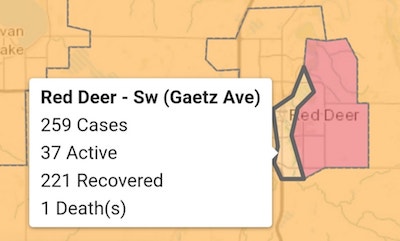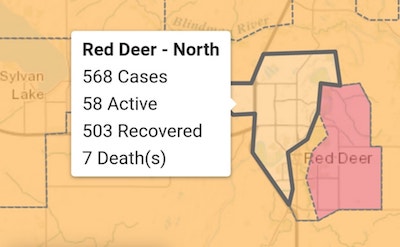 Just 13 new positive cases and 33 recoveries. Thus our active cases has decreased by 20 to just 196 at this time.
Very promising outlook going forward, it seems our current health measures are working, way to go people.
Cheers for now.