Saskatchewan RCMP Major Crimes seeks information about death of Red Deer, AB woman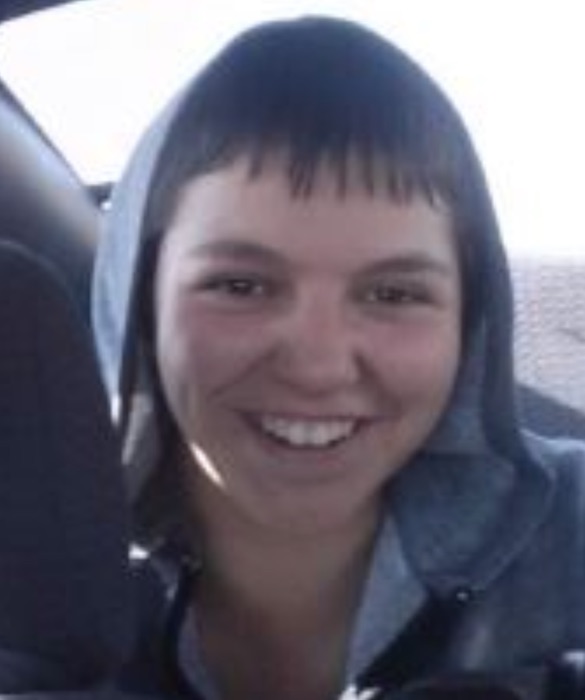 From Saskatchewan RCMP
In February 2021, Watrous RCMP received a report of human remains located in the RM of Morris, SK. Saskatchewan RCMP Major Crimes took carriage of the investigation. Background is available here: https://www.rcmp-grc.gc.ca/en/news/2021/rcmp-major-crime-unit-south-human-remains-located-watrous-detachment-area.
Since then, Major Crimes has been working to identify the remains, in conjunction with Watrous RCMP, Saskatchewan RCMP's Forensic Identification Services, Police Dog Services, the Saskatchewan Coroners Service and a forensic anthropologist.
In March 2022, investigators enlisted the assistance of a forensic genealogy firm. Using DNA, the experts were able to determine the deceased individual had closely-related relatives in the Red Deer, AB area.
Further investigation by Major Crimes determined the remains likely belonged to a woman from Red Deer, who was last seen there in January 2021. She had not been reported missing to police. In January 2023, Saskatchewan RCMP Forensic Identification Services conclusively determined the human remains belong to Kassandra Jorquera, who would have been 27 years old at the time of her death. Her family has been notified.
Major Crimes continues to investigate the circumstances of Kassandra's death, which investigators have determined is suspicious in nature.
Investigators want to speak with anyone who has information about Kassandra's death, or has knowledge of her activities in and around January 2021. Kassandra often frequented Red Deer and is known to have been there in January 2021. She also visited Grande Prairie periodically. Her connection to Saskatchewan is unknown at this time.
Investigators are releasing her photo and description to help advance this investigation. Kassandra was approximately 5'5" and 110 lbs. She had shoulder-length dark brown hair and brown eyes. Her family describes her as having "beautiful" teeth.
"Since February 2021, we've worked diligently to identify the person located deceased. We now know it's Kassandra. Our work continues: we need to retrace all of her steps in January 2021," says Sgt. Ryan Boogaard from Saskatchewan RCMP Major Crimes. "I know it was some time ago, but we're asking people – particularly in the Red Deer area – to take a look at her picture and think back. Did you know Kassandra? Did you speak with her or encounter her in the weeks after New Year's 2021? You may have a piece of the puzzle that will help us determine what happened to her in those final weeks of her life."
Anyone with information on Kassandra's death, or whereabouts in and around January 2021, should contact Saskatchewan RCMP Major Crimes at 639-625-4535. Information can also be submitted anonymously by contacting Saskatchewan Crime Stoppers at 1-800-222-TIPS (8477) or www.saskcrimestoppers.com.
Records detail Jeffrey Epstein's last days and prison system's scramble after his suicide
This photo shows one page of more than 4,000 pages of documents that the Associated Press obtained on Thursday, June 1, 2023, related to Jeffrey Epstein's jail suicide from the federal Bureau of Prisons under the Freedom of Information Act. (Federal Bureau of Prisons via AP)
By Jake Offenhartz And Michael R. Sisak in New York
NEW YORK (AP) — Nearly four years after Jeffrey Epstein's death, thousands of pages of records obtained by The Associated Press are shedding new light on the financier's time behind bars and a frantic response by federal corrections officials to his death.
The documents, including emails between jail officials and psychological evaluations, offer a fuller picture of Epstein as he awaited trial on sex trafficking charges at the now-shuttered Metropolitan Correctional Center.
Epstein killed himself at the federal jail in 2019. In the days and weeks that followed, corrections officials struggled to explain how such a high-profile detainee had managed to take his own life.
The records show how he was moved from the jail's general population to specialized housing and how he was briefly on suicide watch before being downgraded to psychiatric observation — his status when he killed himself.
Here are takeaways from the more than 4,000 pages of documents:
AN AGITATED INMATE
Epstein was anxious and despondent during much of his time in jail, prompting concern from jail guards and psychological experts about his mental state. He complained often about jail life, including poor sleep, constipation, the color of his uniform and his treatment by other detainees. The noise from a broken toilet in his cell left him sitting in the corner with his hands over his ears, according to one psychologist.
But despite his litany of complaints, Epstein insisted that he wouldn't take his own life. Even after he was discovered on his cell's floor with a strip of bedsheet around his neck and placed on suicide watch for 31 hours, he denied that he was contemplating suicide, which he said was against his Jewish religion. Plus, he added, he was a "coward" who didn't like pain.
"He described having a 'wonderful life,''" a psychological evaluation stated. "He said 'it would be crazy' to take his life. He furthered, 'I would not do that to myself.'"
A LETTER TO ANOTHER SEX OFFENDER
Among the new revelations was an attempt by Epstein to reach out to another notorious pedophile: Larry Nassar, the USA Gymnastics team doctor convicted of sexually abusing scores of young athletes.
A letter sent by Epstein to Nassar was found returned to sender in the jail's mail room weeks after Epstein's death. "It appeared he mailed it out and it was returned back to him," the investigator who found the letter told a corrections official by email. "I am not sure if I should open it or should we hand it over to anyone?"
The letter itself wasn't included among the documents turned over to the AP, which also don't indicate what became of the letter.
FINAL PHONE CALL
Epstein was found dead on the morning of Aug. 10, 2019. He had hanged himself with a bedsheet, according to the medical examiner. Hours earlier, he appears to have successfully deceived jail guards one last time by telling them he wanted to talk on the phone to his mother, who had been dead for 15 years.
A correctional officer escorted Epstein to a shower area at around 7 p.m., where he was permitted to make a 15 minute "social call." Reports later indicated that he had phoned his 30-year-old girlfriend.
Weeks after his death, a jail warden questioned why an employee had failed to follow policy by allowing Epstein to make an unmonitored call.
MUDDLED RESPONSE
The documents shed light on the lurching response by the Bureau of Prisons in the critical hours of Epstein's death.
In one email, a prosecutor involved in Epstein's criminal case complained to an agency lawyer that it was "frankly unbelievable" that the agency was issuing public news releases "before telling us basic information so that we can relay it to his attorneys who can relay it to his family."
In another email, the prosecutor wrote of getting "increasingly frantic calls" from Epstein's lawyers.
"We need to know as soon as possible the very basic facts, such as time and cause of death at the absolute minimum," wrote the prosecutor, whose name was redacted. "It has now been hours since this was reported publicly," the prosecutor wrote, adding that it was "extraordinary frustrating to have to tell them that we have less information than the press."
As news outlets began reporting details of the agency's failings, a high-ranking federal prison official made the apparently baseless suggestion to the agency's director that reporters must have been paying jail employees for information.
THE AFTERMATH
Epstein's death touched off a wave of anger toward the Bureau of Prisons and questions about the operation of the Metropolitan Correctional Center. In an internal memo, officials blamed "seriously reduced staffing levels, improper or lack of training, and follow up and oversight" for the death.
Two guards who were supposed to be watching Epstein on the night of his death were found to have falsified records, admitting to napping and browsing the internet instead of monitoring the high-profile inmate.
The documents show other efforts to implement reforms, such as requiring jail captains to review footage ensuring that guards are completing their rounds every 30 minutes. Jail officials said they would allow psychological experts to play a larger role in determining how housing decisions are made.
In some respects, the officials may have overcorrected. A memo sent to the Bureau of Prisons director shortly after Epstein's death warned that wardens were "defaulting to leaving inmates on suicide watch longer than the psychologists have advised."
By 2021, the Metropolitan Correctional Center had closed down. An investigation by the Justice Department's inspector general is still ongoing.
___
For more AP coverage of Jeffrey Epstein: https://apnews.com/hub/jeffrey-epstein
Quebec firm to pay $10M to avoid charges over bribes promised to Philippine officials
Philippine Interior Secretary Ronaldo Puno attends a news conference Thursday, Nov. 26, 2009, at Manila's Quezon City in the Philippines. A Quebec forensics company promised millions of dollars in bribes to officials in the Philippines, including a cabinet minister and his brother, as it sought lucrative police contracts, according to a statement of facts attached to a deal the firm struck to avoid prosecution in Canada. THE CANADIAN PRESS/AP/Bullit Marquez
By Darryl Greer
A Quebec forensics company promised millions of dollars in bribes to officials in the Philippines, including a cabinet minister and his brother, as it sought lucrative police contracts, according to a statement of facts attached to a deal the firm struck to avoid prosecution in Canada.
The deal between Ultra Electronics Forensic Technology Inc. and federal prosecutors has been approved by the Superior Court of Quebec and is Canada's second remediation agreement — also known as deferred prosecution — since the mechanism was added to the Criminal Code in 2018 to address corporate wrongdoing.
The other deal was struck between Quebec provincial prosecutors and SNC-Lavalin over corruption in its contract to refurbish the Jacques Cartier Bridge in Montreal.
The latest agreement requires the Montreal firm to pay about $10.5 million, co-operate with investigations, report to prosecutors about implementing the agreement and abide by an anti-bribery and corruption program overseen by an external auditor hired at the firm's expense.
The court approved the deal with Ultra back in February but it wasn't until May 16 that it released the ruling, a copy of which was obtained by The Canadian Press.
The firm sells ballistic identification technology to police forces all over the world to help solve gun crimes.
"We welcome the approval of the remediation agreement related to a historical contract in the Philippines," Ultra CEO Alvaro Venegas said in an email.
"No one implicated is involved with the company today. The conduct in question occurred more than five years ago, and we have since put in place significantly enhanced management, culture, systems and controls."
In September 2022, the RCMP announced fraud and bribery charges under the Corruption of Foreign Public Officials Act against the company and four of its executives, Robert Walsh, Philip Timothy Heaney, René Bélanger and Michael McLean. The cases against the individual executives continue, while the charges against the company are stayed and will be withdrawn if it complies with the remediation agreement.
The agreed statement of facts attached to the court's ruling says two senior officers at the company were involved in a scheme from 2006 to 2018 to bribe Philippine officials to secure $17 million in contracts with the Philippines National Police.
Commission payments used to mask the bribery totalled just under $4.4 million, although the "exact amounts of bribes paid, and to whom they were paid, is not available in the evidence," the statement of facts says.
But it says the bribes were "earmarked and promised to" public officials and others with "sufficient gravitas to exert some influence" on those involved in the procurement process.
The statement of facts says the public officials included Ronaldo Puno, who was secretary of the Department of Interior and Local Government from 2006 to 2010. It says Puno "was a key figure in securing the budget and ensuring the procurement of" the company's flagship ballistics identification product.
The statement says that beginning in September 2006 through January 2018, two senior company officers enlisted the help of "commercial agent" Rizalino Espino in Manila to help lock down the police contracts.
Espino's company, Concept Dynamics Enterprises, was to receive commissions on a percentage of any contracts, of which "a substantial portion" was intended as bribes.
The statement says Espino enlisted a pair of local businessmen to help with the bribery scheme because of their "close relationship" to Puno and his brother Rodolpho Puno, who was chairman of the Philippines Road Board at the time.
Espino, the statement says, agreed to "work his contacts to get the Puno brothers on board," while another associate who was a retired police general worked contacts within the police force, including the chief and its logistic director.
The statement says that over 12 years, Espino and an associate were given "ample latitude" by Ultra Electronics' employees "to work on the payment of bribes to public officials and their entourage."
But the scheme unravelled after Ultra's president received a letter in April 2018 from a former sales agent alleging corrupt practices.
By then, Ultra had been acquired by a new parent firm in the United Kingdom, and the company co-operated extensively with the RCMP and British authorities during the bribery investigation and also fired the employees involved in 2019.
The Public Prosecution Service of Canada issued a statement about the remediation agreement on May 17, saying Ultra would have to pay a penalty of $6,593,178, a surcharge of $659,318 and forfeit $3,296,589 "for the advantage obtained from the wrongful conduct."
It says the Superior Court of Quebec "anticipates that approving this agreement will encourage corporations to voluntarily disclose wrongdoing."
Prosecution service guidelines say that remediation agreements "are used in appropriate cases as an alternative to prosecution and serve as a means to hold organizations accountable while putting in place measures to mitigate the risk of future offences and harm to third parties, such as employees, victims and investors."
Remediation agreements can only be struck with organizations and are not available to individual criminal defendants.
Their use was at the heart of a political storm in 2019 when former attorney general Jody Wilson-Raybould said she was improperly pressured by Prime Minister Justin Trudeau to allow a remediation agreement to be negotiated with SNC-Lavalin related to corrupt dealings in Libya. She refused to do so and attributed her subsequent demotion to this, which Trudeau denied.
A separate deal between Quebec prosecutors and SNC-Lavalin in 2022 saw the firm agree to pay $29.6 million over three years to settle criminal bribery charges stemming from bridge work in Montreal.
In the case of Ultra Electronics, the federal prosecution service struck the deal with the company shortly after the fraud and bribery charges were announced and the court approved the agreement in February.
The release of the ruling and statement of facts was held up as several details required redactions because of the ongoing cases against Walsh, Heaney, Bélanger and McLean.
Lawyers for Heaney, Bélanger and McLean did not respond to requests for comment.
Eric Sutton, who represents company founder Walsh, said in an email that "given that charges are pending, my client has nothing to say at this time."
This report by The Canadian Press was first published May 31, 2023.