Safe Harbour Society says it has only 2 weeks to find new location for temporary homeless shelter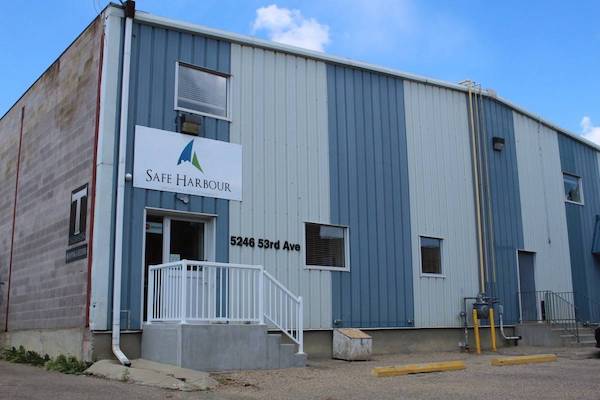 From the Safe Harbour Society
Safe Harbour is committed to building a safe and healthy community.
On behalf of the Board of Directors and the Safe Harbour Crew, we would like to thank all of you who have reached out to us to express your concern and support in regards to council's decision on March 29th to not extend our zoning for our temporary shelter.
To all of the families and friends of the people we serve, we want to tell you that we are committed to serving your loved ones and we will continue to do all we can to honour that commitment although our capacity may be severely reduced.
Although council has given us two months to find a new location, in reality we only have two weeks. There are no areas zoned in the city for this type of service and that process generally takes six weeks. Right now we are trying to identify possible locations that will meet the public health and COVID requirements and is inclusive of the needs of the community. We will present our findings to the city for their initial approval as soon as possible.
"For the past 19 years Safe Harbour Society has been helping to build a safe and healthy community. The overwhelming complex health needs of the people we serve, combined with the continual temporary facilities we've had to operate from, challenge us tremendously," said Kath Hoffman, executive director of the Safe Harbour Society.
Our shelter serves the mothers, fathers, brothers, sisters and sons and daughters of our community who are experiencing homelessness and struggling with addiction. The Mustard Seed welcomes people who are sober and starting their journey of recovery. The two of us work very closely together to ensure we have enough shelter spaces to meet the needs of the community.
"As a physician with over 30 years of experience, I have seen that the people we serve in the shelter have complex medical and mental health needs," said Dr. Michael Mulholland Physician, lead of Safe Harbour's Medically Supported Detox Program. "Moving shelter services away from where this population is will not help us to address these complex social and medical issues or make an easy transition to stable housing and recovery."
During the day our skilled staff operate a drop-inprogram where they connect people with housing, health services, medically supported detox, referrals to addiction treatment, a cultural connection and outreach support. Our guests also have access to bathrooms, showers, storage and laundry space.
Currently the program:
Welcomes 100 to 120 people per day on average for drop-in services. If we are unsuccessful in finding another location the drop-inservice will no longer exist
· On average every day 15 to 20 people utilize the day-sleep program. If we are unsuccessful in our attempts to find a new location this program will no longer exist
· The shelter offers overnight sleep to 50 to 60 people. If we are unsuccessful in our attempt, we may be able to accommodate eight to 10 people in our main building
· Our main building has space that was converted to a detox isolation space during COVID. We would have to send those people to the hospital for that care in order to use the space to shelter eight to 10people.
· The shelter program has a 24-hour two-member Paladin security team that will be lost to the community.
"We understand completely the frustrations of the downtown business community and it is important for us to explain the impact that moving this shelter will have not only on the people we serve but on the general community," said Buzz Vander Vliet, board chair at Safe Harbour Society.
If we can't find another location:
· There will be 100 to 120 people a day on average with no where else to be and 50 people on average every night who won't have a safe place to sleep.
· There will be an increased demand on our critical RCMP and EMS services
· There will be no bathrooms in the area.
· There will be no place for concerned citizens to refer people to that they see in distress.
· There will be no harbour of safety for the people on the street who are in danger or fleeing a violent situation and we can't reassure families that their loved ones are being watched over and connected to resources and medical support.
"The Central Albertans who use our services and their families remind us daily how much more there is to do. Our local medical professionals and partner agencies are as committed as we are to improving the health and housing outcomes for this highly stigmatized group of people", said Colleen Markus, program manager of shelter services at Safe Harbour.
In closing, we want to especially thank the teams in the Ministry of Community Social Services, the Ministry of Seniors and Housing, Alberta Health Services, and our local medical professionals. They all have been steadfast in their efforts to ensure support of this shelter service not only for the people we serve at Safe Harbour, but for all Albertans who have loved ones lost in the world of addiction.
Gateway Christian students experience life changing trip to Dominican
Students from Gateway Christian School recently returned from a life changing trip to the Dominican Republic as part of their Intercultural Studies program.
Gateway's 2023 Co-Impact Team, which included 13 students, two staff and an additional chaperone, spent 10 days on the ground over Spring Break connecting with other students and families to help to build a basketball court and physical education area at the Pena de Horeb school via Edudeo Ministries. Pena de Horeb is primarily a Haitian school, serving the students and families amidst a very poor Haitian neighbourhood. In the months leading up to the trip, Gateway students raised funds to help assist with the build. Gateway also spent a significant amount of time building relationships with and learning from students and staff at their partner school, El Colegio Cristiano Reformado Los Guandules.
"Service is an important part of the culture at Gateway, and this experience was the culmination of that. The Co-Impact Team fundraised not only for their trip, but also for funds to go towards the school we worked on in the Dominican Republic," said Geannette Lehman, Principal at Gateway Christian School. "The trip was part of their Intercultural Students class, which they receive credit for. We met weekly at 7:15 a.m. to complete aspects of the Intercultural Studies course, bond as a team, and prepare craft lessons and activities to teach students at the school in the Dominican. It was not only a great experience in the Dominican, but in preparing for the trip as a team as well."Alexa Huska, Gabe Gillies, and Kate Stober were three students who were part of the Co-Impact Team.
"It was really neat to connect with my fellow Grade 12 students," said Alexa. "We've gone to school together since we were kids, so to have an experience like this together was really special. We were able to connect on a deeper level."
Gabe added it was humbling to see how grateful those in the Dominican Republic were, even for the smallest things. "They have little compared to us, and they are just so happy," he said. "They are grateful for the things they have and they don't stress about the small stuff."
Kate agreed. "They have so much joy, and nothing mattered other than just being with one another," she said.
Ultimately, it was a great experience for all involved.
"The kids were greatly impacted by seeing the world through another lens. Our lens is so different from those around the world," said Geannette, adding she is proud of her students. "They gave up their Spring Break, immersed themselves in another culture, and represented Gateway and Red Deer Public so well."
To read Gateway's Co-Impact Team's blog of their experiences, click here.
Run/Hike for Red Deer Hospice Takes Place This Sunday at Bower Ponds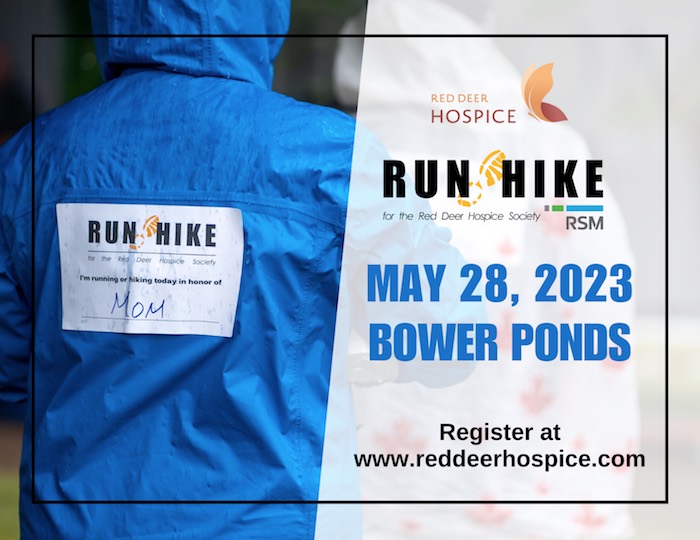 News release from Red Deer Hospice
Red Deer Hospice's 16th Annual Run/Hike event, presented by RSM Red Deer, will take place at Bower Ponds this Sunday.
Registration will open at 9:00am and those wishing to run, walk or stroll the 1km, 3kms or 5 kms will start at 10:00am. A light breakfast and hot, post-race lunch, provided by Mr. Mikes, will be available to participants and live entertainment will be provided by the band Fun House in the amphitheater.
"This will be a day to remember and reflect, while taking in the natural beauty of the trails in and around Bower Ponds," said Jerri Taylor, Executive Director of Red Deer Hospice. "As our main fundraiser for the year, our goal is to raise $38,000." Proceeds and donations will go towards Red Deer Hospice's mission of supporting a peaceful and compassionate end-of-life journey.
Online registration on the Red Deer Hospice website will close at 3:00pm on Friday, May 26, 2023. Those interested in participating in this year's Run/Hike event who have not registered can do so in person on Sunday morning at Bower Ponds.
For more information, visit www.reddeerhospice.com.