Covid means 'little' brothers and 'little' sisters need Big help!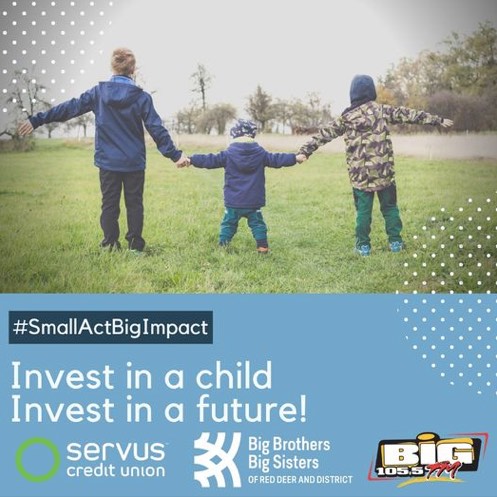 SERVUS CREDIT UNION PARTNERS WITH BIG BROTHERS BIG SISTERS IN LAUNCHING THE "Small Act BIG Impact" CAMPAIGN
The recent cancellation of the Big Brothers Big Sisters (BBBS) annual BIG Pursuit fundraising event, due to COVID-19 has had a tremendous financial impact on the agency.
In response to this challenge BBBS has partnered with our corporate friends at Servus Credit Union and BIG 105.fm to launch the "Small Act BIG Impact campaign".
This campaign is an online crowdfunding initiative that will run until April 30 with a fundraising goal of $50,000. The strength of a crowdfunding campaign is dependent upon the social engagement reach of all our supporters through their contacts, such as email and social media platforms. As an incentive to donors to make their donation go further, Servus Credit Union will match all donations to a maximum of $20,000.
"We're extremely proud of our long-standing relationship with Big Brothers Big Sisters of Red Deer & Area and it only makes sense for us to step up and help them more at a time like this." explained Rob Stryker, VP Corporate Services. "We know that children have experienced a lot of challenges throughout the pandemic, and mentorship through this program is perhaps even more important than ever."
Donations can be made by visiting www.youthhq.ca and clicking the campaign link, or go directly to the campaign at https://give.charityvillage.com/bbbsreddeer
Donations can also be received by mail or dropped off directly at Youth HQ/Big Brothers Big Sisters of Red Deer and District (4633 49th Street, Red Deer, AB T4N1T4)
Big Brothers Big Sisters of Red Deer seeks to ensure children and youth are connected to caring mentors. We aim to cultivate authentic, caring relationships and opportunities that create a sense of belonging and encourage and support a child in achieving their potential.
There are 279 mentoring matches in Red Deer with more than 60 children on a waiting list looking for a caring mentor. These challenging times have dramatically impacted the agency's ability to fundraise in support of the children and families we serve.
Big Brothers Big Sisters are adapting to these present circumstances by supporting existing matches in maintaining connections with their mentees, and by expanding efforts to recruit additional adult mentors. We need your help. Our funds are not adequate to meet the present need.
Today is the day! Someone supporting the Child Advocacy Centre is going to win a huge jackpot!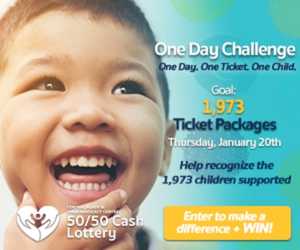 Or Call 587-272-2233
Phone lines will be open from 9:00AM – 7:30PM MTN
#CACACOneDayChallenge UPDATE
We are currently at
603
ticket packages
Goal: 1,973
We're almost half way there! Will you help us reach our goal!? Let's make a big push this afternoon to meet the challenge for these kiddos!
Thank you to those who took the Challenge and have already purchased!
Phone lines have been busy, so feel free to leave a voicemail with your details and we'll get back to you as soon as we can!
Visit our lottery website for more information, an updated list of winning numbers, and the full list of lottery rules! Or call 587-272-2233.
*Please Note: Phone lines are operated by CAC Staff. Open from 9AM – 4PM Monday – Friday. Please leave a voicemail with a detailed message & we will return your call as soon as possible.
Lottery License #578482
Skills that maintain healthy relationships
Learn ways to improve your relationship skills using the acronym DEARMAN and GIVE, from the DBT therapy perspective, presented by a PCN Mental Health Counselor, Lana.
Interpersonal Effectiveness Skills
Learning to get along with others while also asserting your own needs is essential to healthy relationships. It can be difficult to balance your own needs and the needs of others. How can you get what you need without being aggressive or neglecting of the needs of others? There are three sets of skills you will learn to help achieve this goal: objective effectiveness, relationship effectiveness, and self-respect effectiveness.