Covid means 'little' brothers and 'little' sisters need Big help!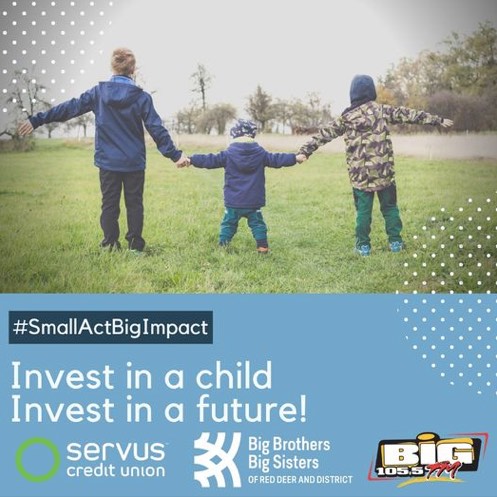 SERVUS CREDIT UNION PARTNERS WITH BIG BROTHERS BIG SISTERS IN LAUNCHING THE "Small Act BIG Impact" CAMPAIGN
The recent cancellation of the Big Brothers Big Sisters (BBBS) annual BIG Pursuit fundraising event, due to COVID-19 has had a tremendous financial impact on the agency.
In response to this challenge BBBS has partnered with our corporate friends at Servus Credit Union and BIG 105.fm to launch the "Small Act BIG Impact campaign".
This campaign is an online crowdfunding initiative that will run until April 30 with a fundraising goal of $50,000. The strength of a crowdfunding campaign is dependent upon the social engagement reach of all our supporters through their contacts, such as email and social media platforms. As an incentive to donors to make their donation go further, Servus Credit Union will match all donations to a maximum of $20,000.
"We're extremely proud of our long-standing relationship with Big Brothers Big Sisters of Red Deer & Area and it only makes sense for us to step up and help them more at a time like this." explained Rob Stryker, VP Corporate Services. "We know that children have experienced a lot of challenges throughout the pandemic, and mentorship through this program is perhaps even more important than ever."
Donations can be made by visiting www.youthhq.ca and clicking the campaign link, or go directly to the campaign at https://give.charityvillage.com/bbbsreddeer
Donations can also be received by mail or dropped off directly at Youth HQ/Big Brothers Big Sisters of Red Deer and District (4633 49th Street, Red Deer, AB T4N1T4)
Big Brothers Big Sisters of Red Deer seeks to ensure children and youth are connected to caring mentors. We aim to cultivate authentic, caring relationships and opportunities that create a sense of belonging and encourage and support a child in achieving their potential.
There are 279 mentoring matches in Red Deer with more than 60 children on a waiting list looking for a caring mentor. These challenging times have dramatically impacted the agency's ability to fundraise in support of the children and families we serve.
Big Brothers Big Sisters are adapting to these present circumstances by supporting existing matches in maintaining connections with their mentees, and by expanding efforts to recruit additional adult mentors. We need your help. Our funds are not adequate to meet the present need.
Run/Hike for Red Deer Hospice Takes Place This Sunday at Bower Ponds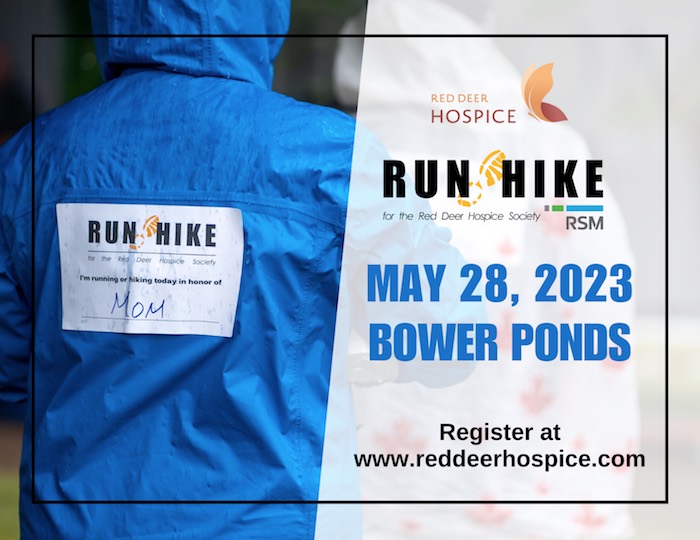 News release from Red Deer Hospice
Red Deer Hospice's 16th Annual Run/Hike event, presented by RSM Red Deer, will take place at Bower Ponds this Sunday.
Registration will open at 9:00am and those wishing to run, walk or stroll the 1km, 3kms or 5 kms will start at 10:00am. A light breakfast and hot, post-race lunch, provided by Mr. Mikes, will be available to participants and live entertainment will be provided by the band Fun House in the amphitheater.
"This will be a day to remember and reflect, while taking in the natural beauty of the trails in and around Bower Ponds," said Jerri Taylor, Executive Director of Red Deer Hospice. "As our main fundraiser for the year, our goal is to raise $38,000." Proceeds and donations will go towards Red Deer Hospice's mission of supporting a peaceful and compassionate end-of-life journey.
Online registration on the Red Deer Hospice website will close at 3:00pm on Friday, May 26, 2023. Those interested in participating in this year's Run/Hike event who have not registered can do so in person on Sunday morning at Bower Ponds.
For more information, visit www.reddeerhospice.com.
Glendale Skatepark now includes on-site mentors from the YMCA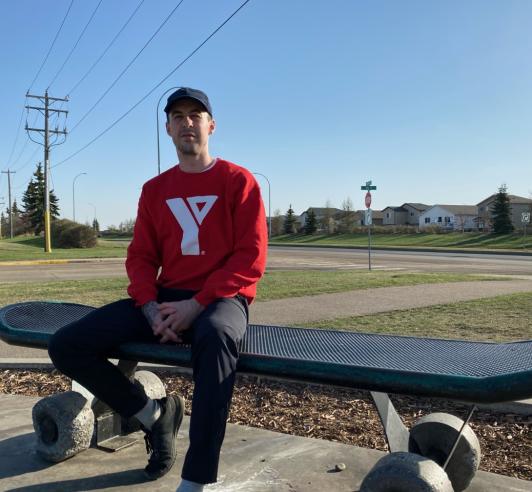 With consistent fair weather and summer right around the corner, skateboarders, BMXers and scooter-riders are excited to return to Red Deer's skateparks. Glendale Skatepark in Red Deer's north side is a popular choice, and has the added benefit of being staffed by Northside Community Centre YMCA's skatepark mentors.
The Y's skatepark mentors are experienced skaters and BMX bikers who want to help make sure the skatepark remains a safe and inclusive space for kids and youth of all skill levels and backgrounds to enjoy. They hang out at the park every day after school and on weekends, offering encouragement, teaching skills and providing water and snacks to anyone who wants it.
"The biggest part [for me] is just creating community engagement and connections," one skatepark mentor explained in a video on the YMCA's social media channels, adding, "engaging with the kids, teaching what you love to do… just being a positive influence on everyone and trying to make this place a better community."
The YMCA Skatepark Mentorship program was piloted in 2021, and after a successful season Border Paving Ltd. stepped up with a generous donation to make it possible for the Y to staff the park all summer long in 2022 and 2023. The Y has since expanded the program, and will have skatepark mentors and youth workers at the Red Deer Skatepark downtown in addition to Glendale, starting in July.
Youth can find YMCA skatepark mentors at the Glendale Skatepark Monday to Friday from 2:30 to 7:30pm, and noon–4pm on Saturdays and Sundays until the end of June. Starting in July, their weekday hours will expand to 12:30 to 8:30pm and they can be found at the Red Deer Skatepark downtown from 10am to 1pm every Tuesday, Wednesday and Thursday.
Visit ymcanab.ca/skatepark to meet Northside Community Centre YMCA's skatepark mentors for 2023 and learn more about youth programs at the Y.