Covid means 'little' brothers and 'little' sisters need Big help!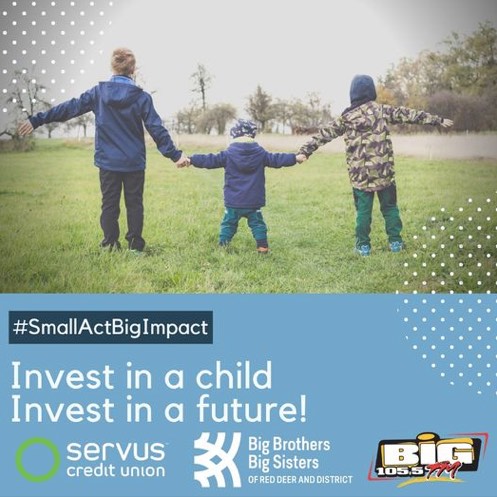 SERVUS CREDIT UNION PARTNERS WITH BIG BROTHERS BIG SISTERS IN LAUNCHING THE "Small Act BIG Impact" CAMPAIGN
The recent cancellation of the Big Brothers Big Sisters (BBBS) annual BIG Pursuit fundraising event, due to COVID-19 has had a tremendous financial impact on the agency.
In response to this challenge BBBS has partnered with our corporate friends at Servus Credit Union and BIG 105.fm to launch the "Small Act BIG Impact campaign".
This campaign is an online crowdfunding initiative that will run until April 30 with a fundraising goal of $50,000. The strength of a crowdfunding campaign is dependent upon the social engagement reach of all our supporters through their contacts, such as email and social media platforms. As an incentive to donors to make their donation go further, Servus Credit Union will match all donations to a maximum of $20,000.
"We're extremely proud of our long-standing relationship with Big Brothers Big Sisters of Red Deer & Area and it only makes sense for us to step up and help them more at a time like this." explained Rob Stryker, VP Corporate Services. "We know that children have experienced a lot of challenges throughout the pandemic, and mentorship through this program is perhaps even more important than ever."
Donations can be made by visiting www.youthhq.ca and clicking the campaign link, or go directly to the campaign at https://give.charityvillage.com/bbbsreddeer
Donations can also be received by mail or dropped off directly at Youth HQ/Big Brothers Big Sisters of Red Deer and District (4633 49th Street, Red Deer, AB T4N1T4)
Big Brothers Big Sisters of Red Deer seeks to ensure children and youth are connected to caring mentors. We aim to cultivate authentic, caring relationships and opportunities that create a sense of belonging and encourage and support a child in achieving their potential.
There are 279 mentoring matches in Red Deer with more than 60 children on a waiting list looking for a caring mentor.  These challenging times have dramatically impacted the agency's ability to fundraise in support of the children and families we serve.
Big Brothers Big Sisters are adapting to these present circumstances by supporting existing matches in maintaining connections with their mentees, and by expanding efforts to recruit additional adult mentors.  We need your help. Our funds are not adequate to meet the present need.
Michener North lands selected as location for future multi-use aquatic facility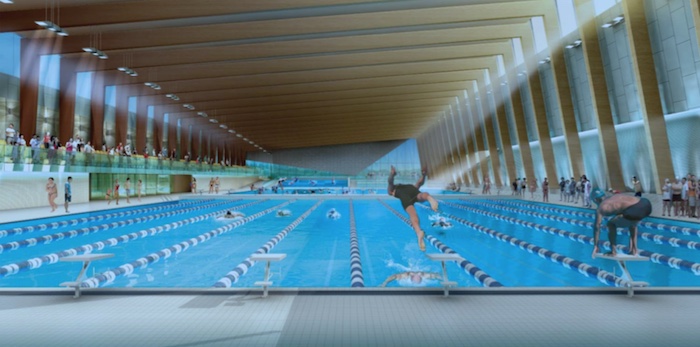 Monday, Red Deer City Council approved Michener North lands as the site for a future multi-use aquatic facility in Red Deer.
"Confirming the location for the future multi-use aquatic centre is an important milestone in bringing the vision for a new aquatics centre to life for our community," said Mayor Tara Veer. "Both Rotary Recreation Park and Michener North lands were viable options for the facility; however, selecting Michener North lands offers us the opportunity to re-imagine a future for this significant piece of Red Deer's history and create a legacy for future generations. Today's decision also signals Council's desire to move forward with this long anticipated project when economic conditions are more favourable in the future, as well as our commitment to re-purpose Michener North for public purposes and park expansion. One of the challenges for funding a new aquatic centre was the many pragmatic financial uncertainties of the project. We have now determined location and scope, which will help us to plan more definitively for funding of future construction."

In December, Council directed administration to consider two possible locations for the multi-use aquatic facility: Michener North lands and Rotary Recreation Park. In addition to an in-depth evaluation of both sites, several factors were considered in selecting Michener North lands:
The City is purchasing the Michener North lands from the Province, with funds approved in the 2021 Capital Budget.
Solidifying this location allows the multi-use aquatic facility to be included in the visioning for Michener North. This visioning will help develop ideas around what this site could for the community and will begin in early 2022.
The multi-use aquatic facility serves as an anchor to this future major park node.
Scoping, design and cost were also determined in December as part of Phase 1 of this project. At this time, the facility includes a 53M x 25M pool with 10 lanes, ranging in depth from 2.5M to 3.8M with diving platforms at the deep end and two 1.5M movable bulkheads. This competition pool is compliant with FINA standards and Swim Alberta recommendations. The facility also includes a 25M x 20.6M pool with eight lanes, ranging in depth from 1.2M to 2.2M to accommodate swim competitions, warm up for aquatic sport competitions, and floor based depths serving local community programming needs. Two hot tubs, steam and sauna amenities, universal change rooms, spectator seating for up to 750 people, storage, sport group dryland training area, and staff supports are accounted for in the design.
The facility construction costs are estimated at $51,600,000, and by selecting Michener, The City is in a better position to quantify the variable site development costs as plans are solidified to place the item in the capital plan.
We now know that Michener North lands will be used for municipal purposes and become a major park node for community use," said Sarah Tittemore, Community Services General Manager. "Major park nodes need indoor facilities to serve the needs of park users, and deciding on the multi-use aquatic facility at this site allows the visioning for the Michener North lands to include this anchor and the community. We look forward to working with the community to enrich the vision through planned future consultation."
Last day to buy tickets – Buy and share to support your hospital!
Today at 11pm it's all over but the winning in the 2021 Red Deer Hospital Lottery.
No extensions will be made.
Buy now – it's your last chance! 
The Grand Prize Dream Home package is valued at $880,619 and includes furnishings from The Brick
and $10,000 Dream Home CASH!
CHECK OUT OUR GREAT TICKET PACKAGES
$25 EACH | 5 FOR $75 | 10 FOR $125 | 25 FOR $250
And remember, your purchase of a Red Deer Hospital Lottery ticket will directly benefit Central Alberta's tiniest patients.  
The Mega Bucks 50 jackpot is the highest ever!
Some ticket packages are still available.
1 for $10   ·   10 for $25
25 for $50   ·   50 for $75
Win half of the current jackpot of: