Covid means 'little' brothers and 'little' sisters need Big help!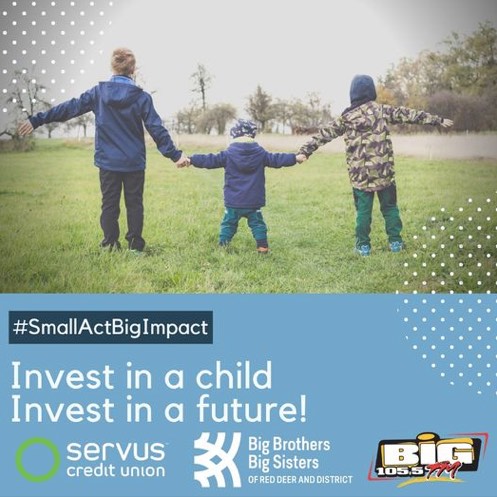 SERVUS CREDIT UNION PARTNERS WITH BIG BROTHERS BIG SISTERS IN LAUNCHING THE "Small Act BIG Impact" CAMPAIGN
The recent cancellation of the Big Brothers Big Sisters (BBBS) annual BIG Pursuit fundraising event, due to COVID-19 has had a tremendous financial impact on the agency.
In response to this challenge BBBS has partnered with our corporate friends at Servus Credit Union and BIG 105.fm to launch the "Small Act BIG Impact campaign".
This campaign is an online crowdfunding initiative that will run until April 30 with a fundraising goal of $50,000. The strength of a crowdfunding campaign is dependent upon the social engagement reach of all our supporters through their contacts, such as email and social media platforms. As an incentive to donors to make their donation go further, Servus Credit Union will match all donations to a maximum of $20,000.
"We're extremely proud of our long-standing relationship with Big Brothers Big Sisters of Red Deer & Area and it only makes sense for us to step up and help them more at a time like this." explained Rob Stryker, VP Corporate Services. "We know that children have experienced a lot of challenges throughout the pandemic, and mentorship through this program is perhaps even more important than ever."
Donations can be made by visiting www.youthhq.ca and clicking the campaign link, or go directly to the campaign at https://give.charityvillage.com/bbbsreddeer
Donations can also be received by mail or dropped off directly at Youth HQ/Big Brothers Big Sisters of Red Deer and District (4633 49th Street, Red Deer, AB T4N1T4)
Big Brothers Big Sisters of Red Deer seeks to ensure children and youth are connected to caring mentors. We aim to cultivate authentic, caring relationships and opportunities that create a sense of belonging and encourage and support a child in achieving their potential.
There are 279 mentoring matches in Red Deer with more than 60 children on a waiting list looking for a caring mentor.  These challenging times have dramatically impacted the agency's ability to fundraise in support of the children and families we serve.
Big Brothers Big Sisters are adapting to these present circumstances by supporting existing matches in maintaining connections with their mentees, and by expanding efforts to recruit additional adult mentors.  We need your help. Our funds are not adequate to meet the present need.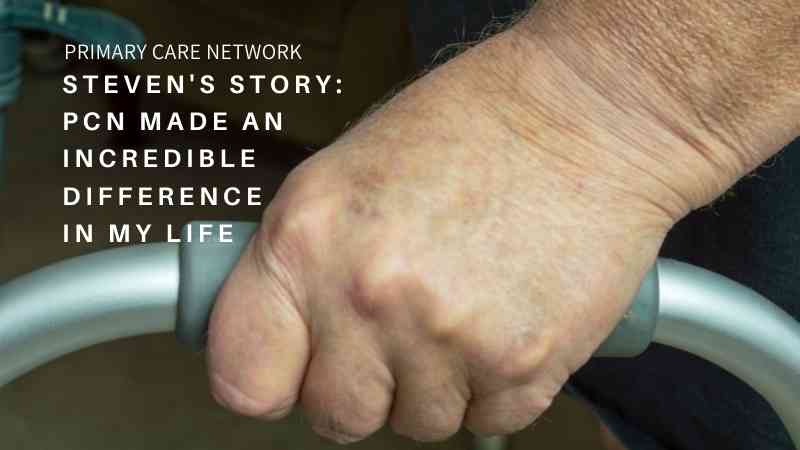 Every day is a new day!
Life was challenging for Steven after a series of 5 heart attacks that have affected his physical and mental health over the last 10 to 12 years. Steven became quite isolated and had little interaction with anyone.  He was on a number of medications which changed over time, yet he never felt good. He also tried different doctors and finally ended up with one who referred him to the RDPCN. He has taken both the Happiness program and the Moving on with Persistent Pain program twice, and also taken Health Basics, Anxiety to Calm, Quit Smoking, and used the services of a pharmacist and mental health counselor.
The PCN staff has connected him with other community resources such as the Golden Circle. His medication has been decreased and he has gained perspective on different healthy solutions to his challenges.
Steven says the PCN has made a tremendous difference in his life. He has gained social skills and confidence which started through interacting with the PCN staff.  Gradually he has put his foot forward and used the skills he learned to connect with other people and programs.  He is a very different person than he was two years ago. It is much easier for him to talk to people. He does lots of walking using his walker. And he has a much healthier perspective: Every day is a new day and he makes the most of it!
Steven's wife and daughter have attended PCN programs on his recommendation and loved them. Steven says every connection with the PCN has been is very positive and very educational!
Click here to learn more about the Red Deer Primary Care Network.
Cick here to read more success stories from the PCN.
History of Red Deer's Second Courthouse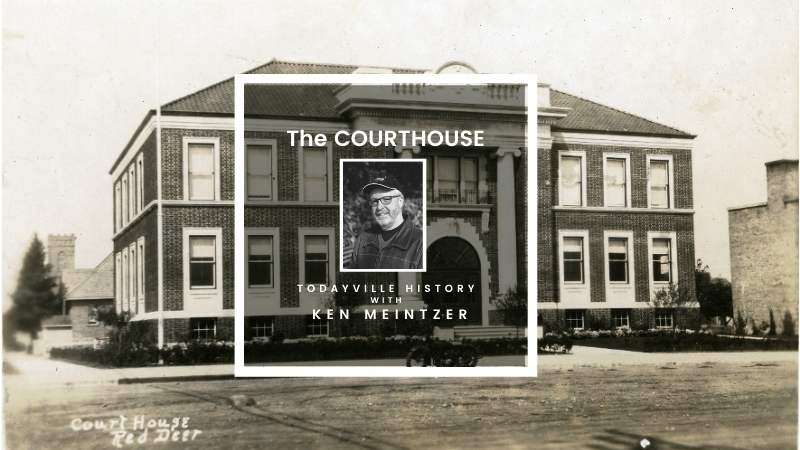 It has been witness to a great many events and stories in the 90 years it has stood on the corner of Ross Street and 49th Avenue in Red Deer.
As the solidly constructed anchor for both provincial and the Court of Queens Bench for 52 years, this sturdy structure has also been a sanctuary for artists, the setting for movie productions and most recently home to numerous professional offices. It also was the backdrop for the last murder trial in Alberta which saw the defendant sentenced and hanged under capital punishment in the province.
This readily recognizable icon celebrated the anniversary of its official opening earlier this month and is showing no signs of retiring any time soon.
This was the second courthouse for the steadily expanding central Alberta city. The earlier one had opened in 1916 after having been converted from a coverall factory. Talk about being adaptive and creative!
Construction of the "new" courthouse was significant for many reasons. The Great Depression was in full swing so this project provided a much-needed injection of both money and jobs into the community along with a sense of pride that such a fine building would bring to the region.
This would be the last courthouse built in the province until the 1950s, the final version  of a series of Alberta courthouses built in the classical revival style. Both Wetaskiwin and Medicine Hat received similar structures during this era.
Testament to the quality of the design and materials used in construction of the building is the fact that it remains steadfast after more than 8 decades of use.
Constructed using hot riveted steel beams, brick and mortar, then graced with pillars shaped from the legendary Lyndall Limestone from Manitoba, this grand historical resource will stand for a great many more years to come.
In the spirit of the type of practicality and resourcefulness often seen during the depression, heating for the building would be provided by a boiler built in 1912 and  repurposed from a ship!
It was converted from coal burning to natural gas in 1949 and has since been replaced by modern, efficient boilers yet it still remains in the building as evidence of a different era.
Every building of a certain vintage usually carries a story or two about otherworldly spirits or energies. Why not the old Courthouse? It was thought that the ghost of Robert Raymond Cook inhabited the building.
On one particular evening, the caretaker for the courthouse was heading into the boiler room to grab some tools. When he flicked on the lights, they popped briefly and went dark. Despite this, the caretaker walked alongside the boiler in the direction of his tools when suddenly he was slapped in the face by an unexpected soft force! Was it the apparition of the hanged murderer?
When he had regained his composure a time later, the caretaker investigated the boiler room once more to discover the source of the slap in the dark. A frightened pigeon had flown up in his face when startled in the boiler room!
This magnificent building was the home of the judicial branch of the province for the Red Deer region from 1931 to 1983 when its replacement was constructed just down Ross Street to the east.
The courthouse was the venue for a great many legal tales over the years but probably none more famous than the 1959 murder trial for 21 year old Robert Raymond Cook of Stettler, AB who was accused of murdering all 7 members of his family in a most violent manner.
His trial began on November 30th, 1959 and Cook was found guilty and sentenced to hang for his crimes. His defense appealed the conviction and a second trial was held in Edmonton but his conviction was upheld on June 20th, 1960.
On November 14, 1960, Robert Raymond Cook was hanged. His death sentence was the last ever carried out in the province of Alberta.
Numerous books were written about this trial as the murders captivated and horrified the population who followed the course of the investigation and trials.
Even a dramatic play was created, called "The End of the Rope", reenacting this historic trial which was developed and was even staged in the actual courtroom where the all too real drama actually took place all those years ago.
In 1983, the  building was sold to the city of Red Deer for a dollar and turned into the Old Courthouse Community Arts Centre. The grand structure housed painters and potters among numerous artistic pursuits for 18 years
The old courthouse has seen real life dramas and reenactments of legal dramas including being the location for filming  scenes from the TV Movie, "While Justice Sleeps" starring Cybil Shepherd in 1994.
Even a dramatic one-man play was created by Aaron Coates called "The End of the Rope" in 2003, re-enacting this historic trial. It was developed and staged in the actual courtroom where the all too real drama actually took place all those years ago. Cook's lawyer, David MacNaughton even answered questions from the crowd after the performance.
The old courthouse made its most recent transformation in 2001 when it was purchased by Jim Dixon and Dick McDonell.
The new owners invested close to a quarter of a million dollars in upgrading the building including installation of new boilers, restored doors, energy efficient windows and new flooring  throughout. 1930s era lighting was sourced to replace fluorescent fixtures, giving the rejuvenated structure a proper historical feel.
Today this 90-year-old icon of downtown Red Deer proudly carries on as the home to numerous professional organizations from lawyers to architects and with its new owners and numerous upgrades, this beautiful structure should be proudly welcoming people to downtown for a great many more years to come.
Red Deer's old courthouse sits as the centrepiece of Red Deer's historic downtown and is celebrating its 90th birthday. Come spend some time downtown. Visit the city's unique Ghost Collection, many of which are within a few blocks of the Old Courthouse.  For more information on leasing opportunities in this beautiful building, please email Davin Kemshead or phone 403-318-6479.