Rocky Mountain House investigate robbery on rural property
Clearwater County, Alberta – On March 14 the Rocky Mountain House RCMP responded to a complaint of a robbery that occurred on a rural residential property. The RCMP are seeking information about three males who are responsible for assaulting the property owner and fleeing on a stolen ATV.
Shortly before 2:25 a.m., the elderly property owner went outside to check on his truck and came across three masked males in his garage. A confrontation occurred and the property owner was assaulted.
The RCMP were dispatched and information received was that one male fled on the property owner's ATV while the other two males left in the small four door sedan they arrived in. The RCMP located the ATV, attempted to stop it and the driver fled on foot. RCMP Police Dog Services attended but the male was not located.
The stolen ATV was recovered and returned to the owner.
The injured male was transported to the hospital where he is recovering from his non life-threatening injuries.
The RCMP continues to actively investigate this occurrence with the assistance of specialized Units; Forensic Identification Section and General Investigation Section. Persons of interest have been identified by the RCMP who remain committed to solving this crime.
"A call to service like this is a priority for our responding members" says Sergeant Jay Penner of the Rocky Mountain House RCMP. "Whenever there is suspicious activity on your property call 911 and let us handle the incident. In this case, I'm confident that there are people who have information on this incident and I'm asking them to come forward."
If you have information about this investigation, please call the Rocky Mountain House RCMP at 403-845-2882 or call your local police detachment. If you want to remain anonymous, you can contact Crime Stoppers by phone at 1-800-222-8477 (TIPS), by internet at www.tipsubmit.com, or by SMS.
Police investigating how shooter got firearm after autopsy and balistic analysis
News release from the Edmonton Police Service
Autopsy on shooter, ballistic analysis complete in line of duty deaths
An autopsy on the shooter and ballistic analysis of the firearm have been completed in the Mar. 16, 2023 EPS line of duty deaths.
The Edmonton Medical Examiner conducted an autopsy on Mar. 22, 2023, and confirmed that the 16-year-old male shooter's cause of death was a single gunshot wound to the head consistent with being self-inflicted.
"We recognize that there is intense public interest in this investigation," says EPS Deputy Chief Devin Laforce. "At this time, our priorities need to be the integrity of ongoing investigations, including the origin of the firearm, as well as the safety and privacy of all the families affected by this tragedy. For these reasons, we are not releasing or confirming the name of the deceased."
A bullet casing recovered from the scene of a Mar. 12, 2023 shooting at a nearby restaurant in the area of 133 Street and 114 Avenue has been forensically matched to the firearm that was recovered at the 132 Street and 114 Avenue apartment, where Constable Brett Ryan and Constable Travis Jordan were fatally shot on Mar. 16, 2023.
Investigators believe the suspect in the Mar. 12 shooting to be the same 16-year-old male responsible for the deaths of the two EPS members, although this has yet to be confirmed. Detectives are also working to trace the origins of the firearm and how it came to be in the youth's possession.
At this time, investigators continue to believe that the youth's parents, police dispatch and Constables Ryan and Jordan had no information to suggest there was a firearm in the home when the family dispute call for service was made on Mar. 16.
"Both events have been served by robust investigations that have followed all lines of inquiry," says Deputy Chief Devin Laforce. "All tips and other investigative avenues were pursued exhaustively by the investigating teams."
The male shot on Mar. 12 in the restaurant remains in hospital in critical but stable condition, and the youth's mother who was shot on Mar. 16 remains in hospital in serious but stable condition.
Search of four Edmonton homes results in Cocaine and Meth bust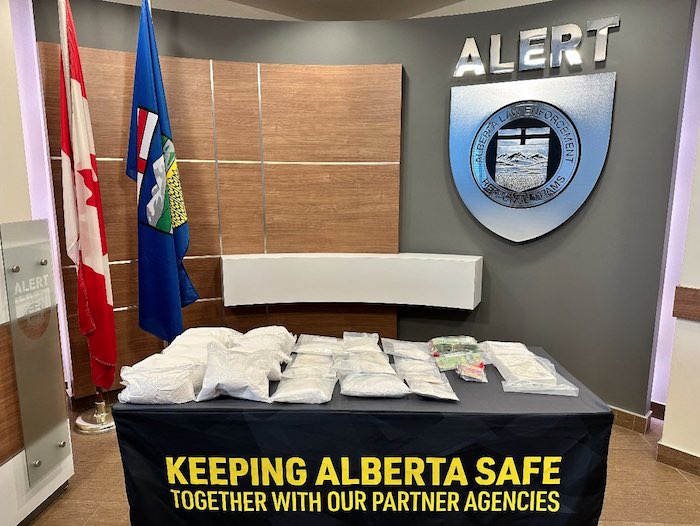 News release from the Alberta Law Enforcement Response Team (ALERT)
Cocaine seized after four Edmonton homes searched
More than two kilograms of cocaine, cash, and four vehicles have been seized following an ALERT Edmonton investigation into cocaine trafficking.
The investigation began in October 2022. Police were able to identify four homes and four vehicles linked to the drug trafficking operation.
"Through the course of this five-month investigation, officers were able to identify several suspects, and seized several pieces of equipment which were being used to produce large, commercial-sized quantities of product. This tells us that this was a much bigger, sophisticated operation," said Sgt. Jeff Woodliffe, ALERT Edmonton.
On February 23, 2023, police searched four homes and seized the following items as evidence:
2.6 kgs of cocaine;
28 grams of methamphetamine;
10 kgs of a cocaine buffing agent; and
$11,000 in cash.
The investigation remains ongoing as investigators prepare reports and disclosure for Crown Counsel.
The Edmonton Police Service assisted throughout the investigation.
Members of the public who suspect drug or gang activity in their community can call local police, or contact Crime Stoppers at 1-800-222-TIPS (8477). Crime Stoppers is always anonymous.
ALERT was established and is funded by the Alberta Government and is a compilation of the province's most sophisticated law enforcement resources committed to tackling serious and organized crime.