Remembering our Parents-Pandemic Assisted Loneliness Death and Life
Someday, we will all lose our parents, grand parents, and friends.
If we are parents, our children will 'lose' us when we are called Home.
The great senses of loss we expererience are as different as colours in the world of nature, or our unique set of characteristics.  How we grieve is directly related to our relationships with our family, to the recently deceased and also intimately telling of how we ourselves view the afterlife.  Also, in our present state of (what is deemed to be) pandemic, how often we spent time with and what kind of quality time we spent with our loved one.
It has been said that time heals all wounds, but that adage is only as accurate as our internal grieving.  My father died 7 years ago, and while our family has grieved, we have moved forward to live our lives.
It is interesting what can trigger us to revisit our mourning and cast our minds back to those in our past.  For me, it was Facebook, and a notice that August 25 would have been his 80th birthday.  It just so happens that I had driven by the graveyard he is interred at the same day and while I wanted to stop, I did not.
Later that night when I turned on Facebook, that dreaded notice came up, and the whole experience became more odd.
If he had been alive, there would have been a birthday party, and his great grandchildren would have played around his feet.  His grand children would have sat beside him and talked about their weeks and days, and he would have smiled and listened as he was more wont to in his later years.  His children would have probably popped by for a visit a couple of times this week and as was his custom, sipped coffee from Darth Vader.
But, despite his absence, we still have customs that help us remember.
If there are family pictures on our walls, we look and recall the good times.
If there are family movies, we turn them on and watch/listen to moments captured in time.
Or we call our mom and share a memory and talk about her day, week, and events.
During the course of any family funeral, you get the opportunity to open the book of the life of your loved one and see what they really left behind.  Bills, bank accounts, letters, cards, computer files and email are all laid bare for someone to see.  Boxes that sat in the attic or garage are now opened and sorted and appreciated.
That is when you really get to know your father/mother/grand parents.
But if there are any questions after seeing their stuff and making hard decisions, you cannot ask but relatives become a resource.
My family has been blessed with a wealth of life material from parents and grand parents, so when we sorted and separated, we saw my father as a young boy, from his baby clothes to his glasses and wallet contents.
It was a great experience to be able to share my father's life with his friends and mothers relatives.  His funeral drew people we had not seen for many years, and it was a time that we did not appreciate until later.
My mothers last memories of my father are sweet.  He had gone outside onto the garden swing and told my mom that he could hardly wait for spring so he could go outside.. By morning he had passed into eternity.
Experiences like that have been verboten since March, and thousands of seniors have died lonely, isolated, and abandoned by family members, all encouraged by public health policy and abusive facility regulations deemed to protect.
There was an experiment I saw recently that had a child under 1 year old interact with his mother actively, then being told to ignore the child.  That child reacted negatively with anger, frustration and screaming until the mother re-engaged with the child.  It only took 2 minutes for decreased contact and lack of encouragement to recoil and act out.  Imagine months of toddlers and pre-schoolers being told that they cannot play with their friends, or socially active individuals to be allowed interaction?
This video was very enlightening, and gave this treatment a name….Child abuse….Elder abuse….
Since Covid19 was deemed a pandemic, citizens of the world have been shut out, shut up and shut down world-wide.   What was once normal is no longer so, and instead of a desire to be social beings we are told to be fearful of everyone because they may carry the virus that might kill Aunt Sadie.  The truly sad comment is that this campaign of callousness has been so severe that some people will never recover and re-engage public lives again.
It seems that intelligence, logic, and good statistics are now also forbidden when discussing Covid numbers and penetration.  Passion and fear have overwhelmed facts, and in the process, people lose and policy is imposed with questionable ethics.
Lonely is safer (and recommended) than social gatherings with positive relationship outcomes.
In fact, as some have pointed out, Nazi Germany under Hitler practised the same tactics to near global domination.  In some ways, I do not think that comparison is not far off.
Back to my point, by trying to protect the vulnerable among us we have sentenced them to death by isolation.  Our medical officials and government officials are guilty of something so dreadful it should not be said.
My father, like so many who died before this disease hit us, would not recognize our world of fear and paranoia.  In some ways, neither do I.
May God have mercy on our souls.
Tim Lasiuta
Originally published August 29, 2020
$10 ticket for a shot at up to $10,000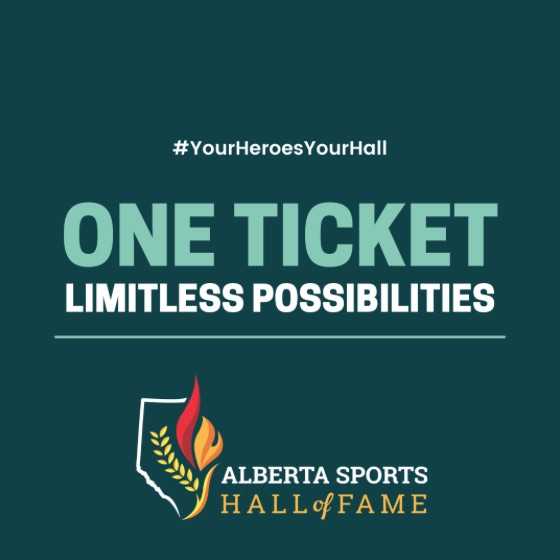 Your Hall. Needs Heroes.
We're enhancing the Alberta Sports Hall of Fame experience, one ticket at a time.
It's time for us to replace our "vintage" ski machine with something a little more modern. But changing an interactive doesn't come cheap.
Be Our Hero – get your tickets today for a potential shot at $10,000.
AGLC Raffle #573630
Out with the old …
Pixels might be cool again, but our ski machine has seen better days. We've kept it going, but it's past its prime.
In with the new.
The super-sized version of our old classic, Super Alpine Racer is as close as you can get to the real thing.
Support Smiles Thru Lindsey when you order out this month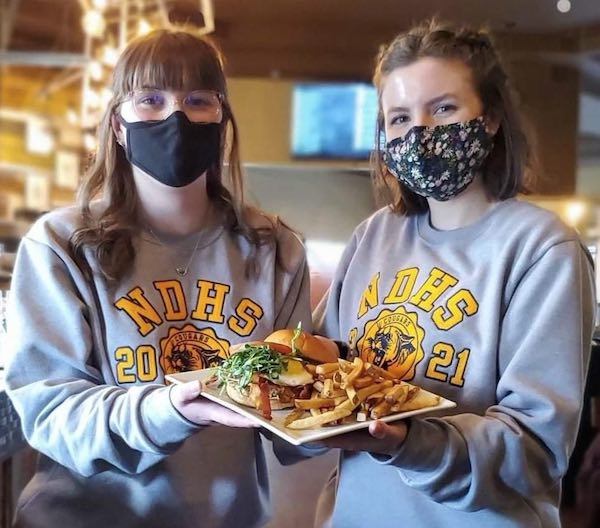 Article submitted by Red Deer Catholic Regional Schools
Throughout the month of May, purchase a "Big Smile" burger from Cilantro and Chive and $2 will be donated to the Smiles Thru Lindsey Foundation as part of École Secondaire Notre Dame High School's grad service project. This year's goal is to raise $40,000.
Lily Forsyth and Allyne Simonot, Grade 12 students at École Secondaire Notre Dame High School, worked in collaboration with the chef at Cilantro and Chive to design the "Big Smile" burger. The burger was designed featuring some of Lindsey's favourite ingredients and is a great way to raise money for an amazing cause. The "Big Smile" features marinated chicken breast, bacon, a sunny fried egg, arugula, tomato, balsamic glaze and a lime avocado aioli on a brioche bun and is served with hand-cut fries.
"The Class of 2021 agreed that in light of COVID-19 mental health should be a priority now more than ever. Lindsey More was, like us, a Notre Dame graduate. After she tragically took her life in 2015, her family began Smiles Thru Lindsey. She was a regular happy girl, nothing seemingly wrong. She was involved in the school community through sports and the grad service project of 2011. We knew that our school community would connect to her and her story as easily as it has," said Allyne Simonot, student at École Secondaire Notre Dame High School.
"This cause is actually very personal for me, it is another way for me to support my friends who are struggling, a way to communicate to every person who is willing to listen that they are not alone. That everyone is feeling or has felt a toll on their mental health and that there are resources and people out there to help," said Lily Forsyth, student at École Secondaire Notre Dame High School.
"In a year of such uncertainty, I am so proud of how our students have found such unique ways to fundraise and create awareness for mental health. Through their dedication and creativity, they have been able to partner with some amazing local businesses allowing the entire community the opportunity to be part of our quest to end the stigma surrounding mental health," said Principal, Rose McQuay at École Secondaire Notre Dame High School.
"We get to meet the wonderful people who work tirelessly behind the scenes in deserving organizations while enjoying delicious burgers created and inspired by amazing people in our community. In just over four years we have been able to give back over $80,000 to local charities and organizations in our own backyard. Thank you to École Secondaire Notre Dame High School for being a part of our Burger of the Month and having some fun with us, while raising awareness for Smiles Thru Lindsey," said Rieley Kay, owner of Cilantro and Chive restaurant.
Red Deer Catholic Regional Schools serves over 10,360 students in 20 schools in Red Deer, Blackfalds, Sylvan Lake, Rocky Mountain House, Innisfail, and Olds, as well as an at-home learning program. It also supports the learning of over 1095 students in a Traditional Home Education Program. The Division is committed to serving children and parents with a complete offering of learning opportunities delivered within the context of Catholic teachings and within the means of the Division.