Downtown Business Spotlight: Studio 11 Beautique
For this week's business spotlight, we stopped into Studio 11 Beautique! This charming space is located at #310, 5008 50th Street (right above MC College), Red Deer. This studio offers a wide variety of aesthetic services in a very pleasant and modern setting. We sat down with Kristyn Sutherland, owner of Studio 11 to learn more!
What is your business?
Our business is basically a hub for entrepreneurs who are in the aesthetics industry. They are contracted out of Studio 11 and use this space to run their businesses. We can offer them the support they need such as marketing, technique classes, and business consulting. Our focus is to reset the industry, to move away from competition, and to concentrate on collaboration. We are looking at how we can work together to build something big.
When did your business open?
Studio 11 was previously owned and then I took over September 2019. The previous owner was working with 3 or 4 staff members and now we are up to 9.
What makes your business unique?
Our focus is collaboration over competition. We want to make sure we are there to support each other and our clients. Women in business are very popular right now and it's important for us to show that we are an example of how we can work together.
What are some products/services that you offer?
We offer lash services including extensions, lifts, and tints. We currently have 3 nail techs for nail services, we offer spray tans and all waxing services.
Why did you choose Downtown Red Deer as the location for your business?
I was running a home-based business in Penhold when I was approached by Studio 11.  I came here for a few personal appointments and when I decided to purchase the business, I came on secretly as a staff member. The lease on the business was up in September so I had the option of moving and going somewhere or staying. I choose to stay mainly because most of my clients are in Blackfalds, Penhold and the Lacombe area and the downtown is central to these areas. I've had some issues getting my clients to come downtown, but I've had to redirect their thoughts a little in terms of what the downtown has to offer.
What do you think makes Downtown vibrant?
I can take a break and walk down to City Roast and see and experience what's great about downtown. It is beautiful if you focus on what is beautiful about it. All the different little stores, the different people that you meet, it is unique and cultural.
I love Downtown Red Deer because… of the live music in the summertime, the outdoor patio, the great shops, and restaurants is what I love the most!
These inspiring ladies at Studio 11 are great examples of what empowering women in business Is all about! They are on the pulse of a changing industry by their unwavering support for each other and their community! Be sure to stop in and see Kristyn and her team for all your aesthetic needs!
Make sure to follow Studio 11 Beautique on:
Facebook: https://www.facebook.com/studio11beautiquee/
Instagram: https://www.instagram.com/studio11beautique/
Southside Dodge donates new van to Ronald McDonald House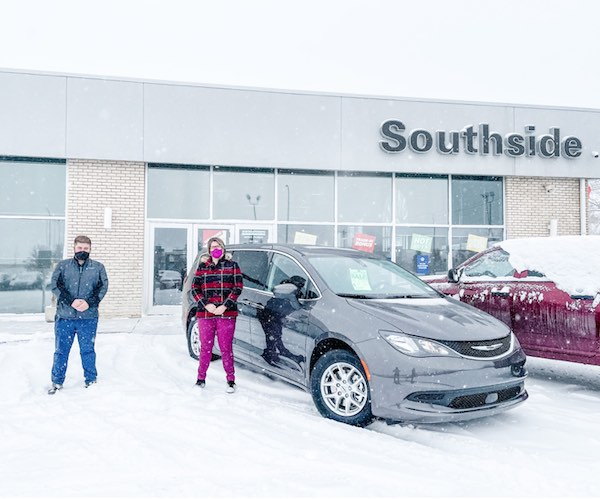 Matt Swainson (Vice President & General Manager, Southside Dodge Chrysler Jeep Ram) -left , Lori Rechlo (General Manager, Ronald McDonald House Charities Alberta – Red Deer House) – right
Submitted by

Sarah Heibein, 

Stakeholder Relations Manager, Central Alberta Ronald McDonald House

We've received a donation of use of a Dodge Caravan from Southside Dodge- they've been an incredible support of us over the years.  Attached is the photo we took at the dealership when we picked up the keys on Friday.
Ronald McDonald House Charities Alberta, Red Deer House is truly grateful to Matt Swainson and his entire team at Southside Dodge for their steadfast support of our work to keep families together during the unimaginable hardship of the need to travel for medical treatment for their sick or injured child. Our House is not a nice to have, but a need to have, and we are honoured to work with such an amazing community partner in Southside. The use of the 2021 Dodge Caravan will help us to keep our operating costs down so that we can focus on our work to keep families close.
We have operated in the city for over 8 years, ensuring there is a safe and comfortable place for families to rest while they focus on the recovery of their child(ren).
We are grateful to everyone in Red Deer who supports us!  😊
Smiles Thru Lindsey reaching out with a new video message and urging Albertans to look out for each other at this challenging time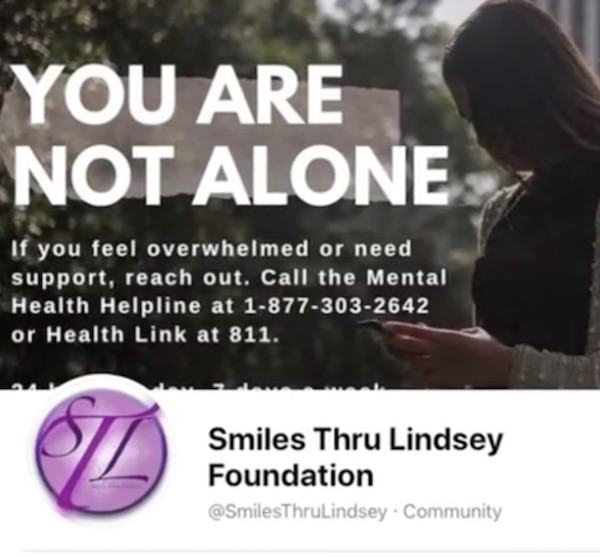 The holiday season is well behind us, we're heading into the coldest part of the winter, and although the days are starting to grow longer there's still a definite lack of daylight in our lives.  The winter blues are a real thing and this year we have COVID, a whole new serious problem to add to our mental health issues.
COVID is also the reason the Smiles Thru Lindsey team has not been able do public events for many months.  Unable to reach out physically through school visits and fund raisers, Smiles Thru Lindsey is reminding Central Albertans to check in on each other.  Also, please follow the Smiles Thru Lindsey Facebook page .  They'll lead you to the resources you or your loved ones need right away.
Meet Lindsey and the Smiles Thru Lindsey team in this powerful video.  …And remember to check in on the people in your life.
If you'd like to help Smiles Thru Lindsey with a donation please click here.