#RedDeerStrong – Former refugee expressing gratefulness to Canada through donation to front line health care workers

From We Are Red Deer at RedDeer.ca
Esmat Bayat knows his way around a sewing machine.

"I have lots of experience," he chuckles. "Maybe 26, 28 years. A long time."
Bayat grew up in Afghanistan, working as a tailor and shoemaker since the age of 12. He opened his own business in Kabul making custom suits and dresses. In the years following 9/11, Bayat's homeland became war-torn and dangerous, so he packed up his family and fled to Iran.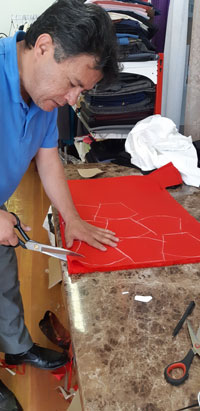 "We were refugees in Iran. The government of Iran is not good with refugees and immigrants. And Afghanistan was war. We had to move."
After brief stops in Pakistan and Turkey, Bayat's dream finally came true three years ago. On April 26, 2017, his family was granted refugee status in Canada. Bayat, his wife, and their four kids headed for a little city on the prairies they knew nothing about, named Red Deer.
Today, the Bayat family has settled into their new Canadian life and Esmat runs a tailor shop downtown. All was well… until COVID-19 hit.
"Right now I don't have any customers," he says. "Our community needs medical masks and protective suits. I am able to make them."
Instead of closing up shop and waiting for the pandemic to pass, Bayat is using his skills to help the country that welcomed his family warmly. He ordered special waterproof fabric and is sewing five-hundred medical masks and one-hundred protective suits. He plans to donate them to Red Deer's front-line health care workers.
"I like to help Canada because Canada helped me. The Canada(ian) government helped bring me to Canada and now I and my family are safe," he says. "I wanted to help the government, help the Canadians. This is how I can do that."
When COVID has passed, Bayat plans to start sewing clothes again and maybe one day open a small garment factory in Red Deer. In the meantime, he's focused on giving a helping hand to those who are working hard to keep Canadians safe and healthy.
"Everything is not money, not dollars. Sometimes people just need to help each other.
Calling all Saints and Sinners! Local churches now open to the public!
Praise the Lord!  Red Deer's houses of God are open for worship!
With the modification of provincial regulations for church services, many Red Deer and area churches are opening as soon as this Thursday (Lacombe) with at least one church in their third week back with live congregations.
"In this time of crisis, we have to remember that God has not stopped working," said Pastor Garrett Gillespie of Kentwood Alliance Church.  "Churches are people, not buildings and we have not stopped serving those in need, but we are looking forward to opening up and restarting worship services in our church building."
Like many churches, Gillespie, who also can be heard on Shine FM 90.5, has recorded his weekly sermon and an encouragement video for YouTube.
"It is amazing that we have seen people from as far away as Germany pick up on our service," said the Pastor.  "We are able to connect with many people who would normally never come to our building and many who do attend are able to connect while not in the city."
He noted that the move to a greater online presence had been discussed but the pandemic motivated many pastors to go online with their sermons.
"Our plan is to start services the weekend of June 21st with an upper limit of 50 people unless that is relaxed to allow a greater number," he said.  "We will take all steps necessary to sanitize and protect everyone."
Meanwhile, across the city at Deer Park Church, Pastor Ben Elliott has a different strategy in mind for the summer worship season.
"We have had a successful and smooth Drive-In Church service and we do not want to move inside unless we are ready for full attendance," said Elliott.  "With the Drive-In model, we do not have to register people or limit numbers AND you can sing your heart out.  It is easier to administer from our end so we can minister to our congregation better."
Elliott added that the relaxing of regulations will allow a modification of their outdoor service to include lawn chairs and maybe a tail gate service similar to football games.
"Along with the Drive-In service, worshipers can find our service online if they do not want to come out on Sunday or they can even attend the recording on Thursday afternoons," he said.  "We also have a children's segment during the sermon."
Other initiatives planned by Deer Park staff include a virtual Vacation Bible School planned for the week of June 20 and a Fathers Day Car Show.
"As Pastor and head of the Red Deer Ministerial Association, I want to encourage my fellow pastors to seek God's will knowing that each congregation is unique," said Elliott.  "I look forward to what God has in store for the Church in Red Deer, knowing that He makes all things new."
Meanwhile the Catholic Church is gearing up for celebration of Mass in both Red Deer parishes and in Lacombe, with mass starting this Thursday in Lacombe at 7 P.m.
Sacred Heart and St. Mary's Catholic Churches will be starting Sunday Mass with 4 celebrations this weekend for up to 50 people per Mass.
"Our Church has always been open," said Father Jan Sobkowic of Sacred Heart Parish.  "Throughout this time, we have been offering confession, adoration and helping those in need."
Weekday masses started the week of June 1st and attendees have been thankful for the opportunity to worship.
"I am thankful we are now able to attend mass in person," said a local senior.  "I have missed the body and Holy Communion."
When asked about the regulations as they apply to celebration of mass, Fr. Jan said that  those wishing to attend (maximum 50) must register in advance or at the door no later than 10 minutes prior to the beginning of Mass and use hand sanitizers before entering the sanctuary and masks during communion.
Mass will be held Saturday at 7 p.m., Sunday at 9 a.m., 11 a.m. and 5 p.m. at both locations with morning masses at 9:30 a.m. Tuesday to Friday.
Across Red Deer at Victory Church in Oriole Park, Pastors Chuck and Joyce Roth have held services since May 24 with attendance of around 35 people per celebration.
"We have had one service going until the change in numbers allowed," said youth leader Pauline Shattock of Victory Church.  "Now we have two services, one at 9 a.m. and another at 11 a.m.  The good thing is that we broadcast them live so if you cannot make it in person, you can watch it at home."
She added that social distancing and sanitary requirements were being adhered to, but attendees had to register to ensure that no more than 50 people attend at any one time.
"A particularly exciting program we are starting is Victory Ninja Warrior Online on June 21st," said Shattock.  "We have a real-life ninja teaching about the armor of God and as kids and families go through the lessons they can earn badges."
With the program being promoted online, there are registrations worldwide due to a gentleman from Thailand who is sharing around the globe!
"During this time, we made sure we kept in touch with our congregation and when the opportunity arose to have two time slots, we made sure we did," noted Shattock.  "With the opportunity to see friends and church family again, it has been very encouraging and life changing for everyone."
Out of Red Deer, Clive Baptist Church is planning 3 services for 50 worshippers in addition to their online presence.  Prior to their three services, they, like Deer Park held a successful Drive-In style church celebration in the village.
South west of Red deer, Pastor Nick Wasylowich of Torrington Evangelical Lutheran Church has planned a street service for June 7 in the hamlet.
"Depending on the weather, we will celebrate the Lord in our streets," said Wasylowich.  "We will have parking attendants helping folks park appropriately and we will allow worshipers to stand beside outside their vehicle and praise their Saviour."
With the situation and regulations for churches changing so quickly, and the possibility of the moving up of phase two (and increased attendance numbers), larger churches are unusually at a disadvantage as smaller churches and congregations are able to respond quickly to the opening up of regulations and comply more easily.
Throughout the Central Alberta region, churches who have not gone to live services, continue to offer online sermons and resources through their respective websites.
Pastor Gillespie summed up the present situation in a simple statement; "We have to remember that God is still working no matter what happens around us and told to trust him and live in faith not fear."
Writers Note:  If your church wants to tell your Covid 19 story, contact me at [email protected] and we can give God the glory!
Central Alberta Children's Festival moving online this week!
Never Grow Up!
Celebrating the 14th Annual Central Alberta Children's Festival
The Show Must Go On …..Celebrating the 14th Annual Central Alberta Children's Festival with Family Services of Central Alberta on June 5th and June 6th 2020 is taking a new twist…. we are going Virtual. Although it won't be the same the Community Committee felt it was important for the Show to Go On! Rotary Recreation Park, Red Deer is our usual venue where we are dedicated to providing a fun experience for children and families of all ages, creating memories with one another, and celebrating the kid in all of us. This year you will enjoy the fun from the comfort of your own home.
This year with the current pandemic restrictions we will be hosting the festival via Facebook. We will be celebrating our Volunteers from over the years, sharing some entertainment, having families participate in some hands on activities at home as well as some great opportunities for families to be active and enter to win prizes. We will strive to allow families to actively engage in learning and playtime by fostering their imagination and creativity.
Follow us on Facebook at Central Alberta Children's Festival @CAChildfest, you can also check out the website at www.centralalbertachildrensfestival.ca for the listing of activities.
Join us and be active with your family as we host our Virtual 2020 Central Alberta Children's Festival as we celebrate the wonder of childhood ages 0 – 99! We want to remind everyone to have fun and "Never Grow Up!"
The 14th Annual Central Alberta Children's Festival is made possible by the incredible support of our generous donors, sponsors, and volunteers.
For more information about the festival visit www.centralalbertachildrensfestival.ca