#RedDeerStrong – Former refugee expressing gratefulness to Canada through donation to front line health care workers

From We Are Red Deer at RedDeer.ca
Esmat Bayat knows his way around a sewing machine.
"I have lots of experience," he chuckles. "Maybe 26, 28 years. A long time."
Bayat grew up in Afghanistan, working as a tailor and shoemaker since the age of 12. He opened his own business in Kabul making custom suits and dresses. In the years following 9/11, Bayat's homeland became war-torn and dangerous, so he packed up his family and fled to Iran.
"We were refugees in Iran. The government of Iran is not good with refugees and immigrants. And Afghanistan was war. We had to move."
After brief stops in Pakistan and Turkey, Bayat's dream finally came true three years ago. On April 26, 2017, his family was granted refugee status in Canada. Bayat, his wife, and their four kids headed for a little city on the prairies they knew nothing about, named Red Deer.
Today, the Bayat family has settled into their new Canadian life and Esmat runs a tailor shop downtown. All was well… until COVID-19 hit.
"Right now I don't have any customers," he says. "Our community needs medical masks and protective suits. I am able to make them."
Instead of closing up shop and waiting for the pandemic to pass, Bayat is using his skills to help the country that welcomed his family warmly. He ordered special waterproof fabric and is sewing five-hundred medical masks and one-hundred protective suits. He plans to donate them to Red Deer's front-line health care workers.
"I like to help Canada because Canada helped me. The Canada(ian) government helped bring me to Canada and now I and my family are safe," he says. "I wanted to help the government, help the Canadians. This is how I can do that."
When COVID has passed, Bayat plans to start sewing clothes again and maybe one day open a small garment factory in Red Deer. In the meantime, he's focused on giving a helping hand to those who are working hard to keep Canadians safe and healthy.
"Everything is not money, not dollars. Sometimes people just need to help each other.
Southside Dodge donates new van to Ronald McDonald House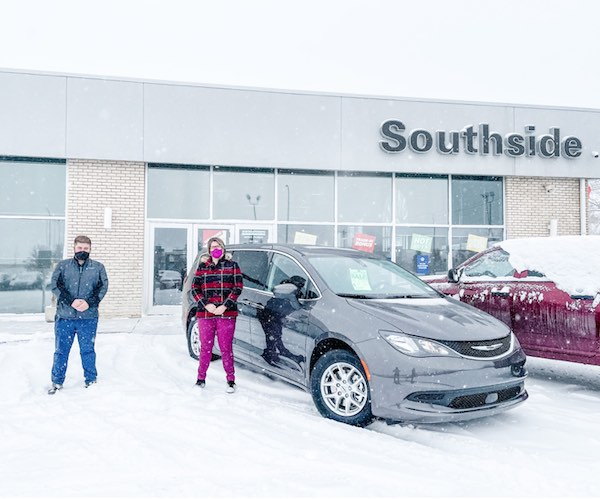 Matt Swainson (Vice President & General Manager, Southside Dodge Chrysler Jeep Ram) -left , Lori Rechlo (General Manager, Ronald McDonald House Charities Alberta – Red Deer House) – right
Submitted by

Sarah Heibein,

Stakeholder Relations Manager, Central Alberta Ronald McDonald House

We've received a donation of use of a Dodge Caravan from Southside Dodge- they've been an incredible support of us over the years. Attached is the photo we took at the dealership when we picked up the keys on Friday.
Ronald McDonald House Charities Alberta, Red Deer House is truly grateful to Matt Swainson and his entire team at Southside Dodge for their steadfast support of our work to keep families together during the unimaginable hardship of the need to travel for medical treatment for their sick or injured child. Our House is not a nice to have, but a need to have, and we are honoured to work with such an amazing community partner in Southside. The use of the 2021 Dodge Caravan will help us to keep our operating costs down so that we can focus on our work to keep families close.
We have operated in the city for over 8 years, ensuring there is a safe and comfortable place for families to rest while they focus on the recovery of their child(ren).
We are grateful to everyone in Red Deer who supports us! 😊
Smiles Thru Lindsey reaching out with a new video message and urging Albertans to look out for each other at this challenging time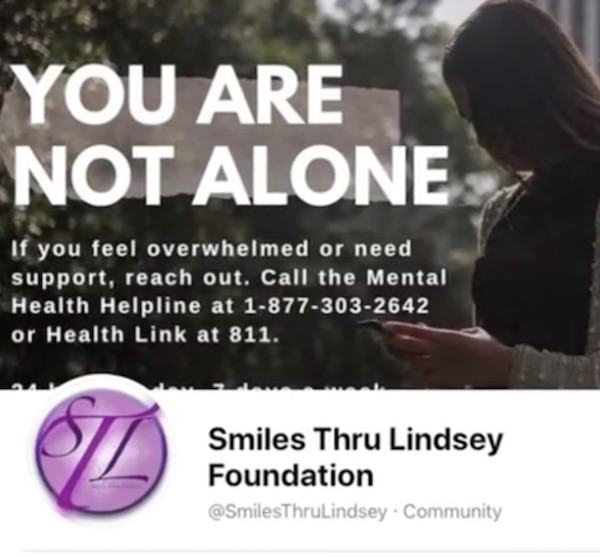 The holiday season is well behind us, we're heading into the coldest part of the winter, and although the days are starting to grow longer there's still a definite lack of daylight in our lives. The winter blues are a real thing and this year we have COVID, a whole new serious problem to add to our mental health issues.
COVID is also the reason the Smiles Thru Lindsey team has not been able do public events for many months. Unable to reach out physically through school visits and fund raisers, Smiles Thru Lindsey is reminding Central Albertans to check in on each other. Also, please follow the Smiles Thru Lindsey Facebook page . They'll lead you to the resources you or your loved ones need right away.
Meet Lindsey and the Smiles Thru Lindsey team in this powerful video. …And remember to check in on the people in your life.
If you'd like to help Smiles Thru Lindsey with a donation please click here.