Red Deer race car driver leads international field vying for $800,000 Indy Lights Scholarship
Parker Thompson has always wanted to race with the best cars and drivers in the world, and he's well on his way to achieving his dream. Year after year the 20 year old Red Deer native takes another step up the ladder. 2018 finds Thompson in the Pro Mazda Championship Presented by Cooper Tires. It's just one step away from the Indy Lights Circuit. In fact the top racer in the Pro Mazda Championship will be boosted to Indy Lights by a scholarship worth about 0,000. 6 races into the 16 race season.. Thompson leads the pack!
Thompson has finished first twice in the opening 6 races. There's still 10 more to go, but with a commanding lead in points Parker Thompson continues his efforts to one day race drivers with names like Andretti, Rahal, and Hinchcliffe.
Racing for Saskatoon based Exclusive Autosport on a team almost fully staffed by Canadians, Parker's most recent race may have cemented his place among the leaders. He started the race way back in 6th position after a part failure lead to an engine swap during qualifying sessions. Shortly after the race began a series of events unfolded knocking out one driver after another. Parker expertly handled the storm, eventually taking the lead and then put his stamp on an impressive win posting a series of fastest laps to cement the victory in fine style. It didn't hurt that this feat was accomplished on one of the world's most famous tracks, the Indianapolis Motor Speedway Grand Prix course.
In the first 6 races of the season the race car driver from Red Deer has a comfortable lead in the overall duel for the Mazda Scholarship, worth close to 0,000, to assist in progressing to the Indy Lights Presented by Cooper Tires circuit.
Here's how Thompson has done so far:
Race 1 – St. Petersburg, Florida – 5th
Race 2 – St. Petersburg, Florida – 2nd
Race 3 – Birmingham, Alabama – 1st
Race 4 – Birmingham, Alabama – 2nd
Race 5 – Indianapolis, Indiana – 5th
Race 6 – Indianapolis, Indiana – 1st
OVERALL PRO MAZDA CHAMPIONSHIP STANDINGS
| | | |
| --- | --- | --- |
| 1 | Parker Thompson – R | 150 |
| 2 | Rinus VeeKay – R | 128 |
| 3 | Carlos Cunha | 120 |
| 4 | Harrison Scott – R | 116 |
| 5 | David Malukas – R | 105 |
| 6 | Oliver Askew – R | 102 |
| 7 | Sting Ray Robb | 88 |
| 8 | Andres Gutierrez – R | 79 |
| 9 | Nikita Lastochkin | 74 |
| 10 | Robert Megennis – R | 69 |
| 11 | Lodovico Laurini – R | 63 |
| 12 | Kris Wright | 57 |
| 13 | Antonio Serravalle – R | 48 |
| 14 | Charles Finelli | 47 |
| 15 | Rafael Martins – R | 45 |
| 16 | Kory Enders – R | 21 |
| 17 | James Raven – R | 17 |
Parker Thompson (#90 Exclusive Autosport Tatuus-Mazda PM-18): "I was tearing up at the checkered flag and my engineer, Tim Lewis, was just screaming on the radio. It was so awesome to get a win here – it doesn't get much better than winning at the Racing Capital of the World! It was tough out there today. We made a gamble on a low-downforce setup and it played out. I avoided the melees at the start and kept everything intact. We set fastest lap after fastest lap and that makes weekends like this so special, starting from back in sixth and taking the victory. This win is dedicated to my Exclusive Autosport team and to Elite Engines, because without them we wouldn't have been able to qualify yesterday. We did an engine swap between qualifying sessions yesterday because of a part failure that was no one's fault, really. It's amazing that they were able to do that in such a short amount of time."
Click here for all the latest news on the Pro Mazda Championship.
Today: Come meet Red Deer's Silver Medalist Rebecca Smith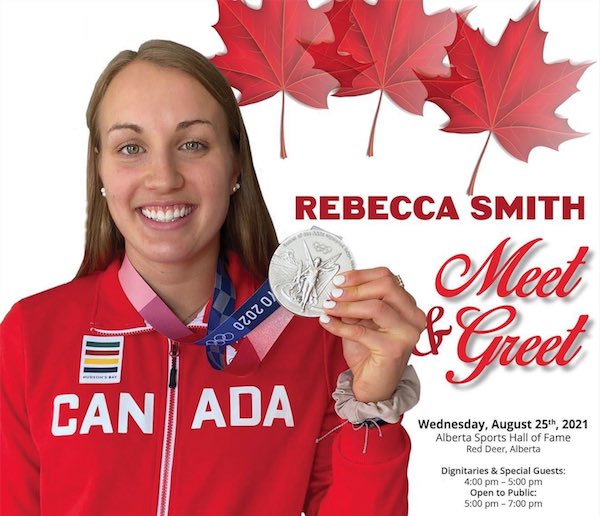 Submitted by Tourism Red Deer
Come celebrate with us and congratulate Red Deer's own Rebecca Smith.
Alberta Sports Hall of Fame and Tourism Red Deer invite you to meet Red Deer's Summer Olympic Silver Medalist Rebecca Smith!
Rebecca was a part of Team Canada's 4 x 100-meter freestyle relay swim team at the 2021 Tokyo Olympics. She'll be here to meet, greet, and show off her hardware.
Where: Alberta Sports Hall of Fame, 102-4200 Highway 2, Red Deer
When: Wednesday, August 25, 5:00 pm – 7:00 pm
Access to Dawe Centre pool and community centre affected by expansion project – Details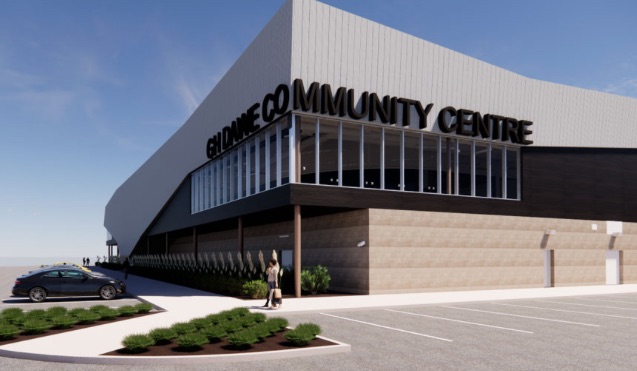 Limited access to G.H. Dawe Community Centre this summer due to construction
Due to construction, access to the G.H. Dawe Community Centre will be limited this summer, with a full closure planned for August.

As announced yesterday, City recreation centres are opening fully to the public as of July 1. With construction underway at the G.H. Dawe Community Centre, only limited services and areas will be available.

Here's what you need to know:
Starting July 2, fitness and gym areas will open from 10 a.m. – 8 p.m., daily. In July, summer day camps that normally operate from the Dawe will operate from other facilities.
The pool will remain closed until September.
To accommodate interior heating and ventilation construction, the facility will fully close from July 26 to August 31. Some registered preschool and summer camp programming may proceed, but no rental or general admission options will be available.
On September 1, we anticipate the pool will be open, but some other amenities, like the gym, may not be available. More information will be provided as construction progresses.
Playing surfaces in the arena will not be available until construction is complete, which is expected to be early 2023.
We are currently offering a discounted monthly Value Pass for $27 for adults ($24.50 for seniors; $21.90 for students; $19.30 for youth; $14.20 for children, and $60.50 for a family. It provides unlimited access to all facilities. As of August the Value Pass will only provide access to the Recreation Centre and Michener Aquatic Centre; however, access to the Dawe will be included in the Value pass until the pool, gym and fitness areas are open.
About the G.H. Dawe Community Centre Project
Work is underway now on the G.H. Dawe Community Centre Project and some exciting changes are in store. We expect to welcome visitors to the transformed space in early 2023. Here's just some of what you can expect:
Two NHL standard playing surfaces
Expanded fitness areas, including a running track
Outdoor spray park with washroom facilities
Improved accessibility
Additional north entrance + site access from 67 Street
Additional parking
During construction, there will be some changes and impacts to existing amenities and programs, and we'll do you best to share this information in advance. Thanks for your patience as we complete this work.
For more information about the project, please visit reddeer.ca/DaweProject.