Red Deer's Parker Thompson leading the pack in the Pro Mazda Championship Presented by Cooper Tires
Todayville is a proud sponsor of Parker Thompson Racing!
Parker Thompson Claims Win and Runner-up Finish to Take Championship Point Lead
It just might have been the most incredible weekend yet for Red Deer Race Car Driver Parker Thomspon!
His all Canadian race team Exclusive Autosport absolutely ripped up the track at Barber Motorsports Park in Birmingham, Ala. in historic fashion! For most of the weekend, Thompson's competition was in his rear view mirror. Exclusive Autosport owned by Michael Duncalfe of Saskatoon, had Thompson's Tatuus PM-18 in astounding shape. Not only did they score pole position for both weekend races, they also shattered the track record on each occasion!
Thompson, who moved up a division to the Pro Mazda Championship Presented by Cooper Tires this season, lead the first race from start to finish. In his first win of the young season Thompson pulled well ahead of the pack finishing the race over 5 seconds before Englishman Harrison Scott and David Malukas, from Chicago, Ill., who held off the field for a third place finish.
In race 2 Parker started in pole position but some surprising light rain caused trouble for his team as they prepared his car for dry weather. On the damp track, Thompson slipped behind 2 opponents. He managed to stay in 3rd position until late in the race when the leader went off track, moving Thompson up to 2nd position for his second straight podium finish.
From promazda.com "What a weekend!" enthused Michael Duncalfe, Team Principal. "I cannot say enough about this Exclusive Autosport team. I have to thank our awesome crew for all of their hard work and dedication to this program. Parker Thompson performed like a pro! P1 in practice, two poles, a track record, one win and one second-place finish. He's a man on a mission. It's an honor working with Parker and having him drive for EA. "
Check out this summary of an amazing weekend for Parker Thompson and Exclusive Autosport:
Friday afternoon Race 1 qualifying – Finished first and broke the existing track record.
Saturday morning Race 2 qualifying – Finished first and broke his own record set less than 24 hours earlier.
Saturday afternoon Race 1 – Parker lead from beginning to end.. scored a 5.225 second victory!
Sunday morning Race 2 – Second place for second podium finish of the weekend.
From promazda.com
Parker was carrying the decal of the Humboldt Broncos Jr 'A' hockey team, which lost 16 of its players and staff in a tragic motor vehicles accident on April 6. The Exclusive Autosport team has dedicated the win to the Broncos' memory.
Parker Thompson told promazda.com: "It was a very special weekend in Alabama with my Exclusive Autosport crew. We put the #90 in victory lane, carrying the Humboldt Broncos logo, which meant a huge deal to our entire team with our headquarters being based in Saskatchewan. I'm extremely proud of the boys in black and red. We have all been working non-stop during the off-season to have a weekend like this. With a win, two poles, and a new track record, we're ready to roll this momentum into the rest of our championship. Bring on Indianapolis and the month of May!"
Parker Thompson is in the championship point lead heading into races 5 and 6 which take place at the iconic Indianapolis Motor Speedway May 11th and 12th.
For coverage of the Pro Mazda Championship Presented by Cooper Tires… visit Road to Indy TV, download the Road to Indy TV App or find dedicated broadcast channels on demand via Apple TV, Amazon Fire and Roku. Races are live streamed and live timed on promazda.com and racecontrol.indycar.com.
Here's race 1 where you can see Parker Thompson starting in pole and leading for the entire race… Parker is interviewed right off the top of the program as he waits for the race to start in pole position!
And here's race 2 at the Barber Motorsport park in Alabama.. where Thompson gutted out a second place finish.
This short promo was produced by Parker Thompson Racing to celebrate a weekend of success in Alabama.
Finally.. here's a 12 minute long program called Road to Indy TV in which Parker makes 3 appearances..
Today: Come meet Red Deer's Silver Medalist Rebecca Smith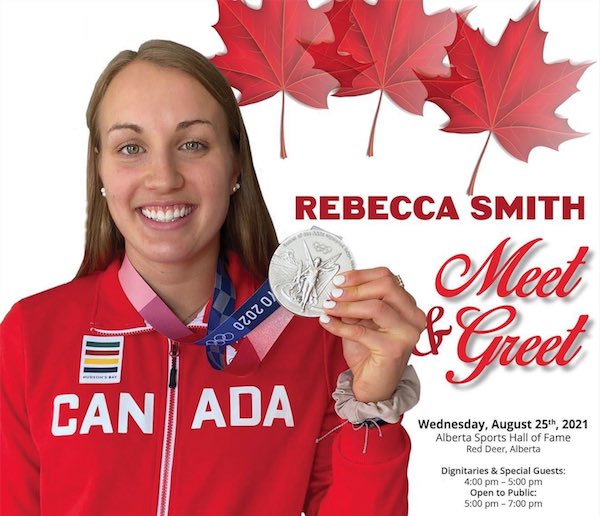 Submitted by Tourism Red Deer
Come celebrate with us and congratulate Red Deer's own Rebecca Smith.
Alberta Sports Hall of Fame and Tourism Red Deer invite you to meet Red Deer's Summer Olympic Silver Medalist Rebecca Smith!
Rebecca was a part of Team Canada's 4 x 100-meter freestyle relay swim team at the 2021 Tokyo Olympics. She'll be here to meet, greet, and show off her hardware.
Where: Alberta Sports Hall of Fame, 102-4200 Highway 2, Red Deer
When: Wednesday, August 25, 5:00 pm – 7:00 pm
Access to Dawe Centre pool and community centre affected by expansion project – Details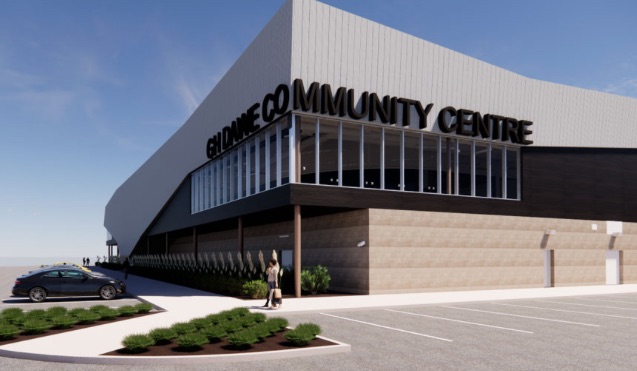 Limited access to G.H. Dawe Community Centre this summer due to construction
Due to construction, access to the G.H. Dawe Community Centre will be limited this summer, with a full closure planned for August.

As announced yesterday, City recreation centres are opening fully to the public as of July 1. With construction underway at the G.H. Dawe Community Centre, only limited services and areas will be available.

Here's what you need to know:
Starting July 2, fitness and gym areas will open from 10 a.m. – 8 p.m., daily. In July, summer day camps that normally operate from the Dawe will operate from other facilities.
The pool will remain closed until September.
To accommodate interior heating and ventilation construction, the facility will fully close from July 26 to August 31. Some registered preschool and summer camp programming may proceed, but no rental or general admission options will be available.
On September 1, we anticipate the pool will be open, but some other amenities, like the gym, may not be available. More information will be provided as construction progresses.
Playing surfaces in the arena will not be available until construction is complete, which is expected to be early 2023.
We are currently offering a discounted monthly Value Pass for $27 for adults ($24.50 for seniors; $21.90 for students; $19.30 for youth; $14.20 for children, and $60.50 for a family. It provides unlimited access to all facilities. As of August the Value Pass will only provide access to the Recreation Centre and Michener Aquatic Centre; however, access to the Dawe will be included in the Value pass until the pool, gym and fitness areas are open.
About the G.H. Dawe Community Centre Project
Work is underway now on the G.H. Dawe Community Centre Project and some exciting changes are in store. We expect to welcome visitors to the transformed space in early 2023. Here's just some of what you can expect:
Two NHL standard playing surfaces
Expanded fitness areas, including a running track
Outdoor spray park with washroom facilities
Improved accessibility
Additional north entrance + site access from 67 Street
Additional parking
During construction, there will be some changes and impacts to existing amenities and programs, and we'll do you best to share this information in advance. Thanks for your patience as we complete this work.
For more information about the project, please visit reddeer.ca/DaweProject.