Red Deer Restroom just might be the loveliest lavatory in Canada!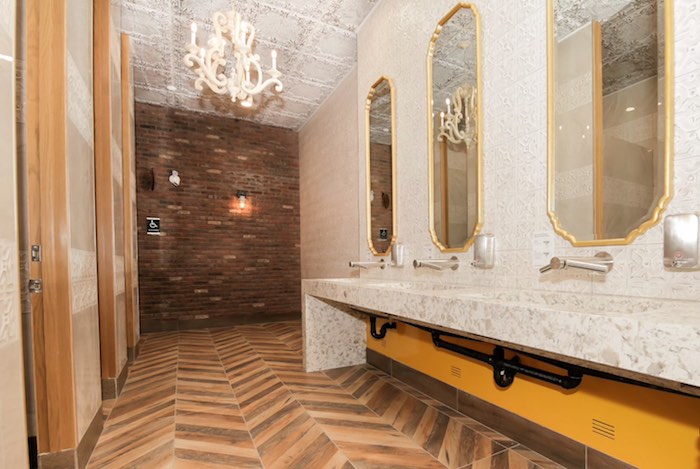 Technically it's in Gasoline Alley which means Red Deer County can also lay claim to this magnificent water closet at the Sweet Market Esso Station on the city's south edge. Canada's best restroom contest has named the top 5 finalists and three incredible Alberta biffies are on the list!
Clearly the Sweet Market Esso's palatial potties are the most beautiful, but that does not make it the clear cut winner. The Sweet Market will need Central Albertans to rally behind this luscious lavatory if they're going to win. This is a voting contest so you can do your part to make sure the Sweet Market Esso 'wipes up' the competition.
Just look at this beauty! Voting information is below.
News Release from Cintas Canada
The Sweet Market Esso Station in Red Deer, AB is a finalist in the 2021 Canada's Best Restroom contest!
The five finalists include:
Toronto Zoo – Toronto, ON
Surrey Park – Surrey, BC
Sweet Market Esso Station – Red Deer, AB
The ROOFTOP – Calgary, AB
Borden Park – Edmonton, AB
The public can submit multiple votes for the Toronto Zoo and the other four finalists now through July 9 at bestrestroom.com/Canada.
The facility that receives the most votes will win $2,500 in facility services from Cintas to help maintain their award-winning washrooms.
Cintas Canada Unveils Five Finalists in the 2021 Canada's Best Restroom Contest
The polls are open now through July 9
Cintas Canada, Ltd. invites the public to vote for the five finalists in the 2021 Canada's Best Restroom contest! The polls are open now through July 9 at bestrestroom.com/Canada. The facility that receives the most votes will win $2,500 in facility services from Cintas to help maintain their award-winning washrooms.
Cintas' nationwide contest highlights businesses that have invested in developing and maintaining exceptional washrooms. "These five facilities demonstrate a commitment to prioritizing hygiene and customer service – especially as cleanliness is so important right now – combined with creativity and whimsy not usually seen in washrooms," said Candice Raynsford, Marketing Manager, Cintas Canada.
Nominees for this year's contest were judged on five criteria: cleanliness, visual appeal, innovation, functionality and unique design elements. The five finalists include:
Toronto Zoo – Toronto, ON
Designed with the Toronto Zoo's mission of connecting people, animals and conservation science to fight extinction in mind, the new washrooms in the Zoo's Tundra Trek feature iconic Canadian species. The design draws on inspiration from our natural world for its fresh yet familiar atmosphere. From the cool blue mosaic walls that represent the calm transition of horizon to sky, to the dark and dramatic overhead features that represent the vast night sky across the tundra, no detail is too small. Each handwashing unit features a hands-free faucet, soap dispenser and hand dryer. The trough-style sink eliminates water splashing on the floor and includes hooks on the outside of the counter to hang a purse, backpack or coat. This state-of-the-art facility modernizes the Toronto Zoo's guest experience in a visually stunning way.
Surrey Park – Surrey, BC
The intent for the park washroom was to create a playful, durable, safe facility that works well within the City of Surrey's park contexts. The washroom was designed to be universally accessible, hands-free with no-touch fixtures and configured for solar power. It also features public art panels on all four sides of the structure. The design employs a distinct form, strong colours and unique use of materials.
Sweet Market Esso Station – Red Deer, AB
The washrooms at Sweet Market Esso boast decorative high-end tiles and five-star finishes, giving the restrooms a classy feel, mimicking a fancy hotel suite in Italy rather than a convenience store restroom. These washrooms are always a topic of customer conversation in the store where selfies take center stage. The constant comments regarding the awe of it all – plus the extreme cleanliness – are great reminders of the sheer elegance and grandeur these restrooms provide for the customer.
The ROOFTOP – Calgary, AB
The ROOFTOP restaurant is a unique "weather managed" outdoor patio experience located in downtown Calgary. The adjacent indoor washrooms were designed to be inclusive, engaging and distinctively unique. As you enter "The Alley" you are greeted by a life-sized bobblehead re-imagined as your personal concierge. Walk in to immerse yourself in the funky and fun graffiti wallpaper sections taken largely from the "John Lennon Peace Wall" originally created in Prague. Elements of surprise abound throughout these unusual washrooms, including the porta-potty door in the "Mostly Men" area and hidden selfie walls.
Borden Park – Edmonton, AB
Designed by gh3, the washrooms are at the core of the single-level pavilion surrounded by highly reflective glass. An integrated approach to environmental sustainability is evident in the choice of materials: wood, concrete and glass were selected for their durability, permanence and timelessness. The washroom features hands-free elements to reduce germs and a stainless-steel trough-style sink that prevents water splashing on the floor. The sleek washroom stands as a striking improvement on the typical concrete options, and a sign of outstanding design to come.
For contest updates, fun facts and washroom trivia, "Like" Canada's Best Restroom on Facebook at www.Facebook.com/CanadasBestRestroom.
Smith won't seek early vote if she wins UCP leadership, becomes next Alberta premier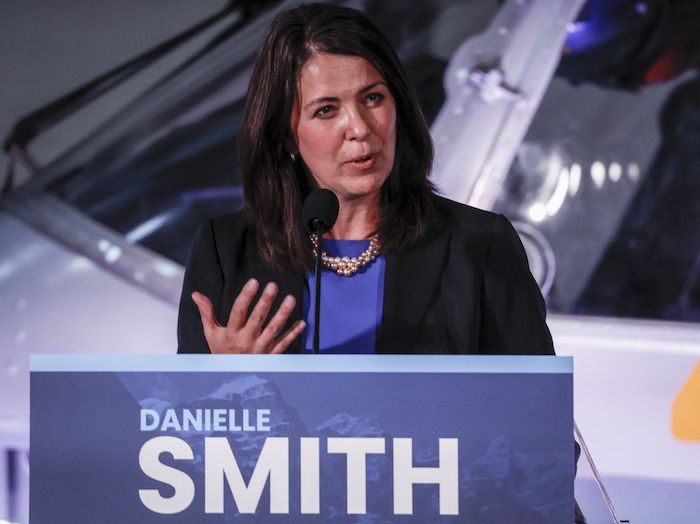 United Conservative Party leadership candidate Danielle Smith says if she wins this week's vote and becomes the next Alberta premier, she would not call an early election to seek a broad mandate on her policy ideas.
Smith, the perceived front-runner in the race, says the public tends to punish leaders who call an early election.
She says she would wait until the next scheduled election in May 2023, but believes she has a mandate now to proceed with her plans.
Smith has said she would immediately pass an Alberta sovereignty act, which would allow the province to ignore federal laws and court rulings deemed not in its interest.
Legal experts, some of Smith's leadership rivals and Premier Jason Kenney have labelled the act not only illegal but a recipe for constitutional and economic chaos.
Smith has also talked about revamping the health system by using health spending accounts and firing the board of Alberta Health Services, which oversees the front-line delivery of care.
Today is the last day for advance voting, as seven candidates dig in for the final campaign push before UCP members select a new leader to replace Kenney on Thursday.
Alberta commits $20.8 million over the next four years to fight human trafficking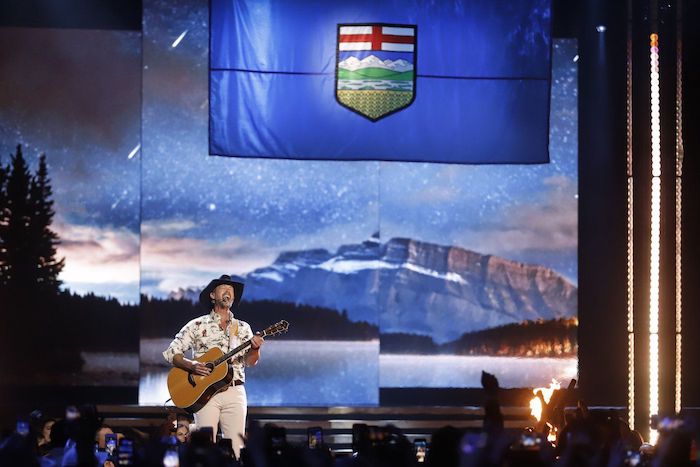 By Rob Drinkwater in Edmonton
The Alberta government is providing $20.8 million over the next four years to implement recommendations from a star-led task force on human trafficking.
Country singer Paul Brandt, chair of the Alberta Human Trafficking Task Force, personally thanked Premier Jason Kenney during the funding announcement Sunday at Edmonton International Airport for his willingness to prioritize the issue, and for putting faith in Brandt to lead the group.
"Premier Kenney's longtime personal dedication and commitment to the issue of human trafficking is authentic and is admirable," Brandt said.
"He's the only political leader I've met in my 17 years of advocating for trafficking victims and survivors who took the time and initiative to personally write a plan to address this horrific crime."
The money will establish an office to combat trafficking as well as a centre of excellence for research and data collection — recommendations the government accepted when the task force presented its report in March.
Justice Minister Tyler Shandro said the goal is to launch the office by next summer.
Other task force recommendations that will be supported include a new grant for community projects and Indigenous-led and culturally appropriate services. Civilian positions that will focus on supporting victims and survivors throughout human trafficking investigations will also be funded.
"Human trafficking is far more prevalent — way more common — than the stats would suggest because it's a hidden crime," Kenney said at the announcement.
"It festers in the dark. There are victims who face fear, shame and self-doubt and some who will never report what they've gone through."
The task force was appointed in May 2020 and engaged with nearly 100 experts and survivors of trafficking to provide guidance on how to best implement the government's action plan to fight human trafficking.
The government has said human trafficking includes sexual exploitation, forced labour trafficking and trafficking in human organs or tissues.
Kenney, who will be replaced as premier when his United Conservative Party selects a new leader on Thursday, noted he started fighting human trafficking over 20 years ago when he was an MP and joined a group of international parliamentarians on a coalition to fight the practice.
Later as Canada's immigration minister, he said he took steps to make it easier for human trafficking victims who had migrated to Canada to obtain safety and protection.
In winter 2019, he said he committed the UCP to a nine-point action plan to combat human trafficking, which led to the Protecting Survivors of Human Trafficking Act, which took effect in May 2020.
Brandt said it was exciting to be part of the funding commitment at the airport, where he said he stood in 2019 for a partnership with the facility and other groups in the Edmonton region to fight trafficking, which he called "modern day slavery."
"It has been our dream that special focus and permanent funding would one day become a reality. Today is that day," Brandt said.
This report by The Canadian Press was first published Oct. 2, 2022.