Red Deer RCMP arrest man after collisions with building, cars and police vehicle
Red Deer, Alberta – Red Deer RCMP arrested a man Friday evening after the stolen truck he was driving crashed into a south Red Deer storefront, six parked vehicles and a police cruiser before fleeing police; RCMP located the suspect hiding in a north Red Deer apartment shortly afterward.
Shortly before 5:30 pm on March 16, RCMP on patrol located a suspicious truck with a stolen license plate as it drove in south Red Deer. Due to public safety concerns, RCMP tracked the truck at a distance until it parked in the 2300 block of 50 Avenue before moving to block it in. When RCMP pulled in behind the suspect truck, it accelerated and reversed rapidly a number of times, crashing into the windows of the business it was parked in front of, the police cruiser, and a number of parked vehicles around it. In its efforts to flee, the truck narrowly avoided striking police officers who were on foot in the parking lot. There were a number of civilians in the parking lot, on foot and in vehicles, and police officers focused their efforts on ensuring the safety of those bystanders while the truck fled at a high rate of speed. Luckily, no one was injured in this series of fast-paced collisions; however, the truck caused significant damage to the storefront, to six parked vehicles and to the police vehicle.
RCMP identified the suspect driving the truck, and quickly located him after further reports from the public of suspicious activity and a suspicious truck parked at an apartment building in the 5100 block of 60 Street. RCMP contained the area with support from Police Dog Services and located the suspect in one of the apartments, where he was taken into custody without incident. At the time of his arrest, the suspect was wanted on an outstanding warrant for breaching his probation.
The truck driven by the suspect had been reported stolen out of Red Deer the morning of March 4 after it was left unlocked and running. It was heavily damaged as a result of the collisions.
27 year old Jesse James Leckner faces the following charges related to this incident in addition to his outstanding warrant:
· Criminal Code 355(a) – Possession of stolen property over $5,000
· Criminal Code 355(b) – Possession of stolen property under $5,000
· Criminal Code 249(1)(a) – Dangerous operation of motor vehicle
· Criminal Code 270.01(1)(a) – Assault on police X 2
· Criminal Code 129(a) – Resist peace officer
· Criminal Code 430(4) – Mischief over $5,000
· Criminal Code 252(1.1) – Fail to stop or remain at scene X 8
· Criminal Code 733.1(1) – Fail to comply with probation
Leckner faces further charges in relation to a series of incidents involving a stolen truck, flight from police and two gas and dash reports spanning the time period between February 5 and February 24. Those charges are as follows:
· Criminal Code 334(b) – Theft under $5,000 X 2
· Criminal Code 355(a) – Possession of stolen property over $5,000
· Criminal Code 249.1(1) – Fail to stop for police
· Criminal Code 733.1(1) – Fail to comply with probation
Leckner was remanded to appear in court in Red Deer on March 19 at 9:30 am to speak to all the above charges.
"The series of incidents Friday night posed a grave risk to the public, and we were able to move quickly on it and make the arrest as a result of intelligence gathered by police and great cooperation from the public," says Staff Sergeant Rob Marsollier with the Red Deer RCMP. "We were able to bring this incident to a successful conclusion with no injury to innocent bystanders or police officers, thanks to good old-fashioned police work, tips from the public, and the quick cooperation of a number of people in sharing footage from various surveillance cameras with police."
More than $4M in illegal drugs seized during EDGE investigation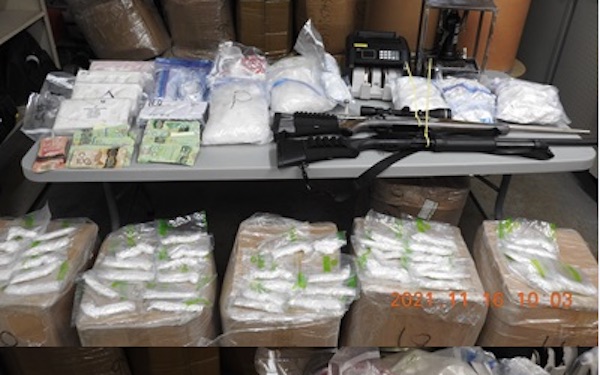 News release from Edmonton Police Service
A nine month EPS investigation has culminated with the arrest of four males and the seizure of an estimated $4.3M in drugs and buffing agents.
"This investigation and the corresponding results are the culmination of nine months of commitment by our members to keep a significant amount of illegal drugs off Edmonton streets," said Staff Sgt. David Paton, of the Edmonton Drug and Gang Enforcement Unit (EDGE). "The continued reduction of harm to our community is our number-one objective."
Responding to intelligence received in the spring of 2021, the EPS Edmonton Drug and Gang Enforcement Unit (EDGE) began investigating several individuals allegedly involved in the illegal drug trade throughout the city.
Working in conjunction with the Alberta Law Enforcement Response Team (ALERT), EDGE members successfully arranged several undercover drug buys with four suspects over the last six months.
In October, investigators identified two addresses of interest; the first being the residence of the primary suspect, David Vidal, 31, near 208 Street and 61 Avenue with the second being an alleged drug stash pad on Secord Boulevard.
Police seized significant amounts of drugs and weapons at the culmination of this investigation including:
Methamphetamine – 5,784.5 g (est. street value of more than $206,000)
Cocaine – 11,374 g(est. street value of more than $607,000)
Other drugs – 4,591 tablets (cocaine or Fentanyl-based); 25.7 g Ketamine (est. street value $1,028)
Buffering agent – 897.85 kg (est. street value $3,500,000.00)
Firearms & ammunition – 12 gauge shotgun, .300 win mag rifle, 800 rounds of ammo
Other weapons: 2 tasers, brass knuckles, 2 butterfly knives, 2 sets of brass knuckles
Cash: Approximately $21,000
Vehicle: 2018 Kia Sorrento
Investigators have since arrested and charged:
David Vidal, 31, of Edmonton: 19 offences including drug trafficking and possession, firearms and weapon-related offences, child endangerment, proceeds of crime and resisting arrest.
Nathaniel Cloney, 39, of Edmonton: 6 offences including drug trafficking and possession and proceeds of crime.
Matthew Lunty, 33, of Edmonton: 6 offences including drug trafficking and possession and proceeds of crime.
Abraham Chavez, 37, of El Salvador: 4 offences including drug trafficking and possession and proceeds of crime; a warrant for his arrest has also been issued.
Anyone with any information about this or any other crime is asked to contact the EPS at 780-423-4567 or #377 from a mobile phone. Anonymous information can also be submitted to Crime Stoppers at 1-800-222-8477 or online at www.p3tips.com/250.
Can you help RCMP identify this suspect?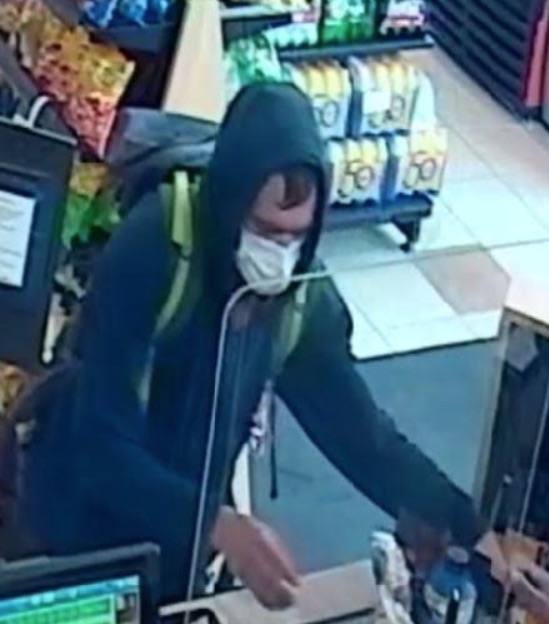 News Release from Red Deer RCMP
Red Deer RCMP seek public assistance to identify suspect
Red Deer RCMP are asking for the public's assistance to help identify a suspect involved in an assault and robbery this past July.
On July 11, 2021 at approximately 7:30 a.m., a male arrived at the McDonalds located at 2502-50 Ave on a bicycle. The individual approached the occupant sitting inside of a parked 2012 Chevrolet Silverado and stole the vehicle. Around 8:40 a.m. that same morning, the suspect drove the stolen vehicle to a Fas Gas at 5926-54 Ave where he attempted a robbery. The suspect confronted a gas station employee and an altercation occurred, and the suspect fled in the stolen vehicle. Police later recovered the vehicle that day.
Red Deer RCMP are releasing images of the suspect so that the public might aid in identifying this individual. The suspect is described as a male wearing a blue hoodie, backpack with bright neon green straps, and camouflage cargo pants.
If you have information on these incidents or witnessed suspicious activity in your neighbourhood, please contact the Red Deer RCMP at 403-343-5575 or your local police department. If you wish to remain anonymous, you can contact Crime Stoppers at 1-800-222-8477 (TIPS), on line at www.p3tips.com or by using the "P3 Tips" app available through the Apple App or Google Play store.