Red Deer RCMP arrest man after collisions with building, cars and police vehicle
Red Deer, Alberta – Red Deer RCMP arrested a man Friday evening after the stolen truck he was driving crashed into a south Red Deer storefront, six parked vehicles and a police cruiser before fleeing police; RCMP located the suspect hiding in a north Red Deer apartment shortly afterward.
Shortly before 5:30 pm on March 16, RCMP on patrol located a suspicious truck with a stolen license plate as it drove in south Red Deer. Due to public safety concerns, RCMP tracked the truck at a distance until it parked in the 2300 block of 50 Avenue before moving to block it in. When RCMP pulled in behind the suspect truck, it accelerated and reversed rapidly a number of times, crashing into the windows of the business it was parked in front of, the police cruiser, and a number of parked vehicles around it. In its efforts to flee, the truck narrowly avoided striking police officers who were on foot in the parking lot. There were a number of civilians in the parking lot, on foot and in vehicles, and police officers focused their efforts on ensuring the safety of those bystanders while the truck fled at a high rate of speed. Luckily, no one was injured in this series of fast-paced collisions; however, the truck caused significant damage to the storefront, to six parked vehicles and to the police vehicle.
RCMP identified the suspect driving the truck, and quickly located him after further reports from the public of suspicious activity and a suspicious truck parked at an apartment building in the 5100 block of 60 Street. RCMP contained the area with support from Police Dog Services and located the suspect in one of the apartments, where he was taken into custody without incident. At the time of his arrest, the suspect was wanted on an outstanding warrant for breaching his probation.
The truck driven by the suspect had been reported stolen out of Red Deer the morning of March 4 after it was left unlocked and running. It was heavily damaged as a result of the collisions.
27 year old Jesse James Leckner faces the following charges related to this incident in addition to his outstanding warrant:
·         Criminal Code 355(a) – Possession of stolen property over $5,000
·         Criminal Code 355(b) – Possession of stolen property under $5,000
·         Criminal Code 249(1)(a) – Dangerous operation of motor vehicle
·         Criminal Code 270.01(1)(a) – Assault on police X 2
·         Criminal Code 129(a) – Resist peace officer
·         Criminal Code 430(4) – Mischief over $5,000
·         Criminal Code 252(1.1) – Fail to stop or remain at scene X 8
·         Criminal Code 733.1(1) – Fail to comply with probation
Leckner faces further charges in relation to a series of incidents involving a stolen truck, flight from police and two gas and dash reports spanning the time period between February 5 and February 24. Those charges are as follows:
·         Criminal Code 334(b) – Theft under $5,000 X 2
·         Criminal Code 355(a) – Possession of stolen property over $5,000
·         Criminal Code 249.1(1) – Fail to stop for police
·         Criminal Code 733.1(1) – Fail to comply with probation 
Leckner was remanded to appear in court in Red Deer on March 19 at 9:30 am to speak to all the above charges.
"The series of incidents Friday night posed a grave risk to the public, and we were able to move quickly on it and make the arrest as a result of intelligence gathered by police and great cooperation from the public," says Staff Sergeant Rob Marsollier with the Red Deer RCMP. "We were able to bring this incident to a successful conclusion with no injury to innocent bystanders or police officers, thanks to good old-fashioned police work, tips from the public, and the quick cooperation of a number of people in sharing footage from various surveillance cameras with police."
Arrest made and child rescued in cross-border investigation
February 19, 2021
Child rescued in cross-border investigation

Calgary… A 37-year-old Fort St. John man has been arrested by ALERT's Internet Child Exploitation unit for allegedly offending upon his daughter.
Following up on a tip, that was initially submitted to the Internet Child Exploitation (ICE) team based in Calgary, investigators were able to identify a B.C. suspect allegedly uploading child sexual abuse materials online. Further investigation revealed the photos were of the suspect's young daughter.
ICE alleges that the suspect had been distributing the photos to another user online. The suspect was arrested on February 8, 2021.
"Our primary concern was the health and well-being of that child. Once we received that tip, our investigators sprang into action and made an arrest as quickly as possible," said Sgt. Randy Poon, ALERT ICE.
"These types of crimes don't respect borders or boundaries. The cooperation and enforcement between partners needs to be seamless and this file is an example of the efforts underway to detect, deter and investigate child exploitation files," said Cpl. Madonna Saunderson, RCMP B.C. North District.
Law enforcement from across Canada, including ICE, the Calgary Police Service, Fort St. John RCMP, RCMP's National Child Exploitation Coordination Centre, and United States' National Centre for Missing and Exploited Children, collaborated on the investigation.
The suspect's name is not being released in order to protect the identity of the victim. The victim and family members are receiving help from a variety of specialized support services, and children's services is involved.
A number of computer and electronic devices were seized for forensic analysis. ICE's investigation is ongoing.
The 37-year-old man has been charged with:
Making child pornography;
Distributing child pornography;
Possessing child pornography;
Accessing child pornography; and
Several firearms offences.
Anyone with information about this case or any child exploitation situation is asked to contact their local police or to report their concern anonymously at www.cybertip.ca.
ALERT was established and is funded by the Alberta Government and is a compilation of the province's most sophisticated law enforcement resources committed to tackling serious and organized crime.
­
­­
RCMP crack firearms trafficking operation based in Blackfalds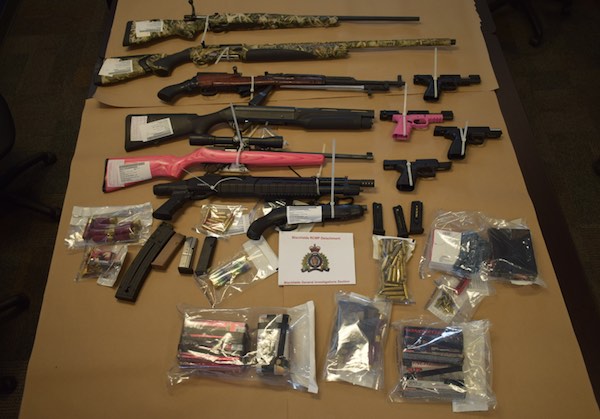 From the Blackfalds RCMP
Blackfalds RCMP – Multi agency attack on firearms trafficking
A comprehensive investigation was initiated in January, and saw at least 11 different partnering detachments, units and agencies collaborating to stop an organized firearms straw buying/trafficking operation.
The investigation was launched by Blackfalds RCMP after receiving intelligence about the possibility of the trafficking.  Extensive evidence had to be gathered which included the engagement of firearms partners; the Chief Firearms Officer, NWEST, Red Deer ALERT and Edmonton Police Service's Firearms Investigation Unit. These units were able to provide expertise related to the dynamics of straw purchasing and trafficking.
Three suspects were identified and targeted in the ongoing investigation.  On Feb. 12, search warrants were conducted at residences in both Red Deer and Blackfalds.  Because there were two different locations, and given the nature of the searches, Blackfalds, Red Deer, Sylvan Lake, Innisfail, Ponoka General Investigation Section Units and Red Deer Crime Reduction Team all provided assistance.  The RCMP Police Dog Services and Emergency Response Team were also on hand to ensure police and public safety.
Three adults were taken into custody. During the execution of the search warrant, a loaded Glock .22 pistol was located with the three adults.  10 firearms and ammunition were seized from the residences.  Some of the firearms were loaded, and had serial numbers tampered with. Continuing investigation led the RCMP to determine other firearms were purchased. The Blackfalds RCMP anticipate seizing two more pistols from a Calgary business.
David Jason Masyk (39), Jason Paul Lafferty (48) and Jennifer Lynn McCagherty (29) were all charged criminally on Feb. 13 related to firearms / firearms trafficking offences.
Lafferty is facing 25 charges, including four counts of firearms possession contrary to prohibition order. Masyk is facing 10 charges, including three counts of Weapons Trafficking and four counts of Weapons possession for the purpose of trafficking and McCagherty is facing 19 charges, including 10 counts of unauthorized possession of a firearm.
Judicial Interim Release hearings were held.  Lafferty did not speak to bail and was remanded into custody until Feb. 17, 2021. Masyk and McCagherty were both released and are set to appear in Red Deer Provincial court on March 17, 2021.