Red Deer Public teachers ready to bring new curriculum to the classroom this fall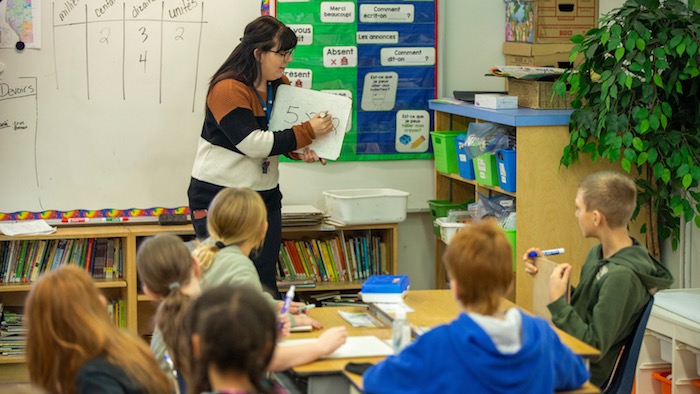 Red Deer Public's Learning Services Team have been working hard to ensure our elementary school teachers are well prepared and are confident to teach the new curricula this fall.
For a second school year in a row, our Kindergarten to Grade 3 teachers will start their school year delivering a new provincial curriculum. Science teachers and French Immersion Language Arts and Literature teachers in Kindergarten to Grade 3 will begin teaching a new curriculum this fall. As well, Math and English Languages Arts and Literature teachers in Grades 4-6 will implement new curriculums in September. The Provincial Government postponed the implementation of the new Fine Arts curriculum for Kindergarten to Grade 3, and the Science curriculum for Grades 4-6.
During the 2021/2022 school year, in preparation for this new curriculum implementation, 148 teachers were involved in training, many in both Mathematics and English Language Arts and Literacy. In 2022/2023 Red Deer Public continued supporting these teachers, added training in Physical Education and Wellness for Kindergarten to Grade 6 teachers, and training for teachers implementing new curriculum in the 2023/2024 school year. The Learning Services team has trained approximately 491 teachers, in multiple subject areas, over two years in Red Deer Public Schools.
"Our Learning Services team has hosted all of our elementary teachers at our Central Services location for multiple training sessions. This has meant that every elementary teacher has had three full days with us immersed in the new curricula with some returning for planning and creating resources," said Della Ruston, Associate Superintendent of Learning Services. "These sessions have been invaluable because it has allowed our Learning Services team to collaborate with teachers as we all work our way through the new curricula and learning outcomes."
The province has supported this professional learning by providing $198,000 for the 2022/2023 school year and $191,000 for next year to Red Deer Public. Another $254,340 was provided in 2022/2023 and $259,155 for next year to purchase learning resources for the new curricula.
"We are really fortunate as a Division to have a strong Learning Services team who has the ability to guide our elementary school teachers through these new curriculums," said Ruston. "In addition, the support of our Board and administration has allowed us to ensure we can best support our teachers in the classroom."
First Nations, Metis and Inuit Learning Services Coordinator Hayley Christen and Lead Teacher Terry Lakey have worked alongside all of the Learning Services coordinators to ensure authentic Indigenous teachings that align with and are infused throughout the new curricula.
"We are confident that our teachers have the knowledge, understanding, and best resources for teaching and supporting the implementation of new curricula to our students heading into the fall," said Ruston.
Generous donation from Alumni bolsters LTCHS Music Program with special "Roadhammers" guitar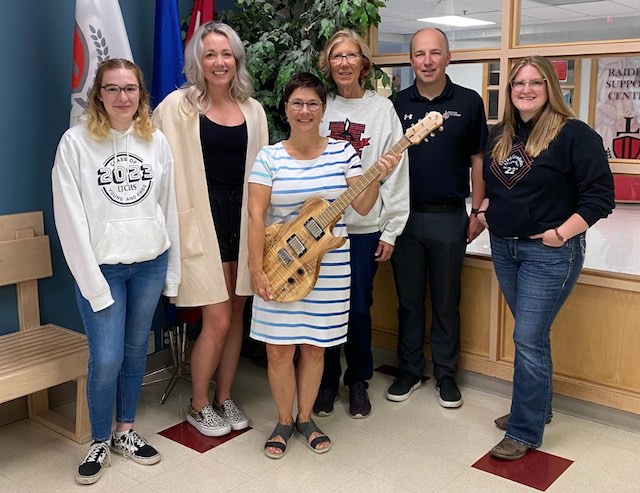 Lindsay Thurber alumnus craft custom guitar for a good cause
A guitar with special meaning is coming home thanks to two Lindsay Thurber Comprehensive High School Music Program alumnus who are passionate about supporting youth and strive to make a meaningful difference in the community.
As part of their quest to help make a difference, this year Jennah Salls and Jazdn Moore decided to support the Clayton Bellamy Foundation for the Arts by building an electric guitar made from all local wood in Central Alberta. Proceeds from the event will help support the build of an arts centre in Lakeland.
"This guitar project sparked from a combination of everything we're passionate about. Being such big fans of music and its impact, alongside our goal to give back to our community as much as possible, once we discovered the Clayton Bellamy Foundation, the vision all came together," said Jennah. "We wanted to build this guitar to have the experience under our belt and since it had so much potential to be a part of something bigger, it was a no brainer to tie it into the Clayton Bellamy Foundation."
Construction of the guitar began under the mentorship of local luthier David Gilmore with Gilmore Guitars. "We then decided to kick it up a notch by starting a fundraiser around our community with the hopes of raising as much money as possible for the Foundation's cause," said Jazdn.
The guitar was auctioned off at the Clayton Bellamy Foundation For The Arts event in Bonnyville earlier this month.
"This fundraiser also was designed to try and raise the winning bid to be able to bring the guitar back to Red Deer considering that the auction for the foundation takes place outside of our community," said Jennah. "Our mission was to get it into the hands of other youth by donating it to the LTCHS music program as alumni. To further support Clayton's amazing objective, we also decided to put in a custom made coffee station, coffee table and end table set as an auction item. It's just been an incredible journey building this guitar and dreaming bigger and bigger as each day goes by and we simply want to make the biggest impact possible with this project!"
Thanks to the generous support of the community, Jennah and Jazdn were able to put a winning bid of $11,000 for the guitar. The custom furniture also went for $8,500.
As a result, the custom built guitar was given to Lindsay Thurber so that students in the music program can have an opportunity to play it and feel its impact.
"We are so grateful to benefit from Jennah and Jazdn's commitment to the arts and their passion for supporting the community," said Jennifer Mann, Music Director at Lindsay Thurber. "The story of the guitar and Jennah and Jazdn's generosity will live on for years to come through our music program."
The Taliban have banned girls from school for 2 years. It's a worsening crisis for all Afghans
Girls attend school on the first day of the new school year, in Kabul, Afghanistan, on March 25, 2023. Two years after the Taliban banned girls from school beyond sixth grade, Afghanistan is the only country in the world with restrictions on female education. Now, the rights of Afghan women and children are on the agenda of the United Nations General Assembly Monday, Sept. 18, 2023, in New York. (AP Photo/Ebrahim Noroozi, File)
By Riazat Butt in Islamabad
ISLAMABAD (AP) — Two years after the Taliban banned girls from school beyond sixth grade, Afghanistan is the only country in the world with restrictions on female education. Now, the rights of Afghan women and children are on the agenda of the United Nations General Assembly Monday in New York.
The U.N. children's agency says more than 1 million girls are affected by the ban, although it estimates 5 million were out of school before the Taliban takeover due to a lack of facilities and other reasons.
The ban triggered global condemnation and remains the Taliban's biggest obstacle to gaining recognition as the legitimate rulers of Afghanistan. But the Taliban defied the backlash and went further, excluding women and girls from higher education, public spaces like parks, and most jobs.
Here's a look at the ban on girls' education:
WHY DID THE TALIBAN EXCLUDE GIRLS FROM HIGH SCHOOL?
The Taliban stopped girls' education beyond sixth grade because they said it didn't comply with their interpretation of Islamic law, or Sharia. They didn't stop it for boys. In the past two years, they've shown no signs of progress in creating the conditions they say are needed for girls to return to class.
Their perspective on girls' education partly comes from a specific school of 19th century Islamic thought and partly from rural areas where tribalism is entrenched, according to regional expert Hassan Abbas.
"The ones who went on to develop the (Taliban) movement opted for ideas that are restrictive, orthodox to the extreme, and tribal," said Abbas, who writes extensively about the Taliban. The leadership believes women should not participate in anything social, public and should especially be kept away from education, said Abbas.
The Taliban also stopped girls' education when they ruled Afghanistan in the late 1990s.
WHAT DO MUSLIM-MAJORITY COUNTRIES SAY ABOUT THE BAN?
There's a consensus among clerics outside Afghanistan that Islam places equal emphasis on female and male education. "The Taliban have no basis or evidence to claim the contrary," said Abbas. But pleas from individual countries and groups, like the Organization of Islamic Cooperation, have failed to sway the Taliban.
Syed Akbar Agha, a former Taliban front-line commander, said the insurgents espoused an Islamic system the day they entered Kabul in August 2021.
"They also gave Afghans and the outside world the idea that there would be an Islamic system in the country," said Agha. "There is currently no (other) Islamic system in the world. The efforts of the international community are ongoing to implement democracy in Islamic countries and turn them away from the Islamic system."
WHAT IS THE IMPACT OF THE BAN ON WOMEN?
Roza Otunbayeva, U.N. Secretary-General Antonio Guterres' special representative for Afghanistan and the head of the U.N. mission in Afghanistan, said one of the obvious impacts of an education ban is the lack of training of aspiring health care professionals.
Female medical students had their studies halted after last December's Taliban edict banning higher education for women. Afghan women work in hospitals and clinics — health care is one of the few sectors open to them — but the pipeline of qualified people will dry up. Afghan women cannot see male doctors, so children will also lose out on medical attention if women are their primary carers.
"Looking into the future and a scenario where nothing changes, where will the female doctors, midwives, gynecologists, or nurses come from?" Otunbayeva said in an email to The Associated Press. "In a strictly gender segregated society, how will Afghan women be able to get the most basic healthcare services if there are no female professionals to treat them?"
WHAT IS THE IMPACT ON AFGHANISTAN'S WIDER POPULATION?
The high school ban is not just about girls' rights. It's a worsening crisis for all Afghans.
Tens of thousands of teachers have lost their jobs. Support staff are also unemployed. Private institutions and businesses that benefited financially from girls' education have been hit. Afghanistan has a shattered economy and people's incomes are plummeting. Excluding women from the job market hurts the country's GDP to the cost of billions of dollars, says UNICEF.
The Taliban are prioritizing Islamic knowledge over basic literacy and numeracy with their shift toward madrassas, or religious schools, paving the way for a generation of children with no contemporary or secular education to improve their or the country's economic future.
There are other consequences for the general population, like public health and child protection.
U.N. data says birth rates are higher among Afghan girls aged 15-19 who don't have secondary or higher education. A woman's education can also determine if her children have basic immunization and if her daughters are married by the age of 18. The lack of women's education is among the major drivers of deprivation, says the U.N.
Aid groups say girls are at increased risk of child labor and child marriage because they're not at school, amid the growing hardships faced by families.
WILL THE TALIBAN CHANGE THEIR MINDS?
The Taliban waged a decades-long jihad to implement their vision of Sharia. They are not backing down easily. Sanctions, frozen assets, the lack of official recognition, and widespread condemnation has made little difference.
Countries that have a relationship with the Taliban could make an impact. But they have different priorities, reducing the prospects of a united front on girls' education.
Pakistan has concerns about a resurgence of militant activity. Iran and Central Asian countries have grievances about water resources. China is eyeing investment and mineral extraction opportunities.
There's a bigger likelihood of pressure coming from within Afghanistan.
The Taliban rule of today is different from that of decades ago. Senior leaders, including the chief spokesman Zabihullah Mujahid, rely on social media for key messaging to Afghans at home and abroad.
They point to their success in eradicating narcotics and cracking down on armed groups like the Islamic State. But improving security and wiping out poppy crops will only satisfy people to a point.
While Afghans are concerned about the loss of girls' education, they have more immediate worries like earning money, putting food on the table, keeping a roof over their heads, and surviving droughts and harsh winters.
There is a desire within Afghanistan for the Taliban to have some kind of international acceptance, even if it's not recognition, so the economy can thrive.
Public opinion is much more relevant and influential today than it was during Taliban rule in the 90s, said Abbas. "Internal pressure from ordinary Afghans is going to ultimately push Kandahar in the corner and make a difference."
But it could take years for the ban's consequences to hit Afghan men and trigger a groundswell of unrest. Right now, it only affects girls and it's mostly women who have protested the slew of restrictions.
Agha said Afghans will support the ban if the end goal is to enforce hijab, the Islamic headscarf, and finish gender mixing. But they won't if it's simply to end girls' education outright.
"I think only the nation can lead the way," he said.