Red Deer Public launches community engagement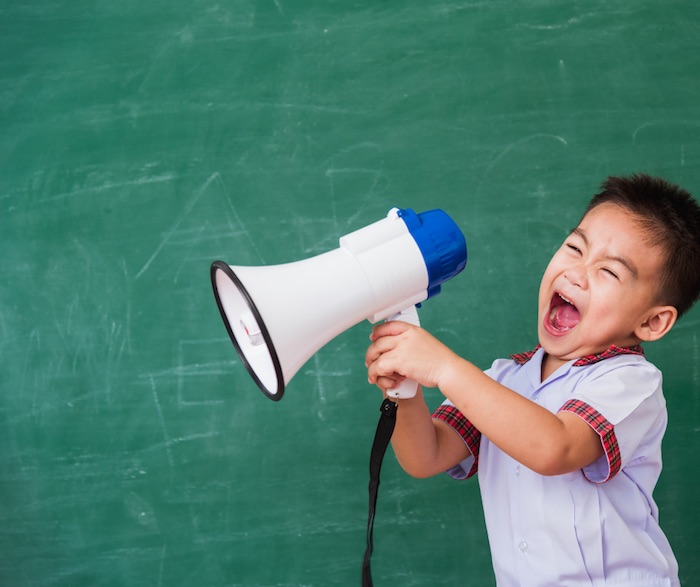 Over the past couple of years, Red Deer Public Schools has asked its community what makes the Division the best choice for families. This year, we want to engage with our community around our Division priorities and day to day experiences for students.
Red Deer Public Schools will launch its community engagement through to the beginning of February. The Board of Trustees will review what our community has said during the engagement process at the end of February at their two-day Board conference.
"The Division's priorities currently include Literacy and Numeracy, Equity and Student Success and Completion. These have been Red Deer Public's priorities since 2012," said Nicole Buchanan, Board Chair. "There are strong links between these priority areas. These are not standalone priorities, each of these areas overlap in meeting the needs of all students. Our priorities are the foundation of all we do at Red Deer Public, but the highest priority for Red Deer Public is the success of every child in school."
Red Deer Public's Education Plan responds to local priorities and aspirations as well as those of Alberta Education.
"As we move into our community engagement we want to ensure our planning is focused on key priorities, and those key priorities may have changed," said Buchanan. "We will continue to focus on these key areas, but we want to know if our community feels there are other priorities Red Deer Public should work towards."
Red Deer Public's Community Engagement dates are as follows:
January 12 – Teacher Voice Committee

January 16 – February 17 – Middle Schools, K-8, High School Engagement (lunch hour at each school)

January 16 – February 3 – Online Engagement

February 6 – Red Deer Public School Administrators

February 7 – City-Wide School Council

February 23 & 24 – Board of Trustees conference
For more information, visit rdpsd.ab.ca.
Notre Dame Fine Arts Department invites you to see Roald Dahl's Matilda, the Musical!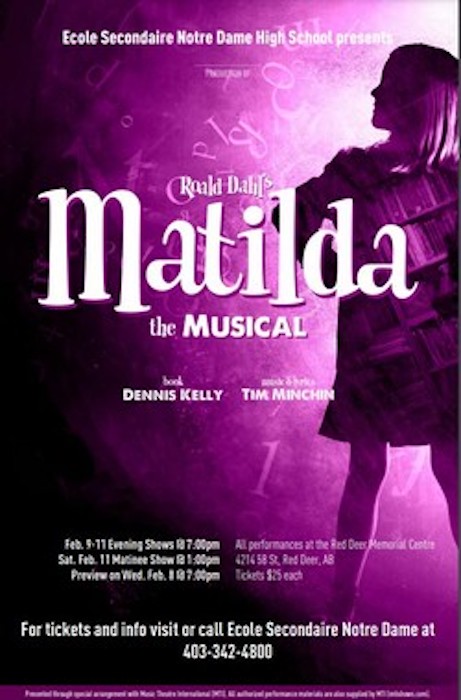 From Red Deer Catholic Regional Schools
Roald Dahl's Matilda, the Musical!
Co-Directed by Jennifer Cocolicchio and Stephanie Layden starring Addy Penney, Jordana Woroniuk, Coryn Tardif, David Jones, and Mikayla Beever.
Please join the Notre Dame Fine Arts students for their interpretation of Matilda.
Inspired by the twisted genius of Roald Dahl, the Tony Award-winning Roald Dahl's Matilda The Musical, from the Royal Shakespeare Company, revels in the anarchy of childhood, the power of imagination and the inspiring story of a girl who dreams of a better life. Book by Dennis Kelly and original songs by Tim Minchin.
Matilda is a little girl with astonishing wit, intelligence and psychokinetic powers. She's unloved by her cruel parents but impresses her schoolteacher, the highly loveable Miss Honey. Over the course of her first term at school, Matilda and Miss Honey have a profound effect on each other's lives, as Miss Honey begins not only to recognize but also appreciate Matilda's extraordinary personality. Matilda's school life isn't completely smooth sailing, however – the school's mean headmistress, Miss Trunchbull, hates children and just loves thinking up new punishments for those who don't abide by her rules. But Matilda has courage and cleverness in equal amounts, and could be the school pupils' saving grace!
Packed with high-energy dance numbers, catchy songs and quick wit, Matilda is a joyous girl power romp. Children and adults alike will be thrilled and delighted by the story of the special little girl with an extraordinary imagination.
The shows take place at Red Deer's Memorial Centre on February 9, 10, & 11 at 7:00pm. There is also a Matinee on February 11 at 1:00pm.
TICKETS ARE $25.00
TICKETS AVAILABLE in advance at Notre Dame's front office, online at https://www.notredamehigh.ca/programs/fine-arts or on the date at the theatre door.
SPECIAL PREVIEW NIGHT on February 8 at 7:00pm – Free for all press representatives and pay what you can for the general public.
Red Deer Polytechnic welcomes Patrick Machacek as Vice President, Development & Partnerships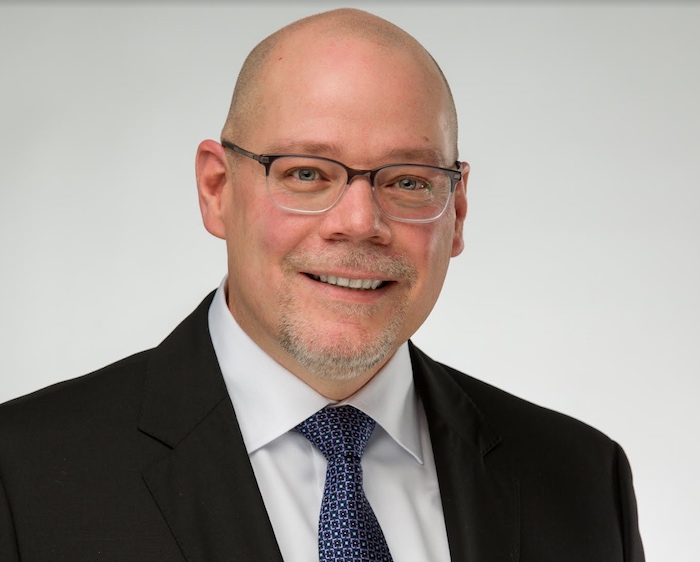 Red Deer Polytechnic is pleased to welcome Patrick Machacek as Vice President, Development & Partnerships.
"This exciting new position will provide leadership toward RDP's strategic and operational planning, communications and marketing, applied research, extended education, external relations and also guide our partnerships with industry and the community," says Stuart Cullum, President of Red Deer Polytechnic. "Patrick's experience and track record speaks for itself, and we look forward to his contributions to RDP and the Red Deer region."
Patrick has spent his career as a fund development professional. He has more than twenty years leading post-secondary external relations portfolios including roles as the Vice President, Development & Strategy at Olds College; Vice President, Transformation at NorQuest College; and Associate Vice President, Advancement, Communications & Corporate Training at NAIT. During the past two decades, Mr. Machacek has led teams and implemented new business models that have produced significant impact. Through his leadership, he has increased enrolments, market and brand growth, enhanced industry and stakeholder engagement, and raised more than $450 Million in donations, research funding, corporate training, capital grants and other earned revenues.
Patrick received his undergraduate education from the University of Lethbridge (BA) and his MBA from Queen's University.
"I am very excited to be joining Red Deer Polytechnic at this pivotal time in the institution's trajectory," says Patrick Machacek, Red Deer Polytechnic's new Vice President, Development & Partnerships. "As a polytechnic, there is a tremendous opportunity for RDP to expand its impact for learners, the community
and the province. I look forward to working and collaborating with our dedicated team of faculty, staff, researchers, and external stakeholders, as we continue to evolve and build a world-class polytechnic that serves the needs of learners, employers and industry."
Mr. Machacek will begin his new role on January 30, 2023.