Perfect week adds a point to Rebels' lead in Central Division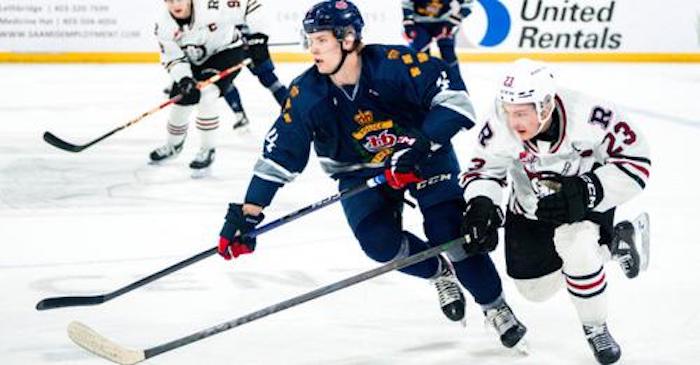 From the Red Deer Rebels
REBELS THIS WEEK
January 16-22, 2023
THREE FOR THREE!
The Rebels got back on track in a big way by winning all three of their games this past week.
Sat. Jan. 14 – Hunter Mayo scored with 5.9 seconds left in overtime to give the Rebels a thrilling 2-1 road win over the Lethbridge Hurricanes. Kalan Lind scored for Red Deer in the second period to run his goal streak to three games. Rhett Stoesser made 31 saves for his team leading 16th win of the year. The Rebels are now 2-0-0-1 versus Lethbridge this season.
Fri. Jan. 13 – A three-goal third period powered the Rebels to a 4-1 win over the Edmonton Oil Kings at the Peavey Mart Centrium, and a sweep of their nine-game head-to-head season series. Jace Isley and Kalan Lind each had a goal and an assist for Red Deer. Jhett Larson scored the game winner shorthanded early in period three. Jace Weir scored an empty netter. Red Deer was 1-for-2 on the power play while Edmonton was 0-for-five. Red Deer outshot Edmonton 38-35.
Wed. Jan. 11 – Kai Uchacz opened the scoring and added the shootout winners as the Rebels edged the Moose Jaw Warriors 4-3 at the Peavey Mart Centrium. Frantisek Formanek and Kalin Lind also scored for the Rebels. Lind also had two assists. Rhett Stoesser made 30 saves through regulation and overtime, and three more in the shootout to earn the win. Red Deer outshot Moose Jaw 50-30 and was 1-for-3 on the power play while Moose Jaw was 2-for-3.
GAMES THIS WEEK
– Friday, Jan. 21 – The Prince George Cougars come to town for the first time since Jan. 26, 2019. Alberta Health Services and SPARC Red Deer will on-hand for their Winter Warm Up and Paint the Town Positive campaign. Please bring new toques, mitts and socks to donate, and share the share the gift of warmth this winter.
– Saturday, Jan. 21 – The Brandon Wheat Kings come to town on 80s Night at the Peavey Mart Centrium
Both games start at 7 p.m. with tickets available through ticketsalberta.com and reddeerrebels.com.
– Sunday, Jan. 22 – The Rebels finish a busy weekend by visiting the Calgary Hitmen for a 4 p.m. tilt.
OTHER UPCOMING GAMES
– Friday, Jan. 27 – The Saskatoon Blades visit Red Deer for the second and final time this season
– Saturday, Jan 28 – The conference leading Winnipeg ICE visit the Peavey Mart Centrium on a night that will feature live music from See Alice, Post-game Disco Skate, and another Beer Night Special
– Tuesday, Jan. 31 – Connor Bedard and the Regina Pats pay their final visit of the regular season. This game is already sold-out! Stay tuned in the coming days as the Rebels work to make a limited number of standing-room tickets available.
BLUE LINE BOLSTER:
On Tuesday, January 10, the Rebels acquired 2004-born defenceman Nicholas Andrusiak from the Portland Winterhawks in exchange for a seventh-round selection at the 2024 WHL Prospects Draft. Signed by Portland as a list player in September 2021, Andrusiak has appeared in two games with the Winterhawks during the 2022-23 WHL Regular Season. The left-shooting blue liner from Tisdale, Saskatchewan has three points in 20 games this season with the Melville Millionaires of the SJHL.
Red Deer Arts Council invites you to experience beautiful works from area artists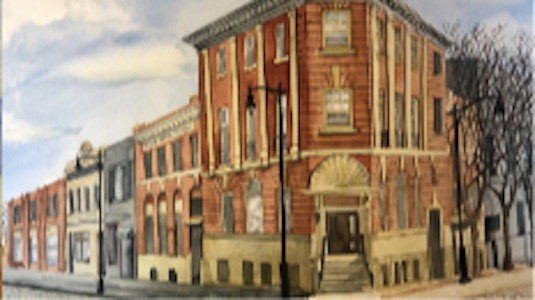 First Fridays Red Deer February 3, 2023
Visit the new, interactive Gallery Guide with map and listings at:
https://www.reddeer.ca/recreation-and-culture/arts-and-culture/art-galleries/gallery-guide/
Title: Mirror, Mirror on the Wall
Oil on Canvas, 2022
Artist: Sharon Wright

Title: The Floral Female Connection
Artists: Sharon Wright
Kiwanis Gallery and Snell Auditorium, 4818 49 Street, in Red Deer Public Library – operated by Red Deer Arts Council
Media: Oils and Mixed Media
Dates: continues to February 20, 2023
#FirstFridaysRedDeer opening reception January 6 from 5:30 – 7:30pm
Gallery/Library Hours: Mon – Thurs: 9 am – 8 pm, Fri: 9 am – 5 pm, Sat & Sun: 10 am – 3 pm
Title: The Brush Decides
Artists: Cathy Fee
The Red Deer Arts Council's New Community Gallery, 6–4919 49 Street
Dates: continues until February 15, 2023
#FirstFridaysRedDeer reception February 3, 2023 from 5pm – 7pm.
Ft. Macleod 1
Digital Print, 2015
Peter Greendale
Title: Found Light
Artists: Peter Greendale
The Viewpoint Gallery, 5205 48 Ave
Media: Digital Photography
Dates: continues until February 24, 2023
First Friday, February 3 the gallery will be open 8am – 8pm
About the Gallery: The Viewpoint Gallery showcases original works of art by individual artists and collectives, and curated exhibitions. The gallery is in the lobby of the City of Red Deer
Creativity Understood.
Culture Services facility. Visit our Viewpoint Gallery page for more information. Hours of operation: Mon – Fri 8:00 am – 4:30 pm; after hours and weekends during scheduled programs.
Title: Upon Further Reflection: Highlights from the Past 50 Years
Dates: December 17, 2022 – March 11, 2023
The MAG will be open with no reception – February 3, 2023 from 5 pm to 8 pm
Join the MAG as part of #FirstFridaysRedDeer for a look at their current exhibits, Upon Further Reflection: Highlights from the Past 50 Years and Landmarks:
A Sense of Place.
Title: A Sense of Place (Detail)
Artist: Carol Lynn Gilchrist
Lacombe's Flat Iron Building (Detail)
Artist: Wendy Meeres

Watercolour, 2016 Watercolour, 2022
Title: At Ease
Artist: Susan Delaney

Riverlands Studio and Gallery, 5123 48 Street
Media: Acrylic, Collage, Mixed Media Paintings
Dates of Exhibition: February 1 – March 15, 2023
Opening Reception: February 3 from 5:30 – 8:30 pm
DESCRIPTION – Gesture, landscape, collage, abstraction, memory, home and history – some of Susan Delaney's long-standing studio interests – are learning to
play well together in her current practice.
http://Facebook.com/RiverlandsStudioandGallery
http://Instagram.com/@clgilchrist_artist
http://Instagram.com/@susandelaneyart
http://Facebook.com/delaneyart
Creativity Understood.
**********
Galleries & Exhibitions with no planned Opening Events
Title: Culmination of Inspiration
Artists: Trenton Thomas Leach
Media: Metal, Glass, Wood, Stone
Lacombe Performing Arts Centre, 5227 C & E Trail, Lacombe
Dates: until February 21, 2023
LPAC hours: Monday – Thursday, 9 AM – 3 PM, and Friday 10 AM – 2 PM.
Description – Inspiration can come through so many sources – from environment, experience, people, and more.
For Trenton, his exhibit,
"Culmination of Inspiration," showcases varied concepts.
Working with musicians, visiting a museum, garnering inspiration through other artists – this exhibit shows a variety of sculptures and wall art that is combines
all sources of inspiration. Trenton creates the art with metal, glass, wood, and stone; always on the lookout for different ways to incorporate different mediums into his art and anticipating the moments that become new sources of inspiration.
Trenton is a Central Alberta Artist that creates public and private sculptures using stained glass and metal. He teaches metal sculpture at the summer art "Series" program at Red Deer Polytechnic and stained-glass classes at Lacombe Performing Arts Centre. Trenton's inspiration for art often comes from nature, travel, painters, and musicians. He has actively been an artist for over 22 years and works in his studio, Rogue Art and Design, here in Lacombe.
Title: Urban Nature
Artists: Members of Contextural Fibre Arts Cooperative
Media: Fibre Arts
Marjorie Wood Gallery in the Kerry Wood Nature Centre, 6300 45 Avenue
Dates: December 18, 2022 – February 17, 2023
No #FirstFridaysRedDeer opening reception for February.
Title: An Exploration of Expression
Artist: Brad Olstad
Velvet Olive Lounge, 4928C 50 Street, Red Deer
Media: Mixed
Creativity Understood.
No reception for February.
Untitled
Mixed Media
Brad Olstad
Artist: Audrey Rits
Corridor Community Gallery, 4501 47A Avenue, Red Deer (lower level at Recreation Centre)
Dates: November 4 – February 2, 2022
Media: Mixed
Open until 5pm on #FirstFridaysRedDeer
About the Gallery: Located adjacent to The City's ceramics studio and recreation studios in the lower level of the Recreation Centre, this space provides a public venue for local artists and allows us to share in the talents and interests of fellow community members. Visit our Corridor Community Gallery page for more information.
Hours of operation: Mon – Fri 5:30am – 10pm, Sat 8am – 10pm, Sun/Holidays: 12 – 5pm.
Artribute Art School, 212 – 4836 50 Street, in the Old Courthouse. Treaty 6 & 7
Art in the Hallway, YMCA Northside Community Centre, 6391 76 Street, Red Deer
Curiosity Art & Framing, Bay 4 – 4676 61 Street, Riverside Industrial
First Fridays Red Deer is the monthly event where downtown art galleries hold exhibit openings and special events.
Wildlife Festival Returns to Red Deer's Westerner Park February 3 – 5!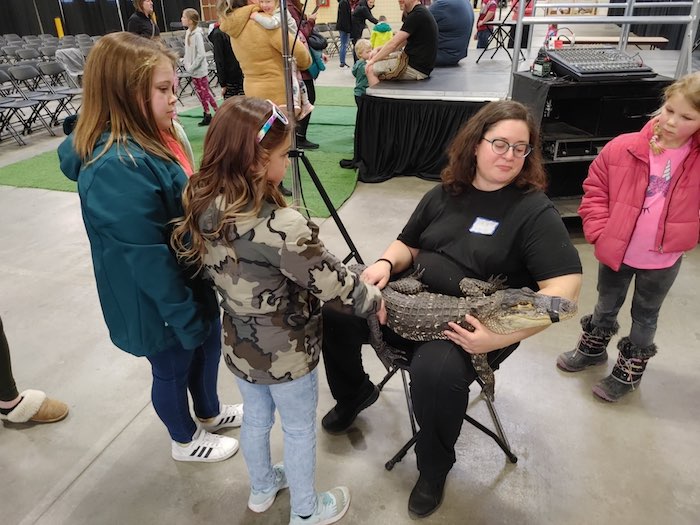 RED DEER WILDLIFE FESTIVAL
See a Sloth! Pet a Kangaroo! Meet a Tegu!
Hang with an Iguana! And many more amazing animals.
The YYC Nature Centre, Cobb's Adventure Park, & Cobb's Exotic Animal Rescue are bringing you a not to be missed event in Red Deer Feb 3rd – Feb 5th
3 ALL NEW EXHIBITS
Diversity of Living Things
What is the difference between frogs and toads? How do animals adapt? Learn about different species and life on earth.
Journey to the Amazon
See & interact with some of the incredible animals that call the Amazon home. The worlds largest rainforest comes to life!
This is Africa
Learn about the planet's 2nd largest continent.
---
Admission
$17.00 in Advance
$21.00 at the door
Kids 3 and under Free.
Jan 20, 7-9pm – Adults Only Admission
$26.00 in Advance
$31.00 at the door
VIP EXPERIENCE – *BEST VALUE!*
A small group guided experience with many of our animals! VIP Experiences are VERY LIMITED per day. One at the beginning of the day and one at the end of the day. Choose either the Parrot and Mammal Experience or the Reptile experience. $150/person in advance including admission, $175/person at the door.
ADD ON ANIMAL EXPERIENCES
Pet/feed a wallaby. Feed a porcupine. Hug a boa. Includes photo opportunity with your camera. $20 – $60 per person, per experience.
---
Educational Program
COLD BLOODED AMAZON
Learn about some of the largest reptiles on earth that call the Amazon home!
Educational Program
DIVERSITY OF LIVING THINGS: MAMMALS
Learn about Sloths, Sugar Gliders, Kangaroos and much more!
"After 2 long years of there being so little to do, it was great to be able to finally do something exciting…and something different than normal.

– Holly Pettitt
"We went to this show in Lethbridge this year and my 11 year old daughter loved it. She got all kinds of Wallaby snuggles, she held an alligator, armadillo, had some friendly birds perch on her head and got to see so much more. It's really nice to get out and see everyone's smiling faces. Trust me the VIP access is worth it!"

– Ronda Sauers
"My kids had a great time!! The got to pet many different animals! They loved having their pics taken holding a gator and a snake!!"

– Sabrina Henry
---
What Is The Wildlife Festival?
The Wildlife Festival is an annual interactive experience that highlights animals and their habitats. Our mission is to inspire and educate people of all ages by connecting with animals. Our entertaining stage shows, educational displays and interactive experiences with the animals will teach, entertain and delight all who attend.

Who we are
Cobb's Exotic Animal Rescue is a non-profit division of Cobb's Adventure Park. Cobb's is home to hundreds of animals including Kangaroos, Wallabies, Wallaroos, Llamas, Emus, Porcupines and more. Their mission is to give all exotic animals a safe and healthy life. Their current goal is to build an education center as a place to house and a place to educate the public on what it means to be involved with exotic animals. Far too often people buy exotic animals without thinking of the consequences long term. Many of these animals outgrow their spaces and even sometimes outlive their owners. As a result, exotic animals are frequently sold and resold many times, and sadly many become inhumanely disposed of. Cobb's Exotic Animal Rescue aims to be a link to the solution. Cobbs is able to provide the appropriate care and nurturing of many of these species and gives them the unique attention that they require.
Click below to donate, and be a part of building an education center in Alberta for exotic animals in need.
Reptile Parties INC is the parent company of Calgary Reptile Parties and the YYC Nature & Education Centre. Calgary Reptile Parties launched in 2008, became incorporated in 2012, and opened the YYC Nature & Education Centre in 2021. Their focus is on programs that promote conservation, responsible pet ownership, and connecting people to animals. The center is home to 300 animals including snakes, lizards, spiders, exotic mammals, and birds. Reptile Parties INC was featured on Animal Planet's SCALED – seen in 195 countries in 2018.
http://www.calgaryreptileparties.com http://www.yycnaturecentre.com
Our History
The Wildlife Festival arrived in western Canada in 2015, produced by Little Ray's Nature Centre & The Canadian Raptor Conservancy in Ontario. In 2017 Jason Clevett of Reptile Parties INC joined the team and returned again in 2019.
In 2022 Reptile Parties INC and Calgary based YYC Nature Centre teamed up with Cobb's Exotic Animal Rescue and Cobb's Adventure Park to lead the re-opening of The Wildlife Festival in Western Canada. The Wildlife Festival appeared at multiple fairs and exhibitions in Alberta and Saskatchewan in 2022 drawing thousands of visitors from all across Western Canada.
FAQ
Do we get to pet animals with a regular ticket?
Some animals are available for petting and hands on opportunities. We offer paid photo & interaction opportunities with select animals as well as VIP experiences behind the scenes.
What comes with the VIP Experience ticket?
Spend quality private time with the animals. An exclusive hands on experience with the animals, you can take photos and ask questions behind the scenes and meet the animals trainers too! VIP experiences are VERY limited, so purchase in advance is recommended.
Is this event for all ages?
Yes! Except for our ADULTS ONLY exclusive which is on Friday evening from 7-9pm.
What if I am afraid of snakes or spiders, but want to see the other animals?
Don't worry, you can still get a chance to spend time with the other animals. We have several educational exhibits in place and the stage shows present an opportunity to learn about the animals from a comfortable distance.
Which animals will be at The Wildlife Festival?
Kangaroo, Snake, Tortoise, Tegu, Toad, Wallaby, Sugar Glider, Sloth and more! Although we have many animals attending the show, we cannot guarantee that all of them will make an appearance due to many circumstances, sensitivities, and personalities these animals can have.
Where did the animals come from?
Many of the animals under our care are rescues from homes that could no longer care for them. Others have been obtained by ethical breeders for education.
Are these animals from the wild?
None of the animals at The Wildlife Festival are from the wild. They are commonly available pets that have primarily been born/hatched under human care. Since they have been raised in captivity entirely, they are not candidates to be released into the wild.
Where Does The Money Go?
100% of the proceeds goes towards the care and support of these animals.