Red Deer Polytechnic celebrates 2020 and 2021 Community Awards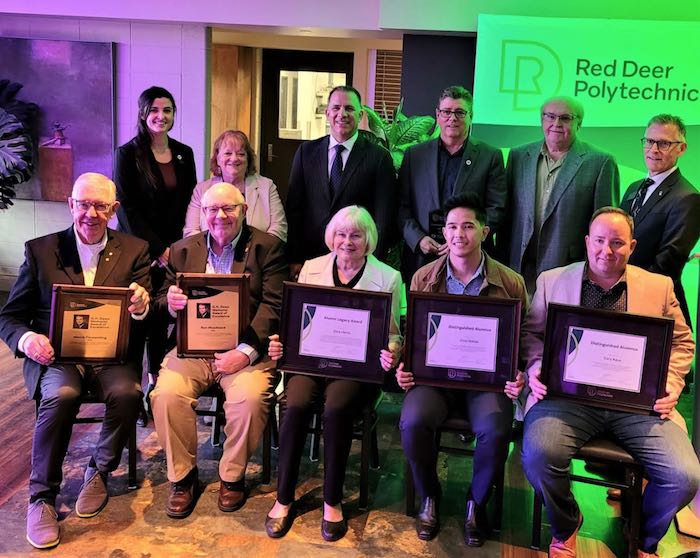 In a morning ceremony, Red Deer Polytechnic celebrated the 2020 and 2021 Community Awards in-person after a two-year hiatus due to the COVID-19 pandemic.
"The Red Deer Polytechnic Community Awards provided a meaningful opportunity for community members, alumni and partners to gather and celebrate those who have fostered connections and collaborations for impact," says Stuart Cullum, President of Red Deer Polytechnic. "We are very grateful for the contributions from our award recipients and their multi-faceted impact toward our institution, our learners, our community and the world. This special occasion also marked the first time that we held the Community Awards as Red Deer Polytechnic, making it a historic event."
The following award recipients were honoured:
• Morris Flewwelling – 2020 G.H Dawe Memorial Award of Excellence
• Ron Woodward – 2021 G.H. Dawe Memorial Award of Excellence
• Gary W. Harris – 2021 Alumni Legacy Award
• Chris Rolida – 2020 Distinguished Alumni Award
• Cory Kaun – 2021 Distinguished Alumni Award
• Central Alberta Child Advocacy Centre – 2020 Community Partner Award
• Dorothy Dixon – 2020 Honorary Degree
• Danny Rode – 2021 Honorary Degree
• Jan Underwood – 2022 Honorary Degree
Morris Flewwelling receives 2020 G.H. Dawe Memorial Award of Excellence
Morris Flewwelling was presented the 2020 G.H. Dawe Memorial Award of Excellence for his commitment to education, family, and lifelong learning.
Flewwelling has been an instrumental educator, political leader and advocate for growing post-secondary opportunities in central Alberta for decades. His passion for reading and education, which was established at an early age in Mirror, Alberta, eventually led Flewwelling to the University of Alberta, where he completed a Bachelor of Education degree. Commencing his teaching career in 1964, Flewwelling made an impact as an educator and guidance counselor in central Alberta, while also pursuing post-graduate studies.
In 1974, Flewwelling entered the political arena where he was elected to Red Deer City Council, serving in that role throughout the next two decades. He became Mayor of the City of Red Deer in 2004 and assumed that position until his retirement in 2013. Flewwelling has also been a leader and staunch supporter of arts, culture and historic preservation.
Flewwelling has been active with arts and heritage organizations locally, provincially and nationally. He served as Founding Director of the Alberta Historical Resources Foundation, Governor of the Heritage Canada Foundation, Treasurer of the Canadian Nature Federation, and President of both the Alberta Museums Association and Canadian Museums Association.
Flewwelling's volunteer and community service has been extensive, and he has been recognized numerous times. He was named Red Deer Citizen of the Year in 1982 and a Member of the Order of Canada in 1997 for extraordinary contributions to the nation.
In 2014, Flewwelling received the first honorary Bachelor of Arts Degree in Interdisciplinary Studies from Red Deer Polytechnic, which was formerly known as Red Deer College. He was also bestowed an honorary Doctor of Laws degree from the University of Alberta.
Flewwelling has been a significant supporter of Red Deer Polytechnic over the years. He has contributed to a variety of committees and eventually served on the Board of Governors. He is a dedicated family man, who resides in Red Deer with his wife Hazel. They have two sons – Michael and David.
Named after prominent central Alberta educator Harold Dawe, the G.H. Dawe Memorial Award of Excellence has been presented at Red Deer Polytechnic since 1999 to an individual who best exemplifies Dawe's dedication and positive influence on students, community, and family.
Ron Woodward earns 2021 G.H. Dawe Memorial Award of Excellence
Former Red Deer College President and CEO, Ron Woodward, was honoured with the 2021 G.H. Dawe Memorial Award of Excellence for his commitment to students, community and family.
Born in Edmonton, Woodward eventually pursued his childhood dream of becoming an educator. He attended the University of Alberta and graduated with a Bachelor of Education degree in 1967. Relocating to Saskatoon, Woodward made an impact with youth as a high school teacher and counselor. Then his
roles in education diverged when he became Director of Special Education in Prince Albert and eventually Assistant Superintendent in St. Paul.
In 1975, Woodward joined Lakeland College and discovered his passion in higher education. This experience eventually led him to several post-secondary institutions as a senior administrator. Along with influencing and shaping the educational journey of students, Woodward evolved his own academic expertise, completing a Graduate Diploma in Education of Exceptional Children and a Master of Education degree in Adult Education from the University of Saskatchewan.
From 1998 to 2009, Woodward served as President and CEO of Red Deer College, which he referred to as the highlight of his employment endeavors. It was evident through Wooodward's actions and words that he thoroughly enjoyed working with students, faculty, and staff.
Woodward has always seen the importance in connecting with the community and volunteering. In Red Deer, he has been involved with the Rotary Club, Leadership Centre, Symphony Board, along with programs to assist the homeless. Woodward served as Chair of the Board of Red Deer and District Community Foundation. He chaired the United Way campaign and was on the Board for the 2019 Canada Winter Games. Woodward has also assumed a role as the Honorary Colonel for the 41 Signal Regiment, which is a Reserve Force communications unit assigned to 41 Canadian Brigade Group in Alberta.
Woodward has received numerous awards, recognizing his professional and community contributions. In 2005, the Lieutenant Governor awarded him the Alberta Centennial Medal. In the following years, Woodward was recognized as one of Alberta's 50 Most Influential People and Red Deer Corporate Citizen of the Year. He also received the Canadian College Presidents' Network Distinguished Service Award in 2009 and the Queen's Jubilee Medal in 2012.
Gary W. Harris posthumously receives Alumni Legacy Award 2021
Philanthropist Gary W. Harris was posthumously named the recipient of the 2021 Red Deer Polytechnic Alumni Legacy Award.
Harris made a tremendous impact in the city of Red Deer, central Alberta, and at Red Deer Polytechnic. Always conducting himself with integrity, Harris committed his career to law and business, while prioritizing family and volunteerism.
Born in Manitoba, Harris and his family moved to Red Deer when he was young, and this was where Harris' leadership qualities and community involvement began to evolve. He became the first Student Council President at Lindsay Thurber High School and eventually attended Red Deer College for two years.
Harris reflected fondly on his time at Red Deer College, which included meeting influential instructors and classmates and playing basketball for the Kings.
In 1978, Harris graduated near the top of his class from the University of Alberta with a Bachelor of Law degree and was quickly recruited to article for a prestigious law firm in Edmonton. As a result of his vibrant personality and range of talents, Harris was asked to be a sessional instructor at both the University of Alberta and Red Deer College. He excelled at teaching and mentoring post- secondary students.
When Harris returned to Red Deer, he served his community and province on many boards and committees. Through his expertise, Harris significantly contributed to the Wildrose Foundation, Red Deer Community Foundation, and Piper Creek Optimist Club of Red Deer. He was Director of the Canadian Farm and Industrial Equipment Institute, and a board member of Alberta Farm Implement Board, Cervus Equipment Corporation, and Collicutt Energy. As President and Owner/Partner of Westward Parts, Harris created a family-like culture. His generous outreach resulted in Westward Parts sponsoring and supporting many community initiatives.
Through his philanthropy, Harris provided support for Red Deer Polytechnic Athletics and the post-secondary institution's Education students, through a scholarship to honour his mother, who was a teacher. The gift of $5 million from Harris and his wife Ruth is honoured with the vibrant Gary W. Harris Canada Games Centre on main campus. He was very proud of the facility's ability to grow academic and athletic opportunities for learners in the region. Harris was a dedicated husband, father, and grandfather, and his legacy lives on in central Alberta.
Chris Rolida earns 2020 Distinguished Alumni Award
Chris Rolida was recognized with the 2020 Distinguished Alumni Award for his advocacy and passion for increased learning opportunities at Red Deer Polytechnic. A graduate of the Polytechnic's Electrical Engineering Technology program, Rolida has been a dedicated supporter of the Makerspace and Makerspace Movement at the post-secondary institution since he was a student.
In 2016, Rolida served as Volunteer Coordinator at the Makerfaire event on campus. His organizational skills, dedication, and warm personality helped to create a welcoming environment for exhibitors and volunteers, and ultimately a very successful experience for all stakeholders.
Rolida's efforts and expertise extended to the first Makerspace pilot, providing tours, creating operating procedures for equipment, running workshops, and mentoring students on a variety of projects.
Valuing education at all levels, Rolida has worked to include elementary and middle school students in the developing learning opportunities at the Polytechnic's Makerspace. He has developed a kit to help youth to create their own robot.
Always displaying a positive attitude, Rolida is a superb representative of Red Deer Polytechnic and is willing to promote the post-secondary institution whenever possible. He has discussed the advantages of the Polytechnic's programs at several technology and trades shows and events.
Collaborating with a variety of stakeholders, Rolida has advocated for Makerspace funding from the City of Red Deer and has fostered a relationship with Kings Energy, securing a generous equipment donation for the benefit of learners.
The robust Electrical Engineering Technology training and education at Red Deer Polytechnic has helped Rolida obtain employment in his field, but he remains closely connected to the institution.
His devotedness to mentoring others and providing enhanced learning opportunities through technology is evident in his daily interactions, and he truly is an asset to the community and post-secondary institution.
2021 Distinguished Alumni Award goes to Cory Kaun
Cory Kaun was named the recipient of Red Deer Polytechnic's 2021 Distinguished Alumni Award for his involvement in a variety of community organizations and initiatives, which include providing a range of supports for learners at the Polytechnic.
Kaun, who is a founding partner of Larkaun Homes, has remained deeply connected to Red Deer Polytechnic since he completed his welding apprenticeship at the post-secondary institution. Valuing education and community prosperity, Larkaun Homes has contributed to Red Deer Polytechnic scholarships, providing students with additional resources to pursue their academic endeavors.
Larkaun Homes has also contributed additional support and sponsorship at the post-secondary institution, including for Red Deer Polytechnic Athletics. As an additional way of providing support to the Polytechnic community, Larkaun Homes offers discounts to RDP Alumni through the Alumni Perks program.
In addition to his dedication to his family and career, Kaun has served as Co-Chair on the Builder Council with Building Industry and Land Development of Central Alberta (BILD-CA) and Director for the Red Deer Airport in a volunteer capacity.
This generosity and value placed on developing community has reached many areas of central Alberta. Larkaun Homes supports Red Deer Hospice Society, Boys & Girls Clubs of Red Deer & District, Kin Canada, Golf A Kid To Cure, Lacombe Ringette, ball hockey and ice hockey leagues, among other organizations and initiatives.
His hard work, expertise, attention to detail, and collaborative spirit have helped Larkaun Homes thrive in central Alberta since its inception in 2003. Over the years, the company has received several awards and recognition in central Alberta, the province, and across Canada. In 2018, Larkaun Homes' craftsmanship
was recognized in central Alberta as Builder of the Year (small volume), Best New Home ($525,000 to $599,000), Best New Home ($675,000 to $749,000), along with Building Industry and Land Development Best New Home ($525,000 to $600,000) for Alberta.
Those who interact with Kaun on a personal or professional level speak positively of his high level of respect and consideration for others. Kaun's loyalty to clients, employees, and business associates has helped enrich those trusted relationships over time, contributing to the development of the region.
His ongoing commitment to Red Deer Polytechnic in a variety of capacities continues to create further opportunities for learners to pursue their goals and complete their studies in central Alberta.
Central Alberta Child Advocacy Centre named Community Partner
The Central Alberta Child Advocacy Centre (CACAC) was recognized for its collaboration with Red Deer Polytechnic and impact in the region, receiving the 2020 Community Partner Award.
The CACAC has been an instrumental community-oriented organization that places the needs of children at the centre of its operations. Through a variety of platforms, it focuses on child abuse awareness, prevention, education, and training as a means of support.
Along with Red Deer Polytechnic, the CACAC works with several other partners, including Alberta Health Services, City of Red Deer, Government of Alberta, Central Alberta Sexual Assault Support Centre (CASASC), and RCMP in central Alberta to support children and families in a compassionate manner.
In February 2018, the Polytechnic and the CACAC signed a Memorandum of Understanding to collectively explore opportunities to effectively serve children and families in the region. This vision came to fruition in June 2022 when construction on the innovative three-story Centre of Excellence began on Red Deer Polytechnic's Main Campus. The facility will be the new home of the CACAC, CASASC, Alberta Health Services: Red Deer Child and Youth Addiction and Mental Health Outpatient Clinic, and the Step Up Step Down youth live-in addiction and mental health program.
This collaboration between the CACAC and Red Deer Polytechnic will deliver a critical service to communities and will enable a one-of-a-kind Centre of Excellence for academic program integration, including work integrated learning, pathways for students and world leading applied research in the area
of child advocacy.
The Centre of Excellence, which houses the CACAC, is expected to be completed by summer 2023.
Dorothy Dixon receives 2020 Honorary Bachelor of Interdisciplinary Studies
Dorothy Dickson was the sixth recipient of Red Deer Polytechnic's Honorary Bachelor of Interdisciplinary Studies Degree for Convocation 2020 for her unparalleled passion for environmental initiatives, education and community building.
The enthusiastic educator has made significant contributions as a mentor, environmental advisor, wilderness guide and policy maker for the past seven decades.
Having lived in several countries around the world, Dickson has brought her worldly outlook and experiences to her community involvement and initiatives. Born in Australia, she eventually moved to the United Kingdom with her family and trained to become a physiotherapist. In 1963, Dickson relocated to Halifax with her husband and two daughters and extended her community outreach to youth by developing dance and theatre programs.
Five years later, Dickson's family moved west to Calgary where her environmental stewardship grew. She advocated to incorporate outdoor activity and environmental engagement into school curriculum. Dickson helped develop and implement several recycling programs, which included one of the first national recycling programs in 1972.
Dickson has provided valuable recommendations to the planning documents for the Rumsey Ecological Reserve, Bighorn Reserve, and the City's Red Deer Vision 2020. As a member of the Red Deer Naturalists Society, she has shared her expertise on the development of the Waskasoo Park system in Red Deer.
Dickson's environmental advocacy has been diverse, which includes assisting in the planning of National Parks in Canada. For her range of contributions, Dickson has received numerous awards, including the Douglas H. Pimlott Award, Nature Canada's conservation award. In addition, she was awarded honorary lifetime memberships with Canadian Nature Federation and the Federation of Alberta Naturalists.
Locally, Dickson has received the Lifetime Achievement Award and the Environmental Award through Red Deer & District Community Foundation's Women of Excellence.
Since residing at Bethany CollegeSide on Red Deer Polytechnic's main campus, Dickson has continued to educate and inspire community members and the Polytechnic's students about environmental stewardship, social engagement, and lifelong learning whenever possible.
Danny Rode awarded 2021 Honorary Bachelor of Interdisciplinary Studies
As part of Red Deer Polytechnic's 57th Convocation, sports writer Danny Rode was named the recipient of Honorary Bachelor of Interdisciplinary Studies in 2021.
Raised in Trochu, Carbon, and Delburne, Rode has been deeply connected to central Alberta and a variety of sports teams and leagues. This includes the Alberta Colleges Athletic Conference (ACAC), of which the Red Deer Polytechnic Kings and Queens are members.
Rode began his career as a journalist with Red Deer Advocate in 1971 and quickly cemented a long-lasting relationship with Red Deer Polytechnic Athletics. His advocacy for the Polytechnic's teams has been apparent in his articles and through his consistent attendance of home games.
Along with his profound sports knowledge and analysis, Rode builds relationships in the athletics community which helps him create in depth and personalized articles that go beyond sporting achievement. These bonds connect Red Deer Polytechnic student-athletes and teams with communities in meaningful ways.Rode's commitment to the Kings and Queens has extended above his duties as a journalist with Red Deer Advocate. At times, he has used his personal time and resources to report on the Polytechnic's Kings and Queens at the Canadian Collegiate Athletic Association (CCAA) National Championships.
While Red Deer Polytechnic Athletics is one of his passions, Rode is dedicated to representing all levels of competition, from grassroots sports to high school athletics to professional leagues. He has been integral in following central Alberta athletes as they compete at the Olympics, Commonwealth Games, Canadian Finals Rodeo and other prestigious events.
Rode has also volunteered his time and expertise in a variety of athletic areas. He has been on planning committees for high school championships in several sports, and he has served on the Board of Directors for Alberta Sport Development Centre – Central.
With incredible dedication to athletics and innate ability to connect readers to his subject, Rode has been the recipient of several esteemed awards and recognitions. He has been inducted into the Alberta Sports Hall of Fame, receiving the Bell Memorial Award for sports media members. In addition, Rode was the recipient of Excellence in Reporting from the Alberta Schools Athletic Association and Red Deer Lifetime Sport Achievement Award. For his contributions to the ACAC, Rode was honoured with the Al Bonhous Award.
He continues to share his sports knowledge and passion by writing articles about central Alberta athletes and teams in Red Deer Advocate.
Jan Underwood earns 2022 Honorary Bachelor of Interdisciplinary Studies
For her commitment to fostering intercultural awareness in central Alberta, Jan Underwood was awarded an Honorary Bachelor of Arts Degree in Interdisciplinary Studies at the 58th Convocation ceremonies on June 3, 2022.
Underwood celebrated her 20th anniversary working with CARE for Newcomers (formerly Central Alberta Refugee Effort) in May 2022. In her role as Public Awareness Coordinator/Community Educator, she has demonstrated tremendous dedication to developing greater inclusion and intercultural awareness across Alberta communities. Through her work, Underwood has developed a long-time collaborative relationship with Red Deer Polytechnic.
While her immense contributions in the region have helped to shape communities, Underwood's journey began in England, where she was born and raised. Growing up in a multicultural community, she developed a love for and curiosity about different cultures. After teaching in multicultural schools in Bradford and in London, England for 10 years, Underwood emigrated to Canada with her Canadian husband, Peter.
For 15 years, Underwood worked in the Children's Department of the Red Deer Public Library, where she planned and delivered many multicultural programs. After transitioning to her role with CARE for Newcomers, her positive impact on central Alberta grew immensely.
Through Underwood's leadership as Public Awareness Coordinator/Community Educator, she delivers more than 200 workshops and presentations each year to schools, post-secondary institutions and organizations. Her presentations focus on a range of topics including Intercultural Competence, Cross Cultural Communication and Sensitivity, Human Rights, and Anti-racism Response Training.
Underwood is also a tireless advocate for immigrants and newcomers to Canada. She brings a sense of empowerment to the thousands of immigrants that she has worked with throughout her time at CARE for Newcomers, providing support and assistance as they settle in Canada.
Whether sharing her wisdom with students who are preparing to become peer tutors at Red Deer Polytechnic, volunteering her time on various committees across central Alberta, or leading the organization of large events such as CommUnity Power of One, held at Red Deer Polytechnic, Underwood is a committed leader who makes everyone feel involved, included and appreciated.
Underwood devotes her time and inspires others to work together to make connections and to build stronger, more welcoming communities. Her life's work is immeasurable, and it has changed this region and Red Deer Polytechnic for the better.
Red Deer family rocked by cancer diagnosis seeks support from the community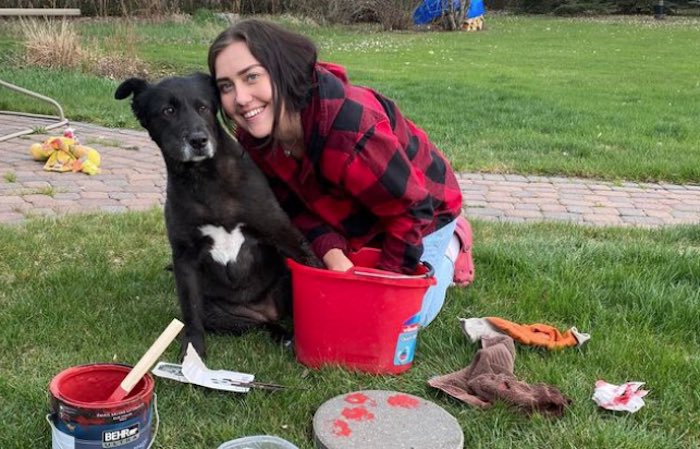 With permission from
Abby Marie Maurier
I am reaching out to you today to let you know that my beautiful daughter Abigail has just been diagnosed with cancer. She has Lymphoma, which is cancer of the lymphatic system and she also has a large mass on her right lung.
What I'm asking for is a variety of support in these ways:
1. Have you or someone you know been diagnosed with cancer, specifically Lymphoma and do you have information you can share about treatement, top clinics etc.
2. Are you someone that has information that you can share towards her holistic healing? She will require postive lifestyle changes such as nutrition, meditative yoga, massage, etc.
3. Can you help support Abigail's journey by contributing towards her fundraiser in order to help her prior to treatments, during and afterwards.
4. Your prayers, intentions, love and support is greatly appreciated
5. Please share this post so we can reach as many supporters as possible
I am a warrior Mama Bear on a mission to heal my daughter and I won't stop at anything. I believe healing is possible, I believe in the power of community and love and I believe that together, all of us will help heal her in some special way.
Hello, my name is Nicole and I am fundraising for my beautiful daughter Abigail. Abigail was recently diagnosed with Lymphoma, which is cancer cells in the lymph system, and she also has a large mass on her right lung.
She is a young beautiful woman, age 24 and she graduated as a Cardio Tech in 2021 and has been enjoying her work at the hospital tending to cardio patients with the utmost love and care. She has just started her journey in life, residing with her long-term boyfriend Gus in their home with their 2 bunnies, Biggie and Peaches. Abigail also has a dog named Kyah, who is with her in the photo.
Anyone who has been blessed to cross paths with Abigail knows how special she is. She radiates light and love where ever she goes and has a heart of gold. Ever since she was a baby, I have called her my earth angel.
With her recent diagnosis and as her mother, I am asking for your help to please contribute what you can towards her journey with cancer. The funds will be used to allow her to take time off work and focus on her health and treatment. We are looking into a variety of cancer clinics in order to offer her the best outcome possible because she is so deserving of a life of longevity and living cancer free.
Another important part of Abigail's healing is providing her with proper nutrients, wholesome foods, meditative yoga, massage therapy and other holistic treatments to strengthen her body which the funding will help support.
Your contribution is received with gratitude and appreciation and I thank you with all of my heart for your donation to help my daughter.
Business leaders decide it's time to reduce the number of homeless in Red Deer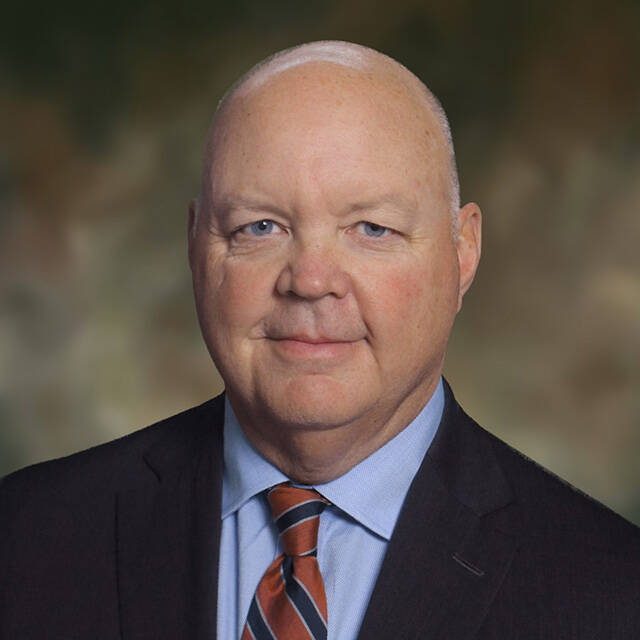 News release from the Red Deer & District Chamber of Commerce
Red Deer & District Chamber of Commerce to form Task Force on Homelessness in Red Deer
The Red Deer & District Chamber of Commerce will be convening a Task Force of community and business leaders to address the issues of homelessness and identify actionable steps which can be taken to tackle this generational challenge in Red Deer.
"With the release of the City of Red Deer's Point in Time (PIT) Report on homelessness last week we are very concerned and disappointed with the effectiveness of the strategies currently in place, and the urgency by which we need to turn this situation around within our city," commented Scott Robinson CEO of the Red Deer & District Chamber of Commerce. "Clearly our current strategies are not enough, and we need to elevate the urgency by which we get things done to reduce the number of citizens who are without a place to live. The growing number of people who are homeless is not sustainable and is impacting on our sense of pride, safety and attractiveness of our city to business and industry."
"We will share more about this Task Force and the next steps in the coming weeks. Time has run out to act with conviction, courage, and clarity. Our community and citizens deserve that from our community leaders, and we are ready to bring the business community and the urgency required to the table."
Over the next 60 days, the Red Deer & District Chamber of Commerce will be reaching out to its business and social agency partners to build the Task Force on homelessness and establish a strategy to address the critical steps that need to be taken to reverse the trends and further our community's vision as a vibrant and healthy city.
Matt Cassidy, Chamber Board President. remarked "Our Chamber is positioned to be the collaborative leader in connecting our business community, social agencies, and elected officials together, to find tangible progress on this complex issue. All businesses rely on the vibrancy of our community as they strive to be sustainable, innovative, or grow, and the results of the PIT Report indicate that we need to do much more. This task force will help hold our leaders accountable for the actionable progress needed and engage one another effectively."
"In speaking with our membership, and those working closely with the vulnerable populations there are best practices and models for delivery that are successful in other parts of the world that we need to start implementing" says Robinson. In addition, we need to look at ways that our private sector can get more involved and bring their expertise and strategic thinking to the table. As a collaborative community we also need to ensure that governments at all levels are delivering on their promises of affordable housing and eliminating barriers to expediting these investments.
Established in 1894 the Red Deer & District Chamber of Commerce is a non-partisan, collaborative business leader representing over 825 member businesses. As one of Red Deer's oldest and most established membership organizations we are striving to build a vibrant community that fosters an environment where businesses can lead, be innovative, sustainable, and grow.