Red Deer Polytechnic alum expresses creativity through downtown mural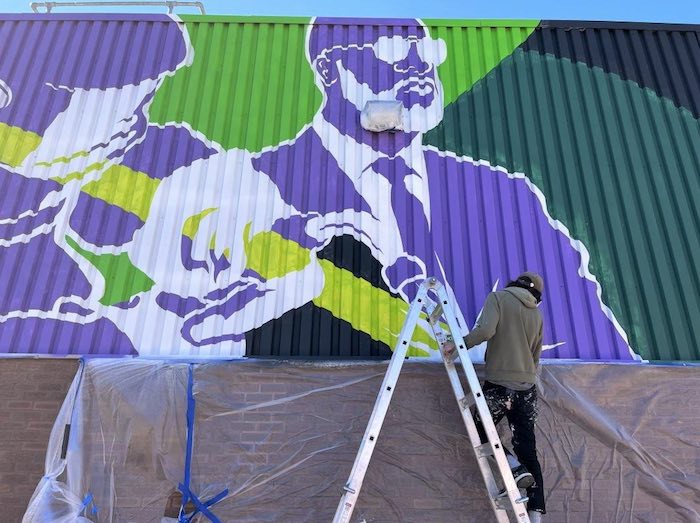 Art on Welikoklad Event Centre's exterior wall celebrates institution's brand and history
An exterior wall of Red Deer Polytechnic's Welikoklad Event Centre is undergoing a creative refresh with a mural painted by talented alum Kat Simmers.
"The blank canvas of the long, exposed wall of the Welikoklad Event Centre is a fantastic medium for communicating what Red Deer Polytechnic is all about," says Dr. Jonathon Penny, Dean of Arts and Culture. "Dr. Alison Jeppesen and others, who imagined this use and garnered support for it, determined to hire an alum in order to capture the spirit of RDP, and we are fortunate to have Kat work on the project. Their vision represents RDP's history and its spectrum of program offerings beautifully."
Simmers, a former Red Deer Polytechnic Visual Art student, began painting the mural in early September, highlighting a variety of programs and learners at the Polytechnic.
"With Flying Colours depicts a diverse body of students engaged in their respective crafts. It was an interesting challenge to create a work representing the experiences of so many people – students past, present and future," says Simmers. "I wanted to pay respect to the value of athletics as well as the diverse mix of creative arts learning and trades programming that students experience at the Polytechnic."
The mural features students, a health care professional, several skilled trades workers, a member of the Indigenous community, and athletes playing hockey and volleyball.
"I thought of the welder as an artist crafting a sculpture as much as a tradesperson earning a wage. I made my way through six years of art school by working various labour jobs," adds Simmers. "It was the creativity and passion for learning I developed at RDP that led to success in those environments as well. I wanted to capture the spark of innovation and joyful work environment that I experienced at the Polytechnic."
The education and training Simmers received at Red Deer Polytechnic helped with the creation of the mural and set the groundwork for future artistic endeavors.
"At the Polytechnic, I spent a lot of time working with colour and figurative painting. As my education continued into design, that sense of light and life stayed a core part of the worlds I like to create. RDP's Visual Art program is incredibly inspiring and supportive," says Simmers. "Having 24-hour access to gorgeous studios created a wonderful sense of community and fostered some amazing friendships I still cherish to this day. The years I spent at the institution also laid the foundation for future learning."
As Simmers plans to complete the mural in late September, their brother Derek, who is also an alum of Red Deer Polytechnic, will assist with the finishing touches during the final week.
"Red Deer Polytechnic's alumni are incredibly talented and are leaders in their communities and professions, as demonstrated by Kat and Derek," says Richard Longtin, Vice President, External Relations. "With over 80,000 alumni, we are extremely proud of their impact and contributions to the intellectual, economic, cultural and social development of the region, province, and beyond."
As the mural creatively represents the Red Deer Polytechnic brand, including the many benefits of a polytechnic model, it will also connect the institution to the community.
"The artwork complements the city of Red Deer's commitment to revitalize the downtown core with murals, creating welcoming spaces and signaling Red Deer Polytechnic's connection to the community in vibrant and creative ways," says Stuart Cullum, President of Red Deer Polytechnic. "I am extremely proud of the Polytechnic's presence in the heart of Red Deer, which increases the ability to collaborate with community members and business partners in the area."
Simmers hopes the mural will provide inspiration.
"This work is to remind people to take joy in their craft, to care for their community and to share the fruits of their labour," says Simmers. "I'm grateful for the opportunity to build on my experience at RDP and it's exciting to be able to return those gifts in some way."
More information about Red Deer Polytechnic's Creative Arts programming is available online.
Spanish museum returns 2 paintings looted by Nazis to Poland
MADRID (AP) — A museum in northwest Spain returned two 15th-century paintings to Polish officials on Wednesday after it was determined that they had been looted by Nazi German forces during World War II.
The paintings "Mater Dolorosa" (Mother of Sorrows) and "Ecce Homo" were handed over to a delegation from Poland's culture ministry. According to Spain's Museum of Pontevedra, the works were originally believed to be by Dieric Bouts, a Flemish master born in the Dutch town of Haarlem, but now they are attributed to a member of his school or group.
The museum said that in 2020 Polish officials made it aware that the works had been looted by Nazi forces. The museum quickly decided to send them back to Poland, but the completion of official permits for the transfer had delayed it until now.
Nazi forces stole the works from the Czartoryski collection in Gołuchów when the city was occupied by the German military in WWII, Polish officials said. They appeared in Madrid in 1973 and had been in the Pontevedra museum since 1994 when they were acquired among over 300 works purchased from a Spanish private collector.
Poland saw much of its cultural patrimony destroyed or looted during the country's wartime occupation by Nazi Germany and the Soviet Union, and about 500,000 items remain missing.
The country has been making efforts to recover as much as possible. The Culture Ministry has a division for looted art that keeps a database of missing objects and scours foreign collections and auctions. When they locate a looted Polish painting, book or other object, they inform the law enforcement officials of that country.
___
AP writer Vanessa Gera in Warsaw contributed to this report.
Nominate an Alberta artist or arts collective for 2023 Distinguished Artist Award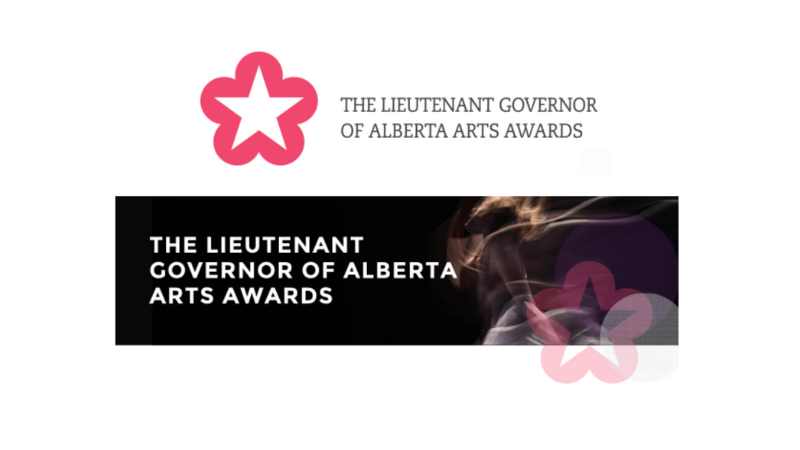 Since the program's launch in 2005, 23 Lieutenant Governor of Alberta Distinguished Artists have been awarded this title, along with a $30,000 prize, a two-week residency at the Banff Centre's Leighton Artist Studios, and a profile video on the artist. The awards were founded to highlight and celebrate Alberta's rich artistic talent – and we know there is so much to celebrate here!
The Lieutenant Governor of Alberta Distinguished Artists have impacted a wide range of arts disciplines provincially, nationally and internationally. Our Distinguished Artists include architect Douglas Cardinal – puppeteer Ronnie Burkett – visual artists Jane Ash Poitras, Alex Janvier, Peter von Tiesenhausen – sculptor Katie Ohe – composer John Estacio – dance choreographer Vicki Adams Willis – sopranist Frances Ginzer – authors Aritha van Herk, Rudy Wiebe – poet Alice Major, and theatre collectives One Yellow Rabbit and Old Trout Puppet Workshop – plus others! Check out our profiles of Alberta's Distinguished Artists at artsawards.ca
The Lieutenant Governor of Alberta Distinguished Artist Award is Alberta's most prestigious recognition of outstanding achievement in the arts. This award recognizes:
The highest degree of artistic excellence.
Career achievement; and/or significant body of work; and/or breakthrough contribution, including pushing the boundaries of the art from.
Significant impact on the arts in Alberta.
Help us celebrate Alberta's artists by nominating one or more artists for the 2023 Distinguished Artist Award. If you have nominated someone in the past who has not yet been recognized we welcome your updated re-submission.
This award has lifted our artistic spirit and propelled our work through the affirmation of our peers and our audience, and it has humbled us to be counted among such amazing talent – in this way we are driven to work harder and to reach further, to push the limits of art in Alberta.