Red Deer Playgrounds opening with these guidelines
From the City of Red Deer
Phased reopening of playgrounds starts today
The City of Red Deer has begun a to reopen playgrounds with a phased approach between now and May 29, 2020."We know the closure of playgrounds has been difficult for some families with young children. We are re-opening playgrounds and fitness parks while continuing to align with recommendations from the Chief Medical Officer of Health, but caution the public that these structures are high touch and high contact surfaces," said Karen Mann, Emergency Operations Centre Director.A phased approach is necessary to ensure maintenance and inspections are completed in advance of reopening any playground or outdoor fitness structures. New signage and removal of caution tape will signal citizens as to when respective playgrounds are officially open. Crews will work in the north and south simultaneously to open playgrounds as quickly as possible across the entire city.Citizens are asked to refrain from using playground or outdoor fitness structures until crews remove the closed signs and caution tape.

Although playground reopenings are happening in alignment with all public health orders and restrictions, citizens are still encouraged to exercise caution and do what is necessary to continue to help prevent spread of COVID-19.

Equipment will be inspected prior to opening. The City is not washing or sanitizing structures and families are encouraged to bring their own hand sanitizer to the park with them, limit contact with others, and visit playgrounds within their own neighbourhoods.

Users are reminded of and must follow public health guidelines including:
Maintaining 2 metre physical distance;
Gathering in groups of 50 or fewer;
Only sharing common equipment with members of the same family or cohort;
Staying home if you feel sick;
Washing and sanitizing your hands before and after using these areas.
"Due to the diligence and commitment of our residents throughout this pandemic to complying with all orders and recommendations from health officials, we are now in a position to begin re-opening a number of our amenities in a phased manner," says Mann, "While we are as pleased as you are to see playgrounds and fitness parks starting to re-open, we know it will take the continued support of all residents to keep each other safe and healthy through this relaunch."
Residents can call the City's call centre at 403-342-8111 if they have questions regarding the playground reopening or any City services. More information on the City's response to COVID-19 can be found at www.reddeer.ca/COVID.
Alberta opens more shops in Calgary, Brooks amid COVID-19 recovery relaunch
City of Red Deer puts out call to private owners interested in selling or leasing property for integrated homeless shelter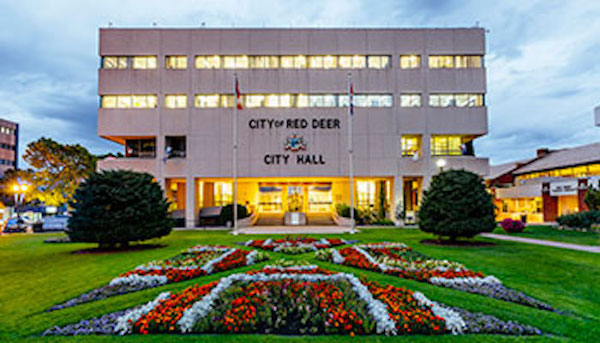 Call for privately owned properties for consideration during shelter site selection process
Private property owners who are interested in selling or leasing their site for the purposes of an integrated shelter are invited to submit their information until Friday, March 31. Currently, The City is developing a high-level property listing for technical review, but if there are any properties that are not currently on the market, they can be submitted by the property owner through an online form on The City's website.

Administration will assess the privately-owned properties submitted, sites that are currently on the market, and municipally or provincially owned properties using Council's criteria:
Ability to acquire site: Acquiring the optimum site can be done in a timely manner. Acquisition options and costs are important considerations.
Adequate size: The size of the site considers the potential need to adjust service delivery at any given time. It will accommodate proposed integrated amenities and services. It considers the land size needed to accommodate outdoor gathering spaces and activities. The site already has a building or can accommodate a building that meets the Province's minimum requirement of 10,000 square feet.
Broad community impact: The site aligns with The City's vision for the community. Community impact includes considerations such as, impacts on economic and business development, and municipal operations. It includes potential reputational impacts and financial impacts (both capital and operating). It also includes impacts to those accessing shelter services in our community. The site considers impacts to our community as a whole, including health, and safety for all in our valued places and spaces that are enjoyed by our citizens.
Impacts to surrounding area: Impacts to businesses, residences, parks, trails, and schools are a priority consideration in selecting site. The city's reputation is considered. A preferred site can accommodate and foster development of a safe, secure shelter.
Access to services & supports: Safety and basic needs for all is a priority. Regularly utilized services and supports that would not be co-located are taken into consideration. Sites where co-located services can operationalize are preferred.
Once the technical assessments are complete, administration will present options to Council for consideration to recommend to the province.
If you are a property owner and would like to submit a site for consideration, please fill out and submit the online form here.
For information on the future shelter site selection process, please visit www.reddeer.ca/shelter.
---
Background
Back on February 3, City Council provided a "community update" on the status of 2 properties which were thoroughly vetted but failed in the end to get the go ahead. Here is video from that announcement and the following q and a with media.
Free Farewell party for Red Deer's Kinex Arena Saturday, April 1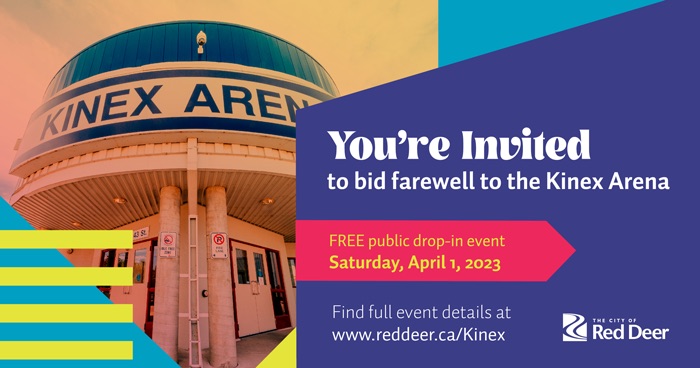 City to host Kinex Arena farewell event
With the twin arenas now open at the G.H. Dawe Community Centre, The City will continue with it's plan to decommission the Kinex Arena. The facility will no longer serve as a recreation amenity for the community."We understand the distinct history the Kinex Arena has to sport, recreation and community life here in our city," says Curtis Martinek, Facilities & Asset Management Superintendent. He continues, "we would like to invite Red Deerians to bid farewell to this amenity which has served our community for over 50 years."

The Kinex Arena was originally built in 1967 and has provided over 5 decades of fun, sport and recreation. As a farewell, The City is hosting a free public drop-in event.

Free Kinex Arena Farwell Event
Saturday, April 1
10:00 a.m. – 3:00 p.m.
4725 A – 43 Street

Behind the Servus Arena (map)

Join us for our free skating times with themed music:
10 – 11 a.m. – preschool/family skate with preschool songs
11:15 a.m. – 12:15 p.m. – 60's & 70's public skate
12:30 – 1:30 p.m. – 80's & 90's public skate
1:45 – 2:45 p.m. – 00's & 10's public skate
Pre-registration is not required, drop-in when your schedule allows!
Skate with us through the ages as we host themed drop-in skating times with refreshments in the upper mezzanine. The refreshments are free and so are the memories! Walk back in time while reminiscing with historic pictures of the Kinex Arena over the last 55+ years.
Kinex Farewell Event FAQs
Kinex Arena Decommission FAQs