Red Deer Cleaning Up And Restoring Power After Major Windstorm
By Sheldon Spackman
You could see the storm coming from the north and northwest for a while before it arrived but when it did, shortly before 7 pm, it packed a powerful punch that the City of Red Deer is still trying to recover from. Winds in excess of 112 km/hr were recorded in some areas and left behind significant damage in many places. City officials say as much as 35 percent of Red Deer was without power at one point.
Downed trees and power outages are still impacting traffic flows across the city as crews continue to clean up after the storm. This, while Parks crews continue to assess the state of City parks and Red Deer's highly regarded trail systems. Officials say all parks/trails in the Waskasoo Park system are closed, with the following exceptions:
River Bend Golf and Recreation Area is open; however, the pitch and putt area is closed.
Discovery Canyon is open.
Oxbows Dog Off Leash Park is open.
Great Chief Park/Bower Ponds is expected to open at some point on June 21st.
Although the storm thankfully did not cause any fatalities, there was one minor injury sustained at the Lion's Campground in the city. Officials say that person was taken to hospital for treatment and later released. The storm did however cause three school closures in Red Deer. They included Mountview School and Gateway Christian School in the Red Deer Public School District and also Parkland School.
City Transit services remain running as normal.
Officials say residents can dispose of any downed tree branches at the north snow storage facility (6859 Edgar Industrial Drive). Drop off is free of charge and the facility is open from 7 a.m. to 11 p.m. Garbage, sod, or other yard waste material will not be accepted at the Edgar site.
Mayor Tara Veer says a big Thank You needs to be extended to all city crews and contractors working to clean up and restore power to the community. Also to the Town of Penhold and Red Deer County for their help with the storm clean up and securing emergency sites on Tuesday evening.
For more information on the Local State of Emergency still in effect in the City of Red Deer, Click Here.
Terror charges laid against man accused in London attack against Muslim family
LONDON, Ont. — Prosecutors say the attack against a Muslim family in southwestern Ontario that left four dead and one injured was an act of terrorism.
Twenty-year-old Nathaniel Veltman had been charged with four counts of first-degree murder and one count of attempted murder in the June 6 incident in London, Ont.
Federal Crown Sarah Shaikh says prosecutors have now received consent from the country's attorney general to go ahead with terrorism proceedings.
Veltman, who has yet to retain a lawyer, made a brief court appearance via video this morning and said he understood the new charges.
Salman Afzaal, 46, his 44-year-old wife Madiha Salman, their 15-year-old daughter Yumna and her 74-year-old grandmother, Talat Afzaal were killed while out for an evening walk.
The couple's nine-year-old son, Fayez, was seriously injured but is expected to recover. 
Police allege the incident was a planned and premeditated attack targeting Muslims. 
Saboor Khan, a friend of the family, said upgrading the charges against Veltman was "the right thing to do." 
"The family and the community has been terrorized and many of us are afraid to leave our homes," Khan said. 
A funeral for the family drew hundreds of mourners to the Islamic Centre of Southwest Ontario over the weekend.
Veltman's next court date is scheduled for June 21. 
This report by The Canadian Press was first published June 14, 2021.
The Canadian Press
Indigenous people can now reclaim traditional names on their passports and other ID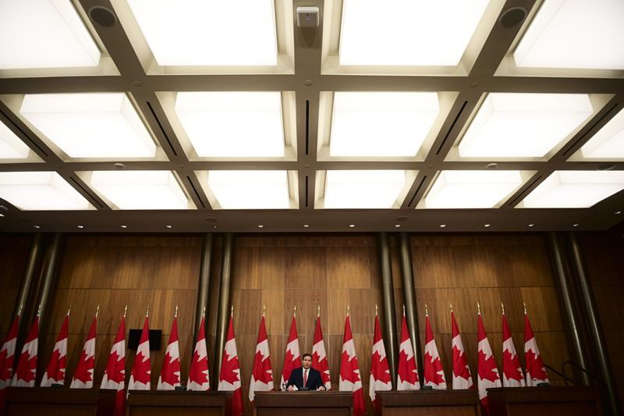 OTTAWA — The federal government is announcing that Indigenous people can now apply to reclaim their traditional names on passports and other government identification.

The announcement comes in response to a call to action from the Truth and Reconciliation Commission that demanded governments allow survivors and their families to restore names changed by the residential school system.

Indigenous Services Minister Marc Miller says the announcement applies to all individuals of First Nations, Inuit and Métis background, potentially affecting hundreds of thousands of people who aim to reclaim their identity on official documents.

Citizenship Minister Marco Mendicino says all fees will be waived for the process, which pertains to passports, citizenship certificates and permanent resident cards.
The move comes six years after the Truth and Reconciliation Commission made the recommendation, and follows last month's news that ground-penetrating radar detected what are believed to be the remains of 215 children at a former residential school in Kamloops, B.C.
Most of the commission's 94 calls to action remain unfulfilled, though cabinet ministers pointed to a pair of bills that would incorporate Indigenous rights into the oath of citizenship and align Canada's laws with the United Nations Declaration on the Rights of Indigenous Peoples.
This report by The Canadian Press was first published June 14, 2021.
The Canadian Press