State Of Emergency, Windstorm School Closures, Hwy 11-A Fatal Crash
3:55 pm – The Red Deer & District Community Foundation granted the Red Deer Cultural Heritage Society $2,000 for a Mural at Festival Hall. The mural will represent the cultural and ethnic history of the Red Deer Cultural Heritage Society member groups will be created by Lindsay Thurber Composite High art students to be completed by the spring of 2018.
For more local news, click here!
3:03 pm – Penhold Fire Crews responded to a total of 8 emergency calls on Tuesday night involving downed power lines on roofs of houses and across roads, along with trees down on some structures. Also, Penhold Fire Crews responded to assist the City of Red Deer to a fire on 60th Avenue and then ultimately to 4 more calls in the Riverside Meadows area. Then shortly after 9:30 am on Wednesday morning, Penhold Fire responded to a tree and power lines down on a house on Robinson Avenue. Fortis Alberta and Penhold Fire Crews removed the line and tree from the house.
12:03 pm – The ATB Financial Downtown Farmer's Market is on this afternoon. However, the following road closures will be in place while it's on.
11:54 am – Lindsay Thurber Comprehensive High School will be hosting a celebration in honour of Canada's 150th birthday, Lindsay Thurber's 70th birthday and National Aboriginal Day today. Local dignitaries will attend along with the students and staff of Lindsay Thurber. The celebration includes an all-school assembly to be held in the main gym, beginning at 12:30. Highlights of the assembly will include drum dancers, multi-media presentations and an aerial photo being taken of the entire student body. Plus, Lindsay Thurber High School will also reveal a student created time capsule to be re-opened in 50 years. The celebrations will end with a BBQ and birthday cake for students and staff.
For more local news, click here!
11:38 am – Red Deer County Operations department is pleased to announce that the new traffic circle constructed at the intersection of Laura Avenue and Lantern Street will open to the public today. (June 21)
11:35 am – Blackfalds RCMP advise they are investigating a serious two vehicle collision involving a single fatality on Highway 11-A and Range Road 283. The investigation is preliminary and an update will be provided as more information becomes available. The intersection of Highway 11-A and Range Road 283 is impassable at this time. Blackfalds RCMP are advising motorists to choose an alternate route as traffic is likely to be affected for several hours.
8:23 am – Officials with Red Deer Catholic Regional Schools say school buses are running today & schools are open. However, they are unable to update their bus app, as their servers are down from the storm last night.
For more local news, click here!
8:12 am – Cleanup efforts are in full swing today after a severe windstorm ripped through the City last night, causing significant damage and power outages in the community. Here's the latest update from the City of Red Deer which has declared a Local State of Emergency.
7:54 am – A pair of schools in the Red Deer Public School District are closed today due to last night's severe windstorm. They include Mountview and Gateway schools. Officials say other schools significantly impacted include Aspen Heights, Joseph Welsh and Grandview. Read More.
7:38 am – The City of Red Deer declared a state of local emergency on June 20, 2017 due to widespread power outages caused by a severe wind storm. Read More.
For more local news click here!
Satellite photos show aftermath of Abu Dhabi oil site attack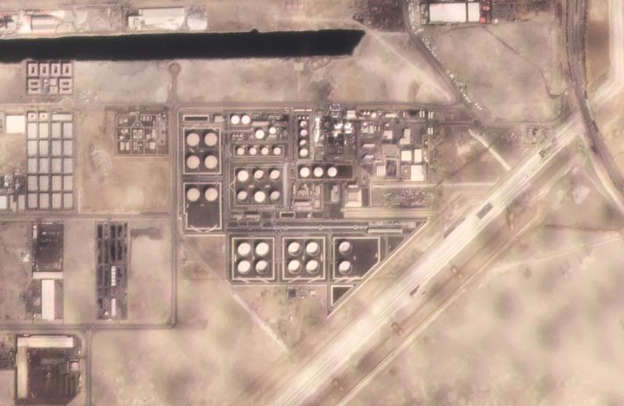 DUBAI, United Arab Emirates (AP) — Satellite photos obtained by The Associated Press on Tuesday appear to show the aftermath of a fatal attack on an oil facility in the capital of the United Arab Emirates claimed by Yemen's Houthi rebels.
The attack brought the long-running Yemen war into Emirati territory on Monday. That conflict raged on overnight with Saudi-led airstrikes pounding Yemen's capital, Sanaa, killing and wounding civilians.
Meanwhile, fears over new disruptions to global energy supplies after the Abu Dhabi attack pushed benchmark Brent crude to its highest price in years.
The images by Planet Labs PBC analyzed by the AP show smoke rising over an Abu Dhabi National Oil Co. fuel depot in the Mussafah neighborhood of Abu Dhabi after the attack. Another image taken shortly after appears to show scorch marks and white fire-suppressing foam deployed on the grounds of the depot.
The Abu Dhabi National Oil Co., known by the acronym ADNOC, is the state-owned energy firm that provides much of the wealth of the UAE, a federation of seven sheikhdoms on the Arabian Peninsula and also home to Dubai.
ADNOC did not respond to questions from the AP asking about the site and damage estimates from the attack. The company had said the attack happened around 10 a.m. Monday.
"We are working closely with the relevant authorities to determine the exact cause and a detailed investigation has commenced," ADNOC said in an earlier statement.
The attack killed two Indian nationals and one Pakistani as three tankers at the site exploded, police said. Six people were also wounded at the facility, which is near Al-Dhafra Air Base, a massive Emirati installation that is also home to American and French forces.
Another fire also struck Abu Dhabi International Airport, though damage in that attack could not be seen. Journalists have not been able to view the sites attacked and state-run media have not published photographs of the areas.
Police described the assault as a suspected drone attack. The Houthis claimed they used cruise and ballistic missiles in the attack, without offering evidence.
Meanwhile Tuesday, the Saudi-led coalition fighting in Yemen announced it had started a bombing campaign targeting Houthi sites in the capital of Sanaa. It said it also struck a drone-operating base in Nabi Shuaib Mountain near Sanaa.
Overnight videos released by the Houthis showed damage, with the rebels saying the airstrikes killed at least 14 people. Sanaa resident Hassan al-Ahdal said one airstrike hit the house of Brig. Gen. Abdalla Kassem al-Junaid, who heads the Air Academy. He said at least three families were living in the house. Another adjunct house with a four-member family was damaged.
The Saudi-led coalition has faced international criticism for airstrikes hitting civilian targets during the war.
For hours Monday, Emirati officials did not acknowledge the Houthi claims over the Abu Dhabi attack, even as other countries condemned the assault. Senior Emirati diplomat Anwar Gargash broke the silence on Twitter, saying that Emirati authorities were handling the rebel group's "vicious attack on some civilian facilities" with "transparency and responsibility."
The office of South Korean President Moon Jae-in, who had been in the Emirates on a state visit, said he spoke to Abu Dhabi's powerful Crown Prince, Sheikh Mohammed bin Zayed Al Nahyan, immediately after the attack.
The statement quoted Sheikh Mohammed as saying the attack had been "anticipated." The two had been scheduled to meet during Moon's visit but the event had been cancelled prior to the attack over an "unforeseen and urgent matter of state," according to Moon's office.
The Emirati Foreign Ministry did not immediately respond to a request for comment over Moon's statement.
Fears over future attacks reaching the UAE, a major oil producer and OPEC member, helped push Brent crude oil prices to their highest level in seven years. On Tuesday, a barrel of Brent crude traded at over $87.50 a barrel, a price unseen since October 2014.
Although the UAE has largely withdrawn its own forces from Yemen, it is still actively engaged in the conflict and supports Yemeni militias fighting the Houthis.
The incident comes as the Houthis face pressure and are suffering heavy losses on the battlefields. Yemeni government forces, allied and backed by the UAE, have pushed back the rebels in key provinces. Aided by the Emirati-backed Giants Brigades, the government forces took back the province of Shabwa earlier this month in a blow to Houthi efforts to complete their control of the entire northern half of Yemen.
While Emirati troops have been killed over the course of the conflict, now in its eight year, the war has not directly affected daily life in the wider UAE, a country with a vast foreign workforce.
___
Associated Press writers Isabel DeBre in Dubai, Samy Magdy in Cairo and Kim Tong-hyung in Seoul, South Korea, contributed to this report.
___
Follow Jon Gambrell on twitter at www.twitter.com/jongambrellAP.
Jon Gambrell, The Associated Press
Grocery store closures loom amid labour, product shortages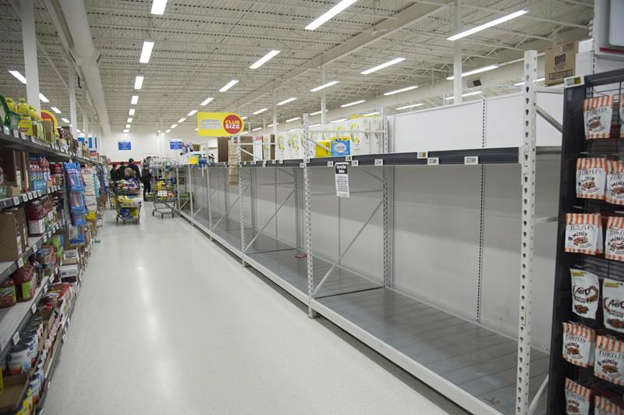 Grocery stores are struggling with rising labour and product shortages that could threaten Canada's food security, experts say.
Employee absenteeism due to workers calling in sick and COVID-19 protocols has hit about 30 per cent at some stores and is continuing to rise, Gary Sands, senior vice-president of public policy with the Canadian Federation of Independent Grocers, said Tuesday.
Without access to rapid testing in many provinces, he said workers are repeatedly forced to isolate for a week or more after an exposure to COVID-19.
If the situation worsens, some grocery stores won't be able to stay open — threatening food security in rural and remote areas that rely on a sole independent grocer, Sands said.
"If we have to keep sending people home, at a certain point stores are not going to be able to operate," he said. "We're very frustrated with the lack of rapid test kits for grocers."
Health Canada has made some rapid test kits available directly to companies in critical sectors, including the food industry, with 200 or more employees.
But many independent grocery stores don't meet that threshold, putting those kits out of reach, Sands said.
Yet many grocers cannot obtain rapid tests through provinces either, he said.
"Independent grocers are in a myriad of communities in this country where there is no other grocery store," Sands said. "If those stores close, you've got a food security issue."
Meanwhile, stores are also experiencing a shortage of goods stemming from supply chain issues, including a shortage of truckers, packaging and processing delays and the Canadian winter.
Grocers rely on "just in time" delivery, meaning even transient issues like inclement weather can cause delays and shortages, Retail Council of Canada spokesperson Michelle Wasylyshen said.
Still, empty shelves at some supermarkets should only be temporary, she said, noting that retailers are exploring all avenues to get products to stores as quickly as possible.
But some supply chain issues could be longer lasting, such as the trucker shortage intensified by the federal government's new vaccine mandate.
"The issue with the truckers having to be vaccinated is causing some delays, especially with the supply of fruit and vegetables from California," Sands said.
"Grocers in Central Canada are mostly reporting just delays of a couple weeks, but in the West the shortages seem to be more significant."
In some cases, Sands said grocers are short nearly 40 per cent of their usual stock of a variety of products.
"Especially in the West, some grocers are saying the situation is as bad as it was in the spring of 2020 in terms of supply," he said.
It's not just the produce aisle that experiencing shortages. Soups, cereals and cleaning supplies are all running lower than normal, Sands said.
Many shoppers have noticed empty shelves where Kellogg's cereal is normally stocked, for example.
Kellogg Canada said in an emailed statement that higher at-home consumption coupled with supply chain challenges have impacted the availability of some products in Canada, such as Kellogg's Rice Krispies cereal.
The company said the "intermittent shortages" reflect the challenging operating environment all manufacturers are experiencing, adding that it's working hard to get Kellogg's cereal brands back on store shelves.
About 1,400 union workers at Kellog's plants in the United States were on strike for several weeks last year. An agreement was reached Dec. 21.
This report by The Canadian Press was first published Jan. 18, 2022.
Brett Bundale, The Canadian Press