State Of Emergency, Windstorm School Closures, Hwy 11-A Fatal Crash
3:55 pm – The Red Deer & District Community Foundation granted the Red Deer Cultural Heritage Society $2,000 for a Mural at Festival Hall. The mural will represent the cultural and ethnic history of the Red Deer Cultural Heritage Society member groups will be created by Lindsay Thurber Composite High art students to be completed by the spring of 2018.
For more local news, click here!
3:03 pm – Penhold Fire Crews responded to a total of 8 emergency calls on Tuesday night involving downed power lines on roofs of houses and across roads, along with trees down on some structures. Also, Penhold Fire Crews responded to assist the City of Red Deer to a fire on 60th Avenue and then ultimately to 4 more calls in the Riverside Meadows area. Then shortly after 9:30 am on Wednesday morning, Penhold Fire responded to a tree and power lines down on a house on Robinson Avenue. Fortis Alberta and Penhold Fire Crews removed the line and tree from the house.
12:03 pm – The ATB Financial Downtown Farmer's Market is on this afternoon. However, the following road closures will be in place while it's on.
11:54 am – Lindsay Thurber Comprehensive High School will be hosting a celebration in honour of Canada's 150th birthday, Lindsay Thurber's 70th birthday and National Aboriginal Day today. Local dignitaries will attend along with the students and staff of Lindsay Thurber. The celebration includes an all-school assembly to be held in the main gym, beginning at 12:30. Highlights of the assembly will include drum dancers, multi-media presentations and an aerial photo being taken of the entire student body. Plus, Lindsay Thurber High School will also reveal a student created time capsule to be re-opened in 50 years. The celebrations will end with a BBQ and birthday cake for students and staff.
For more local news, click here!
11:38 am – Red Deer County Operations department is pleased to announce that the new traffic circle constructed at the intersection of Laura Avenue and Lantern Street will open to the public today. (June 21)
11:35 am – Blackfalds RCMP advise they are investigating a serious two vehicle collision involving a single fatality on Highway 11-A and Range Road 283. The investigation is preliminary and an update will be provided as more information becomes available. The intersection of Highway 11-A and Range Road 283 is impassable at this time. Blackfalds RCMP are advising motorists to choose an alternate route as traffic is likely to be affected for several hours.
8:23 am – Officials with Red Deer Catholic Regional Schools say school buses are running today & schools are open. However, they are unable to update their bus app, as their servers are down from the storm last night.
For more local news, click here!
8:12 am – Cleanup efforts are in full swing today after a severe windstorm ripped through the City last night, causing significant damage and power outages in the community. Here's the latest update from the City of Red Deer which has declared a Local State of Emergency.
7:54 am – A pair of schools in the Red Deer Public School District are closed today due to last night's severe windstorm. They include Mountview and Gateway schools. Officials say other schools significantly impacted include Aspen Heights, Joseph Welsh and Grandview. Read More.
7:38 am – The City of Red Deer declared a state of local emergency on June 20, 2017 due to widespread power outages caused by a severe wind storm. Read More.
Canadian sprinter Andre De Grasse wins bronze in men's 100 metres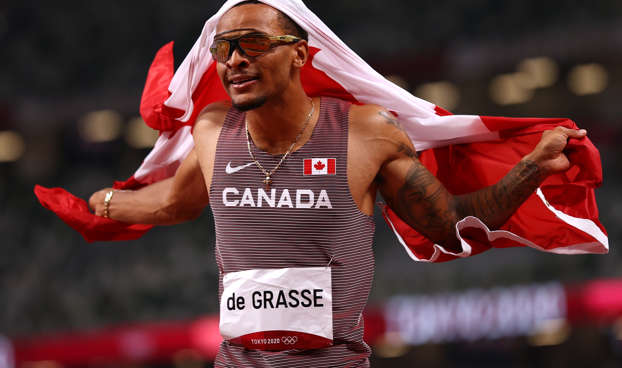 TOKYO — Canada's Andre De Grasse has claimed the bronze medal in the men's 100 metres for the second straight Olympics.
The 26-year-old from Markham, Ont., overcame a rough start and raced to third in a personal-best time of 9.89 seconds.
Italy's Lamont Jacobs took the gold in 9.80 seconds, followed by American Fred Kerley in 9.84 seconds. All three medallists ran personal bests.
It's Canada's first track and field medal at the Tokyo Olympics. It's also the latest piece of hardware in the event for De Grasse, who won bronze in the 100 in both the 2016 Olympics and 2019 world championships.
Two hours earlier, De Grasse ran 9.98 to finish second in his semifinal and seventh overall.
De Grasse is the first Canadian male to climb the medal podium in Tokyo. Led by swimming superstar Penny Oleksiak, women had captured all of Canada's 13 previous medals.
De Grasse will have a day off before he's back on the track for the 200 heats and semifinal on Tuesday. He captured silver in the 200 at both the 2016 Olympics and 2019 world championships.
There was no clear-cut favourite in the men's 100 this year with the retirement of Usain Bolt. The Jamaican superstar and world record-holder (9.58) captured gold and silver in the 100 and 200 in the Beijing, London and Rio, and what the media dubbed his "bromance" with fellow Puma athlete De Grasse was an entertaining storyline in Rio.
American Christian Coleman, the reigning world 100-metre champion and the sprinter considered De Grasse's biggest challenge in Tokyo, is serving a doping suspension through May of next year.
This report by The Canadian Press was first published Aug. 1, 2021.
The Canadian Press
Penny Oleksiak makes history as Canada swims to bronze in medley relay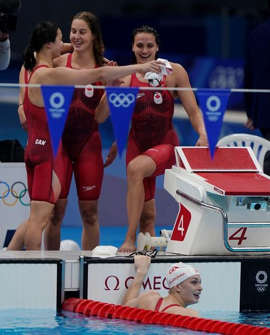 Masse, 25, earned a pair of silver in backstroke. Oleksiak also claimed bronze in the 200-metre freestyle.
The women's swim team amassed six medals in Tokyo to equal its Rio count of five years ago.
Taylor Ruck of Kelowna, B.C., Pickrem, Mac Neil and Toronto's Kayla Sanchez posted the fastest qualification time in Friday's heats to give Canada a middle lane Sunday.
The medley relay medal was Canada's first since 1988 and fourth in the 61-year Olympic history of race. Canadian women were bronze medallists in 1976, 1984 and '88.
Oleksiak won 100-freestyle gold, 100-butterfly silver and anchored Canada to a pair of freestyle relay bronze medals at age 16 in Rio.
Heats, semifinals, finals and relays added up to 10 races over nine days for Oleksiak in Tokyo, where she added a pair of relay medals and the 200 free bronze to her total.
Oleskiak, Mac Neil and Masse claimed their third medals at the Tokyo Aquatic Centre.
This report by The Canadian Press was first published July 31, 2021.
The Canadian Press