State Of Emergency, Windstorm School Closures, Hwy 11-A Fatal Crash
3:55 pm – The Red Deer & District Community Foundation granted the Red Deer Cultural Heritage Society $2,000 for a Mural at Festival Hall. The mural will represent the cultural and ethnic history of the Red Deer Cultural Heritage Society member groups will be created by Lindsay Thurber Composite High art students to be completed by the spring of 2018.
For more local news, click here!
3:03 pm – Penhold Fire Crews responded to a total of 8 emergency calls on Tuesday night involving downed power lines on roofs of houses and across roads, along with trees down on some structures. Also, Penhold Fire Crews responded to assist the City of Red Deer to a fire on 60th Avenue and then ultimately to 4 more calls in the Riverside Meadows area. Then shortly after 9:30 am on Wednesday morning, Penhold Fire responded to a tree and power lines down on a house on Robinson Avenue. Fortis Alberta and Penhold Fire Crews removed the line and tree from the house.
12:03 pm – The ATB Financial Downtown Farmer's Market is on this afternoon. However, the following road closures will be in place while it's on.
11:54 am – Lindsay Thurber Comprehensive High School will be hosting a celebration in honour of Canada's 150th birthday, Lindsay Thurber's 70th birthday and National Aboriginal Day today. Local dignitaries will attend along with the students and staff of Lindsay Thurber. The celebration includes an all-school assembly to be held in the main gym, beginning at 12:30. Highlights of the assembly will include drum dancers, multi-media presentations and an aerial photo being taken of the entire student body. Plus, Lindsay Thurber High School will also reveal a student created time capsule to be re-opened in 50 years. The celebrations will end with a BBQ and birthday cake for students and staff.
For more local news, click here!
11:38 am – Red Deer County Operations department is pleased to announce that the new traffic circle constructed at the intersection of Laura Avenue and Lantern Street will open to the public today. (June 21)
11:35 am – Blackfalds RCMP advise they are investigating a serious two vehicle collision involving a single fatality on Highway 11-A and Range Road 283. The investigation is preliminary and an update will be provided as more information becomes available. The intersection of Highway 11-A and Range Road 283 is impassable at this time. Blackfalds RCMP are advising motorists to choose an alternate route as traffic is likely to be affected for several hours.
8:23 am – Officials with Red Deer Catholic Regional Schools say school buses are running today & schools are open. However, they are unable to update their bus app, as their servers are down from the storm last night.
For more local news, click here!
8:12 am – Cleanup efforts are in full swing today after a severe windstorm ripped through the City last night, causing significant damage and power outages in the community. Here's the latest update from the City of Red Deer which has declared a Local State of Emergency.
7:54 am – A pair of schools in the Red Deer Public School District are closed today due to last night's severe windstorm. They include Mountview and Gateway schools. Officials say other schools significantly impacted include Aspen Heights, Joseph Welsh and Grandview. Read More.
7:38 am – The City of Red Deer declared a state of local emergency on June 20, 2017 due to widespread power outages caused by a severe wind storm. Read More.
For more local news click here!
Poilievre among those marching with soldier charged for criticizing vaccine mandates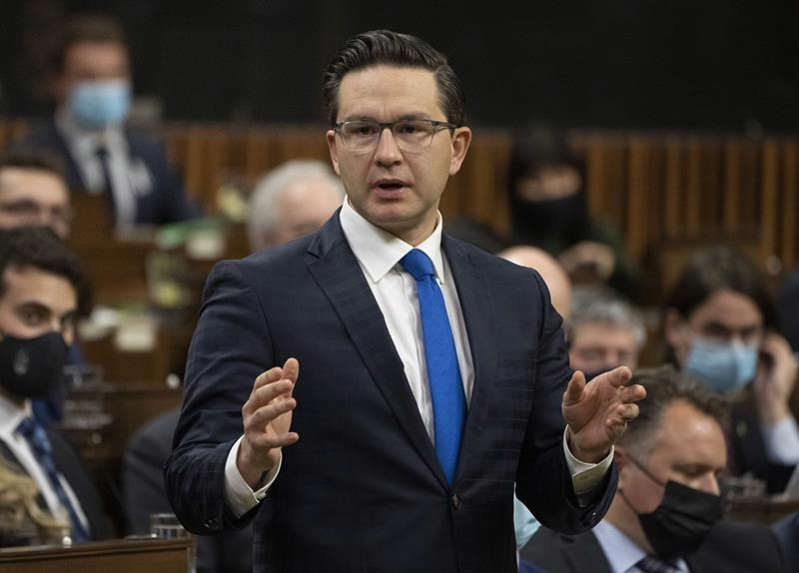 By Lee Berthiaume in Ottawa
Conservative leadership candidate Pierre Poilievre joined the final leg of a march led by a Canadian soldier charged for speaking out against COVID-19 vaccine requirements that has sparked promises⁠ — and fears — of a new wave of protests in the capital.
James Topp was charged in February with two counts of conduct to the prejudice of good order and discipline for comments made while wearing his uniform, and has since been leading a four-month march to the capital from Vancouver.
His march has been supported by many of the same figures involved in the "Freedom Convoy" that snarled downtown Ottawa for weeks until police used force to end what they and the government described as an illegal occupation.
His arrival in the capital and promises of a new round of protests starting Canada Day have set residents on edge. Ottawa Mayor Jim Watson and the city's interim police chief, Steve Bell, have promised to crack down on any illegal activity.
Poilievre walked alongside Topp for about half an hour after the two met in the parking lot of a strip mall west of downtown Ottawa shortly before noon, where hundreds of people had gathered to see the army reservist.
Video of the meeting shows Poilievre citing to Topp a famous quote by then-prime minister John Diefenbaker about being a "free Canadian" when the latter signed the Canadian Bill of Rights in 1960, before expressing his opposition to vaccine mandates.
When Topp says he wants the reinstatement and reparations for anyone who lost their job because of vaccine mandates, Poilievre said: "Everybody who lost their job simply because of a COVID mandate should be restored to their job, no question about it."
The two also spoke about the divisions within Canada, with Poilievre saying: "People are desperate for hope … I think it's time to put this country back together, and heal the wounds and reunite our country."
The two were then followed by about 200 supporters, many of them carrying Canadian flags and some sporting camouflaged backpacks and other gear, as they walked down the sidewalk of a major street for about half an hour before Poilievre left.
Poilievre's appearance with Topp comes as the presumed Conservative leadership front-runner has been accused of unabashedly cozying up to anti-vaccine protesters and other groups associated with the "Freedom Convoy."
Topp has said he has no plans to lead an occupation of the capital, and invited Ottawa police to work with him to facilitate his march through the city to the National War Memorial.
However, an organizer for a group calling itself Veterans 4 Freedom said in a recent video posted to YouTube that it plans to set up a semi-permanent camp east of Ottawa called "Camp Eagle" and hold events in the city all summer.
While police have since managed to prevent similar protests from taking over the city, stopping planned demonstrations from getting out of hand during Canada Day is likely to be complicated by the presence of thousands of people celebrating the holiday.
The charges against Topp relate to two videos posted online in the winter in which the army reservist appears in uniform criticizing vaccine requirements for military personnel and other federal employees.
Canadian Armed Forces members are severely restricted in the comments they can make while in uniform, particularly when it comes to criticizing government policies, in large part to protect the military from any perception of politicization.
His lawyer has argued such restrictions should not apply to policies that affect Armed Forces members personally.
Prime Minister Justin Trudeau on Thursday said police are taking their responsibility to keep people safe during Canada Day celebrations "very seriously," while Ontario Premier Doug Ford called on those intending to protest in Ottawa to respect the law.
"Folks, be considerate this weekend, you're going to Ottawa, be considerate. It's Canada Day, we're Canadians, just everyone have a good time, a safe time, stay healthy and safe and spend time with your families," Ford said.
Ford said he is disappointed to see such protests return to the capital.
"I'm all for peaceful protests and you can demonstrate, but no shenanigans this weekend, just be peaceful and let the people of Ottawa enjoy their weekend," he said.
"Honestly, we shouldn't even be going through this. It's disappointing, but it is what it is."
More than two dozen Conservative MPs hosted Topp and other leading figures in the Freedom Convoy on Parliament Hill last week, posing for pictures, promising their support and listening to a lecture on the purported dangers of COVID-19 vaccines.
Health Canada says only vaccines that meet strict safety, efficacy and quality standards are approved for use in the country, and the benefits of COVID-19 vaccines continue to outweigh the risks of the disease. About 85 per cent of Canadians have received at least one dose.
Topp told the MPs that he was marching in part to get all vaccine mandates repealed, as well as to demand the reinstatement of anyone who lost their job because of such a requirement and compensation for wages lost.
At the same time, he and the others raised the spectre of civil war in describing the state of the country.
"We won't be intimidated by any group that plans to disrupt the celebrations," Mayor Jim Watson said during a briefing earlier this week. "We're prepared and we will not tolerate any illegal activity by anyone."
Bell said police are prepared for a number of different scenarios, and will respond quickly to any illegal activity, including efforts to set up structures such as stages.
In late April, the Ottawa Police Services Board approved a request from Bell to appoint up to 831 RCMP officers to help with the Rolling Thunder motorcycle events, and made those appointments valid until July 4.
The city is warning that vehicles will be ticketed and towed if they're found violating no-stopping zones, although the full extent of the areas that will be off limits has not been determined.
Many Ottawa residents remain angry at how the city and police handled the "Freedom Convoy" protests, with several community groups banding together to launch a citizens' inquiry into how that protest was handled.
This report by The Canadian Press was first published June 30, 2022.
Calgary Stampede receives $10M from federal government to aid recovery from pandemic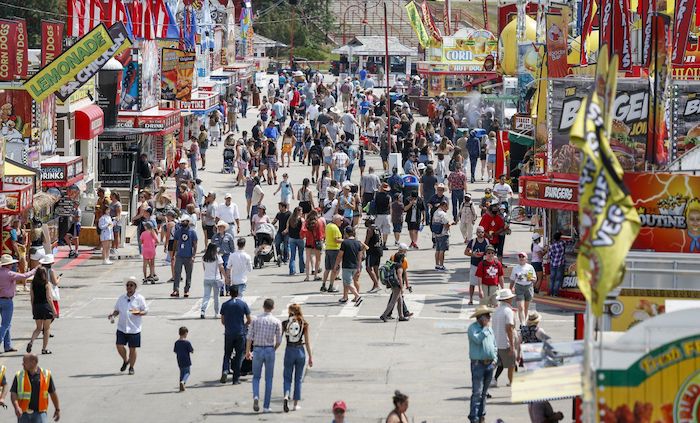 Calgary – The Calgary Stampede has received more than $10 million from the federal government to help it bounce back after last year's event was scaled down due to the COVID-19 pandemic.
A report to the city this week showed the Stampede had an operating loss of $8.3 million in 2021.
Last year's Stampede ran at half capacity because of COVID-19 public health measures and was cancelled all-together the year before.
Daniel Vandal, the federal minister for Prairies Economic Development Canada, says the money aims to support a full-scale Stampede to deliver the "authentic western experience" this year.
He says it would also help to reignite Alberta's visitor economy.
The 2022 Stampede is set to run from July 8 to 17.
"Festivals large and small were hard hit during the pandemic," Vandal said in a news release. "They are events where families and friends come together and take in the exciting atmosphere.
"The tourism industry is facing a strong comeback providing quality jobs across the country, showcasing stunning landscapes and offering exciting experiences right here in Alberta."
The federal government also provided about $1.8 million for four other tourism projects in southern Alberta: Charmed Resorts, Cochrane Tourism Association, Heritage Park and Tourism Calgary.
This report by The Canadian Press was first published June 30, 2022.