Rebels home opener this Friday!!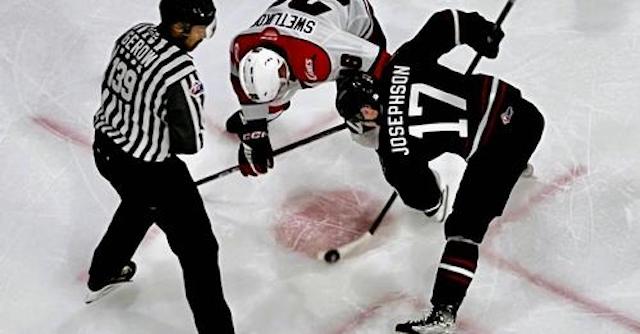 News release from the Red Deer Rebels
REBELS THIS WEEK
SEPTEMBER 18-24, 2023
BRING ON THE REGULAR SEASON!
It's finally here… time to start the 2023-24 WHL Regular Season! The Rebels look to build on their success from last year when they won the Central Division title for the first time since 2011.
PRE-SEASON done
The Rebels wrapped up their pre-season with two games this past weekend.
Friday at the Peavey Mart Centrium, the Rebels picked up a 3-2 win over the visiting Calgary Hitmen. Ollie Josephson, Quentin Bourne and Samuel Drancak scored for Red Deer. Chase Wutzke earned the win in net.
Saturday at the Enmax Centre down in Lethbridge, the Hurricanes edged the Rebels 4-3 in overtime. The Rebels got goals from Evan Smith, Elias Carmichael, and Zane Saab as they finish the pre-season with a 2-1-1-0 record.
UPCOMING GAMES
The Red Deer Advocate Home Opener versus the Edmonton Oil Kings goes this Friday, Sept. 22 at the Peavey Mart Centrium at 7 p.m.
The following night, Saturday, Sept. 23, the Rebels visit the Oil Kings at Rogers Place in Edmonton for a 7 p.m. tilt.
Once again this season, all Rebels regular season and playoff games, home and away, will be heard exclusively on 106.7 REWIND Radio, and viewed exclusively through CHL TV.
SOCKTEMBER
As part of 'Socktember,' On-side Restoration is encouraging Rebels fans to bring donations of new socks to the Red Deer Advocate Home Opener in support of The Mustard Seed, Youth HQ, and the Central Alberta Women's Shelter. Socks can be taken to the Community Corner located on the concourse at the Peavey Mart Centrium.
WHL CUP RETURNS TO RED DEER
The Western Hockey League, in partnership with BC Hockey, Hockey Alberta, Hockey Saskatchewan and Hockey Manitoba, announced that Red Deer will host the 2023 WHL Cup presented by FPS Payment, October 18-22, 2023, at the Peavey Mart Centrium. The tournament will feature teams from the four Western Canadian provinces competing in a round-robin tournament format followed by playoffs. The 2023 WHL Cup will showcase the top 2008-born players from British Columbia, Alberta, Saskatchewan and Manitoba. Rosters, ticketing information, and live streaming details for the 2023 WHL Cup will be announced at a later date. The WHL Cup was last hosted in 2021 in Red Deer.
TICKETS, TICKETS, TICKETS!
Season tickets for the 2023-24 season are still available. Fans can also purchase half-season, 9-game packs, 3-game packs, and single-game tickets. Visit reddeerrebels.com or call Shaun Richer at 403-341-6000 for details.
Canadian Finals Rodeo 49 Wraps Up with Record-Breaking Success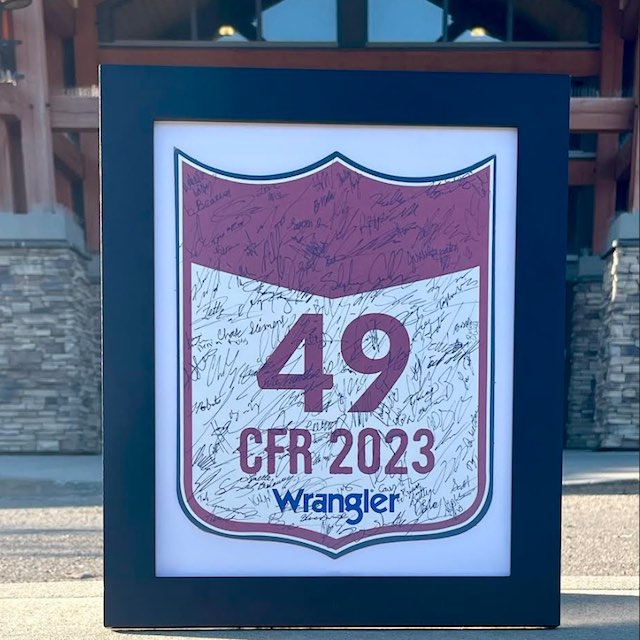 As we bid adieu to the exhilarating 49th Canadian Finals Rodeo (CFR) powered by ATB, we want to extend our heartfelt thanks to the community of Central Alberta and rodeo enthusiasts for their unwavering support throughout this incredible event. This year's Canadian Finals Rodeo (CFR) in Red Deer shattered all previous records with an astounding 37,000 tickets sold. The highly anticipated Cabaret, featuring a post-rodeo party showcasing the CFR All Star Band of incredibly talented musicians, was a resounding success, drawing in an impressive crowd of 13,000 attendees.
The Ropin' into the Holiday Market, featuring 99 trade show vendors, added an extra layer of excitement and variety to the CFR experience. Attendees were treated to a diverse array of offerings, from western apparel to equine, making for a memorable shopping experience. This bustling market also drew in community members who may not have been initially there for the rodeo, further enhancing the sense of community engagement and enjoyment.
Apart from the thrilling rodeo action, attendees were also treated to exciting activities free of charge in the CFR Experience Arena throughout all five days of CFR. This included Ultimate Bullfighting and Equine Equus
Experiences, the Miss Rodeo Canada Horsemanship competition, Canadian Championship Dummy Roping, the Futurity Canadian Made Bucking Horse Sale, the H Bar Auctions Horsemanship Show and Sale, and to cap it all off, the Mini Chuckwagons entertained with a morning of races!
In addition to these remarkable achievements, the Rotary Club of Red Deer hosted an electrifying 50/50 event, where one lucky winner walked away with an astonishing $99,537.50 in prize money. These outstanding achievements have solidified this year's CFR as the event with the highest attendance ever recorded in Red Deer's CFR history.
None of this would have been possible without the generous support of our sponsors. Their invaluable contributions played a pivotal role in making this year's CFR an unforgettable experience for all involved. A special thank you is owed to the dedicated staff and volunteers who poured their hearts and souls into crafting an exceptional guest experience. Over 3,000 volunteer hours were logged, with the tireless efforts of 400 volunteers ensuring that every aspect of the event ran seamlessly.
In the spirit of giving back, the Westerner Park team was proud to present a donation of $6,615.00 to the Benevolent Rodeo Fund. This contribution exemplifies our commitment to supporting the rodeo community and its
members in times of need.
For a comprehensive overview of the rodeo results, we invite enthusiasts to visit crfreddeer.com. Here, you can find detailed information on the incredible performances and accomplishments of our talented rodeo
competitors.
Once again, we extend our deepest gratitude to everyone who played a part in making CFR 49 a resounding success. The combined efforts of the community, sponsors, staff, volunteers, vendors, and attendees have left an indelible mark, and we look forward to building upon this support for future events at Westerner Park.
About Westerner Park
Westerner Park is Central Alberta's largest tradeshow, agricultural, sports, entertainment, and convention facility. A not-for-profit organization and agricultural society, Westerner Park typically generates $150 million annually in economic activity, hosting over 1,500 events and 1.5 million visitors each year.
2023 Canadian Champions Declared at CFR Red Deer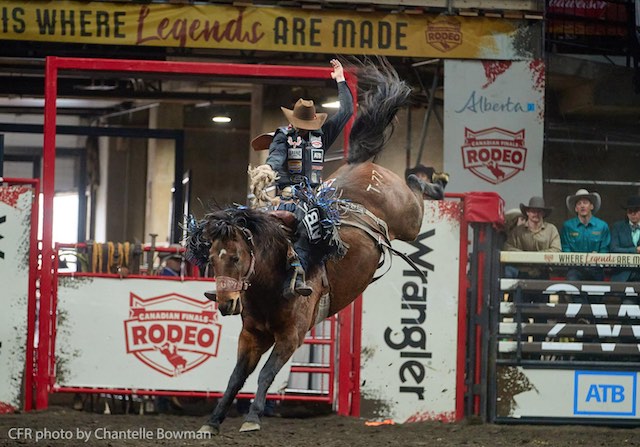 Photo courtesy CFR: Chantelle Bowman
Red Deer's Peavey Mart Centrium erupted Sunday when Big Valley, Alta superstar bronc rider, Zeke Thurston clinched his record fourth consecutive saddle bronc riding title. Despite bucking off his first bronc of the five-day Finals, Thurston wasted no time righting the ship, as he won the next three go-rounds. And Sunday was vintage Zeke Thurston as the second- generation talent split the win with an 88.25 point ride on the Calgary Stampede's T-26 Tokyo Bubbles. The Champion ended the week with $89,186 for a $38,000 margin of victory over second place cowboy, Ben Andersen.
For Thurston, winning the Canadian title never gets old. "I'm as excited to win this one as I was the first one," he acknowledged. "I think I'm kind of wired that way. I demand excellence in myself, and I want it really bad. I work really hard at it and I guess I believe I was made to be a champion. I think I've got some good years left in me and I plan to use 'em up."
Wildwood, Alberta's Logan Hay was the Aggregate Champion with 515.5 points for his six rides.
Five records fell as a result of the brilliant week enjoyed by team ropers Brady Tryan and Calgary Smith. The duo, from Huntley, Montana and Adams, Oregon respectively, went on a remarkable run at CFR '49 winning the last four rounds in succession (a new record) and placing second in the other two. When the smoke cleared and the dust settled, they had accumulated $62,837 each in CFR earnings and $91,493 in season earnings to easily eclipse both previous records. Their remarkable aggregate time of 24.3 seconds for six runs was also a record. (held previously by Travis Gallais/Rocky Dallyn – 31.3 seconds in 2005)
And it appeared that the two ropers enjoyed their outstanding week as much as the appreciative Red Deer crowds did. "If this isn't fun, I don't know what is," Tryan acknowledged. And in noting that his wife, then Callahan Crossley, won the Canadian Barrel Racing Championship in 2018, he added that she too had four wins and two second-place finishes en route to her Canadian title. "We'll get to put our (championship) saddles next to each other and that's pretty cool."
For Smith, the whole CFR experience was somewhat surreal. He had never had a run under four seconds, and he had two here, a 3.5 on Friday night to set a third new CFR record (this one shared
with Rhen Richard and Jeremy Buhler) and a 3.9 today.
"I'd never left my own local circuit before this year. But having a chance to rope with Brady and to travel up here to Canada and then make the finals here, that was great. And then to win it, that's huge."
The Smith victory celebrations quickly won over the CFR crowds, even those who hadn't heard of Calgary Smith before this week. They certainly have heard of the 2023 Canadian Team Roping
champions now.
Another of the more dramatic moments on Championship Sunday at CFR '49 occurred in the Ladies Barrel Racing. Brooks, Alta's Lynette Brodoway earned her first Canadian title, but it came down to the final run to get it done. A tipped barrel in round four set the season leader back in the aggregate and despite placing in four of six rounds, Brodoway and her Horse of the Year, SR Boots On Fire or Cowboy, had to bring their A game.
"I just tried to ride Cowboy to the best of my ability and let him do his job," said the happy cowgirl. "His best run of the whole week was today."
The pair clocked a 13.61 from the top of the ground to earn the second-place cheque and move up a notch in the aggregate. With a total of $72.831, the six-time CFR qualifier was declared the
Champion. Brodoway looked back on part of the journey that led to today.
"Two years ago, I came into the final day of CFR in the exact same position with Justine Elliott behind me and I hit a barrel. This is the rewarding part right here. I'm not a spring chicken and I want to tell those out there that you're never too old. I have an amazing support team and Cowboy does too. It's a victory for all of us."
CFR rookie, Karli Cowie from Mankota, Sask placed well throughout the Finals, won the last round and the Aggregate (82.82 seconds on six runs), finishing in the reserve position with $59,475, just over $600 ahead of defending Champion Taylor Manning.
Steer wrestler Scott Guenthner enjoyed a solid week at CFR, with two round wins, two seconds and a fourth, along with a second-place finish in the aggregate for an impressive $73,326 in earnings en route to his fourth Canadian title. The likeable Provost, Alta rancher and family man credited consistency throughout the week and dependable horse power (he was mounted on Curtis Cassidy's award-winning Tyson) as contributing factors to his success.
Season leader, Dalton Massey from Hermiston, OR finished in the reserve position while Wainwright bull dogger, Ty Miller, won the Aggregate title (26.0 seconds even on six runs).
In 2019, a rookie roper named Haven Meged came to his first CFR. He rode out of Red Deer having finished second to four-time champion Shane Hanchey. Meged then went on to with the World title that same year but admitted that he'd always had a dream of winning that Canadian title that had narrowly eluded his grasp. That all changed this week as the Miles City, Montana hand checked that box too with a stellar six performance effort in Red Deer. Meged placed in every go-round, winning two of them along with the Aggregate title (53.8 seconds over six runs) and emerged with a comfortable overall win, including a $33,000 cushion over runner-up Kyle Lucas.
Cadogan, Alta bareback rider, Clint Laye won his second Canadian title as the thirty-year-old (he'll celebrate that birthday in three weeks) put together a week that saw him win two rounds and the Aggregate (516.5 points for six rides) and finish no worse than third in a round. Laye amassed $90,894 for a $16,000 margin of victory over second place finisher, Orin Hansen.
Another two-time Canadian champion was crowned when crowd-favourite, Edgar Durazo, claimed the winner's saddle and buckle to go along with his 2019 title. The popular, Mexican-born Durazo went five for six for the week, winning two rounds including the final round. His five scores for the week were 89, 88, 87.5, 87 and 85.75, easily enabling him to take home the Aggregate honour (435.25 points on five rides) and $82,467 on the way to the Canadian win.
Of the 12 women vying for the Ladies Breakaway Roping title, it was Claresholm, Alta cowgirl, Shaya Biever, who was named 2023 Champion and Aggregate winner (7.6 seconds on three runs) after three rounds of competition. The two-time CFR qualifier posted a 2.5, a 2.3 and a 2.8 to earn almost $14,000 at CFR and $32,444 overall. Season leader, Aubrey Ross finished in the reserve position, just $2000 behind Biever.
Logan Spady was named the All Around Champion. The tie-down roper/team roping heeler clinched the title with his Sunday performance at CFR – a 4.6 second run with partner Kolton Schmidt which netted the pair second in the round and second in the Aggregate.
Kyle Wanchuk captured the coveted Kenny McLean award with his regular season success in both team roping heeling (with partner Luke Skocdopole) and saddle bronc riding. This is the second year the award has been presented.
Stock of the Canadian Finals Rodeo:
Bareback: 118 OLS Tubs Stevie Knicks – Macza Pro Rodeo
Saddle Bronc: W-16 Wild Cherry – Calgary Stampede
Bull: 88 Blue Magic – Outlaw Buckers
Hayden Mulvey was declared the 2023 Canadian Junior Steer Riding Champion at the Saturday matinee performance with $7763 in earnings, $330 more than second place finisher Joseph Vansandt who won the Aggregate.
Janet Cooper from Vernon, BC won the Novice Saddle Bronc Championship while Chetwynd, BC cowboy, Chase Siemens, earned the Novice Bareback titile.
The prestigious 2023 CPRA Cowboy of the Year award, sponsored by Legend Rodeo, was presented to Tanner Girletz – 2006 Canadian Bull Riding Champion, youth rodeo coach and CPRA Rodeo Administrator.
And Miss Ponoka Stampede, Kaylee Shantz, was crowned Miss Rodeo Canada 2024.
Congratulations all!
Go to rodeocanada.com for Canadian Finals Rodeo results.
Check out www.cfrreddeer.ca/ for additional event details.