Canadian Finals Rodeo 49 Wraps Up with Record-Breaking Success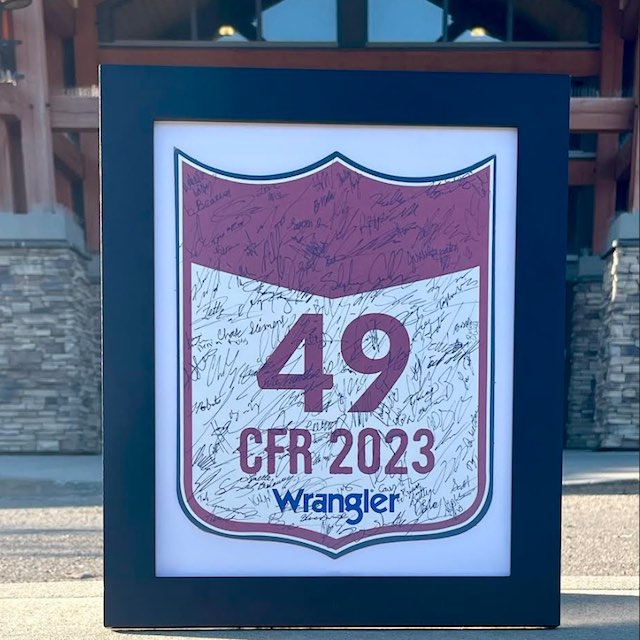 As we bid adieu to the exhilarating 49th Canadian Finals Rodeo (CFR) powered by ATB, we want to extend our heartfelt thanks to the community of Central Alberta and rodeo enthusiasts for their unwavering support throughout this incredible event. This year's Canadian Finals Rodeo (CFR) in Red Deer shattered all previous records with an astounding 37,000 tickets sold. The highly anticipated Cabaret, featuring a post-rodeo party showcasing the CFR All Star Band of incredibly talented musicians, was a resounding success, drawing in an impressive crowd of 13,000 attendees.
The Ropin' into the Holiday Market, featuring 99 trade show vendors, added an extra layer of excitement and variety to the CFR experience. Attendees were treated to a diverse array of offerings, from western apparel to equine, making for a memorable shopping experience. This bustling market also drew in community members who may not have been initially there for the rodeo, further enhancing the sense of community engagement and enjoyment.
Apart from the thrilling rodeo action, attendees were also treated to exciting activities free of charge in the CFR Experience Arena throughout all five days of CFR. This included Ultimate Bullfighting and Equine Equus
Experiences, the Miss Rodeo Canada Horsemanship competition, Canadian Championship Dummy Roping, the Futurity Canadian Made Bucking Horse Sale, the H Bar Auctions Horsemanship Show and Sale, and to cap it all off, the Mini Chuckwagons entertained with a morning of races!
In addition to these remarkable achievements, the Rotary Club of Red Deer hosted an electrifying 50/50 event, where one lucky winner walked away with an astonishing $99,537.50 in prize money. These outstanding achievements have solidified this year's CFR as the event with the highest attendance ever recorded in Red Deer's CFR history.
None of this would have been possible without the generous support of our sponsors. Their invaluable contributions played a pivotal role in making this year's CFR an unforgettable experience for all involved. A special thank you is owed to the dedicated staff and volunteers who poured their hearts and souls into crafting an exceptional guest experience. Over 3,000 volunteer hours were logged, with the tireless efforts of 400 volunteers ensuring that every aspect of the event ran seamlessly.
In the spirit of giving back, the Westerner Park team was proud to present a donation of $6,615.00 to the Benevolent Rodeo Fund. This contribution exemplifies our commitment to supporting the rodeo community and its
members in times of need.
For a comprehensive overview of the rodeo results, we invite enthusiasts to visit crfreddeer.com. Here, you can find detailed information on the incredible performances and accomplishments of our talented rodeo
competitors.
Once again, we extend our deepest gratitude to everyone who played a part in making CFR 49 a resounding success. The combined efforts of the community, sponsors, staff, volunteers, vendors, and attendees have left an indelible mark, and we look forward to building upon this support for future events at Westerner Park.
About Westerner Park
Westerner Park is Central Alberta's largest tradeshow, agricultural, sports, entertainment, and convention facility. A not-for-profit organization and agricultural society, Westerner Park typically generates $150 million annually in economic activity, hosting over 1,500 events and 1.5 million visitors each year.
Premier Smith reacts to Liberal Government's announcement on new methane reduction targets at COP 28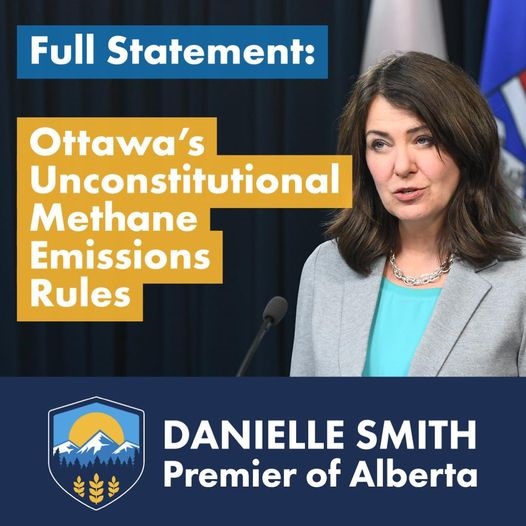 Federal methane emissions targets: Joint statement
"Once again, the federal government is setting unrealistic targets and timelines. Infrastructure can only be updated as quickly as technology allows. For example, Alberta will not accept nor impose a total ban on flaring at this time, as it is a critical health and safety practice during production. Any regulation that completely prohibits this is putting lives at risk"
Premier Danielle Smith and Minister of Environment and Protected Areas Rebecca Schulz issued the following statement on the federal government's proposed methane emissions regulations:
"The federal government has unilaterally established new methane emissions rules and targets to help win international headlines. Instead of building on Alberta's award-winning approach, Ottawa wants to replace it with costly, dangerous and unconstitutional new federal regulations that won't benefit anyone beyond Environment and Climate Change Minister Steven Guilbeault's post-office career.
"Managing emissions from Alberta's oil and gas industry is our constitutional right and responsibility, not Ottawa's, and we are getting the job done. Using a province-led approach, Alberta has already reduced methane emissions from the oil and gas sector by 45 per cent – hitting our target three years early – and we're just getting started.
"Meanwhile, not only is it illegal for Ottawa to attempt to regulate our industries in this manner, Ottawa also hasn't even hit one of its past arbitrary and unscientific emissions targets largely because it has little to no credible expertise regulating the natural resource, agricultural and other industry sectors in this space.
"Ottawa could have helped us keep reducing emissions with joint incentive programs in line with Alberta's Emissions Reduction and Energy Development Plan. It could have listened to the Supreme Court's declaration that the Impact Assessment Act was unconstitutional and abandoned this kind of arrogant and ineffective scheme. Instead, these new regulations threaten our successful province-led approach and impede good work that's already underway.
"Once again, the federal government is setting unrealistic targets and timelines. Infrastructure can only be updated as quickly as technology allows. For example, Alberta will not accept nor impose a total ban on flaring at this time, as it is a critical health and safety practice during production. Any regulation that completely prohibits this is putting lives at risk. A total ban would also be costly, resulting in shut-ins and loss of production.
"This approach will also cost tens of billions in infrastructure upgrades, yet Ottawa has provided virtually no financial support to do so. Thousands of Albertans could be put out of work in the coming years due to these costly regulations. A federal government willing to invest $37.7 billion into just three battery plants in Ontario and Quebec cannot credibly refuse to provide tax credits and financial incentives for producers in Alberta and Saskatchewan to assist with achieving a carbon-neutral economy by 2050.
"For years, Alberta, not Ottawa, has done the hard work and achieved results. We strongly support reducing methane emissions and have invested tens of millions into developing these technologies. Minister Guilbeault must work with us, and not against us, to keep cutting methane emissions and charting a course for carbon neutrality by 2050.
"Given the unconstitutional nature of this latest federal intrusion into our provincial jurisdiction, our government will use every tool at our disposal to ensure these absurd federal regulations are never implemented in our province."
Alberta's Methane Target Reached Early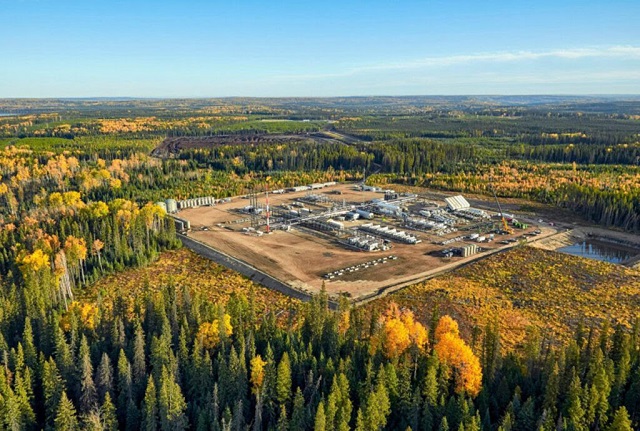 Gas processing plant in northwest Alberta, courtesy of EnergyNow
Courtesy of ENERGYminute
See more articles and infographics from ENERGYminute HERE
---
In a pat-yourself-on-the-back moment, Alberta's oil and gas industry successfully achieved a 45 percent reduction in methane emissions, surpassing the province's mandated target ahead of schedule.
Background: Alberta was the first province in Canada to commit to a 45 percent reduction in methane emissions from the oil and gas sector by 2025, based on 2014 levels. Spoiler alert: Alberta achieved its methane mission three years early.
Their targeted approach to reducing methane emissions from flaring, venting and fugitives has become an example globally, earning national and international awards for its effectiveness and cost-efficiency.
Alberta strong: The government credited the early success to close collaboration with the industry, implementing early action programs such as carbon offsets, tough regulations for all facilities, and enhanced leak detection and repair methods.
Minister of Environment Rebecca Schulz highlighted that this made-in-Alberta approach not only achieved the goal three years ahead of schedule but also resulted in roughly $600 million in savings for the industry compared to the proposed federal program.
Getting the job done: Alberta allocated $57 million from the Technology Innovation and Emissions Reduction fund for methane emissions programs, including:
$25 million in rebates to companies adopting emissions reduction equipment.
$17 million supporting alternatives to detecting and quantifying emissions.
$15 million to help small- and medium-sized operators assess methane reduction opportunities.
Overall, the initiatives eliminated 16.6 million tonnes of carbon dioxide equivalent from the atmosphere.
Looking ahead: Alberta is committed to building on this momentum and collaborating with industry experts to determine the next steps in their emissions reduction journey, aligning with the goal of carbon neutrality by 2050.