RDP Queens Basketball team roll over Augustana in gold medal triumph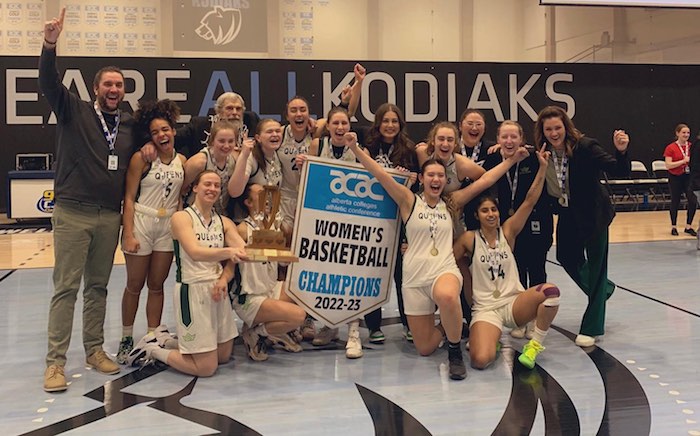 The Queens send the Vikings sailing back home, and win their 2nd championship in program history
And the winning streak continues. The Red Deer Polytechnic Queens picked up their first gold medal in women's basketball in 31 years as they defeated the University of Alberta-Augustana Vikings 69-44.
A lot of basketball has been played since these two teams faced off back in November. The Vikings would defeat the Queens 71-68 in what was a nail-biting game.
The Queens defeated the Keyano College Huskies in the quarterfinals and the Briercrest College Clippers in the semi-finals. The Vikings defeated the host Lethbridge College Kodiaks in their first match and would follow it up with a win against the St. Mary's University Lightning to make the finals a battle of the number two-seeded teams in the Alberta Colleges Athletic Conference (ACAC).
Red Deer started the gold medal game out on fire as they held the Vikings pointless for the first five minutes and scored nine straight points. Augustana would finally end their point drought with a deep-two-pointer. It was quite an intense first quarter with both fanbases making their presence known inside the Val Matteotti Gymnasium. The Queens would earn themselves an early 17-7 lead as they went into the second quarter.
The Vikings would take an early timeout in the second quarter as they were down 19-7 with seven minutes left to go in the half but have not scored in six minutes. Centre Peighton Melton (General Studies) was having an impressive game under the net in the early goings picking up six points and five rebounds. Once again after the Queens jumped out to a big lead, the Vikings called a timeout as they were looking quite startled on the court and were not playing in tune. The Queens would hold a 31-17 lead as went into the second half. Guard Sandra Garcia-Bernal (Educational Assistant) would lead her team with nine points but guard Sophie Melin (Bachelor of Arts in Psychology) was right behind the Spanish student-athlete with eight points. Melton had seven rebounds in the first half to lead her team in the category.
In the early goings of the quarter, both teams came out of the gate with a lot of energy. With under five minutes, to go this championship turned into quite the battle with the Vikings and Queens going back and forth down the court, putting their best effort forward with a championship banner on the line. The Polytechnic would take a 44-34 lead into the final quarter with 10 minutes to play.
In the opening two minutes of the quarter, the Vikings and Queens would go tit-for-tat with each other and match whatever the other team would score to keep it a ten-point game. Augustana would call a timeout as they fell behind by 13 after the Queens came up with multiple stops in their defensive zone and transitioned this into the offensive game. With some huge steals in their own zone, the Queens would jump out to an impressive 20-point lead with four minutes left to go and would take home the banner to Red Deer with a final score of 69-44.
Centre Peighton Melton took home the player of the game award with 13 points, eight rebounds and a perfect three-for-three from the field.
After Melton accepted her award, guard Heena Sidhu was named to the All-Tournament team and guard Sandra Garcia-Bernal earned herself the Most Valuable Player at the championship.
This is the first time in 31 years the Queens were crowned champions. Assistant coach Nadine Cunningham played for Red Deer the last time they won the championship and now has a gold medal as a coach.
Both these teams will represent the ACAC at the Canadian Collegiate Athletic Association (CCAA) Women's Basketball National Championship hosted by Mohawk College in Hamilton, ON from March 15-18.
City releases Annual Financial Report for 2022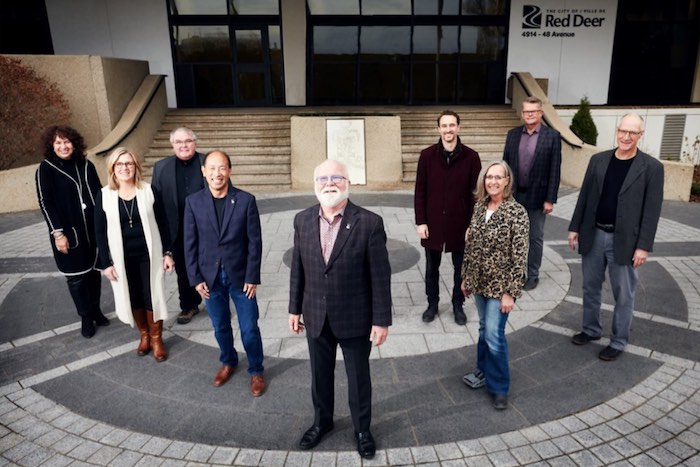 Operating Results
2022 has been an unprecedented year for The City with the economy recovering from the COVID-19 pandemic and the Bank of Canada hiking interest rates to help mitigate rising inflation. These issues, not unique to Red Deer, are posing challenges to The City's current financial strategy.
Total operating revenue has increased by $8.1 million (3%) over last year but fell short of budget by $14.7 million (4%).
User fees and sale of goods went up by $11.9 million due to an increase in service levels after the pandemic in recreation facilities, transit, and utilities. Most of the increase is in land sales.
Unfortunately, the recovery did not return The City's operations to pre-pandemic levels. The expectation of revenue increases in those areas exceeded actual results.
Operating expenses were also heavily impacted. Pandemic recovery as well as higher inflation have contributed to the general increase in expenses over last year in the amount of $20.2 million (5%). These increases come in the form of higher fuel costs in transportation and fleet, higher transmission costs and tariffs for electric light and power, and increased salaries at recreation facilities, transit, as well as ongoing overtime for police and emergency services.
On an object basis, these increases are primarily impacting salaries, contracted services, and materials and supplies expense, offset by the decrease in grants to organizations. The City planned on these costs rising, however, and came within $3.5 million (1%) of budgeted expenses.
Due to lower-than-expected revenue and increasing expenses, The City reported an operating deficit of $43.5 million for the year ended December 31, 2022. This is $11.2 million (35%) over budget of $32.4 million.
Operating deficits can affect The City's ability to fund operations in the future, as it has a direct impact on tax supported reserves. Reserves overall have declined by $21.3 million (11%); $18.7 million of that decrease is the Operating Reserve- Tax Supported (ORTS). The City budgeted a decline (use) of ORTS during 2022 and expected a year-end balance of $17.5 million, however due to the operating deficit, the actual year-end balance is now $8.9 million.
Taken together, tax-supported activities (general government services, protective services, transportation, community services, and recreation, parks, and culture) reported a deficit before capital related revenues of $71.5 million. This is mostly related to depreciation on tangible capital assets which The City does not fund through taxes, but through equity in tangible capital assets. The remaining 25% of the shortfall must be funded through ORTS.
The main areas attributing to the unexpected shortfall in tax supported operations is the RCMP contract and the Kinsmen arena contaminated site accrual as well as lower-than-expected tax-supported revenues, namely investment income, transit, recreation, and fines. These shortfalls are somewhat offset by higher staff vacancies and lower finance charges in transportation and higher community services grants.
Despite this concerning decline in ORTS, self-supported operations are holding steady with no significant change from prior year when taken as a whole. The City expected the use of reserves during the past three years: future budgets will need to improve these key reserves. A revised reserve policy will be forthcoming to Council with a recommended minimum balance for ORTS.
Capital Results
The City's capital expenditures revealed a little less activity compared to last year. This is due to one of the COVID-19 grant programs ending in 2022, leaving the COVID-19 Resilience grant until December 31, 2023. Total capital grant revenue recognized in the year is $46.7 million, which is $8.6 million (23%) more than projected and $1.9 million (5%) more than last year. The City put more emphasis on utilizing grants while they are still available and less on borrowing and capital reserve.
In 2022, total capital expenditures of $105.2 million were financed with 44% capital grants, 33% reserve, 18% debenture borrowing, and 5% developer fees and other external sources.
The capital activities for The City have resulted in an overall annual surplus of $9.7 million, which is much lower than prior year and lower than budgeted. This shows that The City has become increasingly dependent on capital grants to grow its accumulated surplus. However, it is important to note that all of this surplus is used to purchase tangible capital assets and is not available for operations.
Financial Position
The statement of financial position tells its own story. Both financial assets and liabilities declined over last year. Municipal Sustainability Initiative (MSI) and Canada Community Building Fund (CCBF) advances for 2022 have fallen by roughly half. Although, this did not change the amount of grant revenue reported in 2022, it did reduce both government transfers receivable and deferred government transfers. This indicates potential declines in capital grant revenue reported in the future, especially as the COVID-19 Resilience grant comes to an end.
Because the decrease in financial assets exceeded the decrease in liabilities, the net debt has increased by $21.2 million (20%) from prior year.
Impacts from COVID-19 recovery and rising costs are reflected in The City's financial position as well. Lower capital expenditures in 2022 have freed up more cash flows to invest in short term deposits to take advantage of the higher interest rates. Losses on sale of long-term investment has also occurred, resulting in lower investment earnings recognized as short term interest is allocated to The City's various deferred revenue balances.
The market value of The City's investments fell over 6% to the investment cost, the largest decline in recent memory. Actual investment losses are not realized unless the investments are sold. Management believes that these declines are temporary as interest rates stabilize and the bond market adjusts to a higher interest rate environment.
Debt Limit
The City's investment portfolio is not the only area affected by a higher interest rate environment. The cost of new borrowing will increase into the foreseeable future. Though, The City has reported no substantial increase in finance charges for 2022, the debt servicing limit is more forward looking. Despite higher revenues resulting in higher debt service limit of $89 million, total debt servicing costs have risen at a higher rate, resulting in an increase in debt service limit to 37%, up from 36%. This is largely due to full years' worth of payments on the $19 million debenture issued September 2021 for The Westerner Exposition Association. Although a 1% increase is not a cause for concern on its own, it is important to note that, going forward, the more expensive new debt becomes, the higher the debt servicing limit will grow relative to the debt limit.
This is illustrated by The City's debit limit decreasing even though debt servicing increased. The debt limit percentage is now at 56%, down from 58% due to higher revenues and long-term debt remaining relatively unchanged.
In Summary
With no changes to service levels, no increases to property taxes combined with increased costs during the past three years has culminated in The City relying heavily on operating reserves, specifically the ORTS. This is a trend The City must improve upon in the upcoming years.
While The ORTS is an area of concern, other indicators do provide a positive picture. Utility operations remain stable and well managed, the use of debt has leveled off, and the investments made to our assets are strong. Administration has more control over costs, which are managed well, and less control over revenues, which have not achieved our planned levels.
The task before us is to maintain what we are doing right and to improve upon our key reserve balances. The City's future budgets are moving away from a reliance on reserves as a funding source and plan to update the reserve policy to prop up reserve balances. Our next two years will also see the City develop a Long Term Financial Plan and an overall values based service level review.
Respectfully submitted,
Ray MacIntosh, MBA, CPA, CGA Chief Financial Officer
May 1, 2023
(a) Salary includes regular base pay, overtime, lump sum payments, gross honoraria, and any other direct cash remuneration. The City does not pay bonuses to employees.
(b) Employer's share of all employee benefits and contributions or payments made on behalf of employees including pension, health care, dental coverage, group life insurance, long and short- term disability plans, professional memberships, tuition, and car allowance. Benefits and allowances also include supplementary employee retirement plan payments and moving and relocation allowances.
(c) Benefits for City Councillors include accidental death and dismemberment, group life, health care, dental coverage, registered savings plan, internet and phone allowances, transit, and Canada Pension Plan.
(d) Included in benefits for the City Manager is a lump sum payout from the Muni SERP retirement plan in the amount of $133 in 2022.
Celebrate Canadian Environment Week by Volunteering at the Green Deer River Valley Cleanup, June 10!

From the Waskasoo Environmental Education Society
Formerly called the Red Deer River Cleanup, the Green Deer River Valley Cleanup will take place at the Kerry Wood Nature Centre from 12:00–3:30 p.m. on Saturday, June 10, 2023.
This annual spring initiative draws volunteers from across the city to join forces to keep our waterways clean and safe by spending the afternoon picking up litter near the Red Deer River and in the surrounding river valley.
Refreshments and prize raffle to follow litter cleanup! There will be over $1500 in prizes for volunteers; including two grand prizes donated by NOVA Chemicals. Each grand prize includes one full-size patio heater.
How it works:
1. Meet at the Kerry Wood Nature Centre field any time between 12:00 p.m. (noon) and 1:00 p.m. to receive your supplies and begin cleaning litter along your assigned route. Children 12 & under must attend with an adult.
2. Return to the Kerry Wood Nature Centre between 2:00 p.m. and 3:00 p.m. to hand in your unused supplies and enjoy some light refreshments.
3. Prize raffle will begin shortly after 3:00 p.m.
Suggested to please wear/bring:
• Visible, weather-appropriate clothing
• Closed-toe walking shoes
• Hat
• Water bottle
• Sunscreen
• Bug spray
• Gloves
For more information:
• Visit https://www.waskasoopark.ca/kerry-wood-nature-centre/green-deer#riverCleanups
• Email [email protected]
• Phone 403-346-2010
Creating a population of citizens interested in, aware of, concerned about and involved in their natural and cultural history.
The Green Deer River Valley Cleanup is made possible thanks to the generosity and support of NOVA Chemicals, INEOS Canada Partnership, Friends of the Kerry Wood Nature Centre, and The City of Red Deer.