RDC faculty recognized for scholarly work
Red Deer, October 16, 2017 – At Red Deer College, faculty are frequently involved in an extensive range of scholarly activity beyond their instructional duties. On October 19, four RDC faculty members will be celebrated at the Recognition of Scholarly Activity Awards.
The award recipients, who are being recognized for scholarly activities completed in 2016, include:
Dr. Heather Marcovitch | Articles, The Yellow Book: Reshaping the Fin de Sie?cle and OscarWilde at the Shaw Festival (Niagra-on-the-Lake, Ontario, Canada)
Candi Raudebaugh and Kristen Gulbransen | Interprofessional Communities of Practice: Fostering Resilience in Post-Secondary Students (shared collaboration)
Leanne Vig | Workshop Roundtable Discussion: Classroom Activities and Two Conference Presentations: Innovative Strategies for Teaching Financial Accounting in a College Setting (co-presented with Randy Nicholls) and Intro to Accounting: Smarties ActivityEach year, a jury comprised of members from the Recognition of Scholarly Activity committee selects the recipient from applications submitted by faculty members. Applications are assessed on innovation, creativity, originality, influence, acclaim and breadth of dissemination. In 2006, RDC and the Faculty Association created an annual fund of $10,000 to recognize significant scholarly undertakings by faculty members.About RDC: For over 50 years RDC has been proudly serving our learners and our communities. RDC offers more than 100 different programs (including full degrees, certificates, diplomas and skilled trades programs) to 7,500 full- and part-time credit students and more than 36,000 youth and adult learners in the School of Continuing Education each year. Named by Alberta Venture magazine as one of Alberta's most innovative organizations for the Centre for Innovation in Manufacturing, RDC is a key location for applied and industry-led research. Our main campus is strategically situated on 290 acres of Alberta's natural landscape along Queen Elizabeth II Highway.
Jessica Snyder honoured as 2021 Gateway Christian School Valedictorian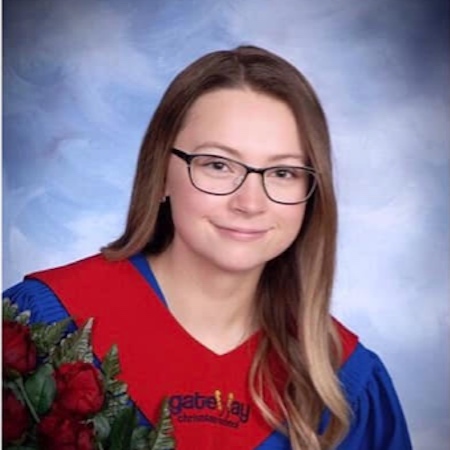 Gateway Valedictorian to become a teacher to make a difference
Following in her mother's footsteps after seeing the difference she has made in the lives of students is Jessica Snyder's goal in becoming a teacher after she graduates from Gateway Christian School this month.
Jessica has been named the Gateway's valedictorian this year. Graduation ceremonies will take place June 29 at Canyon Ski Resort.
"I was so excited to learn I was named valedictorian. I was so happy!" said Jessica. "It's such a huge honour that I get to address my class and congratulate them."
She added being named valedictorian has been a goal of hers since middle school.
"It took a lot of hard work and I had to be very dedicated to my work. It took a lot of strength especially through COVID," said Jessica. "My family and friends really helped me to keep going and keep learning. It's all a learning experience, so that was a motivator to me – the more I devoted myself to my work, the more I learned."
Completing high school in a global pandemic has presented a number of challenges, but Jessica didn't let that stop her from achieving her goals.
"It has been hard. The biggest thing that has helped me this year has been the support of my family and the Lord too – just praying for the strength to get through it and find the best path for me and my family to navigate this," she said. "Having that steady anchor of my family and the Lord has definitely helped me keep committed and keep going."
Looking back at her time in school, Jessica said there were many highlights, but it's the small moments that stand out to her the most.
"Most people like to remember the big things that happen like school trips, which were so much fun. But I think the real moments where I bonded with my class were the small moments like sitting and playing Uno at lunch, and if it's a hot day outside, we go and play at the park. It's those small moments which meant the most to me."
As for her future, Jessica will attend Red Deer College next year as she has been accepted to the Bachelor of Education program.
"I am going to go with the secondary route, which means I will be teaching in the higher grades," she said. "My mom is a teacher, so I have taken after that just seeing the impact she has had on students' lives. Growing up in a family with a teacher has definitely helped shape my life, so I think it would be great for me to follow in her path and make it my own."
Jessica added she is excited to address her fellow classmates during graduation.
"Over the past couple of years we've had to show a steadfast character – being loyal and committed, devoted and dedicated whether that's with our relationships or working towards finding a job," she said. "I want to encourage my class to keep going with that because it helps us get to great goals like achieving our graduation."
Chris Kooman, Vice Principal at Gateway Christian School, said he is extremely proud of Jessica.
"Jessica is a hard working student with attention to detail and a love of learning. She takes her studies seriously, working diligently to excel in every area," he said. "She cares about her classmates, is fun and energetic, and works on relationships as much as her studies. Jessica's willingness to help others, improve herself, and constantly improve are qualities that will take her far in life!"
Emily Liu honoured as 2021 Hunting Hills High School Valedictorian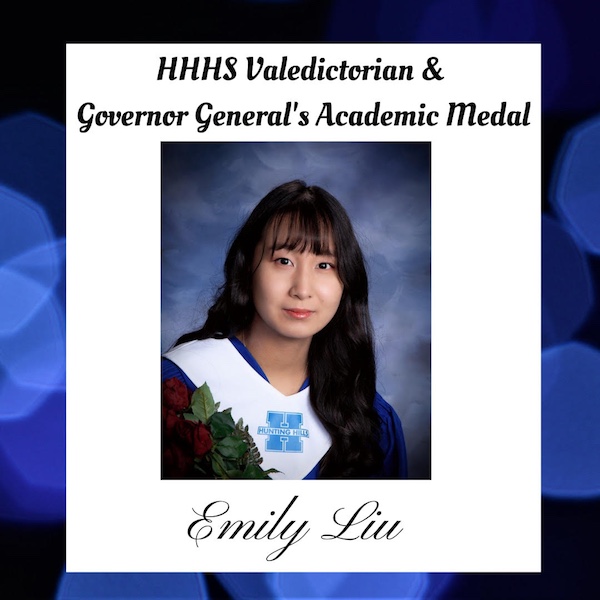 Hunting Hills Valedictorian looks to pursue career in the medical field
This year has been like no other for the Graduating Class of 2021, but the valedictorian at Hunting Hills High School is not letting the pandemic stop her from achieving her goals.
Grade 12 student Emily Liu has been named this year's Valedictorian at Hunting Hills High School.
"It's an incredible honour to be named valedictorian. I was very proud of myself when I learned that I was going to be this year's valedictorian," she said. "In Grade 9 when I first received the honour of being the top academic student in my class, that really came as a huge shock to me because I always knew I performed well in school, but I never imagined I could be the top academic student. After that, it was something that I was really inspired to work towards, and it's kept me motivated ever since."
Emily added when she reflects on her high school experience, she could never have predicted we would be in the midst of a global pandemic.
"I don't know if it necessarily took away from my high school experience, but it's definitely hindered me in my day-to-day life whether it's trying to pay attention during online school, or being able to hang out with my friends," she said.
Graduation ceremonies for Hunting Hills High School will take place on June 25 at the Centrium. The day will include staggered ceremonies with three groups of graduates at a time in compliance with Alberta Health Services guidelines.
Emily said her message to fellow graduates is one they can carry into the future.
"If there's one thing that this pandemic has taught me it's that the relationships we have in our lives are so incredibly precious. When your only way of communicating with your friends or your family is through a screen or a phone call, there's aspects of simple physical interaction that you really can't get through in an online medium," she said. "We need to treasure the relationships we have in our lives, maybe a little more. It may be a little clichè, but you really don't appreciate what you have in your life until they are gone."
Looking to the future, Emily said she hopes to soon be able to explore the world once restrictions allow. She has also been accepted to the University of Alberta.
"I'm going to study biochemistry. It's one of my hopes to pursue a career in the medical field in the future," she said, adding her volunteer work has given her an interest in that field. "I have been volunteering at the Red Deer Hospital for the past four years, and I've also been volunteering as a piano player at the Red Deer Hospice. I think my time at the hospital and hospice has been really enriching in the way that I am able to interact with people and learn more about people's lives and maybe provide them some kind of comfort or support when they are in a really vulnerable moment."
Christine Chappell, Vice Principal at Hunting Hills High School, said she is proud of Emily's achievements.
"An accomplished pianist, community volunteer, and HHHS Leadership student, Emily possesses an incredible work ethic. In every endeavour, whether it be academics or extracurricular activities, she embodies kindness, determination, and tenacity," she said. "Along with excelling in academics, Emily has completed her Grade 10 Piano with First Class Honours (Royal Conservatory). As a Leadership student, she has dedicated countless hours to our Bikeathon, Enviro Club and school activities. HHHS is honoured to recognize Emily as our 2021 Valedictorian and Governor General's Medal recipient."