Jessica Snyder honoured as 2021 Gateway Christian School Valedictorian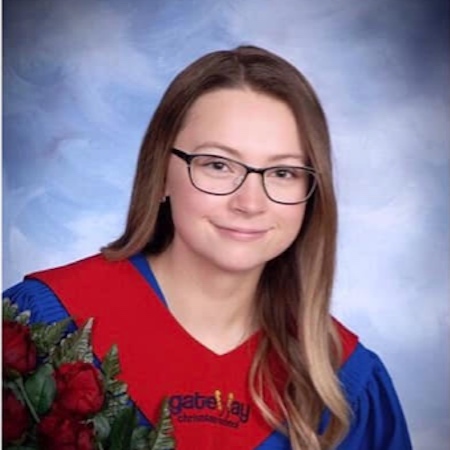 Gateway Valedictorian to become a teacher to make a difference
Following in her mother's footsteps after seeing the difference she has made in the lives of students is Jessica Snyder's goal in becoming a teacher after she graduates from Gateway Christian School this month.
Jessica has been named the Gateway's valedictorian this year. Graduation ceremonies will take place June 29 at Canyon Ski Resort.
"I was so excited to learn I was named valedictorian. I was so happy!" said Jessica. "It's such a huge honour that I get to address my class and congratulate them."
She added being named valedictorian has been a goal of hers since middle school.
"It took a lot of hard work and I had to be very dedicated to my work. It took a lot of strength especially through COVID," said Jessica. "My family and friends really helped me to keep going and keep learning. It's all a learning experience, so that was a motivator to me – the more I devoted myself to my work, the more I learned."
Completing high school in a global pandemic has presented a number of challenges, but Jessica didn't let that stop her from achieving her goals.
"It has been hard. The biggest thing that has helped me this year has been the support of my family and the Lord too – just praying for the strength to get through it and find the best path for me and my family to navigate this," she said. "Having that steady anchor of my family and the Lord has definitely helped me keep committed and keep going."
Looking back at her time in school, Jessica said there were many highlights, but it's the small moments that stand out to her the most.
"Most people like to remember the big things that happen like school trips, which were so much fun. But I think the real moments where I bonded with my class were the small moments like sitting and playing Uno at lunch, and if it's a hot day outside, we go and play at the park. It's those small moments which meant the most to me."
As for her future, Jessica will attend Red Deer College next year as she has been accepted to the Bachelor of Education program.
"I am going to go with the secondary route, which means I will be teaching in the higher grades," she said. "My mom is a teacher, so I have taken after that just seeing the impact she has had on students' lives. Growing up in a family with a teacher has definitely helped shape my life, so I think it would be great for me to follow in her path and make it my own."
Jessica added she is excited to address her fellow classmates during graduation.
"Over the past couple of years we've had to show a steadfast character – being loyal and committed, devoted and dedicated whether that's with our relationships or working towards finding a job," she said. "I want to encourage my class to keep going with that because it helps us get to great goals like achieving our graduation."
Chris Kooman, Vice Principal at Gateway Christian School, said he is extremely proud of Jessica.
"Jessica is a hard working student with attention to detail and a love of learning. She takes her studies seriously, working diligently to excel in every area," he said. "She cares about her classmates, is fun and energetic, and works on relationships as much as her studies. Jessica's willingness to help others, improve herself, and constantly improve are qualities that will take her far in life!"
Red Deer Polytechnic Athletics announces Harrison as Queens Basketball Head Coach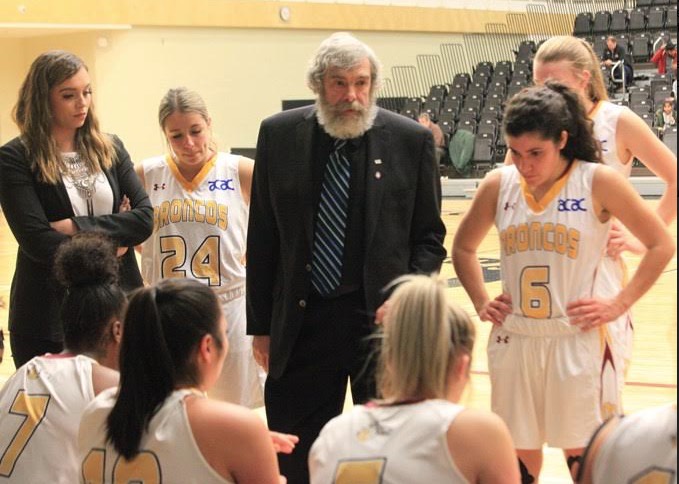 Red Deer Polytechnic Athletics has named Avery Harrison the new head coach of the Queens Basketball program.
"We are extremely excited to add Avery to the Red Deer Polytechnic coaching staff. He brings decades of experience, a proven championship mindset, and the ability to harness the potential in each student-athlete," says Randy Stewart, Manager Athletics and Student Life. "In addition to being an excellent coach and mentor, Avery has the innate ability to develop a winning culture and to be successful at the highest level."
The five-time Alberta Colleges Athletic Conference (ACAC) Women's Basketball Coach of the Year has helped to guide his teams to five ACAC Championships and three Canadian Collegiate Athletic Association (CCAA) titles over 23 years as a head coach in the league. Harrison has led his teams to the national championships 10 times, which is the most for an ACAC Women's Basketball Head Coach. Harrison was also an ACAC Assistant Coach for 11 years.
In this role, Harrison worked with legendary SAIT Trojans Head Coach Phil Allen, who is an ACAC Hall of Fame Coach and a member of the Alberta Sports Hall of Fame, and a major influence on Harrison's coaching career. Together, they led the Trojans to four ACAC Championships and one CCAA gold medal.
Harrison has had post-secondary coaching stints at Mount Royal College, Lethbridge College, SAIT, and most recently at Olds College from 2017 to 2020. During his tenure in Olds, Harrison built the Broncos into both ACAC and CCAA Champions in 2019.
With Harrison's leadership, 46 of his players have earned spots on ACAC All-Conference teams and 12 student-athletes have been recognized as All-Canadians.
Harrison is looking forward to coaching and sharing his expertise with the Queens, who qualified for last year's playoffs for the first time since 2009/2010.
"I am excited to have the opportunity to join the Red Deer Polytechnic Queens Basketball program as their new head coach," he says. "We have a great mixture of veterans and I think one of our first goals is to establish a winning culture in our locker room. We need to create an on-court identity that the team can be proud of, so we can go out and give our best effort every night."
This past season, the Red Deer Polytechnic Queens (7-9) finished fifth in the south and then were downed by the Medicine Hat College Rattlers in a playoff division quarter-final.
Looking to the 2022/2023 season, the returning players and new recruits will all benefit from Harrison's leadership.
One key returning student-athlete to the Queens is Amy Szymanek, who has been a leader on the team and within RDP Athletics. The team MVP and co-chair of the Polytechnic's Student-Athletes Advisory Council (SAAC) is entering her fourth season. She led the Queens with 15.1 points per game last year. The Bachelor of Education student's talent, leadership, work ethic, and impact on the game resulted in a 2022 ACAC Women's Basketball Second All-Conference team selection. Sophie Melin (12.6 points per game), Lauren France (10.6), Heena Sidhu (7.7), and Keanna Richards (6.1) are also expected to return for the 2022/2023 season.
Harrison will immediately step into his head coaching duties at the Polytechnic.
More information about Queens Basketball, including the roster and schedule, will be available in the fall at: rdpolytechathletics.ca.
Conference inspires local Indigenous youth to become future leaders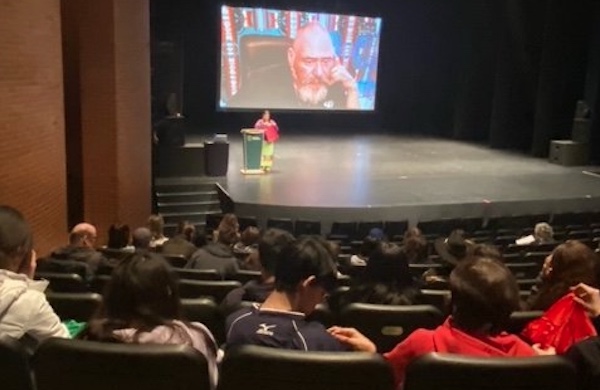 More than one hundred Indigenous youth from Red Deer Public Schools and Red Deer Catholic Regional Schools took part in a conference that allowed them to learn, connect, and be inspired by Indigenous leaders in their community.
The Inspiring Success Youth Conference, sponsored by We Matters, took place on May 10 at Red Deer Polytechnic.
Grade 8 students from across both school divisions had the opportunity to meet new friends who they will attend high school with, reconnect with peers in their current school, and build a deeper sense of strength, belonging, identity, and pride in their Indigenous heritage.
"We were very excited to bring this opportunity to Indigenous youth in Grade 8," said Hayley Christen, Learning Services Coordinator with Red Deer Public Schools. "It was an excellent opportunity for them to meet new friends and connect with other Indigenous youth in Central Alberta. We wanted the young people to know they are not alone and we also hope the connections they make today will carry forward when they go on to high school. This was a fun, engaging, and meaningful day for all the youth involved!"
Throughout the day, youth were able to participate in 10 different sessions that included topics on goal setting, student success, resilience, Reconciliation, and Indigenous games, along with the opportunity to hear the personal journeys of several Indigenous mentors and leaders.
"This conference has been a beautiful event for the students to witness firsthand the success of other Indigenous people in the local community and come together to connect with Indigenous Grade 8 students," said Selena Frizzley, Coordinator of Indigenous Education Services with Red Deer Catholic Regional Schools. "We had students attend from Rocky Mountain House, Olds, Innisfail and Red Deer. Students left feeling empowered and hopeful after gaining traditional teachings from Elders and Knowledge Keepers."
"We were thrilled to collaborate with Red Deer Public and Catholic School Divisions, in conjunction with several community groups, to host central Alberta Indigenous youth for Inspiring Success Youth Conference at Red Deer Polytechnic," said Kylie Thomas, Red Deer Polytechnic Vice President, Academic and Provost. "We are extremely proud of the leadership roles that RDP Indigenous learners, including keynote speaker Logan Beauchamp, and Polytechnic staff assumed throughout the planning and delivery of this impactful conference. The collective efforts from all partners has helped to inspire Indigenous youth both in and out of the classroom."
"This conference was a way to introduce Indigenous youth to positive role models from their own community. It was also a great way to introduce these youth to more aspects of our cultures, something that a lot of Indigenous youth feel disconnected from," said Logan Beauchamp, Ambassador of Hope with We Matters. "As well, we were able to highlight some resources and organizations that are doing great things in our community that these youth can access. Most importantly, this conference was hopefully able to help these youth create their own definition of success and help them envision and plan how they can get there"