Jessica Snyder honoured as 2021 Gateway Christian School Valedictorian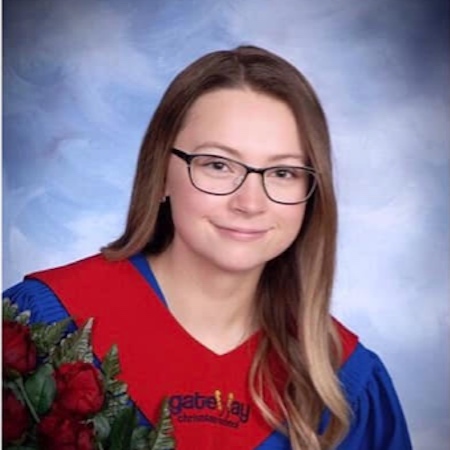 Gateway Valedictorian to become a teacher to make a difference
Following in her mother's footsteps after seeing the difference she has made in the lives of students is Jessica Snyder's goal in becoming a teacher after she graduates from Gateway Christian School this month.
Jessica has been named the Gateway's valedictorian this year. Graduation ceremonies will take place June 29 at Canyon Ski Resort.
"I was so excited to learn I was named valedictorian. I was so happy!" said Jessica. "It's such a huge honour that I get to address my class and congratulate them."
She added being named valedictorian has been a goal of hers since middle school.
"It took a lot of hard work and I had to be very dedicated to my work. It took a lot of strength especially through COVID," said Jessica. "My family and friends really helped me to keep going and keep learning. It's all a learning experience, so that was a motivator to me – the more I devoted myself to my work, the more I learned."
Completing high school in a global pandemic has presented a number of challenges, but Jessica didn't let that stop her from achieving her goals.
"It has been hard. The biggest thing that has helped me this year has been the support of my family and the Lord too – just praying for the strength to get through it and find the best path for me and my family to navigate this," she said. "Having that steady anchor of my family and the Lord has definitely helped me keep committed and keep going."
Looking back at her time in school, Jessica said there were many highlights, but it's the small moments that stand out to her the most.
"Most people like to remember the big things that happen like school trips, which were so much fun. But I think the real moments where I bonded with my class were the small moments like sitting and playing Uno at lunch, and if it's a hot day outside, we go and play at the park. It's those small moments which meant the most to me."
As for her future, Jessica will attend Red Deer College next year as she has been accepted to the Bachelor of Education program.
"I am going to go with the secondary route, which means I will be teaching in the higher grades," she said. "My mom is a teacher, so I have taken after that just seeing the impact she has had on students' lives. Growing up in a family with a teacher has definitely helped shape my life, so I think it would be great for me to follow in her path and make it my own."
Jessica added she is excited to address her fellow classmates during graduation.
"Over the past couple of years we've had to show a steadfast character – being loyal and committed, devoted and dedicated whether that's with our relationships or working towards finding a job," she said. "I want to encourage my class to keep going with that because it helps us get to great goals like achieving our graduation."
Chris Kooman, Vice Principal at Gateway Christian School, said he is extremely proud of Jessica.
"Jessica is a hard working student with attention to detail and a love of learning. She takes her studies seriously, working diligently to excel in every area," he said. "She cares about her classmates, is fun and energetic, and works on relationships as much as her studies. Jessica's willingness to help others, improve herself, and constantly improve are qualities that will take her far in life!"
Dominating 11 and 1 record for RD Polytechnic Athletics over the weekend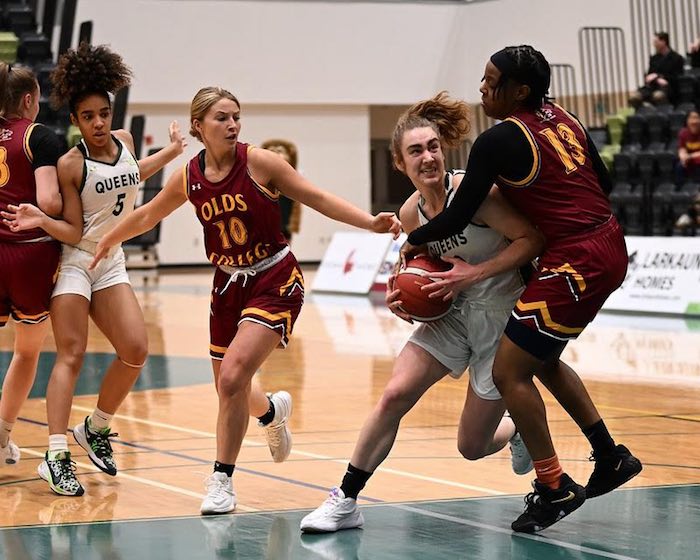 Red Deer Polytechnic Athletics Weekend Recap
Red Deer Polytechnic Athletics had a great weekend that saw all teams go undefeated on Friday night with just one loss on the schedule on Saturday evening. At the end of the week, the teams totaled a record of 11-1. A few teams even went the distance with Queens Hockey needing a shootout, Kings Hockey needing overtime and Kings Volleyball needing five sets to find a winner.
Basketball
Queens (12-6) vs Olds College Broncos (7-11)
The impressive streak continues. The Queens Basketball team extended their win streak to nine games after two hard-fought matches against their Central Alberta rivals, the Olds College Broncos. On Friday night, the Queens exploded in the first quarter but would lose it in the second and third frames. This did not
stop them from coming back in the fourth quarter which resulted in an impressive 79-71 comeback victory. Guard Amy Szymanek (Bachelor of Education) was named the player of the game with 25 points and 10 rebounds.
The game on Saturday night in Olds was much different as they were able to win all four quarters on the score sheet and route the Broncos 87-49. Guard Heena Sidhu (Bachelor of Arts in Political Science) had 13 points and six assists on the night and was named the player of the game.
Kings (11-7) vs Olds College Broncos (3-15)
Regardless of the record of the Olds College Broncos, the Kings were put to the test on Friday and Saturday as the Broncos are a team that is full of adversity. The Kings were able to figure things out on Friday night early on and managed to have a much better second half which led to an 88-56 victory, which was a good
stepping stone after falling to the SAIT Trojans last week in heartbreaking fashion. With all nine of his points coming off the long-range shot, Guard MacGregor Manyluk (Business Administration General) was named the player of the game.
But the Broncos did not go down so easily on Saturday night in their own gym. They fought right until the final whistle blew in what was a much closer game than the night before. Late in the fourth, the Kings managed to get multiple stops which led to points on the board and an 85-77 victory. Guard Eduardo Crespo was named the player of the game after completing his night with a double-double, 29 points and 15 rebounds.
Hockey
Queens (10-3-1) vs Lakeland College Rustlers (7-4-2)
The Queens came into this weekend facing a Rustlers team that won back-to-back games against the NAIT Ooks the previous weekend. It was not going to be easy. After the Queens gave up the opening goal, they battled back with two straight goals. But the Rustlers tied it and forced it to go to overtime, which solved
nothing. They ended up in a shootout. The Queens scored twice and drove home with a 3-2 victory. Forward Madison Sansom (Social Work) had a goal on the night to extend her point streak to six games. Forward Alli Soyko (Bachelor of Education) was named the player of the game with a goal and an assist on the night.
To cap off the weekend, the Queens managed to shut out the Rustlers 2-0 in their own barn. Goaltender Tanya Disotell-Dunsmore had an 18-save shutout. Sansom had a goal and an assist to complete her weekend with a player of the game honour. She also extended her point streak to seven games. Forward Jailyn Bablitz (Bachelor of Education) got the other marker on Saturday night.
Kings (14-6-1) at Briercrest College Clippers (8-8-2)
The Kings hit the road and pulled off a feat that is pretty rare as they were able to defeat the Briercrest College Clippers in back-to-back games. This usually does not happen in all sports. Earlier on in the year, the Kings and Queens Volleyball won on Friday night and would lose the match the following afternoon. On
Friday, the Kings would score three straight goals after falling behind 1-0 to win it 3-2. The Clippers added a late marker with the goaltender pulled. Forward Chance Longjohn (Bachelor of Education) scored the first goal of the night for the Kings and was awarded the player of the game. The other goals were scored by forward's Hayden Clayton (Open Studies) and Nolan Doell (Bachelor of Education).
It was a very gritty game on Saturday afternoon with both teams getting multiple 10-minute misconducts. But this game needed overtime. After going down 2-0 early, the Kings would score three straight goals to take the lead. But the Clippers battled back and tied it up at three. Later in the game, they tied it at four. Five
minutes into overtime, forward Jacob Wozney was on an odd-man rush and finished it top-shelf to win 5-4. The player of the game went to Jaxon Steele (Bachelor of Kinesiology), who finished his afternoon with two assists.
Volleyball
Queens (10-7) vs Olds College Broncos (0-15)
As the Queens continued to improve and look at peaking near championships, they were able to come away with a sweep of the Olds College Broncos. But it was definitely a slow start on Friday night for the Queens. They managed to pick things up when they needed to and find the set victories. After winning the first two
sets, the Queens dropped the third set but were able to win the fourth set and take the match. With 12 digs in the match, libero Frankie Sandini (Justice Studies) was named the player of the game.
On Saturday night, it was a whole different story as the Queens managed to make quick work of the Broncos in a match that was just over an hour long. The women's volleyball team came out of the gate fast and ready to play. Outside-hitter Vanessa Loos (Bachelor of Arts in Psychology) was named the player of the game, who had an all-around effort. She had five kills, seven aces and nine digs.
Kings (15-2) vs Olds College Broncos (11-6)
It was a tough blow for the Kings this past weekend as they dropped their first match since the beginning of the season in a five-set thriller against the Olds College Broncos. But the weekend did not start all bad as they were able to sweep the Broncos in three-straight sets in Olds for the victory. Setter Maddux Greves (Business Administration) was named the player of the game after finishing with 25 assists, eight digs and two blocks.
But it was a whole different story on Saturday night. The Kings would drop the first and third set 25-23. They managed to pick up the second set victory with a score of 25-21. With the game on the line in the fourth set, they blew out the Broncos with a score of 25-12. After a hard-fought fifth set, the Kings would lose 15-13 and their winning streak ended at 14 matches. Outside-hitter Noah Carlson (Open Studies) had 13 assists and five blocks and was named the player of the game.
Post-secondary schools must report on free speech efforts on campus, minister says
Edmonton – The Alberta government says it will require post-secondary institutions to report annually on their efforts to protect free speech on campus.
A news release from the Department of Advanced Education does not detail exactly what must be included in these reports, or say what the consequences would be if the requirements are not met.
Minister Demetrios Nicolaides signalled changes were coming earlier this week after the University of Lethbridge reversed its decision to host a speech by a former Mount Royal University professor whose comments on residential schools have drawn fierce criticism.
Frances Widdowson was fired from Mount Royal in late 2021 after she spoke of the educational benefits of residential schools while questioning whether abuses at the institutions amounted to cultural genocide.
Widdowson's campus speech this week was to centre on concerns that a mob mentality and "woke policies" increasingly threaten academic freedom.
The Alberta government says the latest move builds on its earlier work in 2019, when it required all 26 publicly funded post-secondary institutions in Alberta to either endorse the Chicago Principles on free expression, or develop a policy consistent with them.
"It is abundantly clear that more needs to be done to ensure our institutions are adequately protecting free speech," Nicolaides said in a written statement Friday.
Alberta's post-secondary institutions should be bastions of free speech and academic freedom that promote critical thinking. I will continue to explore greater steps we can take to strengthen free speech on campus."
This report by The Canadian Press was first published Feb. 3, 2023.