RDC and entire ACAC sports programs call off 2020 / 2021 seasons
From Red Deer College
Members withdraw from remainder of 2020/2021 Athletics season
After careful deliberation, RDC and all post-secondary institutions that participate in the Alberta Colleges Athletic Conference (ACAC) have collectively made the difficult decision to withdraw from the remainder of the ACAC 2020/2021 season. For RDC's Kings and Queens this includes not participating in exhibition and conference games.
"While we were hopeful that the RDC Kings and Queens could safely play during the Winter Term, the continuing COVID-19 pandemic has created a highly unpredictable and precarious situation. If competition proceeded, student-athletes would be in contact with dozens of new opponents each week from different cities around the province and beyond, and we don't want to introduce that elevated risk of potential exposure," says RDC President Dr. Peter Nunoda.
"We understand the disappointment that this announcement may cause, but the health and safety of our student-athletes, coaches, athletics staff, and all other members of our campus community – as well as those at our partner institutions across the province – remain paramount in this decision."
The ACAC is a member of the Canadian Collegiate Athletic Association (CCAA), which collaborated with its conferences and announced on Oct. 21 the cancellation of Winter Term CCAA National Championships due to COVID-19. The CCAA news followed the announcement made by U Sports, the national governing body of university sports, on Oct. 15 to cancel its Winter 2021 National Championships.
"We will continue to monitor the circumstances of the pandemic and collaborate with the ACAC and its members during the next several months," says Nunoda. "We hope that the RDC Kings and Queens, and all members of the conference, are able to safely return to competition for the 2021/2022 season. Our coaches and staff will remain highly connected with the student-athletes, whether they reside in Red Deer or elsewhere."
Based on current Alberta Health Services (AHS) and RDC protocols, RDC student-athletes will be able to continue to participate in voluntary training as part of their team cohort at the College during the months ahead. Or, if they choose, the Kings and Queens may individually follow their coach's training regimen and recommendations in their hometowns.
"We know this season did not unfold as anticipated, and I especially empathize with our dedicated student-athletes and coaches who take a tremendous amount of pride representing Red Deer College during competition, and in their volunteer and leadership roles in the surrounding communities," says Nunoda.
"We appreciate the support for the student-athletes and RDC Athletics from the College community, central Alberta, and family, friends and alumni across Canada and globe. We will continue to offer support and a variety of resources to our Kings and Queens, along with those staff members who are also affected by the cancellation of the rest of the ACAC season."
While there are no Kings and Queens games and competitions to attend this season, there are several ways that the public can show support for Red Deer College student-athletes. They can encourage our student-athletes on @rdcathletics social media and celebrate our Athletics alumni.
Learn more about how we are working together to "fill the stands" through initiatives like Take a Seat. To learn more about all of the ways that you can give to support student-athletes, email [email protected]
For more information about RDC Athletics and its teams, along with athletics announcements, please visit: rdcathletics.ca.
On National Indigenous Peoples Day we feature one of the most accomplished and inspirational people in the history of our province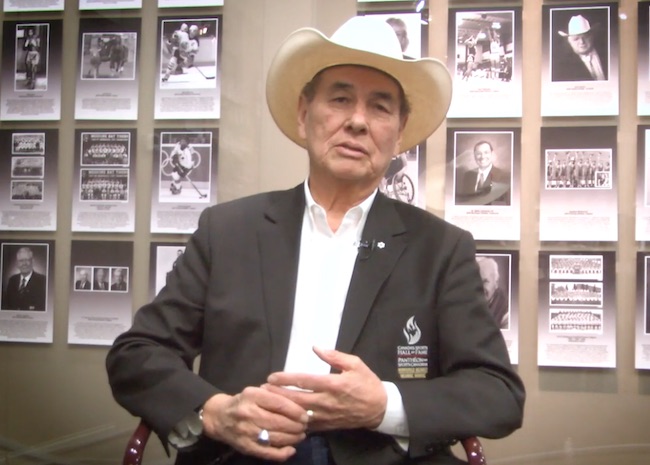 In honour of #nationalindigenouspeoplesday I wanted to share this video an interview with Dr. Wilton Littlechild.
He is one of the strongest, determined, most inspirational people I have ever met. Some of the best conversations I have ever had were with this man.
Wilton Littlechild, Ph.D., is a Cree chief, residential school survivor, and lawyer who has worked both nationally and internationally including with the United Nations to advance Indigenous rights and Treaties. He has also – through leadership with the Truth and Reconciliation Commission – raised awareness of former Canadian policies that decimated the livelihood and culture of Indigenous Canadians.
Wandler temporarily replaces Walton as RDC Queens Volleyball Head Coach