RCMP looking for Mom and 4 kids
Red Deer RCMP seek public assistance to locate 28 year old Crystal Maurice and her children
Red Deer, Alberta – Red Deer RCMP are asking for public assistance to locate 28 year old Crystal Maurice and her four children. Maurice was reported missing from Red Deer on July 29 and was last seen in the city two days earlier. RCMP wish to verify the well-being of Maurice and her children. Maurice also goes by the name Kristal Mercy McCallum on social media.
Crystal Maurice is described as:
First Nations

5'3" tall

150 lbs

Blonde hair

Brown eyes
She is accompanied by her four children: one year old male, Lamary Frencheater; 5 year old female, Alazne Maurice-Frencheater; 9 year old male, Eloquence Goodrunning; and 11 year old female, Phersayiss Goodrunning. Red Deer RCMP do not have photos of the children at this time.
If you have been in contact with Crystal Maurice or have information on her whereabouts, please contact the Red Deer RCMP at 403-343-5575.
Michael Gambon, actor who played Prof. Dumbledore in 6 'Harry Potter' movies, dies at age 82
Members of the cast of the Harry Potter films, from left, Tom Felton, Michael Gambon, Rupert Grint, and Daniel Radcliffe during grand opening ceremonies of the Wizarding World of Harry Potter at Universal Orlando theme park in Orlando, Florida, Friday, June 18, 2010. Actor Michael Gambon, who played Dumbledore in the later Harry Potter films, has died at age 82, his publicist says. (AP Photo/John Raoux, File)
LONDON (AP) — Veteran actor Michael Gambon, who was known to many for his portrayal of Hogwarts headmaster Albus Dumbledore in six of the eight "Harry Potter" films, has died, his publicist said Thursday. He was 82.
A statement by his family, issued by his publicist, said he died following "a bout of pneumonia."
"We are devastated to announce the loss of Sir Michael Gambon. Beloved husband and father, Michael died peacefully in hospital with his wife Anne and son Fergus at his bedside," his family said.
No matter what role he took on in a career that lasted more than five decades, Gambon was always instantly recognizable by the deep and drawling tones of his voice. He was cast as the much-loved Dumbledore after the death of his predecessor, Richard Harris, in 2002.
He once acknowledged not having read any of J. K. Rowling's best-selling books, arguing that it was safer to follow the script rather than be too influenced by the books. That didn't prevent him from embodying the spirit of Professor Dumbledore, the powerful wizard who fought against evil to protect his students.
Although the Potter role raised Gambon's international profile and introduced him to a new generation of fans, he had long been recognized as one of Britain's leading actors. His work spanned TV, theater and radio, and he starred in dozens of films from "Gosford Park" to "The King's Speech" and the animated family movie "Paddington."
Gambon was knighted for services to drama in 1998.
Born in Ireland on Oct. 19, 1940, Gambon was raised in London and originally trained as an engineer, following in the footsteps of his father. He made his theater debut in a production of "Othello" in Dublin.
In 1963 he got his first big break with a minor role in "Hamlet," the National Theatre Company's opening production, under the directorship of the legendary Laurence Olivier.
Gambon soon became a distinguished stage actor and received critical acclaim for his leading performance in "Life of Galileo" directed by John Dexter. He was frequently nominated for awards and won the Laurence Olivier award 3 times and the Critics' Circle Theatre Awards twice.
A multi-talented actor, Gambon was also the recipient of four coveted British Academy of Film and Television Arts awards for his television work.
He became a household name in Britain after his lead role in the 1986 BBC series "The Singing Detective," written by Dennis Potter and considered a classic of British television drama. Gambon won the BAFTA for best actor for the role.
Gambon was versatile as an actor but once told the BBC of his preference for playing "villainous characters." He played gangster Eddie Temple in the British crime thriller "Layer Cake" — a review of the film by the New York Times referred to Gambon as "reliably excellent" — and a Satanic crime boss in Peter Greenaway's "The Cook, The Thief, His Wife and Her Lover."
He also had a part as King George V in the 2010 drama film "The King's Speech." In 2015 he returned to the works of J.K. Rowling, taking a leading role in the TV adaptation of her book "The Casual Vacancy."
Gambon retired from the stage in 2015 after struggling to remember his lines in front of an audience due to his advancing age. He once told the Sunday Times Magazine: "It's a horrible thing to admit, but I can't do it. It breaks my heart."
The actor was always protective when it came to his private life. He married Anne Miller and they had one son, Fergus. He later had two sons with set designer Philippa Hart.
The Associated Press
Winnipeg man pleads guilty to manslaughter in the death of Saskatchewan RCMP officer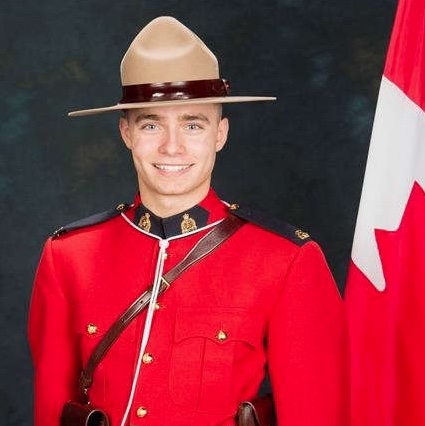 A man has pleaded guilty to manslaughter in the death of a Saskatchewan RCMP officer. RCMP Constable Shelby Patton is shown in this undated handout photo. Patton, of the Indian Head Detachment, was killed on June 12, 2021, after being hit by a pickup truck during a traffic stop. THE CANADIAN PRESS/HO, RCMP
By Jeremy Simes in Regina
The mother of a Saskatchewan RCMP officer who was killed two years ago says it was "hell" to watch a Winnipeg man plead guilty to manslaughter in her son's death.
Alphonse Stanley Traverse pleaded guilty on Wednesday to the charge in Regina Court of King's Bench for his role in Const. Shelby Patton's death. Traverse also pleaded guilty to a charge of stealing a motor vehicle.
"It's very traumatic," Melanie Patton, the mother of the 26-year-old Mountie, said in an interview.
"It's better than sitting through a trial, but at the same time there's so much trauma and we're not going to recover. It's like I'm living in hell."
Shelby Patton was killed more than two years ago when he attempted to stop a stolen truck, driven by Traverse, near the town of Wolseley, east of Regina.
According to an agreed statement of facts, Traverse had been driving from Winnipeg to Saskatchewan in June 2021 to play VLTs. He was with Marlene Pagee at the time, and they chose to go to Saskatchewan because bars were open in the province. COVID-19 measures meant bars were closed in Manitoba.
Traverse was on warrant status for various Criminal Code offences, the document said, and Pagee had been on bail with conditions. She also faces one count of accessory to murder after the fact in Patton's death.
Court heard Traverse and Pagee were driving a stolen green truck as they made their way to Saskatchewan. They were both using crystal meth.
However, the green truck wasn't working well, so Traverse and Pagee began looking for another vehicle. The document said they came across another truck near Pipestone, Man., and stole it. The truck was unlocked and had keys in the ignition.
The document said Traverse and Pagee made their way to Wolseley and stopped outside a hotel. Patton was then dispatched to investigate a suspected stolen truck in town.
When Patton arrived, court heard the couple noticed the Mountie's car, so they decided to drive away. However, Patton stopped them shortly thereafter and walked towards the driver's window, speaking with Traverse.
Court heard Patton had asked Traverse if he worked for the company that owned the truck. Traverse lied, saying he did. Patton then told him the truck had been reported stolen, asking him to step out of the vehicle until the issue could be sorted.
Traverse then turned to Pagee, saying "I can't," and started the truck.
Court heard Patton stepped up on the truck's running board and reached for the key's inside. The truck then accelerated rapidly and jerked.
The document said Patton fell off the running board. The rear driver-side tire ran over his body, killing him.
Melanie Patton said her son's death was no accident.
"He was a very good officer. He did not make a mistake," she said. "I'm sure any officer would have done the same. The job is very dangerous and getting more dangerous, unfortunately."
She said she hopes Traverse is given the maximum penalty.
Traverse is scheduled for sentencing on Jan. 17.
This report by The Canadian Press was first published Sept. 27, 2023.