RCMP hope to find witnesses to pedestrian fatality in downtown Red Deer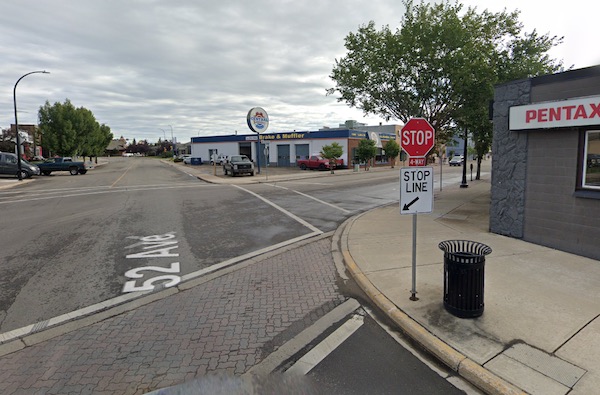 News Release from Red Deer RCMP
Red Deer RCMP seek witnesses to fatal motor vehicle collision
On Sept. 14, 2021, at 12 p.m., Red Deer RCMP responded to a motor vehicle collision involving a pedestrian located at 48 St. and 52 Ave. Upon arrival of police, Red Deer Emergency Services were on scene providing medical assistance to the pedestrian.
Preliminary investigation revealed that a truck was heading southbound on 52 street. As the truck turned eastbound onto 48 St, a pedestrian was struck in the crosswalk. Medical treatment was provided to the pedestrian; however a 68-year-old woman of Red Deer was declared deceased at the scene. The identity of the deceased will not be released.
Red Deer RCMP arrested the 83-year old male driver of the truck for failing to provide a breath sample and he is currently in custody. The road was closed for approximately two hours while police conducted their investigation.
Red Deer RCMP continue to investigate and are seeking additional witnesses to this incident. If you have video or dash cam footage of the area of 48 St. and 52 Ave. between 11:50 a.m. and 12:00 p.m. on Sept. 14, 2021, or have additional information about this incident, please contact the Red Deer RCMP at 403-343-5575.
An update will be provided when further information is available.
NewsAlert: Canada should align with allies on Olympic diplomatic boycott: Trudeau
OTTAWA — Prime Minister Justin Trudeau says it is important for Canada to align with its allies on a diplomatic boycott of the Beijing Winter Olympics.
Trudeau says Canada has been talking to allies for "many months" about the issue and an official announcement is expected later today.
The United States was first to announce a diplomatic boycott Monday, meaning American athletes would still compete in Beijing but no U.S. political officials would attend.
Australia and the United Kingdom have both now followed suit.
They cite human rights concerns including allegations of genocide against the Muslim Uyghur minority in China's Xinjiang province.
China denies those allegations and is accusing the United States of upending the political neutrality of sport.
More Coming.
This report by The Canadian Press was first published Dec. 8, 2021.
The Canadian Press
Canadian Press NewsAlert: Bank of Canada keeps key interest rate on hold
OTTAWA — The Bank of Canada is keeping its key interest rate target on hold at 0.25 per cent.
More coming.
The Canadian Press