Raise a glass to celebrate Canadian Beer Day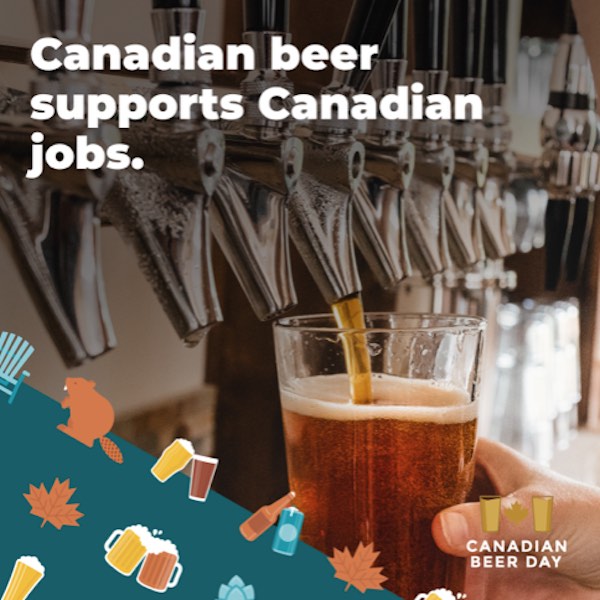 The third annual day dedicated to Canadian beer and our local brewing industry – Canadian Beer Day – is today – Wednesday, October 6, 2021, with coast-to-coast celebrations at local breweries, pubs, restaurants and at home with family and loved ones. Canadian brewers, beer enthusiasts, and the hardworking Canadians connected to the production and sale of beer across the country are raising a glass to #CheersAgain on this #CDNBeerDay – recognizing the positive impact beer has on our culture, communities, lives and economy.
First started in 2019, Canadian Beer Day is dedicated to celebrating beer and the thousands of Canadians involved in the brewing, selling, delivering, serving – and enjoying – Canada's favourite beverage loved by millions across the country. The celebration, which occurs every year on the Wednesday before Thanksgiving, recognizes and celebrates beer and breweries in Canada and the workers directly involved in beer's supply chain – agriculture, manufacturing, transportation, and hospitality.
"Beer brings Canadians together, and it's been a part of our country's culture and communities for generations. The last 18 months have been a challenging time for Canadians and businesses, specifically those in hospitality and tourism, making beer's role in bringing friends and family together more important than ever," said Dana Miller, Interim Director, Communications and Engagement for Beer Canada.
"Whether in a small or larger group this year, we hope that Canadians will join us in safely supporting our brewers, restauranteurs, barley farmers and all those connected to beer by raising a glass of your favourite Canadian-made beer today," Miller added.
This year, Canadian Beer Day launched an initiative to fundraise for Food Banks Canada to help fellow Canadians struggling with food insecurity, especially during COVID-19. Apparel has been sold online to beer fans across the country, and Beer Canada will match all proceeds with a donation being made shortly after October 6.
Canadian brewers directly employ over 19,000 Canadians, and approximately 149,000 jobs across Canada's hospitality, tourism, agriculture and manufacturing sector are supported by the production and sale of beer.
Canadian Beer Day is all about celebrating the beverage Canadians love, and the positive contributions brewers make to local communities across the country throughout the year. To find out more, visit www.canadianbeerday.ca.
QUICK FACTS
· 85% of the beer consumed in Canada is made here.
· Approximately 149,000 Canadian jobs are supported by the production and sale of beer.
· Over 19,000 Canadians work in breweries across the country.
· Canada is home to over 1,200 breweries.
· Beer contributes $13.6 billion to Canada's GDP annually.
ABOUT BEER CANADA
Beer Canada is the voice of the people who make our nation's beers. Our members account for 90% of the beer produced in Canada. The sale of beer supports 149,000 Canadian jobs, generates $14 billion in Gross Domestic Product and $5.7 billion in government tax revenues.
CFIB urges Ottawa to reverse trucker vaccine rule amid driver shortage, higher costs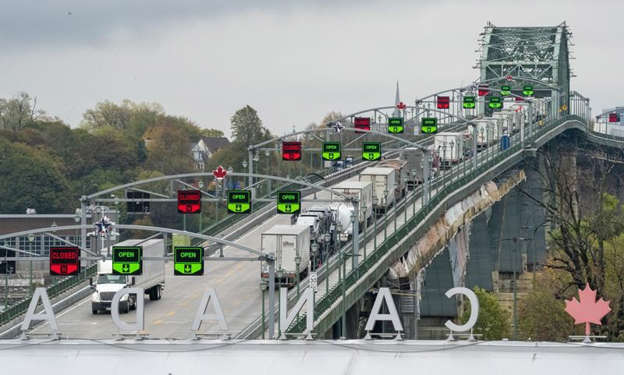 TORONTO — Canada's largest association of small and medium-sized businesses is urging the federal government to reverse its policy banning unvaccinated truck drivers from entering Canada.
The Canadian Federation of Independent Business says the vaccine mandate is creating supply shortages and driving up shipping costs.
CFIB president Dan Kelly says businesses were already facing a major supply chain crunch and price increases on everything from fuel to building materials.
He says Ottawa's border policy threatens to exacerbate those issues at a time when small businesses can't handle any additional costs or uncertainty.
The CFIB represents 95,000 small- and medium-sized enterprises in Canada, including roughly 500 in the trucking sector.
The business group says the transportation industry has been one of the hardest hit by labour shortages, with a recent survey finding 68 per cent of businesses in the sector are unable to hire enough staff.
This report by The Canadian Press was first published Jan. 26, 2022.
The Canadian Press
Why Democrats Make Energy Expensive (And Dirty)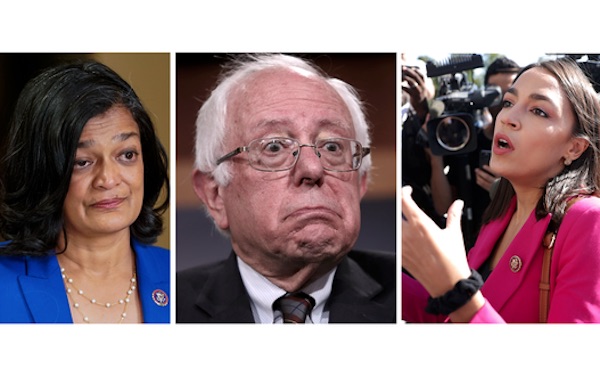 Progressives say they care more about working people and climate change than Republicans and moderate Democrats. Why, then, do they advocate policies that make energy expensive and dirty?
Progressive Democrats including Sen. Bernie Sanders and Rep. Pramila Jayapal, the head of the House progressive caucus, have sent a letter demanding the Federal Energy Regulatory Commission (FERC) investigate whether "market manipulation" is causing natural gas prices to rise 30 percent on average for consumers over last winter, an astonishing $746 per household.
But the main reason natural gas prices are rising is because progressives have been so successful in restricting natural gas production. Sanders, Jayapal, and Rep. Alexandria Ocasio-Cortez (AOC), as individuals and as part of the Congressional Progressive Caucus, have successful fought to restrict natural gas production through fracking and to block natural gas pipelines, including the Atlantic Coast pipeline.
In 2020, Sanders celebrated efforts by progressives to cancel the Atlantic Coast pipeline. Today, New England is facing rolling blackouts and importing natural gas from Russia. "Getting [natural] gas to [progressive Senators Ed] Markey and [Elizabeth] Warren's Massachusetts is so difficult," reports The Wall Street Journal, "that sometimes it comes into Boston Harbor on a tanker from Russia."
Democrats aren't the only reason the United States isn't producing enough natural gas to keep prices at the same low levels they've been at for the past decade. There is higher demand as the economy emerges from covid. There is greater demand for natural gas internationally due to a bad year for wind energy in Europe. And President Joe Biden, for his part, has resisted many progressive demands to restrict oil and gas production.
But the main reason there isn't enough natural gas production is because of successful progressive Democratic efforts to restrict natural gas production in the United States, Europe, and other parts of the world in the name of fighting climate change, as I was one of the first to report last fall. Sanders and Jayapal talk about "market manipulation" and "profiteering" but to the extent there is any of either it's because of inadequate supplies of natural gas and the pipelines to transport it.
Successful shareholder activism, known in the industry as "ESG" for environmental, social, and governance issues, resulted in less investment in oil and gas production, and more weather-dependent renewables, which result in higher prices everywhere they are deployed at scale. Even ESG champions including Financial Times, Goldman Sachs, and Bloomberg all now acknowledge that it was climate activist shareholder efforts that restricted oil and gas investment.
Such efforts also directly led to increasing carbon emissions. Last year saw a whopping 17 percent increase in coal-fired electricity, which resulted in a six percent increase in greenhouse gas emissions. It was the first annual increase in coal use since 2014. The reason for it was because of the scarcity and higher price of natural gas, coal's direct replacement, not just in the U.S. but globally, since the US exports a significant quantity of natural gas.
The other reason the U.S. used more coal in 2021 is because progressive Democrats are shutting down nuclear plants. "When a nuclear plant is closed, it's closed forever," noted Mark Nelson of Radiant Energy Fund, an energy analytics firm, "whereas coal plants can afford to operate at relatively low levels of capacity, like just 30 to 50 percent operation, and thus wait for natural gas prices, and thus demand for coal, to rise."
Progressives like Sanders, Jayapal, and AOC claim to care more about poor people, working people, and climate change than either Republicans or moderate Democrats, who they defeat in Democratic primary elections. Why, then, do they advocate policies that make energy expensive and dirty?
Strategic Ignorance
A big part of the reason progressives make energy expensive appears to be that they just don't know very much about energy. The fact that they are demanding that FERC investigate higher prices suggests they want to keep energy prices low. But it could also mean that their letter is just public relations cover so they are not blamed for raising energy prices.
Indeed, it would be naive to think that Sanders and other progressives didn't realize that blocking pipelines, opposing fracking, and subsidizing renewables would make energy expensive, given that making energy expensive has been the highest goal of their main climate advisor, Bill McKibben, who subscribes to the Malthusian view that there are too many humans and we must restrict energy and development.
If renewables were cheaper than the status quo then the policies they advocate — no permitting of pipelines, restrictions on fracking, and subsidies for renewables — would not be necessary. Besides, mainstream energy experts and journalists today admit that weather-dependent renewables make electricity expensive…
Subscribe to Michael Shellenberger to read the rest.
Become a paying subscriber of Michael Shellenberger to get access to this post and other subscriber-only content.
A subscription gets you:
| | |
| --- | --- |
| | Subscriber-only posts and full archive |
| | Post comments and join the community |