Gerry Feehan explores Cape Breton Island
The Canso Causeway connects mainland Nova Scotia to the island of Cape Breton. As we drove across the span on a crisp autumn day, the ebb tide was pulling westward, hard through the Canso Strait. We stopped at the Port Hastings visitor's centre where a pleasant woman bid us welcome and told us we were in luck, "You're just in time for the Celtic Colours." Being an observant fellow, I had already noted the changing season—the brilliant oranges and reds of the Maritimes' fall foliage. And I smartly told her so. "Oh, no," she laughed, "Celtic Colours isn't about the leaves. It's our annual autumn festival." For nine days every October the entire island hops with a chorus of Cape Breton traditions: ceilidhs, live music, spoken word and dance performances, all celebrating the island's rich history and culture.
But before we did any festival going, it was exploration time. Cape Breton is a marvel of twisting vistas, glorious hikes, great food—and friendly people. En route to the world-renowned Cabot Trail in Cape Breton Highlands National Park we took a circuitous path, skirting Bras D'Or Lake (not really a lake, more a brackish inland sea). Along the lakeshore near Big Pond we stopped and paid homage to Rita McNeil at the late singer's eponymous Tea Room. When we finally arrived at Ingonish Beach Campground on the National Park's southeast border, it was late in the day. We ate dinner and hit the hay. There was a big hike planned for the morning: Franey Trail, a long steep climb to a panoramic viewpoint from which one looks down on the Clyburn River canyon spilling into the Atlantic Ocean. Admiring the view at the summit, we chatted quietly with a young local couple who were proud to tell us the history of the region, their Scottish heritage and the hard lives their ancestors had endured on land—and at sea, which they wistfully stared out as they shared the memory.
That evening we dined luxuriously at the historic Keltic Lodge and later, over a digestif in the leathery lounge, struck up conversation with a European tourist. "Don't you think Cape Bretoners are the friendliest people on earth?" I asked. We had been overwhelmed by Maritime hospitality. Looking puzzled, he answered dryly, in a thick accent, "I have had only a few weeks here, so I am not yet able to arrive at this conclusion." Tough sell, those Germans.
When we awoke the air was cool, crisp and clear—a perfect day for an autumn sojourn on the Cabot Trail, which loops for 298km around the northern tip of Cape Breton. We cruised counterclockwise from Ingonish. Our first stop was White Point where the harsh Atlantic batter stony cliffs along the island's unprotected north shore. Then we began a twisting ascent through the lush Acadian forest to Cape Breton's central highlands. The display of foliage was magical. Maple, beech and birch all boasted their brightest fall colours in hues of red, orange and yellow. And, as if frozen in the windless air, the trees had yet to drop a single leaf. It was a palette of autumn perfection.
I pulled the motorhome into a serene overlook. Florence and I sat in silence, gazing through the windshield at the crimson and gold majesty. Suddenly, and before I could exit the vehicle to snap a picture, three vanloads of tourists pulled in, sprung from their seats and began frantically taking photos. Abandoning the hope of any verdant solitude, I instead jumped into the cacophonous human fray and started taking shots of tourists taking pictures.
We set up camp that evening at quiet MacIntosh Brook near Lone Shieling, where 350 year-old sugar maple trees stand sentinel over a long-abandoned Scottish crofter's hut. Despite the quiet, I didn't sleep well that night, for there was a menacing giant lurking in my future: Cabot Cliffs Golf Links.
You may have read my charming story about golf in Ireland – and how the Irish courses were the most beautifully humiliating courses I had ever encountered. Well, Cape Breton Island has retained its Celtic tradition not only in music and dance but also in its fondness for brutal but alluring links golf. Cabot Cliffs is equal to the best of its turf cousins across the sea. I was fortunate to secure a tee time—and a private caddy—to enjoy this spectacular course.
After the (humbling) golf interlude, we re-dedicated ourselves to exploration by foot with a last hike, on the Skyline Trail on Cape Breton's west coast. Although crowded, the traipse was enjoyable and the ocean views breathtaking. On a clear day (which we experienced) one can see the white cliffs of Quebec's Magdalen Islands shining distantly in the Gulf of St Lawrence.
With tired feet—and badly in need of food and drink—we arrived late at Cheticamp Campground. I noticed a sign announcing that the Harbour Restaurant in this quaint Acadian village offered a free shuttle for patrons. I phoned, booked a reservation and requested a ride. 15 minutes later a car pulled up to our campsite and a pleasant lady with a French-Canadian accent said, "Hop in." It was Lorraine LeBlanc, the restaurant owner. And after a great chow down on Morue en Cabane (slow-cooked cod, chives and pork scraps) and Lorraine's famous Apple Garden cake, she returned us to our campsite. Now that's Cape Breton hospitality! Despite my inherent thriftiness, I left a reasonable tip.
Our time in the Highlands was coming to an end and still there was the Celtic Colours to enjoy. The festival venues are island-wide but many artists bunk each night at the Gaelic College in St Ann's near Baddeck (Alexander Graham Bell's summer stomping grounds). Widely scattered venues result in a long, dark drive on narrow roads back to St Ann's after a day of performing. But for the tireless musicians the party carries on—with impromptu jam sessions lasting well into the wee hours.We arrived in St Ann's on the last night of the Festival. We boon-docked in the Gaelic College parking lot. The Celtic Colours finale was scheduled to begin very late, past 12:00am—and well past our bedtime—so, after a parking lot BBQ, we lay down for a disco nap, awaking after midnight to the sound of instruments being tuned. It was a raucous evening, hosted by the effervescent humour of singer-songwriter Buddy MacDonald. It was past 4 am when the last fiddle was packed unwillingly into its case. We trundled off to bed… and enjoyed a well-deserved Celtic sleep in.
Gerry Feehan is an award-winning travel writer and photographer. He lives in Kimberley, BC.
Thanks to Kennedy Wealth Management for sponsoring this series. Click on the ads and learn more about this long-term local business.
A Rainy Day in Montenegro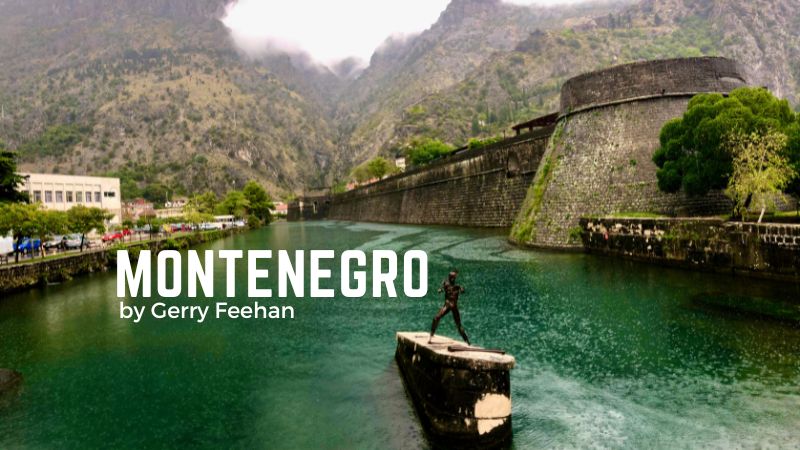 Dubrovnik City wall
Room 703, Valamar Hotel, Dubrovnik, Croatia.
I had a strange dream last night.
Well past midnight there came a quiet rap on the door. An apologetic bellboy pointed to a small man standing quietly in the hallway. The man sported a fine suit and monogrammed luggage. 'I'm sorry,' said the bellhop, 'the Valamar is sold out
this evening. This gentleman needs a room. Only for tonight. Perhaps you can accommodate.' Naturally I declined. However my wife, speaking from her comatose oblivion, insisted we invite the stranger in. 'Sshh, it's fine,' she said simultaneously
snoring, 'for today, we go to Montenegro.'
What my dream-world wife didn't anticipate—but I did—was that our uninvited, nocturnal guest would soon become an unpleasant somnambulant nuisance and ultimately transform into a weapon-wielding demon. By the time I finally, politely
asked him to depart our quarters, the intruder had morphed into a loud, apocalyptic earthquake. I awoke in a heap of sweat to a thunderous lightning storm, crawled from bed, pulled closed the trembling illuminated curtains—and swore off rakija for the balance of our Balkan holiday. I tossed and turned the rest of that uncomfortable night, occasionally glancing irritably at my happily reposed spouse. The alarm tolled at 6:15am.
In a post-hallucinogenic stupor I stumbled into the hotel lobby and ran smack dab into the selfsame night-watchman who, in my torpor, had invited Armageddon-man into our room at witching hour. 'And you call yourselves a 5-star hotel,' I remarked testily. He regarded me uncertainly, shrugged and opened the lobby doors. Outside, standing curbside beside a dark blue Mercedes van, stood a veritable giant of a man; our driver for the day. He grinned grimly, swung the passenger door open and commanded us to climb in. I was fearful the nightmare was continuing. But as we pulled away from the dewy curb our mountainous chauffeur politely introduced himself as Zoran and began a casual, intriguing introduction to the history of Montenegro.
Incessant rain made for a dreary day
The downpour began in earnest as we neared the border. The Croatian exit authority inspected our papers with palpable disinterest—then stood up, exited his cramped cubicle and promptly disappeared into the mist. 'Between shifts,' explained
Zoran with a resigned shrug. After a 10-minute, stiflingly humid delay, an equally apathetic replacement arrived to re-scrutinize our passports. Documents eventually back in hand, we were permitted to depart Croatia and make the short descent into neighbouring Montenegro where another listless guard repeated the same agonizing process.
Everyone loves passport stamps. I entreated Zoran to ask the guard for some evidence that we were actually entering mysterious Montenegro, bragging rights for the folks back home. 'This not good idea,' said Zoran apologetically—but
unequivocally—and we pulled away from the tiny damp station and into a strengthening deluge. It was a half-hearted, bureaucratic, blustery beginning to a soppy day. (For no discernable reason, other than inane custom and mutual distrust,
countries of the former Yugoslavia demand perusal of papers upon both ingress and egress. But I digress.)
Montenegro. The name evokes visions of a small, opulent seaside protectorate where luxury yachts bob in an idyllic harbor surrounded by spectacular mountains. But while the country is indeed small, and is on the ocean, and does have a stunning mountain backdrop, Montenegro is certainly not well off. In fact Montenegro is one of Croatia's poorest Balkan cousins. Together with Bosnia, Serbia and a few other newly-formed states, they were all part of Yugoslavia. In 1984 Yugoslavia hosted the Winter Olympics, welcoming the world's best athletes to a snowy paradise. Nine years later the entire federation would descend into anarchy and civil war, the lid of a centuries-old pot, boiling with religious and ethnic hatred, finally blown off. Our destination was the walled city of Kotor, a Renaissance-era gem of narrow, picture-postcard lanes. As the European crow flies, the town is not far from the Croatian border, but getting there entails a long circuitous drive around the Gulf of Kotor, which perforates deeply, fjord-like, into the Montenegrin coastline.
Kotor
On arrival, we exited hesitantly from the van, unfurled our umbrellas and splashed into town. What should have been an interesting, leisurely stroll down blind alleys and through colourful curio shops turned into a quick excursion—hurdling
overflowing gutters and dodging the deluge spilling from dilapidated gargoyles in the old fortified town. Overall, the morning was a wet bust. Zoran was apologetic, as if he were personally responsible for the obscuring rain. 'I wish you could see our beautiful mountains.'
But then came lunch—and, nonpareil, the best meal of our three-week Balkan adventure. I stepped, glasses fogged, into the Konoba Akustik Restaurant and discarded my broken umbrella amongst a stack of equally derelict parasols.
Rainwater, dripping from the ceiling, clanged into an ancient metal pail in the foyer. Expectations were low as we dodged around the overflowing bucket and took our squeaky seats at a rustic wooden table.
Then the food began to appear. First a hearty veal soup served with fresh jecmeni—barley flatbread. Then a platter of green olives and prosciutto. Then gnocchi and pasticada—beef marinated in wine vinegar. More jecmeni arrived to sop up stray sauces.
Perhaps a cocktail with your jecmeni?
The dishes kept coming. Stuffed to the gills, I declined desert, sat back in my rickety chair, and focused my attention on the adjoining table where Zoran and two large companions sat, surrounded by three nonplussed waiters and a gesticulating chef.
In unwavering concentration, they methodically devoured every dish we'd been offered plus massive plates of crni rizot—black risotto, and ajvar—spicy red pepper paste. Between mouthfuls they'd wedge in a large portion of Pag cheese. When the
skewers of lamb kebab arrived I could watch no more and directed my attention to the restaurant's ornate opaque windows and the passersby sloshing outside.
Montenegrins are not the tallest people on earth—the Dutch stubbornly cling to that lofty position. But I can state (anecdotally at least, having spent one full day in the
country) that the people of Montenegro are really, really tall. And apparently it takes a lot of calories to develop that degree of vertical span.
Zoran is on the right… in case you were confused
It was a full day. On the long drizzly drive back to the Valamar Hotel, the windshield wipers flapped incessantly, hypnotizing me into a sleepy daze, interrupted only by Zoran's occasional, meaningful collision with a muddy pothole. Nearly home, we passed through the beautiful old city of Dubrovnik. At a bus stop, under a portico tucked into the ancient city wall, I spied a small tidy man huddled under an umbrella, expensive luggage stacked neatly by his side. The fellow from my nightmare. I wiped my eyes and peered again. He was gone.
I slept dreamlessly that night.
Gerry Feehan is an award-winning travel writer and photographer. He lives in Kimberley, BC.
Thanks to Kennedy Wealth Management for sponsoring this series. Click on the ads and learn more about this long-term local business.
A glorious afternoon among the vineyards by Gerry Feehan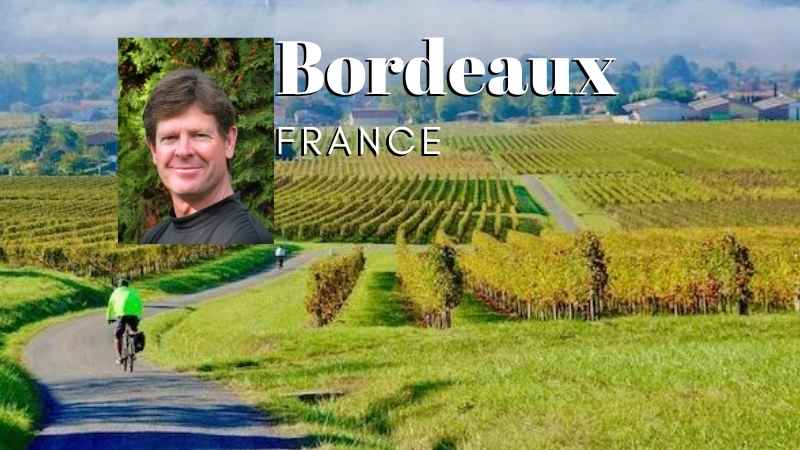 A glorious afternoon among the vineyards
One of the keys to enjoyable travel — and recovery from a seven-hour jet-lag hangover — is to give oneself time to acclimate. And what better place to do that than in the City of Lights?
On tap was a week-long bike 'n barge in southwest France. But rather than simply change planes at Charles De Gaulle airport and continue on to Bordeaux, we deplaned, shuttled into the French capital and gayly strolled the streets of Paris for a couple of days.
Fun in the streets of gay Paris
Paris, like many of the world's great cities, is a pleasure to walk. From our hotel in the Latin Quarter, it was an easy saunter along the left bank of the Seine to the Eiffel Tower. En route, we passed two of the world's great museums, the Louvre and the Musée d'Orsay. Famished after a half-hour en pied, we stopped at a quiet brasserie for escargot and steak tartare. Fun fact: raw beef is best washed down with a heaping helping of Pernod. After lunch we wandered on and were soon gazing up at the Arc de Triomphe and the crazy traffic on the Champs-Elysees. On the return traipse we followed the river's course to Notre Dame Cathedral where we climbed the narrow spiral staircase to the church's wooden bell tower for the magnifique view of Paris. We were amongst the last to do so. A couple of months later, the 800- year-old edifice was gutted by fire.
After our relaxing stay in La Cité, we boarded the train at Gare Montparnasse, well-rested and physically and mentally prepared for the formidable task ahead: seven laid-back days of pedalling through the serene back roads of southwest France, coupled with the burden of sampling fine Bordeaux wines.
The trip from Paris to Bordeaux is over 500km, but when travelling by rail at over 300km/h, the journey is over in a flash. At the station in Bordeaux we transferred for the short run into Libourne, a sleepy little village on the Dordogne River, where we boarded our vessel, the aptly named MS Bordeaux. The ship was originally commissioned in the 1920s as a Rhinetuger, hauling heavy burdens on the Rhine River. The old gal went through a number of iterations over the decades before being converted into a passenger vessel. The boat has 49 cabins, but there were only 23 guests, so we became friends with everyone on board — crew and clientele alike.
It was a cozy, intimate experience.
On the weeklong voyage, we drifted slowly down the Dordogne toward the Bay of Biscay. When we reached the wide Gironde estuary we made a u-turn and rode the incoming tide up the Garonne River to Castets-en-Dorthe where we were to disembark. It was late fall, the ship's last sailing of the season. The weather was ideal. The autumn hues of southern France were on full display.
Each morning, after a fine petit dejeuner, we stuffed our panniers with a picnic lunch of oven-fresh baguettes, pate, brie, fruit — and a world of pastries. Then we'd roll down the gangplank and hit the bucolic road. Each route was unique and scenic.
A GPS mounted to the handlebars kept us on track, ensuring we didn't turn a la gauche when we should have gone a la droit.
We pedalled past orchards of ripening grapes, waving at the friendly vendangeurs hand-picking the last sweet remains of the year's vintage. Often the route led us up what looked like a private lane, a path we'd never have taken had not the GPS assured us we were on course. We'd stop and gawk at some enormous ancient stone Château before continuing down the cobbled way.
Fall is hunting season
Despite the season, many of the Châteaux were open for tastings, invariably hosted by a friendly, effusive, fifth-generation proprietor, happy to share the family cellar with a group of foreign geeks in cycling shorts.
Bordeaux boasts some of the most stunning scenery in all of France — and some of its best vintages. That's saying a lot in a country renowned for le vin. Personally, I turn up my nose at snooty French reds like Cote du Rhone and Burgundy. They're a little too subtle for my meat-and-potatoes palette. Give me a big beefy Bordeaux any day. And that is what this appellation is all about: deep purple merlots blended with a splash of cabernet sauvignon.
Some of our fellow passengers chose e-bikes to lighten the load, but our group of eight hearty Canucks toughed out the Bordeaux hills with good old-fashioned foot-pedal power. We logged about 50km per day, a distance one could easily cover in a few hours. But, what with stopping to marvel at the glorious views, photograph the panoramic campagne, sip Sauterne and enjoy a leisurely picnic lunch, we managed to stretch every outing into an eight-hour work-day.
Beware of dogs in the fog!
One morning as we meandered down a medieval lane enjoying the 'douceur de vivre' a layer of mist descended upon us. This typical morning fog offers perfect growing conditions for Bordeaux's famous varietals. Suddenly from out of the haze a huge dog, teeth angrily bared, descended on my wife Florence. I shouted but the mongrel continued its malevolent advance, apparently unfamiliar with English profanity. Then I remembered the tip regarding unfriendly curs contained in our pre-trip information pamphlet:
"Continue cycling past the dog. If it persists, a more aggressive approach may be required, in the form of pretending to throw a stone (or in extreme cases actually throwing a stone)."
The animal's command of English may have been lacking, but it was a quick learner when it came to comprehending the meaning of rock on chien.
That evening, after another glorious dinner on the boat, we retired to the lounge for a digestif. It was the last night of the last sailing of the year and Sebastian, our maîtres d', cum waiter, cum bartender, was ready to let his hair down. He brazenly lassoed all the female passengers onto the dance floor for a Bacchanalian romp. Overhead, a faux-disco ball twirled as the ladies gyrated and the boat rocked. The men, fatigued from another trying day amongst the Bordeaux vineyards, were content to sip Pastis and chat.
An ebullient Sebastian
Another fantastique dinner
I quietly slipped into the night air and onto the upper deck. After bidding adieu to my bicyclette and its worn tires, I made my way to our berth and slipped into a dreamless sleep. I needed the rest. In the morning our last arduous adventure would begin: two lazy days of decompressing back in gay Paris.
If you go: www.aquitaine-cruises.com
'Goodbye Bordeaux'
Gerry Feehan is an award-winning travel writer and photographer. He lives in Kimberley, BC.
Thanks to Kennedy Wealth Management for sponsoring this series. Click on the ads and learn more about this long-term local business.