Questions people ask about RDC
by Joel Ward, President, RDC
In my role at Red Deer College, I have the opportunity to connect with people from across central Alberta. Whether this is at events hosted by RDC or at other activities in the community, I always enjoy speaking with students, alumni, parents, partners and interested citizens. A great many people are connected with RDC, and what I've found through my conversations is that they truly care about what's happening here.
Over the years, people have asked me a variety of questions about our College, and today I'm happy to provide you with a sample of the commonly asked questions and my thoughts on each.
How many students attend RDC, and where are they from?
On any given day, we have about 7,500 students on our campuses. When I look back at our information from 2016-17, I see that 65% of our students came from central Alberta, with 15% from northern Alberta, 13% from the southern part and 7% coming from outside of our province. These students come from across Canada and from 16 countries around the world.
What is all the construction about?
We are fortunate to be in a time of growth and development at Red Deer College, and each new facility taking shape across main campus is the result of many years of careful and strategic planning. It's hard to believe the preliminary site work for the Gary W. Harris Canada Games Centre/Centre des Jeux du Canada Gary W. Harris began back in the fall of 2015. Each day, we are moving closer to its completion and, in September 2018, we will welcome our first group of students to this teaching and learning centre. Not long after, the building will be a huge part of the 2019 Canada Winter Games. Our second construction project, the Alternative Energy Lab, demonstrates our commitment to the exploration and demonstration of new environmental technologies. The lab will provide learning and research opportunities for students and businesses to explore alternative energy solutions. Our third project, a new Residence, is under construction and is visible from 32nd Street. This unique facility incorporates solar panels on three sides and includes apartment-style studio suites, access for those with mobility challenges and short-term accommodation for our Apprenticeship students. All three new buildings support RDC's goal of reducing our carbon footprint through energy efficient technologies.
What can I take at RDC?
We offer more than 100 programs, and these include everything from collaborative degrees, where students can take all of their courses at RDC, to university transfer programs, where they take their first year or two at RDC and complete at another institution. We also offer skilled trades, diplomas and certificates. This fall, we launched two new programs – the Human Resources Management Graduate Certificate and the Instrumentation Engineering Technology Diploma.
What new programs are on the horizon?
Looking ahead, our senior administrators and faculty are always looking for ways to develop new programs that will offer students the real-world information they need for today's jobs. One example of this is happening right now in the School of Creative Arts, with two proposed cutting-edge programs – the Bachelor of Applied Arts in Film, Theatre, and Live Entertainment, and the Bachelor of Applied Arts in Animation and Visual Effects. Once we have approval from the government, we intend to launch these programs in the fall of 2018, offering students one-of-a-kind opportunities in the ever-growing film and special effects industries.
When will we be able to complete our degrees at RDC?
We continue to work with our government partners to achieve our goal of RDC becoming a degree- granting institution. If people didn't have to leave to complete their degrees, as I described above,
Red Deer College | 100 College Boulevard | Box 5005 | Red Deer | AB | Canada | T4N 5H5 | www.rdc.ab.ca
then it would have a huge, positive impact on students, families and even the economy of central Alberta. We will continue to strive to make this goal a reality for our future students.
These questions provide a snapshot of what's happening here at RDC, and they show how we are always growing and evolving to better serve you, our students and partners and communities. As we continue to grow, I look forward to sharing this information with you – in this column and when we meet in the community.
Joel Ward is President & CEO of Red Deer College
Read more from Todayville.
Annual Education Results released by Red Deer Catholic Regional Schools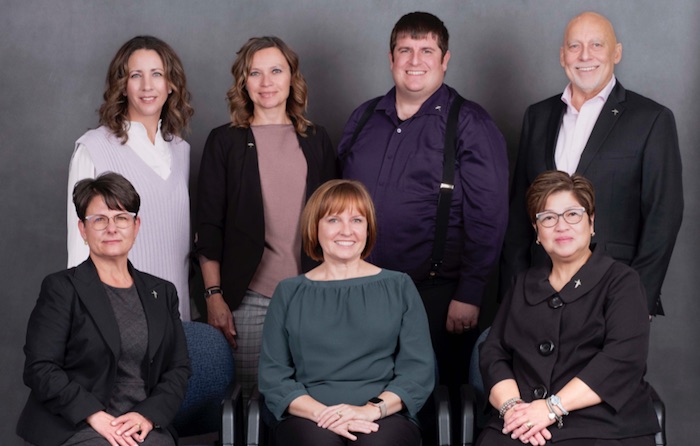 From Red Deer Catholic Regional Schools
Board Meeting Highlights
Annual Education Results Report:
The Associate Superintendent of Curriculum presented the 2021-2022 Annual Education Results Report to the Board of Trustees. RDCRS recognizes that the strong results from the 2021/2022 school year are a result of our staff's significant efforts. Our students' school day begins with the friendly greeting of a bus
driver and continues late into the evening with our staff coaching practices and games, directing a play or musical, or leading youth ministry events. It is this collective teamwork for all our students that makes RDCRS an extraordinary place, and RDCRS has seen this in the feedback from our staff, students, and
parents. RDCRS would like to sincerely thank everyone for their tireless efforts on behalf of our students and their families.
The Board of Trustees approved the Annual Education Results Report for the 2021-2022 school year, as presented. To view the Annual Education Results Report, please click here.
Middle School Program Change Proposal:
The Associate Superintendent of Inclusive Learning presented the Program Change Proposal: Moving Foundations and Blended Programs from St. Francis of Assisi Middle School to St. Lorenzo Ruiz Middle School Report to the Board of Trustees. The proposal outlined a relocation of the Foundations and Blended programs from St. Francis of Assisi Middle School to St. Lorenzo Ruiz Middle School.
The purpose of the relocation is to maximize programming space which will result in optimal learning opportunities for RDCRS students. Another key factor in the relocation is the current high student enrollment at St. Francis of Assisi Middle School as a result of our grandfathering guidelines.
The Board of Trustees approved moving forward with the relocation of the Foundations and Blended Programming at St. Francis of Assisi Middle School to St. Lorenzo Ruiz Middle School, effective for the 2023-2024 school year.
Preparation to Open St. Lorenzo Ruiz Middle School Report:
The Superintendent shared with the Board of Trustees the Preparation to Open St. Lorenzo Ruiz Middle School Report and provided an update of the progress to date. As RDCRS continues to prepare for the Division's new middle school, the Superintendent informed the Board of Trustees that a core team of
educators, transportation department representatives and senior leadership personnel have been assembled to start preparations for St. Lorenzo Ruiz. This team will be undergoing extensive work over the next six months as communication with RDCRS stakeholders is pivotal. The core team met on January 18 and will continue to meet regularly for ongoing discussion, collaboration and preparation.
The Superintendent also highlighted transportation and grandfathering guidelines that are currently in effect for the Division. To view the full Preparation to Open St. Lorenzo Ruiz Middle School Report, please click here.
The next Board Meeting will take place on Tuesday, February 28, 2023 at 5:30 p.m.
Notre Dame Fine Arts Department invites you to see Roald Dahl's Matilda, the Musical!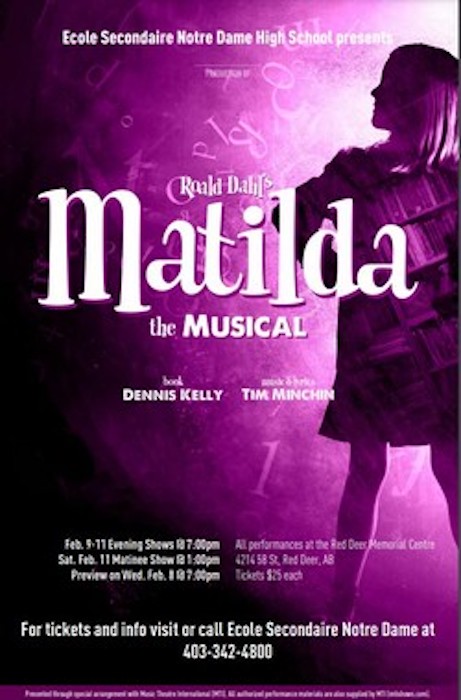 From Red Deer Catholic Regional Schools
Roald Dahl's Matilda, the Musical!
Co-Directed by Jennifer Cocolicchio and Stephanie Layden starring Addy Penney, Jordana Woroniuk, Coryn Tardif, David Jones, and Mikayla Beever.
Please join the Notre Dame Fine Arts students for their interpretation of Matilda.
Inspired by the twisted genius of Roald Dahl, the Tony Award-winning Roald Dahl's Matilda The Musical, from the Royal Shakespeare Company, revels in the anarchy of childhood, the power of imagination and the inspiring story of a girl who dreams of a better life. Book by Dennis Kelly and original songs by Tim Minchin.
Matilda is a little girl with astonishing wit, intelligence and psychokinetic powers. She's unloved by her cruel parents but impresses her schoolteacher, the highly loveable Miss Honey. Over the course of her first term at school, Matilda and Miss Honey have a profound effect on each other's lives, as Miss Honey begins not only to recognize but also appreciate Matilda's extraordinary personality. Matilda's school life isn't completely smooth sailing, however – the school's mean headmistress, Miss Trunchbull, hates children and just loves thinking up new punishments for those who don't abide by her rules. But Matilda has courage and cleverness in equal amounts, and could be the school pupils' saving grace!
Packed with high-energy dance numbers, catchy songs and quick wit, Matilda is a joyous girl power romp. Children and adults alike will be thrilled and delighted by the story of the special little girl with an extraordinary imagination.
The shows take place at Red Deer's Memorial Centre on February 9, 10, & 11 at 7:00pm. There is also a Matinee on February 11 at 1:00pm.
TICKETS ARE $25.00
TICKETS AVAILABLE in advance at Notre Dame's front office, online at https://www.notredamehigh.ca/programs/fine-arts or on the date at the theatre door.
SPECIAL PREVIEW NIGHT on February 8 at 7:00pm – Free for all press representatives and pay what you can for the general public.