Queens Hockey's Alli Soyko and Kings Basketball's Eduardo Crespo are The Granary Kitchen RDP Athletes of the Week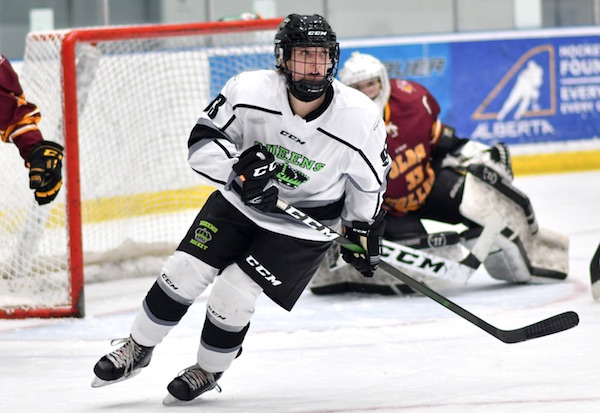 Red Deer Polytechnic Athletics Update
Red Deer Polytechnic Athletics is proud to announce The Granary Kitchen RDP Athletes of the Week:
Alli Soyko – Queens Hockey
Hometown – Prince Albert, Saskatchewan / Bachelor of Education Elementary (1st year)
Alli Soyko had a memorable performance for the Red Deer Polytechnic Queens Hockey team against the SAIT Trojans on Friday. In the Queens' 4-0 shutout road victory, the first-year forward scored first, which turned out to be the game winner, and then added two more in the third period for a hat trick. For her outstanding effort and performance, Soyko was named the Red Deer Polytechnic Queens Player of the Game.
The talented student-athlete from Prince Albert shares the league lead in goals (three) with NAIT's fifth-year Brittney Savard. After only three games in the Alberta Colleges Athletic Conference (ACAC), Soyko has made a positive impact on her team and league and will continue to evolve as a hockey player. The Bachelor of Education Elementary student and the Queens (2-1-0) currently sit second in the standings, sporting the best defensive record and second most potent offence.
Eduardo Crespo – Kings Basketball
Hometown – Mococa, Sao Paulo, Brazil / Academic Upgrading (1st year)
With ACAC Men's Basketball leading scorer Tyronn King (31.3 points per game) out of the Red Deer Polytechnic Kings lineup with an injury, first-year Eduardo Crespo stepped up in a major way in a weekend series against the Medicine Hat College Rattlers. The Academic Upgrading student from Brazil led the two squads in scoring in both of the games. In Friday's 83-75 road victory, Crespo contributed 20 points, seven rebounds, six assists and three steals over 31 minutes. He was named the Red Deer Polytechnic King Player of the Game.
Then in Sunday's 71-62 win at the Gary W. Harris Canada Games Centre, the six-foot-three forward led both teams again with 24 points, while adding eight rebounds, two steals, and one assist over 33 minutes. In only six games, Crespo's talent, work ethic and likeable personality have endeared him to his teammates and coaching staff. While he currently sits 23rd in league scoring (15 points per game), Crespo will undoubtedly climb the rankings as he continues to adjust to playing in the ACAC. The hard working student-athlete has helped guide the Kings (4-2) to a third place tie in the ACAC South Division with the Lethbridge College Kodiaks (4-2).
Red Deer Polytechnic Athletics Games of the Week are sponsored by Pure, with chiropractic, massage therapy, and physiotherapy services
In the final weekend of conference games before exams, the Red Deer Polytechnic Kings and Queens Volleyball teams will play a pair of matches against the SAIT Trojans. The Kings hockey team will host the Portage College Voyageurs. Fans are encouraged to wear an ugly Christmas sweater to the games at the Polytechnic. There will be a variety of fun activities and prizes to win. Tickets can be purchased online. Red Deer Polytechnic students receive free admission with valid student ID.
Here is a summary of what is happening this week:
Kings Hockey | Friday, December 3 | 7 pm | Gary W. Harris Canada Games Centre
The Red Deer Polytechnic Kings Hockey team (1-1-1-0) will face-off against the Portage College Voyageurs (0-3-0-0). Kings third-year forward Kyle Salaway has three goals in three games, which ranks third in league scoring. First-year Erik Miller, a former member of the Camrose Kodiaks, shares second spot in ACAC assists with three. The Voyageurs are led offensively by Ty Budai's five points in three games.
Kings Volleyball | Friday, December 3 | 6 pm | Gary W. Harris Canada Games Centre
The first place Kings Volleyball team (6-0) will play the fourth place SAIT Trojans (3-3). The Red Deer Polytechnic Kings have impressively won 18 sets and only dropped two. Outside hitter Patrik Toze has recorded a total of 66 kills. Setter Maddux Greves shares second spot in the ACAC with 0.75 service aces per set, only behind former King Carter Hills (0.85) who now plays for NAIT.
Kings Volleyball | Saturday, December 4 | 6 pm | SAIT
The Kings and Trojans will meet in a rematch.
Queens Volleyball | Friday, December 3 | 8 pm | Gary W. Harris Canada Games Centre
The first place Queens (6-0) will play the SAIT Trojans (2-3) in a south division showdown. The undefeated Red Deer Polytechnic Queens have won 18 sets without dropping a single one. Sylvan Lake's Anna Carlson has averaged 0.67 service aces per set, ranking third in the league. Collectively, the Queens lead the ACAC with 10.67 assists per set and 2.78 service aces per set.
Queens Volleyball | Saturday, December 4 | 8 pm | SAIT
The Red Deer Polytechnic Queens and SAIT Trojans will meet on the court in Calgary.
For more information on Red Deer Polytechnic Athletics, the student-athletes and teams, please visit: rdcathletics.ca
The RDP Queens preparing for their first championship defense in program history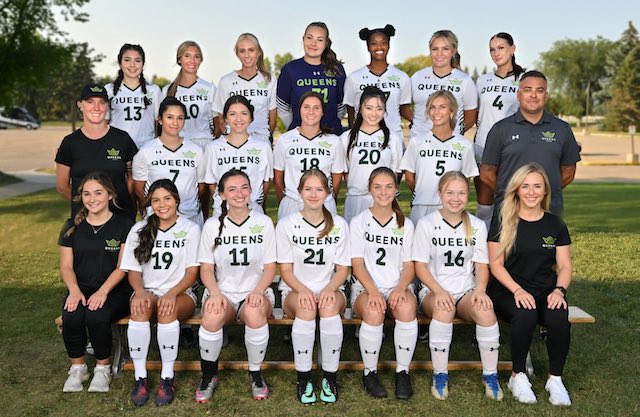 After a historic season a year ago, the Red Deer Polytechnic Queens Soccer team is ready to start their championship defense as the 2023/2024 Alberta Colleges Athletic Conference (ACAC) season kicks off this weekend.
A year ago, they started the season off with a loss against the SAIT Trojans. But they didn't know this was going to be the only loss of the ACAC season. They managed to win 11 in a row on their way to their first-ever championship banner in program history.
This incredible season also included a record-setting campaign for Sein Furuyama (Open Studies), who was last year's ACAC South Player and Rookie of the Year recipient. She broke the individual record for most goals in a season with 29 goals and helped the Queens break the record for most goals by a team in one year as well with a total of 89.
Furuyama was also named to the South Division All-Conference alongside her teammates Estel and Sofia Quinteros (Practical Nurse Diploma).
But after losing some veteran players to graduation, Head Coach Mahziar Peyrow, who was last year's ACAC South Division Coach of the Year, says the Queens will be looking a little bit different as they start their new season.
"This season is going to be tough for us as we had a lot of players graduate from the Polytechnic, so it will be a bit of a rebuilding year for us. But we will still be able to compete at the top level." They still managed to keep some players from their gold medal-winning team.
Furuyama is preparing herself for her second year in the conference as she is coming off a knee injury and wants to impress the conference yet again.
Defense Kayla Yeo (Open Studies) is coming back for her fifth and final year. Yeo alongside Sofia Quinteros will co-captain the Queens this season with last year's captain Alisha Coules graduating from the four-year Nursing program. Coules will step in as an assistant coach for the team this year.
Peyrow is very excited to have Quinteros back in the midfield as well as Yeo on the defensive line. "Sofia will remain as a key player in the defensive midfield to keep providing us with the quick transition into the attacking third. Kayla will step in the role of centre-back to strengthen our defense alongside our ever-so-powerful Kyra Remekie (Bachelor of Science in Biological Sciences)."
He added the Queens will also be returning their two strikers, Paige Kalbfleisch (Bachelor of Science in Nursing) and Grace Smith (Bachelor of Business Administration). These two student-athletes bring a high level of skill on the ball and can attack dangerously with pace.
Alongside these multiple returnees will also be a couple of key additions to the team who were recruited by last year's ACAC South Division Women's Coach of the Year this past off-season, defense Payton Erick (Business Diploma) and midfield Rilyn Clement (Pre-Health Sciences). Peyrow believes Erick will be a strong force at the back that can also get up the pitch and impact the game on the offensive side and Clement has a high soccer IQ who has great vision in the midfield.
Putting all these pieces together, the Queens head coach is quite optimistic the team can compete at the same level they did a year ago.
"Obviously, we had a great season last year and it would be amazing to reenact that this campaign. I believe the ladies have it in them to execute a great season. The energy is high as these ladies want to impress. The players all know that they need to perform well as the bar has been raised for this program."
The Queens season will start on the road this weekend as they head down to Lethbridge on Saturday to battle with the Kodiaks at 2 p.m. before traveling out to Medicine Hat to take on the Rattlers at noon on Sunday.
For more information on this historic year last year and the upcoming season visit: RDPolytechnicathletics.ca.
Cayden Nickel and Makayla Willows first ever CCRA champions from Red Deer Polytechnic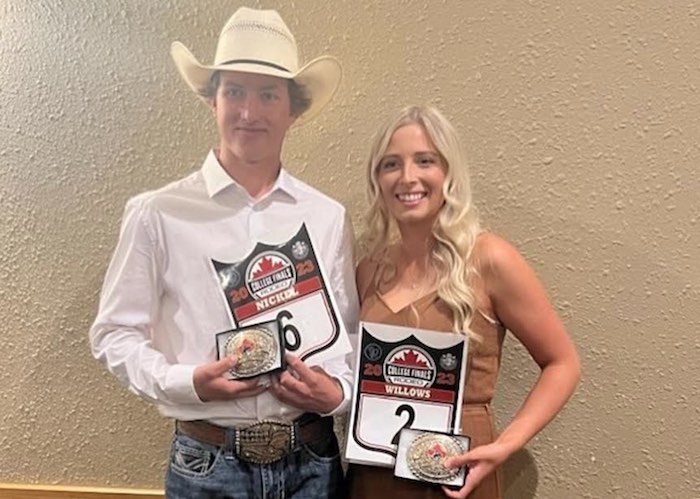 RDP Royals Rodeo team excels at Canadian Collegiate Rodeo Association finals
Makayla Willows and Cayden Nickel of the Red Deer Polytechnic (RDP) Royals Rodeo team finished as the top competitors at the Canadian Collegiate Rodeo Association (CCRA) Finals May 19-21 in Brooks.
"Makayla and Cayden had an outstanding weekend," says Trina Carroll, RDP Royals Program Lead. "They put in the work and were rewarded. I want to send a huge shoutout to all competitors and the CCRA Board of Directors, including Jamie Kuzma, who was our main contact at the CCRA."
Buck Lake's Willows earned the prestigious honour of 2023 CCRA Cowgirl of the Year by accumulating the most points among female competitors at the Silver Sage Community Corral over the weekend.
"I am thankful for the support from the RDP Royals Rodeo team, our wonderful coaches, and my family," says Willows, who is graduating with an RDP Social Work Diploma in June. "I am incredibly grateful for the opportunity to have been able to compete in the CCRA Finals. After working hard throughout the season, it was rewarding to complete my last year in College Rodeo as the Heeling Season Leader along with qualifying for the finals in Barrel Racing, Breakaway Roping and Pole Bending."
As heeler in Team Roping, Willows consistently demonstrated her expertise in roping steers by their hind feet after the header – who was Nickel – roped the front of the steer.
"For being recognized as the High Point Cowgirl of the Year alongside my Team Roping partner Cayden, we were each awarded a beautiful saddle and buckle as Cowgirl and Cowboy of the Year," adds Willows. "It is a very humbling honor and an amazing way to end my final College Rodeo experience."
Nickel, who is from Evansburg, was named the CCRA Cowboy of the Year and CCRA Tie Down Roping Champion. He just completed his first year of a Bachelor of Kinesiology and Sport Studies Degree at RDP.
"It was such an awesome experience," says Nickel about competing in the CCRA Finals. "We had a lot of fun and I can't wait for next year."
In addition to Willows and Nickel placing first overall in the CCRA, they made Red Deer Polytechnic history.
"In 10 years of competing in the CCRA Finals, this is the first time that RDP students have achieved the High Point Award in both the Cowboy and Cowgirl categories," explains Carroll. "We are so proud of Makayla and Cayden."
The next CCRA season will begin in Fall 2023.
About Red Deer Polytechnic Royals Rodeo: RDP Royals Rodeo is an elite post-secondary sports program that provides opportunities for students to compete outside of the Alberta Colleges Athletic Conference (ACAC), of which the RDP Kings and Queens are members. Since its establishment in 2013, the RDP Royals Rodeo program has grown from three student-athletes up to 40 members. The Red Deer Polytechnic Rodeo team has consistently been competitive in the CCRA, qualifying for the finals every year over the past decade. The 2022/2023 RDP Royals Rodeo team consisted of 12 dedicated student-athletes.
For more information about RDP Royals Rodeo, please visit: facebook | instagram