Provincial funds help build biofuel plant at Lethbridge reducing emissions equivalent to 41,000 homes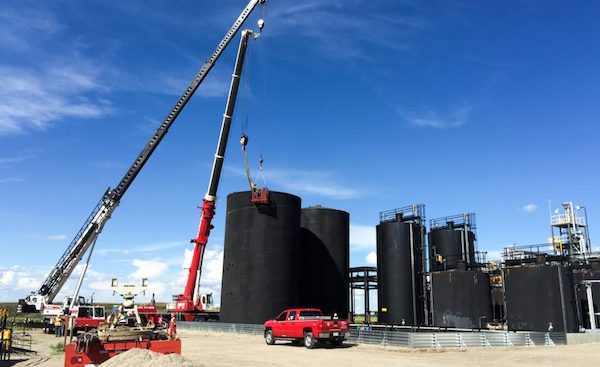 Diversifying the economy with cutting-edge tech
The Technology Innovation and Emissions Reduction (TIER) fund is supporting a new facility in southern Alberta that will create jobs and cut emissions by transforming agricultural waste.
Alberta's government is using $4.7 million from the TIER fund through Emissions Reduction Alberta to create a $28.6-million facility in Lethbridge that will produce an estimated 70 million litres of high-value renewable fuel. This facility will be the first of its kind in Canada, turning local agricultural waste, inedible animal fats and used cooking oil into biodiesel fuel and glycerin.
The facility will buy more than $375 million of local feedstock from farmers over the next five years, generating about $500 million in revenue and supporting up to 130 local jobs in fields like engineering, construction and transportation. It will also cut about 224,000 tonnes of emissions each year – the same as reducing emissions from the electricity used by 41,000 homes.
"Alberta is home to world-renowned expertise on cutting agricultural emissions, and the Canary Biofuels facility is another world-class project Alberta's government is supporting to diversify the economy and create jobs. I'm pleased to see the expansion of another groundbreaking Alberta-based technology that is cutting emissions and getting Albertans back to work."
The facility's biodiesel will have up to one-third the carbon intensity of petroleum diesel. The renewable fuel produced at the facility has also been pre-sold to a leading Canadian supplier of biodiesel whose customers include fuel retailers, wholesalers, distributors and fleet managers across Canada and the United States. This builds on Alberta's strong record of environmental, social and governance actions.
"As world leaders in agricultural emission reductions, Alberta farmers will be key beneficiaries of the renewable diesel produced at this facility. Projects like this showcase the steps Alberta is taking to diversify the economy with cutting-edge technology and to create local jobs and opportunities."
"Emissions Reduction Alberta continues to identify and invest in opportunities that accelerate the innovation required to strengthen Alberta's economy and reduce greenhouse gases. Canary's project will create new revenues for western Canadian agricultural producers and help meet the growing North American demand for biodiesel. This project is another example of what can happen when government, industry and entrepreneurs come together to deliver better economic and environmental outcomes."
This funding is part of the province's commitment of up to $750 million for emissions reduction and economic diversification programs and projects through the TIER fund and other funding that will directly support about 9,000 jobs and inject $1.9 billion into Alberta's economy.
"Canary Biofuels is Alberta's first Generation 2 biodiesel producer with its flagship facility in Lethbridge. Canary is excited to lead the path in Alberta in abating emissions through sustainable waste-based biodiesel production that supports the energy and agriculture industries in Alberta and the Prairies. Canary would like to thank all its investors and partners, including the Government of Alberta, for their tremendous support. Canary is proud to support Alberta in creating new jobs and helping Alberta industry on its journey to net zero."
"Canadian canola is used in biofuel production around the world because it's a low-carbon, sustainable and renewable resource. We are excited to see more investment in Lethbridge that will directly benefit canola farmers and Alberta's agriculture value chain."
"Canary Biofuels will provide long-term diversified business opportunity for R.K. Heggie Grain and Transmark. Local canola producers will have direct market access to the growing biofuel industry, and the livestock industry will get a much-needed supply of canola meal. Canary Biofuels is natural fit with R.K. Heggie Grain and Transmark to provide the company with feedstock for the plant and rail infrastructure to the get finished product to international markets."
TIER funding
The TIER system is funded by large industry that pay into the fund when they do not meet emissions targets. Alberta is using the TIER fund for a range of programs that are reducing emissions, boosting the economy and getting Albertans back to work.
Quick facts
The new Canary Biofuels facility is expected to be operational by fall 2021.
TIER helps industrial facilities, which account for more than 60 per cent of Alberta's total emissions, find innovative ways to reduce emissions and invest in clean technology to save money and stay competitive.
Emissions Reduction Alberta invests revenues from TIER to accelerate the development and deployment of innovative clean technology solutions.
Since 2009, Emissions Reduction Alberta has committed $649 million toward 204 projects worth $4.5 billion that are reducing emissions, creating competitive industries and leading to new business opportunities in Alberta. These projects are estimated to deliver cumulative reductions of almost 35 million tonnes of emissions by 2030.
New year, old issues: Enbridge, state of Michigan renew Line 5 hostilities in court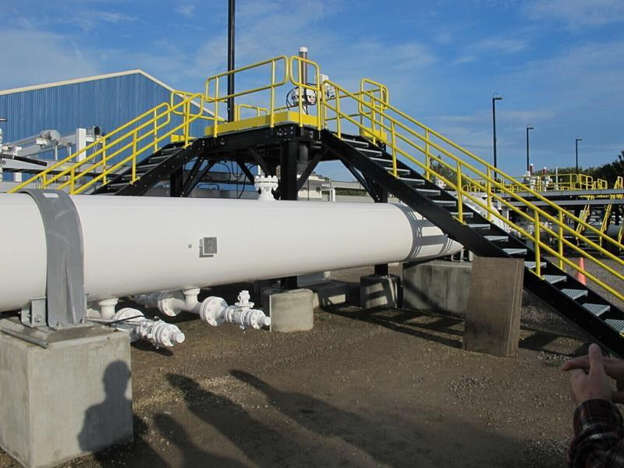 WASHINGTON — Enbridge Inc. and the state of Michigan are renewing their legal hostilities over the future of the controversial Line 5 pipeline — and their latest court battle looks an awful lot like the last one.
Attorney General Dana Nessel and Gov. Gretchen Whitmer were dealt a setback last November when District Court Judge Janet Neff granted Enbridge's request that the case be removed to federal court, a decision that prompted Michigan to abandon that particular challenge.
Instead, the state is focusing its efforts on a separate but similar circuit court action filed in 2019 that spent last year in a state of suspended animation, and which Enbridge is once again arguing should be heard by a federal judge because it comprises an important foreign policy question.
Too late, Nessel argues in her latest tract of court documents, filed Friday with the very same judge who heard the original arguments.
"The present action was pending in state court for nearly two and a half years before (Enbridge) removed it to this court," she says. Federal law makes it clear that cases can only be removed to federal jurisdiction within 30 days of a complaint being filed, the documents note.
"It is more than two years too late, and federal courts do not condone this type of gamesmanship and abuse of the removal statutes."
By Nessel's logic, Enbridge knew perfectly well it could have petitioned to have the case removed when it was originally filed but opted not to do so until now — a "remarkably dilatory" act based on an argument that "defies the facts, the law and basic common sense."
Enbridge has yet to file a response to Nessel's latest brief. However, the company has repeatedly indicated it has no plans to shut down Line 5 voluntarily and will continue to fight in court to keep it running.
The overarching question — whether a dispute over the lawful operation of an international, cross-border pipeline should be heard by a federal judge or at the state court level — is a carbon copy of the battle the two sides fought in front of Neff for the better part of last year.
The clash first erupted in November 2020, when Whitmer abruptly revoked the 68-year-old easement that had long allowed Calgary-based Enbridge to operate the line. She cited the risk of environmental catastrophe in the Straits of Mackinac, where Line 5 crosses the Great Lakes.
The pipeline ferries upwards of 540,000 barrels per day of crude oil and natural gas liquids across the Canada-U.S. border and the Great Lakes by way of a twin line that runs along the lake bed beneath the straits linking Lake Michigan and Lake Huron.
Proponents call Line 5 a vital and indispensable source of energy, especially propane, for several Midwestern states, including Michigan and Ohio. It is also a key source of feedstock for critical refineries on the northern side of the border, including those that supply jet fuel to some of Canada's busiest airports.
Enbridge and its allies, including the federal Liberal government, insist that the pipeline is too vital an energy artery to both countries for it to be suddenly shut down, and the question of its continued safe operation is one to be settled between Ottawa and the White House.
Central to that argument is a 1977 bilateral treaty that was conceived to avoid disruptions to the cross-border flow of energy, one that proved to be a key element in Enbridge's strategy to convince Neff that the controversy should be adjucated by a federal judge.
Canada said late last year that planning was "well underway" for bilateral treaty talks between Canada and the United States in the dispute over the pipeline, although the timeline for formal negotiations has never been publicly disclosed.
Last year, lawyers for the federal government also filed a statement in court expressing support for Enbridge's argument, known in legal parlance as an amicus brief. It was not immediately clear Tuesday whether Ottawa expects to do so again.
The White House has acknowledged that the U.S. Army Corps of Engineers is conducting an environmental assessment on Enbridge's plans to encase the underwater portion of the twin pipeline in a deep, fortified underground tunnel. But they have so far resisted pressure to get involved in the dispute itself.
Critics want the line shut down, arguing it's only a matter of time before an anchor strike or technical failure triggers a catastrophic environmental disaster in one of the area's most important watersheds. Michigan has every right to take whatever steps are necessary to protect it, the National Wildlife Federation said in a statement.
"This motion is critical because if successful, it will allow the state courts to consider for the first time whether the risks of a rupture of Line 5 in the Great Lakes justify the continued operation of the pipeline," said federation attorney Andy Buchsbaum.
"If Enbridge's gamesmanship is successful, it would allow Enbridge to circumvent Michigan's ability to protect the Great Lakes and to tie the case up in federal court by months, if not years, leaving the Great Lakes in great danger."
This report by The Canadian Press was first published Jan. 18,2022.
James McCarten, The Canadian Press
Monahan's two-goal performance powers Calgary Flames past Florida Panthers 5-1
CALGARY — Sean Monahan's first two-goal game of the season helped the slumping Calgary Flames to a surprise 5-1 victory over the NHL-leading Florida Panthers on Tuesday.
After scoring a power-play goal on a deflection at 16:03 of the second period to make it 3-1, Monahan put the game away in the third, making it 5-1 at 6:43, taking a drop pass from Johnny Gaudreau and neatly beating goaltender Spencer Knight on a move from in-close.
Rasmus Andersson, with his first of the season, Matthew Tkachuk and Blake Coleman also scored for Calgary (18-11-6), which snapped a four-game losing streak and won on home ice for the first time since Nov. 29.
The Flames entered the night 2-7-1 in their previous 10 games.
Sam Bennett scored the lone goal for Florida (26-8-5), which had its four-game winning streak and nine-game points-streak (8-0-1) snapped.
The next outing for both teams will be in Edmonton with the Panthers' second stop on a five-game road trip taking place on Thursday. Calgary isn't back in action until Saturday when the Flames play the Oilers at Rogers Place.
Markstrom, who has given up four or more goals in four of his previous five starts, made 28 stops to improve to 13-8-5.
After starting the last seven games, Sergei Bobrovsky got the night off with Knight getting his first start since Dec. 30. Knight made 26 saves. His record falls to 7-5-2.
Calgary got off to a fast start, getting a power play four minutes into the game and taking just 23 seconds to take advantage with Andersson knocking in his own rebound from the slot.
The Flames extended their lead to 2-0 at 11:36 of the first. A stretch of prolonged pressure by Calgary's newly formed second line culminated in Coleman's seventh goal, the assists going to his linemates Andrew Mangiapane and Mikael Backlund.
But Bennett, in his first game back in Calgary scored 12:36 into the second to cut Florida's deficit in half. Bennett was traded to Florida ahead of the trade deadline last season after logging 402 games with Calgary over six seasons. He's been a revelation since joining the Panthers scoring 22 goals in 40 games.
The power play was key for the Flames striking twice on three opportunities after entering the game 0-for-10 during the losing streak.
Gaudreau had his first four-assist game ever on home ice and just the second of his career. Tkachuk also kept his offensive hot streak going with three points. He has 13 points (six goals, seven assists) over his last eight games.
Although the Panthers own the league's best home record at 21-3-0, they haven't enjoyed the same success away from FLA Live Arena, now 5-5-5.
For the Flames, they have struggled similarly at the Saddledome, picking up their first win since Nov. 29. They're 5-4-4 on the year.
Notes: Gaudreau's only other four-assist game was in Nashville on Feb. 21, 2017… It was the first time this season Florida did not get a point from a defenceman… Mason Marchment returned to the Panthers lineup for the first time since Jan. 1. An assist gives him a five-game point streak.
This report by The Canadian Press was first published Jan. 18, 2022.
Darren Haynes, The Canadian Press