Province investing to meet labour market demands by increasing access to "trades" education
From Government of AB
The province is providing more funding for scholarship programs for apprentices to meet labour market demands and increase access to trades education.
Alberta is supporting high school students pursuing trades education by improving and increasing the scholarship program. The $1.5-million High School Apprenticeship Scholarship, which consolidates previous programs, will help more high school students access the education and training needed to get jobs in the trades.
"This investment will allow more young Albertans to access post-secondary education, through apprenticeship learning. We believe that a trades certificate has as much value, merit and worth as a university degree. When looking at post-secondary educational opportunities, I encourage young Albertans to give due consideration to the skilled trades. The trades provide a strong pathway to employment and to high-paying careers."
"Our government has been working hard to strengthen the education system and support academic excellence and choice for our students as they prepare for their futures. These expanded scholarships will provide additional opportunities for Alberta high school students to pursue a career in the trades."
"The High School Apprenticeship Scholarship will go a long way to recognize excellence and encourage our finest asset, Alberta's youth, to continue their apprenticeship education and support them in their journey to reach their full potential as the future industry leaders on the world stage."
"We are confident that the High School Apprenticeship Scholarship will be a valuable investment in the future of young Albertans, and ensure that they are able to pursue rewarding careers in the trades."
"The High School Apprenticeship Scholarship is an important tool that recognizes that an apprenticeship is a valuable post-secondary education option and a career pathway that allows our young Albertans to achieve their own future career success as well as to become contributors to Alberta's long-term economic prosperity."
The province has injected an additional $1 million into the expanded program that recognizes the achievements of high school graduates who have chosen an apprenticeship pathway.
Qualified high school graduates in either the Registered Apprenticeship Program (RAP) or Career and Technology Studies (CTS) apprenticeship programs will receive a $1,000 scholarship. In addition, qualified graduates who have completed both a RAP and a CTS programs will receive a $2,000 Bright Future, High School Apprenticeship Scholarship.
Quick facts
Over the past four years, an annual average of about 10,000 Alberta high school students in approximately 300 schools across the province participated in RAP and CTS classes.
Over the last five years, an average of 344 recipients per year received the RAP/CTS Scholarship.
More than 1,400 scholarships worth a total of nearly $1.5 million are being awarded for the 2019-20 school year:

1,387 High School Apprenticeship Scholarship awards valued at $1,000 each
35 High School Apprenticeship Scholarship – Bright Future awards valued at $2,000

Over the next five years, nearly 20,000 skilled trades workers are expected to retire, with that number hitting more than 45,000 in 10 years. That's equivalent to half the population of the City of Lethbridge leaving town.
Encouraging news: Update on E. coli outbreak in Calgary
The Emergency Department at Calgary's Peter Lougheed Hospital at the height of the E. coli outbreak, Sept 7, 2023
As hospital admissions and daily numbers of new E. coli cases continue to decline, health officials are seeing signs that the initial outbreak that affected several Calgary daycares has peaked.
The number of secondary transmissions connected to this outbreak remains low, indicating there is limited transmission of the E. coli bacteria beyond the initial outbreak.
The kitchen connected with the original outbreak remains closed indefinitely. In addition, precautionary measures at specific daycare facilities remain in place. Parents and operators have been made aware of these measures directly and through communication with Alberta Health Services.
"I am relieved every time I hear of a child who is well enough to leave hospital. My heart goes out to each family member who has been impacted, and I want them to know that we will get to the bottom of this. Thank you as well to our front-line staff for supporting these children and their families on the road to recovery."
"Families have had their lives turned upside down by this outbreak. I'm relieved many of them are seeing their children recover and start to get back to their normal routines. I want to reassure parents they can place their trust in our high-quality child-care system and that they are not alone. We are here to support them in any way we can."
"We are cautiously optimistic that the outbreak has peaked and that we will continue to see case numbers drop. That said, this does not diminish the fact that we still have some children who remain very ill, and my heart goes out to them, their parents and their loved ones."
Hospitalizations and cases
As of Sept.19, there were a total of 348 lab-confirmed cases connected to this outbreak, no increase from Sept. 18. Between Sept. 9 and Sept. 14, there was an average increase of 33 new cases a day. Since then, the average case numbers decreased to fewer than four a day to no increase on Sept. 19.
There have been a total of 27 lab-confirmed secondary cases, with no additional secondary cases confirmed, since Sept. 16. Some cases of secondary transmission are common and expected in significant outbreaks such as this.
Currently eight patients are receiving care in hospital, down one from Sept. 18. All these patients have been confirmed as having hemolytic uremic syndrome (HUS), including two on dialysis (a decrease of one since Sept. 18). All patients are in stable condition and responding to treatment. Front-line health care teams continue to provide the best care and support possible.
A total of 707 children connected to the outbreak have been cleared to return to a daycare facility.
Daycares
As of Sept. 19, six daycare facilities are under closure or partial closure orders:
Active Start Country Hills – Dolphin and Starfish preschool classes
CanCare Childcare – Scenic Acres location­ – Busy Bees, Bumble Bees and Butterflies classrooms
CEFA Early Learning Calgary South ­– JK 3-1 classroom
Renert Junior Kindergarten – all four Junior K classrooms
1st Class Childcare Shawnessy ­– "Main daycare" area is being closed
Calgary JCC Child Care ­– a closure order was issued for infant and toddler rooms on Sept. 15
Closure orders were rescinded for Classrooms 3 and 4 at Vik Academy on the afternoon of Sept. 18 following negative test results for E. coli.
Additionally, while MTC Daycare site is not being closed, affected children and staff in Prominade and McKenzie classrooms are being notified that they are excluded from attending all child-care facilities until they test negative for E. coli and remain symptom-free.
All closure orders are posted on the Calgary Zone Alberta Health Services website.
Initial results suggest these cases affecting additional daycare facilities are predominantly cases of secondary transmission. Either these new cases were in contact with children from the original daycare or children from the original daycares were in contact with the facility.
Parents and staff from all the daycare facilities involved are being provided with information about what to do if they experience symptoms, test positive or have concerns about the health and safety of their child.
Investigations
The public health investigation into this outbreak continues, and work continues to identify the source of the outbreak. Additionally, the ministries of Health and Children and Family Services are conducting a review of all shared kitchens serving child-care facilities across Alberta.
The food histories of more than 1,150 children and 250 daycare staff are being reviewed by public health officials. This includes those who became ill and those who did not, all of whom were at the 11 affected daycares between Aug. 15 and Aug. 31.
Guidance to parents
If children develop symptoms, including bloody diarrhea, families are encouraged to visit an emergency department. If a child is not symptomatic, do not take them to hospital. Families with concerns or questions can call Health Link at 8-1-1 or contact their family physician for advice and support.
In addition, Alberta's government is providing families with a one-time payment of $2,000 per child enrolled in the original facilities that were closed due to the outbreak.
Alberta's government is committed to working with parents and operators through this challenging time and encourage them to reach out to Child Care Connect at 1-844-644-5165 with questions or concerns.
Related links
Update on E. coli outbreak in Calgary (Sept. 12, 2023)
Alberta is getting serious about nuclear power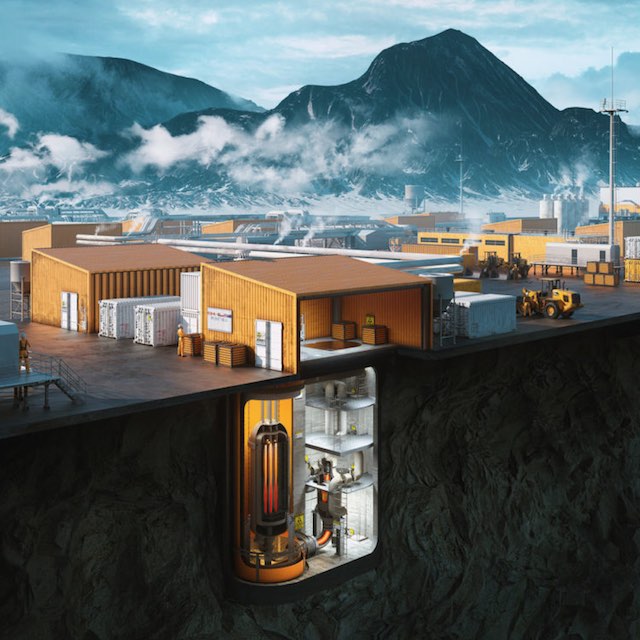 Image from CanadianMiningJournal.com
New funding to study small modular reactors
Alberta has approved funding for a multi-year study that will explore how small modular nuclear reactors could be safely, technically and economically deployed for oil sands operations.
Alberta is investing $7 million from the Technology Innovation and Emissions Reduction Fund to help Cenovus Energy study how small modular reactors could be used in northern Alberta, and what additional information might be needed to pursue regulatory approval in the future.
As outlined in the province's Emissions Reduction and Energy Development Plan and A Strategic Plan for the Deployment of Small Modular Reactors, Alberta is committed to responsible and innovative energy development, and small modular reactors have the potential to provide zero-emissions energy and further reduce emissions from Alberta's oil sands in the years to come.
"A few years ago, the idea of expanding nuclear energy use was on the back burner – that is no longer the case. In Alberta, small modular nuclear reactors have the potential to supply heat and power to the oil sands, simultaneously reducing emissions and supporting Alberta's energy future. This funding is the foundation for that promising future. I want to thank Cenovus Energy and Emissions Reduction Alberta for their leadership in this work."
Small modular reactor technology involves scalable and versatile nuclear reactors that could potentially supply non-emitting heat and power to the province's oil sands. Provincial funding delivered through Emissions Reduction Alberta is supporting the work needed to determine how this technology could be effectively used in Alberta.
"Small modular reactors have great potential to supply non-emitting energy in many different applications, including the oil sands. Further studies like this are needed to see if the technology is suitable for those industrial applications. If so, it could be transformational for the in-situ oil sands sector and other sectors in Alberta."
"This enabling study is a great example of the collaborative approach we'll need to help us reach our ambition of net-zero emissions from our operations by 2050. We're exploring multiple technologies that would help significantly reduce our emissions, and small modular reactors show potential. This study will help us understand if this possible solution is economical and technically viable."
Cenovus Energy's $26.7-million enabling study will look at whether small modular reactor technology could be applied to steam-assisted gravity drainage projects in the oil sands, which drill into the reservoir and inject steam to soften the oil. Alberta Innovates recently released a study on the feasibility of using small modular nuclear reactors in steam-assisted gravity drainage operations, which is an early step to see if this technology could be part of Alberta's long-term solutions to reducing emissions from industry operations. While there is currently no project being planned, this study frames the discussion around what is possible in the years ahead.
"Building off the work previously supported by Alberta Innovates, the success of Cenovus's small modular reactor ERA-funded enabling study could provide substantial economic and environmental advantages throughout Alberta's industrial sector, helping to advance a clean energy future for Canada."
Quick facts
Funding for this project comes from Emissions Reduction Alberta's Industrial Transformation Challenge.
Any future adoption of small modular reactor technology in Alberta would require an extensive regulatory and engagement process. The province is currently working to ensure the regulatory framework is in place and ready should private industry pursue this technology.
On Sept. 12, an Alberta-Ottawa working group on emissions reduction and energy development met for the first time. The working group agreed to commence the development of a regulatory framework for small modular reactor technology and continue work on federal and provincial incentives for CCUS, hydrogen and other emissions-reducing technologies.
Alberta, Saskatchewan, Ontario and New Brunswick released A Strategic Plan for the Development of Small Modular Reactors in 2022. The plan commits the Alberta Utilities Commission and Alberta Energy Regulator to deliver findings on areas of overlap, uncertainty and duplication between the federal and provincial regulatory systems to Alberta's government in 2023.
The Canadian Nuclear Safety Commission regulates all stages of life of nuclear power plants in Canada, starting from the initial environmental assessment to decommissioning. The approval process takes several years and offers opportunities for public participation.