Province delays almost all Step 2 cautionary measures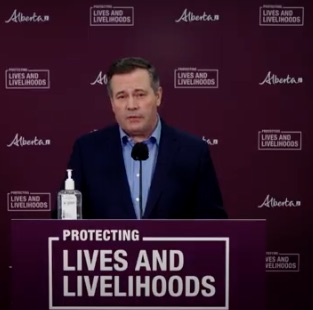 From the Province of Alberta
As a cautionary measure, changes to current restrictions for retail, children's sports, and hotels, banquets, community halls and conference centres have been delayed until Step 3.
Step 2: Hospitalization benchmark – 450 and declining
Libraries
These facilities can now open but must limit capacity to 15 per cent of fire code occupancy, not including staff.
Indoor fitness (no change to outdoor fitness):
Unsupervised low intensity individual and group exercises are now allowed by appointment only.
Mandatory physical distance of three metres is required between participants, including coaches and trainers, at all times, and masks must be worn at all times by trainers and those participating in low-intensity activities.
All indoor fitness must be pre-registered – no drop-ins allowed.
Low-intensity exercises include weightlifting, low-intensity dance classes, yoga, barre and indoor climbing, as well as the low-intensity use of treadmills, ellipticals and related equipment.
High-intensity activities, including running, spin and high-intensity interval training, continue to be allowed only on a one-on-one with a trainer basis, or training with a household and one trainer.
Additional details on the current restrictions is outlined on alberta.ca.
A decision on Step 3 will be made after at least three weeks of evaluation to assess the spread of COVID-19. Metrics based on cases and growth, including variant cases, are being monitored and will also be used to guide any decisions around the need to pause further steps or potentially increase restrictions.
Alberta's government is responding to the COVID-19 pandemic by protecting lives and livelihoods with precise measures to bend the curve, sustain small businesses and protect Alberta's health-care system.
Gustavsson leads AHL Senators in 4-2 win over Heat
CALGARY — Filip Gustavsson stopped 30 shots as the Belleville Senators doubled up the Stockton Heat 4-2 on Wednesday in American Hockey League play.
Lassi Thomson, Egor Sokolov, Mark Kastelic and Parker Kelly scored to help the Senators (8-12-1) halt a three-game slide.
Matthew Phillips and Zac Leslie replied for the Heat (10-12-1).
Garret Sparks stopped 28-of-31 shots for Stockton.
—
This report by The Canadian Press was first published April 14, 2021.
The Canadian Press
Calgary schools to shift to at-home learning for grades 7 to 12 due to COVID-19
CALGARY — The Alberta government says schools in Calgary will move to at-home learning starting Monday for students in grades 7 to 12.
The change, due to COVID-19, is to last for two weeks.
Alberta Education said Wednesday that it approved requests from public and Catholic schools in the city to make the move to online learning.
Education Minister Adriana LaGrange said in a release that some school boards are dealing with operational pressures due to rising COVID-19 cases.
"The safety of students and staff is my top priority, which is why I am responding to the boards' requests and respecting their autonomy," she said.
"By having a clear process in place, we are giving them flexibility to move to at-home learning when necessary."
The province said it has not closed any schools for health reasons, and any decision to move a portion of a school to at-home learning is at the discretion of each school board.
About 19 per cent of schools have COVID-19 alerts or outbreaks. Nine schools are currently doing online learning.
Marilyn Dennis, board chair with the Calgary Board of Education, said in the release that the greatest impacts of COVID-19 have been in schools with higher grades.
Alberta's chief medical health officer, Dr. Deena Hinshaw, also said there has been a sharp rise in cases among school-aged Albertans.
The province, with 15,569 active infections, currently has the highest rate of active cases in Canada.
On Wednesday, the province reported 1,412 new cases of COVID-19 and eight additional deaths due to the virus. There were 420 people in hospital due to COVID-19, with 92 in intensive care.
This report by The Canadian Press was first published April 14, 2021.
The Canadian Press