Province delays almost all Step 2 cautionary measures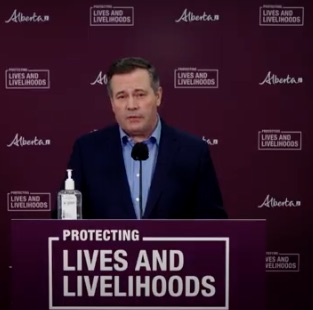 From the Province of Alberta
As a cautionary measure, changes to current restrictions for retail, children's sports, and hotels, banquets, community halls and conference centres have been delayed until Step 3.
Step 2: Hospitalization benchmark – 450 and declining
Libraries
These facilities can now open but must limit capacity to 15 per cent of fire code occupancy, not including staff.
Indoor fitness (no change to outdoor fitness):
Unsupervised low intensity individual and group exercises are now allowed by appointment only.
Mandatory physical distance of three metres is required between participants, including coaches and trainers, at all times, and masks must be worn at all times by trainers and those participating in low-intensity activities.
All indoor fitness must be pre-registered – no drop-ins allowed.
Low-intensity exercises include weightlifting, low-intensity dance classes, yoga, barre and indoor climbing, as well as the low-intensity use of treadmills, ellipticals and related equipment.
High-intensity activities, including running, spin and high-intensity interval training, continue to be allowed only on a one-on-one with a trainer basis, or training with a household and one trainer.
Additional details on the current restrictions is outlined on alberta.ca.
A decision on Step 3 will be made after at least three weeks of evaluation to assess the spread of COVID-19. Metrics based on cases and growth, including variant cases, are being monitored and will also be used to guide any decisions around the need to pause further steps or potentially increase restrictions.
Alberta's government is responding to the COVID-19 pandemic by protecting lives and livelihoods with precise measures to bend the curve, sustain small businesses and protect Alberta's health-care system.
Goalie Mike Smith signs two-year, US$4.4-million extension with Edmonton Oilers
EDMONTON — Goalie Mike Smith is staying in Edmonton after signing a two-year extension with the Oilers. 
The team officially announced the deal Saturday, saying in a statement that Smith's contract has an annual average value of US$2.2 million. 
Smith, 39, was crucial to the Oilers success last season, posting a 21-6-2 regular-season record with a .923 save percentage and a 2.31 goals-against average. 
He joined Edmonton as a free agent in July 2019 and signed a single-season, US$2 million contract with the club in October. 
Smith has played 642 regular-season NHL games for the Stars, Lightning, Coyotes, Flames and Oilers, and boasts a 283-254-76 career record.
The native of Kingston, Ont., was originally picked by Dallas in the fifth round (161st overall) of the 2001 NHL entry draft.
 
This report by The Canadian Press was first published July 24, 2021. 
The Canadian Press
RCMP investigating suspicious death of Fort MacLeod man
CROWSNEST PASS, Alta. — RCMP they are investigating the suspicious death of a man from Fort MacLeod, Alta.
Mounties from the Crowsnest Pass, Alta., detachment say they received a report on July 20 about possible human remains that were found in a rural area.
The remains were later identified as those of 35-year-old Lane Tail Feathers who had been reported missing on June 20.
Alberta RCMP Major Crimes have taken over the case.
No cause of death has yet been determined.
Police say they will release more information as it becomes available.
This report by The Canadian Press was first published July 24, 2021.
The Canadian Press