Why some Infectious Disease experts say COVID-19 will soon be behind us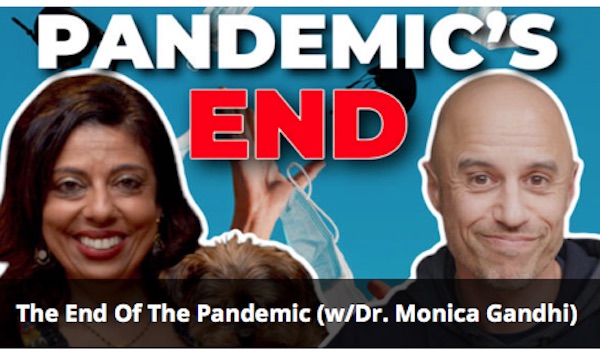 The common belief seems to be the COVID19 pandemic is going to be with us at least until the end of this year and possibly well into 2022. But some infectious disease experts are making much more aggressive predictions. In fact Dr. Monica Gandhi (bio below) is already beaming with joy over the data pouring in showing the vaccines spreading throughout the world are working incredibly well. Enjoy this interview. It will absolutely help you feel better about the state of our battle against COVID-19.
A UCSF (University of California, San Francisco) infectious disease doctor is convinced this pandemic is ending, and sooner than you think…here's why.
Dr. Monica Gandhi is a professor of medicine at UCSF and here are our other episodes together.
And here's her latest study in the Lancet.
An excerpt from the following video: "So we have tons of PhD epidemiologists who are painting gloom and doom pictures everywhere. Well, you know, first it was this. And then, you know, okay, now we have a vaccine but you know what, the variants are coming. So we're probably gonna have to wear seven masks and stay shut down. And by the way, don't even think about opening schools. Why are you thinking about opening schools? Oh, by the way it's your bad behavior that caused all this death, and so we're gonna shame you. And on top of that, it's never gonna get better. So expect 2023, before we get back to a semblance of what will be a new normal, which will be we'll all be in bubbles. So get those guys out of the picture and go with actual physicians who touch patients. What's your thinking right now? Where are we in this mess?
Dr. Gandhi: We are just facing like complete dawn of hope and light and love. Like it's gonna be so great. It is getting so great. So what happened, right? Like March 11th was the day that the WHO declared this a worldwide pandemic. November 9th, we got the first press release from the first vaccine. Phase three clinical trial, that fast. And then we've had seven phase three clinical trials. So we have seven vaccines in circulation around the globe that work. And they work exactly using the same protein in different ways using that protein, and they work beautifully, and they all work beautifully against preventing what even made us notice on January 31st, 2019 or December 31st, 2019 that something terrible was happening, which is severe disease. They all work almost 100% to prevent… 100% for hospitalizations. And then like in the 90s to prevent you not even feeling well at home. So they're amazing."
The interviewer is Dr. Zubin Damania. Trained at Stanford and the University of California, San Francisco, Dr. Damania is the founder of Turntable Health, an innovative primary care clinic and model for Health 3.0. He produces videos and live shows under the pseudonym "ZDoggMD" which have collected nearly a billion views.
Click play to watch.
Health Canada approves Pfizer antiviral but supply issues expected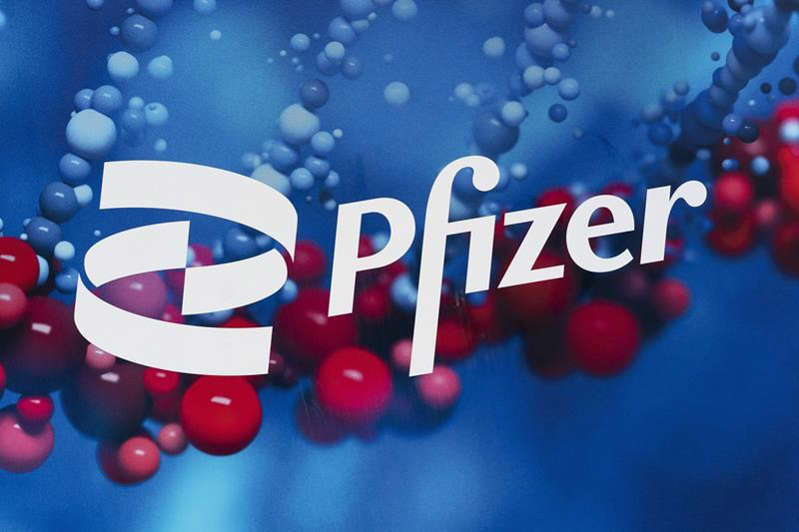 OTTAWA — Health Canada approved Pfizer's antiviral treatment for COVID-19 Monday which could help cut pressure on the health-care system by preventing high-risk patients from ending up in the hospital.
But limited supplies of Paxlovid mean the Public Health Agency of Canada is asking provinces and territories to prioritize the treatment for people most at risk of serious illness, including severely immune-compromised patients and some unvaccinated people over the age of 60.
"Canadians should be very happy today to hear that the oral antivirals are beginning to become available in Canada," chief public health officer Dr. Theresa Tam said at a virtual briefing Monday.
Health Canada's authorization means Paxlovid can be prescribed for adults who test positive for COVID-19 on a molecular or a rapid test, who have mild or moderate symptoms and are at high risk of becoming severely ill.
Clinical trials showed the treatment, which helps prevent the SARS-CoV-2 virus from reproducing in an infected patient, was almost 90 per cent effective at reducing hospitalization and death in high-risk patients if given within three days of infection, and 85 per cent if given within five days.
The medication requires three pills at a time, twice a day, for five days. It is the first oral COVID-19 treatment that can be taken at home to be approved in Canada but Tam admitted there may be some logistical challenges getting the drug to the right people quickly enough.
"It is challenging, there is no doubt it," Tam said. "First of all, spotting that you may have symptoms and then getting medical attention quickly."
McMaster University infectious disease specialist Dr. Zain Chagla said supply constraints mean the impact of Paxlovid may be slow, but overall, it should start to help reduce the number of people who are becoming severely ill.
"There is certainly a lot of hope here," he said.
Canada has a contract to get one million courses of the treatment this year but supply issues are limiting use everywhere it has been approved so far.
Procurement Minister Filomena Tassi said more than 30,000 courses of the treatment are already in Canada and will be distributed to provinces on a per-capita basis this week.
She said another 120,000 courses of the treatment will be shipped before the end of March. She did not say when the remainder of the one million doses Canada bought will come, nor would she disclose the cost, citing contract confidentiality.
Neither would Pfizer Canada, though Pfizer said in the fall the United States is paying about US$530 per treatment course.
Chagla said it's difficult to know how many courses would be enough, but he said every one helps, particularly if there are enough available for immune-compromised people for whom vaccines don't work very well.
Tam said because of supply constraints the Public Health Agency of Canada is asking provincial and territorial governments to prioritize the highest-risk patients for the medications.
Severely immune-compromised patients, such as transplant recipients, top the priority list. They are followed by unvaccinated people over the age of 80, and then unvaccinated people over 60 who live in long-term care, remote or rural locations or First Nations.
Tam said prioritizing unvaccinated people is scientific and rational because they are at higher risk of severe outcomes.
"I think that as health-care providers, you don't pick and choose which patients you have coming into the hospital getting treated," she said.
Chagla said keeping unvaccinated patients out of hospital is a big help to everyone from a health-care resources perspective, and noted for most patients, being vaccinated means they aren't at high risk for serious illness.
"Getting two or three doses of vaccine probably are like having Paxlovid in your system all the time (in terms of) preventing people from getting seriously ill," he said.
The United States Food and Drug Administration authorized Paxlovid for patients as young as 12 years old but Health Canada said the company did not submit any safety or efficacy data for that age group so it can't be authorized for people younger than 18 at this time.
Health Canada also says the treatment isn't to be used on patients already in hospital with severe or critical COVID-19 or as a prevention treatment before or after someone is exposed to the virus. It is also not to be given to a patient for more than five days.
It warns there are some potentially severe drug interactions between Paxlovid and other medications prescribed for ailments including prostate cancer and heart problems and narcotics including fentanyl.
This report by The Canadian Press was first published Jan. 17, 2022.
Mia Rabson, The Canadian Press
Note to readers: This is a corrected story. A previous version said two tablets were taken twice a day for five days.
As data pours in from around the word, it's clear Omicron is ending the pandemic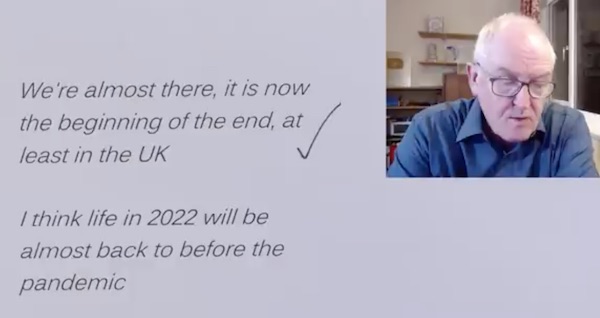 That light at the end of the tunnel is getting brighter and brighter.
In the United Kingdom where the Omicron wave is about 2 to 3 weeks ahead of North America, the Chair in Infection and Global Health at the University of Liverpool says the UK is entering "a new Covid-era", which he says is "the beginning of the end". The Chair in Infection and Global Health goes on to say "life in 2022 will be almost back to before the pandemic".
This informative graph which he explains in depth in the video, John Campbell shows how as the cases of Omicron are at least 300% higher than at the peak of the pandemic, other metrics including hospitalizations, deaths, and patients ventilated are FAR lower than the peak.
As John Campbell shows us in this video presentation, there is a lot of reason to be optimistic about the very near future! As always Campbell includes links to the sources of his data as well as the names and positions of those he is quoting. This is included below the video.
https://ourworldindata.org/covid-metr…
Marco Cavaleri, EMA head of biological health threats and vaccines strategy https://www.ema.europa.eu/en/events/e… https://www.ema.europa.eu/en/events/e…
Boosters, can be done once, or maybe twice, but it's not something that we can think should be repeated constantly. We need to think about how we can transition from the current pandemic setting to a more endemic setting. With omicron there will be a lot of natural immunity taking place on top of vaccination, We will be fastly moving to a scenario which is close to endemicity
Fourth dose for all Data has not yet been generated to support this approach. Repeated vaccinations in a short time frame will not represent a sustainable long term strategy
Endemic Covid, very soon https://www.bbc.co.uk/news/health-599… Omicron, endemic Consistent and predictable, not boom and bust Common colds, influenza, HIV, measles, malaria, tuberculosis
A new Covid-era Prof Julian Hiscox, Chair in Infection and Global Health, University of Liverpool UK, New and Emerging Respiratory Virus Threats Advisory Group
We're almost there, it is now the beginning of the end, at least in the UK. I think life in 2022 will be almost back to before the pandemic. Should a new variant or old variant come along, for most of us, like any other common cold coronavirus, we'll get the sniffles and a bit of a headache and then we're OK
If you're willing to tolerate zero deaths from Covid, then we're facing a whole raft of restrictions and it's not game over in a bad flu season, 200-300 die a day over winter and nobody wears a mask or socially distances, that's perhaps a right line to draw in the sand
Dr Elisabetta Groppelli, virologist, St George's, University of London
I am very optimistic We'll soon be in a situation where the virus is circulating, we will take care of people at risk, but for anybody else we accept they will catch it – and your average person will be fine We need to accept the fact that our flu season is also going to be a coronavirus season, and that is going to be a challenge for us However, it is still uncertain how bad winters will be as the people who die from flu and Covid tend to be the same (You can't die twice)
Prof Azra Ghani, epidemiologist, Imperial College London
Covid will still be around, but that we no longer need to restrict our lives. It seems like it's taken a long time, but only a year ago we started vaccinating and we're already an awful lot freer because of that. A new variant that can outcompete Omicron and be more pathogenic.
Prof Eleanor Riley, immunologist, University of Edinburgh
When Omicron has finished and moved through, immunity in the UK will be high, at least for a while.