Why some Infectious Disease experts say COVID-19 will soon be behind us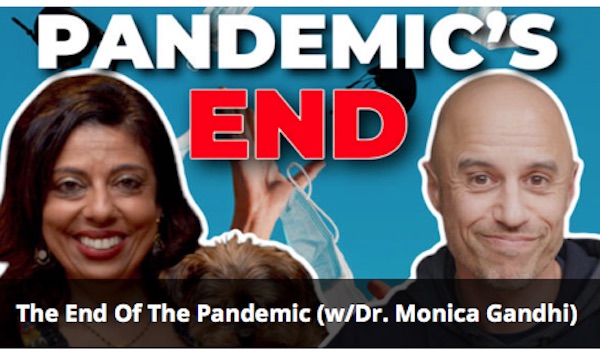 The common belief seems to be the COVID19 pandemic is going to be with us at least until the end of this year and possibly well into 2022. But some infectious disease experts are making much more aggressive predictions. In fact Dr. Monica Gandhi (bio below) is already beaming with joy over the data pouring in showing the vaccines spreading throughout the world are working incredibly well. Enjoy this interview. It will absolutely help you feel better about the state of our battle against COVID-19.
A UCSF (University of California, San Francisco) infectious disease doctor is convinced this pandemic is ending, and sooner than you think…here's why.
Dr. Monica Gandhi is a professor of medicine at UCSF and here are our other episodes together.
And here's her latest study in the Lancet.
An excerpt from the following video: "So we have tons of PhD epidemiologists who are painting gloom and doom pictures everywhere. Well, you know, first it was this. And then, you know, okay, now we have a vaccine but you know what, the variants are coming. So we're probably gonna have to wear seven masks and stay shut down. And by the way, don't even think about opening schools. Why are you thinking about opening schools? Oh, by the way it's your bad behavior that caused all this death, and so we're gonna shame you. And on top of that, it's never gonna get better. So expect 2023, before we get back to a semblance of what will be a new normal, which will be we'll all be in bubbles. So get those guys out of the picture and go with actual physicians who touch patients. What's your thinking right now? Where are we in this mess?
Dr. Gandhi: We are just facing like complete dawn of hope and light and love. Like it's gonna be so great. It is getting so great. So what happened, right? Like March 11th was the day that the WHO declared this a worldwide pandemic. November 9th, we got the first press release from the first vaccine. Phase three clinical trial, that fast. And then we've had seven phase three clinical trials. So we have seven vaccines in circulation around the globe that work. And they work exactly using the same protein in different ways using that protein, and they work beautifully, and they all work beautifully against preventing what even made us notice on January 31st, 2019 or December 31st, 2019 that something terrible was happening, which is severe disease. They all work almost 100% to prevent… 100% for hospitalizations. And then like in the 90s to prevent you not even feeling well at home. So they're amazing."
The interviewer is Dr. Zubin Damania. Trained at Stanford and the University of California, San Francisco, Dr. Damania is the founder of Turntable Health, an innovative primary care clinic and model for Health 3.0. He produces videos and live shows under the pseudonym "ZDoggMD" which have collected nearly a billion views.
Click play to watch.
A Pandemic of Lockdown Denialism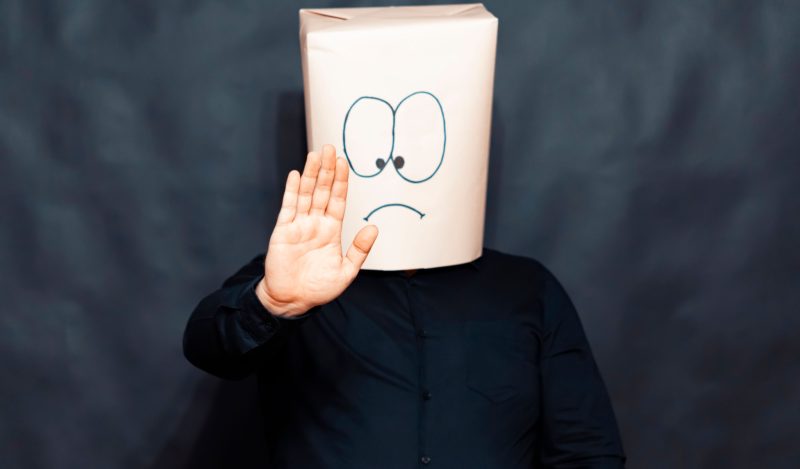 From the Brownstone Institute
There is an old expression: "Success has a thousand fathers but failure is always an orphan."
It's a spin on Tacitus: "This is an unfair thing about war: victory is claimed by all, failure to one alone."
We can judge the results of the pandemic response, then, by the number of people who claim it as their own. So far the answer seems to be: none.
These days, if you listen to the rhetoric, you would think that absolutely no one forced anyone to do anything, not even take the jab. There were no mask mandates. No one was ever locked down. There were some mistakes, sure, but those came only from doing the best we could with the knowledge we had.
Other than make well-considered recommendations, they didn't force anyone to do anything.
Even from 2021, the media routinely referred to the "pandemic" and not the pandemic policies as responsible for learning losses, depression, business failures, and poor economic conditions. This has been deliberate. It's designed to normalize lockdowns as if they are just something one does to deal with infectious disease, even though lockdowns have no precedent on that scale in the West.
More recently, this denialism has taken a strange turn. Now the people who actually did pull the trigger on the loss of liberty are routinely refusing to admit that they forced anything.
We've heard Donald Trump make this claim for a good part of this year. Mr. "I left it to the states" has yet to be publicly confronted with his decisions from March 10, 2020 and throughout the rest of his presidency. Interviewers don't press him on the subject for fear of having access cut off later. And yet the record is very clear.
Then Anthony Fauci joined in, claiming that he never recommended the lockdowns at all.
But the pandemic of lockdown dentialism has gotten worse, to the point that the head of Health and Human Services plus the head of Occupational Safety and Health Commision are doing the same, even though the Supreme Court actually ruled against their edicts.
Ah, what a difference time and events make.
It gets worse. One of the most imperial and invasive of the governors was Andrew Cuomo of New York. He issued a massive number of edicts that he enforced with police power, including even dictating that bars couldn't sell drinks alone but also mandating the selling of food, even to the point of spelling out the quantity of food. This resulted in the infamous Cuomo Fries served around the state.
Why the Secrecy Over Vaccine Contracts?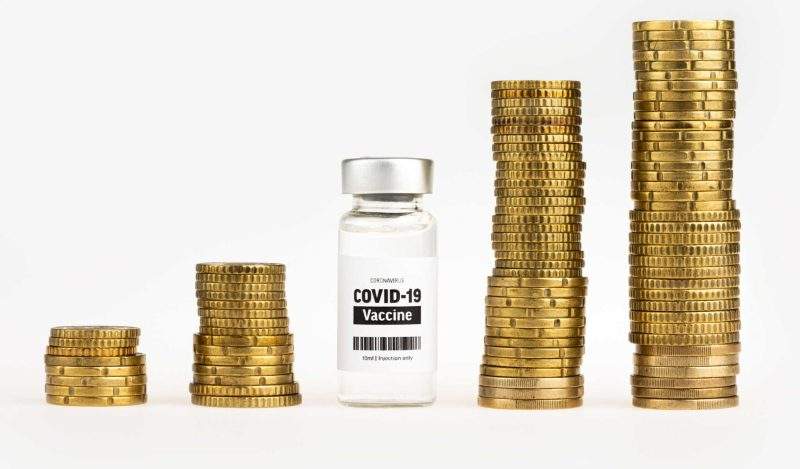 BY
MARYANNE DEMASI
Major international governments have signed multibillion-dollar legal contracts with drug companies in order to secure access to covid-19 vaccines.
But the drug companies and governments have refused to divulge details, saying the information is "commercial in confidence."
In 2021, we got our first peek at contracts between Pfizer and various international countries after they were leaked to The Bureau of Investigative Journalism and US consumer group Public Citizen.
"The contracts offer a rare glimpse into the power one pharmaceutical corporation has gained to silence governments, throttle supply, shift risk and maximise profits in the worst public health crisis in a century," said Zain Rizvi, author of the Public Citizen report.
Pfizer was accused of "bullying" governments during contract negotiations, asking some Latin American countries to put up sovereign assets, such as embassy buildings and military bases, as a guarantee against the cost of any future legal cases.
High court decision
Last month, a South African NGO called Health Justice Initiative won a high court challenge to gain access to all of South Africa's covid-19 vaccine contracts.
Tony Nikolic, an Australian solicitor from law firm Ashley, Francina, Leonard & Associates, reviewed the Pfizer contract and says it reads like South Africa was "held to ransom" over the deal.
"It's a one-sided contract. Pfizer gets all of the profits and none of the risks," says Nikolic. "It's akin to extortion, there's absolutely no liability for the vaccine manufacturer in terms of injuries that may arise from their product."
The South African government agreed to "indemnify, defend and hold harmless" Pfizer and all its affiliates from "any and all suits, claims, actions, demands, losses, damages, liabilities settlements, penalties, fines, costs and expenses" arising from the vaccine.
It also says the government will "create, dedicate, and maintain a no-fault compensation fund sufficient to undertake and completely fulfil the indemnification obligations….. for damage, injury, or harm arising out of, relating to, or resulting from the development, administration, or use of the vaccine."
Nikolic says, "It's like the manufacturers could ask for anything they wanted. There was such panic at the time and images in the media of people dying in the streets created a real sense of fear and insecurity around the world."
The protection against liability is not only in place for the initial vaccine formulation, but for "any or all related strains, mutations, modifications or derivatives of the foregoing that are procured by Purchaser."
"What this means," explains Nikolic, "is that Pfizer can modify its vaccine to match whatever variants emerge, and still have all the same protections against liability. This is nothing more than a cash cow for Pfizer, they are privatising the profits, whilst socialising the costs."
Pfizer charged the South African government $10 per dose, which is nearly 33 percent more than the $6.75 "cost price" it reportedly charged the African Union.
"In my view, this is why Pfizer wants the details kept secret, so that it can protect the various price differences between countries. It's classic price gouging with a predatory twist, that is why procurement transparency is essential," says Nikolic.
Long-term safety?
The contract states "the long-term effects and efficacy of the vaccine are not currently known and that there may be adverse effects of the Vaccine that are not currently known."
Nikolic says this is in stark contrast to the public health messages at the time.
"We had politicians and key opinion leaders telling people that the vaccines were 'safe and effective' when the procurement contracts themselves did not make such claims," says Nikolic.
"The contract clearly indicates that adverse effects were unknown at the time of signing. The burden of proof should never have been on the people to prove the vaccine was unsafe, it should have been on the manufacturer to prove the vaccine was safe," he adds.
Nikolic has spent the last two years trying to access the procurement contracts signed by the Australian Government.
"Australians are still in the dark about what is contained within these contracts. We know it gave liability protection to the vaccine manufacturers like other countries, but that's the extent of it," says Nikolic.
"We need to know what our politicians knew at the time of signing the deal. And we need to know how much money we, the taxpayer, spent for a vaccine that turned out to be far less safe or effective than promised,' he adds.
In a recent Australian Senate committee hearing, Queensland Senator Malcolm Roberts grilled Pfizer executives under oath about the indemnity clauses in its contract with the Australian government, but Pfizer refused to give details.
"The contents of Pfizer's contract with the Australian Government remains confidential," said Pfizer Australia's medical director Krishan Thiru.
In 2021, Nikolic mounted a legal challenge against covid-19 vaccine mandates in the NSW Supreme Court where he tried to subpoena the Pfizer contract, but his request was blocked.
Undeterred, Nikolic submitted an FOI request to the Australian Department of Health.
The FOI request, however, was denied because the contracts "contain information that is confidential in nature" such as "trade secrets and commercially valuable information." It stated:
"The documents contain commercial information regarding the procurement of vaccines to Australia. The documents contain information specifically relevant to the unique commercial arrangements between the department and third parties, including indicative prices, payment terms, professional indemnity, ongoing funding measures, manufacturing details and production measures."
Nikolic says, "It's unethical, potentially unlawful and immoral for them to argue that the right to preserve commercial confidence overrides the right for public safety, it just doesn't make sense."
He adds, "It just boggles the mind how governments just rolled over and entered into agreements with companies like Pfizer that have a long track record of breaching the False Claims Act resulting in billion-dollar criminal and civil liability."
Reposted from the author's Substack