Province considering referendum on equalization during 2021 municipal election
From the Province of Alberta
Getting a fair deal for Alberta
Premier Jason Kenney has released the next step of Alberta's strategy to secure a fair deal in the federation, addressing the unprecedented levels of frustration expressed with the barriers placed in the way of Alberta's economy.
The Fair Deal Panel report recommends 25 ways to ensure Alberta has a stronger voice in Confederation, including fairer funding allocations from Ottawa, better representation for Alberta in the House of Commons, and exploration of an Alberta Pension Plan and Alberta Police Force.
More than 40,000 Albertans participated in the Fair Deal Panel engagement, providing input on ideas that could give the province a stronger role within Canada, increase control in areas of provincial jurisdiction and advance our province's vital economic interests. The panel's report to government contains 25 separate recommendations that address the frustrations many Albertans shared with the panel.
"Albertans have told us what a fair deal looks like for our province – it consists of more autonomy, better representation and a renewed respect for all provinces and territories. Our government agrees, and work on many of these areas is already underway. We are eager to take further action on the panel's recommendations to ensure Albertans have a strong voice and a fair deal when we need it most."
Government has already taken action or started work on a number of initiatives related to the panel's recommendations, such as moving forward on reforming the Fiscal Stabilization Program, establishing a provincial chief firearms officer, and working with other provinces and territories to further explore the development of economic resource corridors to move our products to market. Government is committed to further analyzing all the recommendations to ensure they get the attention they deserve.
"Working with Albertans and hearing their stories, frustrations and ideas about how to empower our province on the national stage has been an incredible honour. Albertans told us they want government to take action to strengthen the province and assert our jurisdiction, so I think they'll be pleased with just how much work is happening in the areas they stressed as top priorities."
"Albertans know we've been getting a raw deal and that there is no fair deal without tackling equalization, so it's great to see the Fair Deal Panel acknowledge the importance of the equalization referendum. There's still a lot more work to do, but this report and the equalization referendum are the crucial first few steps in Alberta's fight for fairness."
"As a group of businesses who believe in our province and our country, we are very supportive of the report and Alberta getting a fair deal. Everyone will win when we can strengthen inter-provincial trade and build our country by making Confederation fairer. We believe that the Fair Deal report is a step in that direction."
Actions to date
Since being elected, the government has kept its word to secure a fair deal for Alberta with concrete actions to implement platform commitments, including:
Carbon Tax Repeal
Commitment:
"Introduce the Carbon Tax Repeal Act, and challenge the constitutionality of the federal carbon tax by filing a judicial reference to the Court of Appeal, while continuing to support similar challenges by the governments of Saskatchewan and Ontario."
Action:
Passed the Carbon Tax Repeal Act, effective May 30, 2019, and secured a declaration from the Alberta Appeal Court that the federal carbon tax is unconstitutional. Also supporting appeals by Saskatchewan and Ontario on the federal carbon tax to the Supreme Court of Canada.
Pipelines
Commitment:
"Immediately file a constitutional challenge to strike the federal government's 'No More Pipelines' Bill C-69 as a violation of Section 92 of the Constitution Act, which gives Alberta clear, exclusive jurisdiction over the production of oil and gas."
Action:
Filed a constitutional challenge of Bill C-69 at the Alberta Court of Appeal. Decision is pending.
Market Access
Commitment:
"To proclaim into law Preserving Canada's Economic Prosperity Act, to make it clear that Alberta will defend the value of its resources against provincial governments that seek to block pipelines."
Action:
Proclaimed the Preserving Canada's Economic Prosperity Act on April 30, 2019.
Indigenous participation in resource development
Commitment:
"Create a $10 million litigation fund to support pro-development First Nations in defending their right to be consulted on major energy projects."
Action:
Alberta created the Indigenous Litigation Fund which is now supporting the Woodland Cree First Nation's constitutional challenge of the federal "tanker ban" Bill C-48.
The government further supports Indigenous participation through the creation of the Indigenous Opportunities Corporation, backed by up to $1 billion to support Indigenous financial participation in major resource projects.
CMHC stress test:
Commitment:
"Challenge the federal government's unfair one-size-fits-all approach to mortgages by demanding Canada Mortgage and Home Corporation (CMHC) stress tests are removed from Alberta residents."
Action:
Alberta has worked to continually advocate for changes to the CMHC stress test, which through its unilateral application does not reflect the needs of Alberta homebuyers. While the federal government announced changes to the program, they still do not take into account the different circumstances of the Alberta housing market and continue to disadvantage Alberta homebuyers and make it even more difficult for Albertans to qualify for CMHC mortgage insurance.
Employment Insurance reforms:
Commitment:
"Demand reforms to Canada's Employment Insurance (EI) program so that Albertans who lose their jobs are not penalized and treated unfairly compared to other Canadians."
Action:
Alberta has continued to raise this issue with the federal government, most recently during the December 2019 Ministers' Mission to Ottawa. At that time, Alberta noted that Alberta employers and workers consistently pay more into the EI program than they receive. Alberta would like EI program reform to ensure equitable treatment of Albertans who lose their jobs and employers who pay EI premiums.
Development of an Alberta Parole Board
Commitment:
"End Alberta's agreement with the Parole Board of Canada and pass legislation to create an Alberta Parole Board."
Action:
In June 2020, Alberta announced our intention to create our own parole board to provide a fairer, faster and more responsive justice system that helps end the "revolving door" that enables repeat offenders to target Albertans, particularly in rural areas.
Resource corridors:
Commitment:
"Seek to form federal and provincial agreement on resource corridors, which are pre-approved land corridors to expedite major resource project approvals; a key part of these corridors would be facilitating aboriginal co-ownership of financial participation, where relevant."
Action:
After Premier Kenney raised this topic at the Summer 2019 Council of the Federation (COF) meeting, all jurisdictions agreed to do further work on this concept. Alberta officials are working with other provinces and territories to prepare a report that explores ways to enhance the existing connections between provinces and territories to provide a more co-ordinated and strategic approach for transportation and transmission of resources across Canada. This report will be presented to premiers in advance of the 2020 COF meeting, and will provide options for future collaborative work.
Canadian free trade
Commitment:
"Support the vital rights of Canadians to sell their goods and services and exercise their trades and professions in every part of Canada."
Action:
Alberta has unilaterally scrapped 21 of 27 exemptions under the Canada Free Trade Agreement, becoming the province with the lowest internal trade barriers.
Led an effort to expand Central and Eastern Canadian provinces in the New West Partnership Agreement.
Continuing policy work on the potential unilateral recognition of Canadian trade and professional certification.
National support for pipelines:
Commitment:
"Build an interprovincial coalition of provinces that supports jobs pipelines, and our energy industry, making it a top issue in federal-provincial relations."
Action:
Secured support from 12 of 13 provinces and territories for "national resource and energy corridors, including oil and gas pipelines."
Fair Deal Panel recommendations and actions underway
Recommendation 1: Press strenuously for the removal of the current constraints on the Fiscal Stabilization Program, which prevent Albertans from receiving a $2.4 billion equalization rebate.
Action
The Government of Alberta advocated for retroactive changes to the Fiscal Stabilization Program at the December 2019 Council of the Federation meeting, where all provinces and territories agreed to support changes to the program, including a retroactive rebate to address the unfair per capital cap on payments that affects jurisdictions such as Alberta. The province has raised this demand with the Government of Canada as a central issue over the past year.
A Fair Deal for Alberta, a chapter in Budget 2020 dedicated to federal-provincial fiscal issues, outlined Alberta's case for reforming the Fiscal Stabilization Program.
Recommendation 2: Proceed with the proposed referendum on equalization, asking a clear question along the lines of: "Do you support the removal of Section 36, which deals with the principle of equalization, from the Constitution Act, 1982?"
Action:
Agreed to in principle.
Further work will be done to analyze what an appropriate referendum question on equalization would be.
This referendum could be held in conjunction with the 2021 municipal elections.
Recommendation 3: Collaborate with other jurisdictions to reduce trade barriers within Canada and pressure the federal government to enforce free trade in Canada.
Action:
Alberta has taken a leadership role in reducing trade barriers within Canada:

In 2019, Alberta lifted 21 trade exceptions under the Canada Free Trade Agreement and narrowed two others to become the jurisdiction with the fewest number of exceptions in Canada.

Alberta continues to call on the federal government and other jurisdictions to follow Alberta's lead and eliminate trade barriers, is leading efforts to expand the New West Partnership Trade Agreement (NWPTA) to include other provinces, and continues work on the possible unilateral recognition of trade and professional qualifications.
Recommendation 4: Collaborate with other jurisdictions and stakeholders to secure cross-border rights-of-way and create unobstructed resource corridors within Canada to tidewater and world markets.
Action:
Alberta secured unanimous support from western and northern premiers for "energy and resource corridors, including oil and gas pipelines," and unanimous agreement amongst all 13 premiers at the Council of the Federation to support "economic corridors (to) expand markets for Canadian energy, including hydroelectricity and natural gas."

All jurisdictions have agreed to do further work on this concept, and Alberta officials continue to work with other provinces and territories to provide a more co-ordinated and strategic approach for transporting and transmitting resources across Canada.
A report on this work will be presented to premiers in advance of the 2020 Council of the Federation meeting.

Alberta is participating in the work of the Pan-Canadian Competitive Trade Corridor Initiative.

Ministers responsible for Transportation and Highways across Canada are working to find ways to enhance internal and international trade.

Government provided a grant to the University of Calgary's School of Public Policy to support its Canadian Northern Corridor Program.
Alberta will create a task force to work with industry, First Nations, municipalities and other provinces to move resource corridors from concept to reality.
Recommendation 5: Collaborate with other jurisdictions to design and advance regional strategies for northern development; pressure the federal government to implement those strategies.
Action:
The Northern Alberta Development Council (NADC) is a public agency accountable to the Minister of Economic Development, Trade and Tourism. Its ongoing work includes investigating, monitoring, evaluating, planning and promoting practical measures to foster and advance development in northern Alberta.

The NADC will continue to focus on the development of one or more multi-modal corridors across the north, which would include broadband, utilities, roadways and rail.
Work has started to develop a Northern Strategy for Alberta to further develop the corridor concepts and complement the work of other provincial and territorial members of the Northern Ministers' Development Forum.
Recommendations 6 A & B: Support and press for the strictest possible application of the principle of representation by population in the House of Commons. Work with other provinces and the federal government to democratize the Senate appointment process.
Action:
Government recently reintroduced the Senatorial Selection Act to ensure a democratic appointment process for current and future Senate appointments.

Senate elections will be held in conjunction with the 2021 municipal elections.

Work on a request to the federal government advocating for a more representative share of House of Commons seats is currently underway.
Recommendation 7: Secure a fairer share of federal civil service opportunities and federal offices in Western Canada.
Action:
This recommendation requires further analysis and work before it can be implemented.

Executive Council will develop a plan to address this recommendation.
Recommendation 8: Abolish or at least change the residency requirement for the federal courts.
Action:
Agreed to in principle.
Alberta will immediately begin to advocate for the elimination of the long-standing and archaic rule to have federal court judges reside within the National Capital Region, which has unfairly punished Alberta residents.
Recommendation 9: Assert more control over immigration for the economic benefit of Alberta.
Action:
Agreed to in principle.
Alberta will continue to advocate for economic policies that strengthen Alberta, including immigration policies.

The province will seek a more active role in setting immigration numbers and policies with the federal government as part of the Alberta Advantage Immigration Strategy.
Recommendation 10: Collaborate with other provinces and industry to advance market-based approaches to environment protection, including a reduction in greenhouse gas (GHG) emissions.
Action:
Alberta continues to work with other jurisdictions that share the common objective of ensuring climate change response plans are locally developed and reflective of the unique circumstances in each province and territory. This includes balancing energy development with the need to address climate change.
Government has worked with industry and stakeholders to develop the Technology Innovation and Emission Reduction regulation for large emitters, which supports the overall reduction in greenhouse gas emissions in Alberta while maintaining industry competitiveness.
Alberta worked with industry and stakeholder partners to establish a provincial methane regulatory approach that is more cost-effective than proposed federal regulations.
Recommendation 11: Continue to challenge federal legislation that affects provincial jurisdiction.
Action:
Alberta succeeded in obtaining a judicial reference from the Court of Appeal declaring the federal carbon tax unconstitutional, and is awaiting a decision from the Court of Appeal challenging the constitutionality of federal Bill C-69, commonly known as the "No More Pipelines Act."
Alberta will continue to defend its economy and constitutional jurisdiction against intrusive federal legislation as necessary.
Recommendation 12: Work with other provinces to secure a federal-provincial agreement prohibiting the federal government from spending, taxing, legislation or treaty making in areas of provincial or joint jurisdiction without the consent of the affected province(s).
Action:
Agreed to in principle.
As the Minister of Intergovernmental Relations, Premier Kenney will champion an agreement that restricts federal overreach to respect the constitutional authority of Canada's provinces.
Recommendations 13 A & B: Develop a comprehensive plan to create an Alberta Pension Plan and withdraw from the Canada Pension Plan. Subsequently, provide Albertans the opportunity, via a referendum, to vote for or against withdrawing from the Canada Pension Plan and creating the Alberta Pension Plan.
Action:
Treasury Board and Finance will develop a detailed analysis of the costs, benefits and structure of a potential Alberta Pension Plan, to be completed and released in 2021. Alberta would only proceed with the creation of a provincial pension plan if supported by a majority of voters in a referendum.
Recommendation 14: Create an Alberta Police Service to replace the Royal Canadian Mounted Police.
Action:
The Department of Justice and Solicitor General will commence a detailed study into the costs, benefits and structure of a potential provincial police service. This study will be completed and released in 2021.
Recommendation 15: Appoint an Alberta Chief Firearms Officer (CFO).
Action:
Alberta will appoint a provincial CFO and is starting the process of negotiating this change with the federal government.
Alberta established the Alberta Firearms Advisory Committee (AFAC) to provide recommendations on how to structure a provincial CFO.
Recommendation 16: Secure a seat at the table when the federal government negotiates and implements international agreements and treaties affecting Alberta's interests.
Action:
Alberta has pushed the federal government for a more formal, consistent and appropriate role for the province at all international negotiations.

Alberta will continue this advocacy work on both an ad hoc basis (i.e. as agreements and treaties arise) and in a more deliberate fashion with the federal government.

Alberta will strenuously pursue advocacy work in this area, starting with a formal request to the federal government to ensure a seat for Alberta at the international negotiating table.
Recommendation 17: Strengthen Alberta's presence in Ottawa.
Action:
Alberta will open advocacy offices in Ottawa and Quebec to work with elected officials; federal departments, agencies, boards and commissions; and foreign missions to advance Alberta's interests
Recommendation 18: Opt out of new federal cost-shared programs, subject to Alberta receiving full compensation.
Action:
Alberta will seek to opt out of any federal programs that are inconsistent with Alberta's interests, and will seek full compensation from the federal government, as appropriate.

This will be Alberta's approach with respect to the proposed federal approach to pharmaceuticals.
Recommendation 19: Resist federal intrusions into health and social programming, and do not seek to exchange cash payments for tax points at this time.
Action:
The Government of Alberta committed to seeking an exchange of tax points for existing tax payments in its election platform, so this recommendation requires modification to align with an existing government commitment.
Work will proceed to scope and analyze the most effective approaches and timing for seeking such a fundamental shift in Canada's fiscal arrangements, along with potential alternative reforms that would advance Alberta's interests.
Recommendation 20: Continue to diversify Alberta's economy in the energy sector and beyond.
Action:
This recommendation is accepted, and is reflected in the Government's Blueprint for Jobs. Policies that support diversification will be further advanced in Alberta's post-COVID Economic Recovery Strategy, to be released this summer.
Recommendation 21: Vigorously pursue access to markets for Alberta's exports.
Action:
Government has strongly advocated for all major pipeline projects that support getting our resources to market.

This includes the significant $1.5 billion equity investment and $6 billion loan guarantee to accelerate construction of the Keystone XL Pipeline project.

The province has a strong international presence with 12 international offices, including Washington, D.C., and Beijing. These offices play a vital role in advancing Alberta's interests globally through trade promotion, investment attraction and advocacy initiatives.

Alberta appointed James Rajotte to lead Alberta's Washington, D.C., trade office as it advances the province's interests and opens the American market to new Alberta exports.

Alberta will continue to vigorously pursue the completion of all pipeline projects that support getting our resources to market, including advocating for the completion of the Trans Mountain Expansion Project and Enbridge Line 3 Replacement Project.
Recommendation 22: Make no changes, at this time, to the administration of agreements that Alberta public agencies and municipalities have with the Government of Canada.
Action:
Working with public bodies to ensure federal funding aligns with desired provincial outcomes and has the greatest impact for Albertans is of vital importance.

While government does not anticipate any changes to the relationship between public agencies and other governments at this time, it is a subject that may be revisited in the future.
Recommendations 23 A & B: Make no changes to tax collection in Alberta at this time and support Quebec in its bid to collect the federal and provincial portions of personal income taxes and, if Quebec is successful, pursue the same strategy if it is advantageous.
Action:
Alberta supports Quebec in its effort to pursue the collection of both the provincial and federal portions of personal income taxes.

Further analysis is required on the feasibility of a provincial tax collection agency, including understanding the benefits of policy flexibility against the cost of additional compliance and administrative requirements.
Recommendation 24: Use democratic tools such as referenda and citizens' initiatives to seek Albertans' guidance on selected Fair Deal Panel proposals and other initiatives.
Action:
The Government of Alberta will introduce citizens' initiative legislation, and will use referendums to consult Albertans on major issues, as appropriate.
Recommendation 25: Explore ways and means to affirm Alberta's cultural, economic and political uniqueness in law and government policy.
Action:
Alberta accepts this recommendation. While we currently work to affirm our cultural identity, more can be done. The Minister of Culture, Multiculturalism and Status of Women will be tasked with developing an action plan to implement this recommendation.
Graffiti artist completes world's tallest mural in downtown Calgary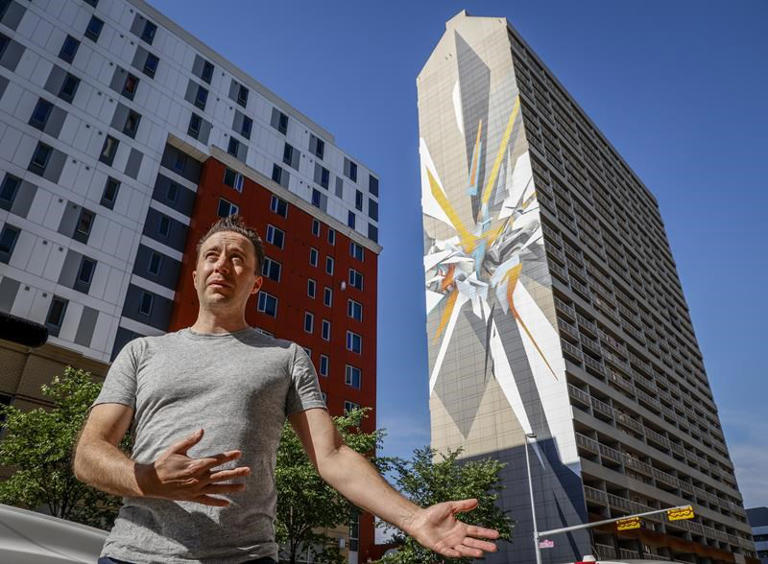 CALGARY — It looms on the edge of downtown a stone's throw from the Calgary Tower, a splash of colour amid aging buildings, railway tracks, parkades and a steady stream of traffic.
It's billed as the world's tallest mural, painted by one of the globe's top graffiti artists, and is part of a project to turn an austere area of downtown into an expansive open-air urban art gallery.
"The brutalism and dystopian look of this area with the giant parkades and the spiral ramps and stuff — it feels like Gotham. So turning this wall from concrete nothing to this is really fun," said Peter Oliver, president of the Beltline Urban Murals Project, or BUMP.
The mural is an abstract painting in various shades of orange, black, grey, blue, white and yellow and is the creation of DAIM, an internationally renowned German artist. DAIM, whose real name is Mirko Reisser, has been creating public artworks for more than 30 years.
"DAIM's work is rooted in graffiti art. It's abstract and he was actually the very first graffiti artist to start exploring three-dimensional works. So his work kind of obeys the laws of light and shadow but defies the laws of gravity," Oliver said.
"I think his work really marries well with the brutalism of this building and it's just a massive flat wall of concrete. It's the very first prefabricated concrete building in Calgary, built in 1980."
The mural is 95 metres high, making it the tallest mural in the world "by a long shot," said Oliver.
He said most cities don't have giant concrete walls available, with the majority being glass, steel or aluminum. So this was a perfect marriage.
DAIM, who was assisted by three local artists, spent over three weeks painting and went through more than 500 cans of spray paint after a base coat was added to the bare concrete. It is to be a permanent addition to the area and, as of last week, was awaiting a coat of UV sealant to make it complete.
Facing toward the east, it can be seen from a long way away.
"If you've got the window seat on the airplane, you can see it on the approach into the airport," Oliver said.
"I think what we're really doing with BUMP is re-architecting the identity of this city."
The project will be unveiling about 60 new murals during its annual festival, which runs from Aug. 1 to 28. Before that, the new art work can be viewed by visitors at the annual Calgary Stampede, which begins this week.
"If you're coming down, I'd check this out over the parade any day," Oliver said with a chuckle.
This report by The Canadian Press was first published July 4, 2022.
Bill Graveland, The Canadian Press
Beehives and goat farms: Lacombe school shortlisted in global environmental contest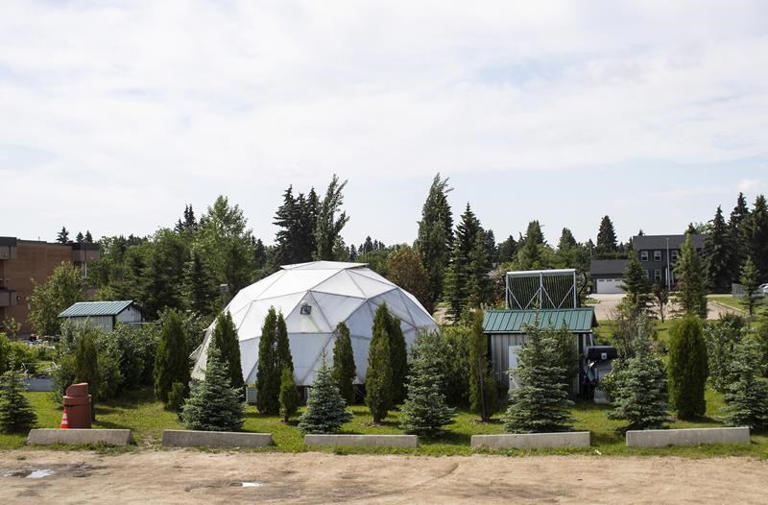 Taylor Perez says she learned more about her passions while tending beehives, goats and fruit trees at her central Alberta high school than sitting through lessons in a classroom.
"These are all skills we don't learn in regular classes," says the 18-year-old student at Lacombe Composite High School.
"You're not going to learn how to collaborate with community members by sitting in a classroom learning about E = mc2."
Perez and her classmates are buzzing with excitement after their school's student-led beekeeping program, goat farm, fruit orchard, tropical greenhouse and other environmental projects were recognized in a global sustainability contest among 10 other schools.
It's the only North American school to be shortlisted by T4 Education, a global advocacy group, in its World's Best School Prize for Environmental Action contest.
"The projects are coming from the students' own hearts and passion for taking care of the environment," says Steven Schultz, an agriculture and environmental science teacher who has been teaching in Lacombe since 1996.
"They are going to be our community leaders — maybe even our politicians — and for them to know what the heartbeat of their generation is (is) extremely important."
Schultz says the projects are pitched and designed by students in the school's Ecovision Club, to which Perez belongs, and he then bases a curriculum around those ideas.
The school of about 900 students began reducing its environmental footprint in 2006 when a former student heard Schultz say during a lesson on renewable energy that "words were meaningless or worthless without action," the 56-year-old teacher recalls.
"She took that to heart and a year later she came back and told me that she wanted to take the school off the grid."
Schultz and students watched a fire burn down solar panels on the school's roof in 2010, an event that further transformed his approach to teaching.
"As their school was burning, my students gathered in tears. That day I realized that students really care about the environment and they really care about the projects that they were involved in."
Since then, 32 new solar panels have been installed, and they produce up to four per cent of the school's electricity. After the fire, students also wanted to clean the air in their classrooms so they filled some with spider plants, including one in the teachers' lounge.
More recently, students replaced an old portable classroom on school property with a greenhouse that operates solely with renewable energy. It's growing tropical fruits, such as bananas, pineapples, and lemons, and also houses some tilapia fish.
Two acres of the school are also covered by a food forest made up of almost 200 fruit trees and 50 raised beds where organic food is grown.
The school also works with a local farm and raises baby goats inside a solar-powered barn that was built with recycled material.
"They breed and milk them at the farm because there are really tight regulations," says Schultz.
"We take the excrement from the goats and the hay and use it as mulch and fertilizers for our garden. The goats also chew up the grass and allow us not to have to use lawn mowers and tractors"
Perez said her favourite class is the beekeeping program with 12 hives that produce more than 300 kilograms of honey every year.
"I love that they have different roles in their own little societies," Perez says of the bees.
She says while working with local businesses and groups as a part of her curriculum, she learned she's passionate about the environment and wants to become a pharmacist so she can continue giving back to her community.
James Finley, a formerly shy Grade 10 student, says the Ecovision Club and environment classes have helped get him out of his comfort zone.
"I made friends, which was a hard thing for me in the beginning. But now I have, like, hundreds," says the 16-year-old, who enjoyed the lessons he took on harvesting.
"Taylor and Mr. Schultz were the main people that made me stay."
Schultz says the winners of the contest are to be announced in the fall.
A prize of about $322,000 will be equally shared among five winners.
This report by The Canadian Press was first published Sunday, July 3, 2022.
—
This story was produced with the financial assistance of the Meta and Canadian Press News Fellowship.
Fakiha Baig, The Canadian Press