Prominent Alberta Conservative Voice Explains: Why I am voting Yes to End Equalization…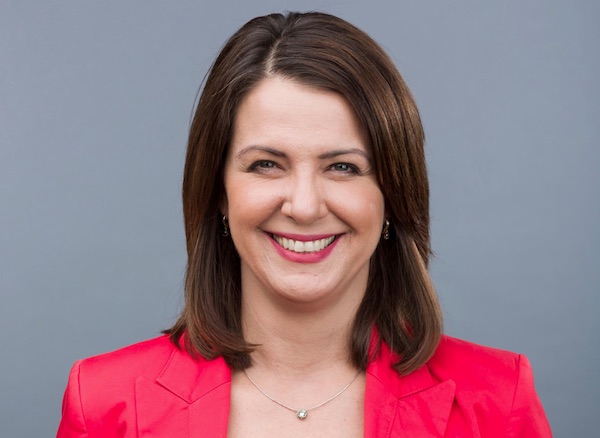 From Danielle Smith
To me, equalization, the health transfer and the social transfer combined, are a measure of how much the federal government is overtaxing us. The Constitution has a very limited role for the federal government. The federal government likes to use its spending power to meddle in areas that aren't its jurisdiction. My view is this – if you want to pass policy for health care, long term care, drug plans, day care, welfare – then RUN FOR PROVINCIAL OFFICE. Don't take money from the provinces, launder it through the federal bureaucracy and then divvy it up unfairly to give back more money to the provinces that you think will vote for you. (Yep – that's how I see it.)
So let's analyze the numbers a bit shall we? I have three tables to show you that tell the whole story.
The level of overtaxation (on these three programs alone) is easily quantified. In the 2021-22 fiscal year it will be $83.890 billion. In just 10 years, the federal overtaxation has grown from $60.085 billion – that's a 40 per cent increase.
Per person Ottawa transfers an average of $2,181. But of course we know, because of equalization, some provinces are more equal than others.
Take a look at Alberta. Our transfers have grown from $3.661 billion to $6.835 billion in the same period, or from $946 per person to $1,523 per person.
Now take a look at Quebec. Their transfers have grown from $17.329 to $26.306 in the same 10 year period, or $2,148 per person to $3,039 per person.
How would an equal per capital model impact the other provinces?…
In my column, I said we should eliminate equalization and instead do equal per person transfers to every province. If we did that, Alberta would receive $9.788 billion this year, a difference of $2.953 billion more. Alberta isn't the only one getting hosed. Look at the final line in the table below. So are BC and Ontario. Saskatchewan is shortchanged $781 million, and poor Newfoundland and Labrador, which in on the brink of bankruptcy but still doesn't qualify for equalization, would get $343 million more. If we eliminated equalization and gave everyone the same per person amount, Quebec would receive $18.879 billion or $7.427 billion less than is expected this year. As it should be. Saskatchewan and Newfoundland and Labrador should not be subsidizing Quebec.
There are a couple of things I really like about a per person transfer model.
It encourages provinces to compete to attract people, because the more people you attract the more dollars you attract.
I understand the Fairness Alberta argument about changing equalization. They suggest a markup to market on the electricity price that hydro rich provinces charge, they want to stop growing equalization with GDP growth, and they want to account for the different cost of services in each province. But in the end, if we create a program that rewards provinces only for attracting people then they have to implement policies that attract people. Like having low rates of taxation, making it easier to start a business, having affordable housing, and so on. There is a lot that is in the power of government. But if we keep giving provinces more money as they adopt policies that reduce their attractiveness it is counterproductive.
A per person model is going to give a greater benefit to smaller provinces with lower costs of services than larger provinces with a larger cost of service.
Even if making Alberta pay more is the objective of Ottawa, an equal per capita transfer amount still has Alberta paying disproportionately into the pot. Alberta has higher wages, higher workforce participation rates, higher spending so we will stay pay more in personal and corporate income taxes, GST, fuel tax, EI, CPP and other federal taxes, than we receive back in per person federal transfers. This won't eliminate the net payer status we have; but it will get us on our way to narrowing the gap.
Once we have established a single per person transfer that is the same across the country we can move to the next step, which is convert the cash transfer into tax points instead.
If Alberta was getting its proper share of transfers – $9.79 billion – we could then move to the next stage of negotiation with Ottawa. Which is to convert the cash to tax points instead. I'll leave it to the accountants to figure out the precise numbers, but conceptually let's say it would mean reducing the federal income tax by 5 percentage points across all categories and increasing provincial income tax by 5 percentage points across all categories. The reason to do that is this, as Alberta grows so would it's share of own-source revenues. Rather than have Ottawa continue to capitalize on our growth, we would.
Once we have fixed the problems with federal provincial transfers, we can move on to fix CPP and EI next.
Alberta pays disproportionately into CPP and EI too – we pay roughly 30 per cent of the premiums for CPP and only get back about 10 per cent of the spending. I haven't done the calculation on EI but I suspect it's even worse. If we can stop the overtaxation on income tax, these two programs should be next.
Enough is enough…
For too long we have just accepted that this is the way the country works. I think we've been bullied into thinking that paying disproportionately into Confederation was our penance for the federal government cancelling the National Energy Program. It's almost as if we collectively felt that if only we paid off central Canada, they wouldn't come after our resource wealth again. How wrong we were. Now Quebec is so bloody minded they don't care if they hurt themselves by killing off our energy industry.
That's fine. If they don't want the revenues that come from our energy resources, we should be happy to keep it for ourselves. Let's start to show them we are serious by strongly voting yes to end equalization on October 18.
Battle of Alberta starts with a bang as Flames down Oilers 9-6 to open playoff series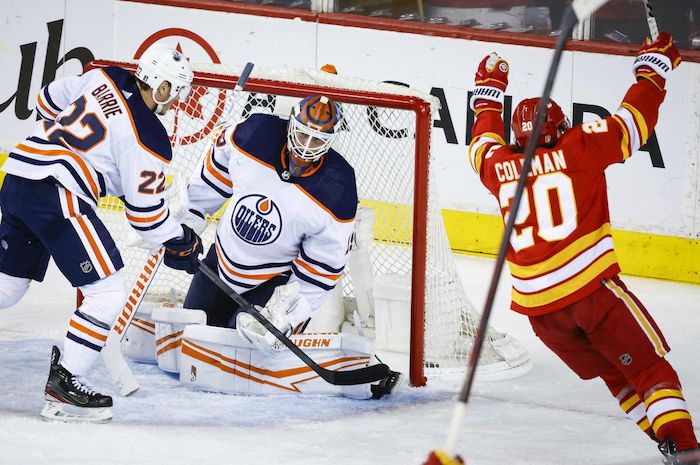 By Donna Spencer in Calgary
Matthew Tkachuk scored a hat trick for the Calgary Flames in Wednesday's 9-6 win over the Edmonton Oilers to open their playoff series.
The NHL's first playoff Battle of Alberta in 31 years compensated for its long absence with an abundance of goals in Game 1.
Blake Coleman scored twice for the Flames. Rasmus Andersson and Andrew Mangiapane each had a goal and two assists.
Elias Lindholm and Brett Ritchie also scored for Calgary while goaltender Jacob Markstrom stopped 22 shots for the win.
Zach Hyman scored twice for Edmonton. Connor McDavid produced his fourth straight multi-point game in the playoffs with a goal and three assists.
Edmonton's captain leads the league's post-season points race with five goals and 13 assists.
Leon Draisaitl had a goal and two assists and Kailer Yamamoto and Evan Bouchard also scored for the Oilers.
Edmonton starter Mike Smith was pulled in the first period after allowing three Calgary goals on 10 shots. Mikko Koskinen made 32 saves in relief.
The winner of the best-of-seven series advances to the Western Conference final.
Game 2 is Friday at the Saddledome before the series heads to Edmonton for Sunday's Game 3 and Tuesday's Game 4.
Teams that take a 1-0 lead in a best-of-seven series hold a series record of 503-232 (.684), according to NHL statisticians.
In a matchup of potent offences, the question ahead of the series was which team could keep the puck on its sticks and spend more time in the offensive zone.
Calgary dominated that department early. The Flames scored twice in a 25-second span in the first minute and led 3-0 by 6:05 when Smith was replaced by Koskinen.
Calgary's two goals in the opening 51 seconds was the fastest two goals to start an NHL playoff game, and electrified a sea of red dotted with Oiler orange and blue at the Scotiabank Saddledome.
The Oilers would not go quietly, however.
The Flames had survived a goaltender-dominated, grinding series with the Dallas Stars in the first round.
Wednesday's Game 1 was, by contrast, an open-ice track meet of mediocre goaltending. The Flames held a 40-18 edge in shots after two periods, but led 6-5 heading into the third.
Edmonton's Yamamoto briefly tied the game at 1:28 putting McDavid's rebound over Markstrom's outstretched pad.
Andersson regained the lead for Calgary at 2:57. Mangiapane from behind the net fed the all-alone defenceman whose wrist shot beat Koskinen's glove.
Tkachuk gave the Flames a two-goal lead at 8:55 with his second of the night. He snared a Draisaitl turnover at the blue line and beat Koskinen five-hole on a breakaway.
Tkachuk scored into an empty net to complete his hat trick. Hats rained down onto the Saddledome ice and chants of "we want 10" goals soon followed.
Draisaitl pulled the visitors within a goal at 19:21 of the second period when he beat Markstrom far side on an odd-man rush with McDavid.
Hyman scored at 9:38 and 14:06 of the second period. He circled out from behind the net and whipped the puck by Markstrom's glove for his second.
Hyman skated the puck into Calgary's end, stopped and got a shot away between defenceman Michael Stone's legs that deflected off Markstrom and into the top corner for his first.
Tkachuk batted in a rebound for a power-play goal at 8:24 after Bouchard converted a McDavid pass at 7:10. McDavid spun off of Dillon Dube to get a cross-ice pass away to Bouchard.
Zack Kassian's roughing penalty after Bouchard's goal gave Calgary the man-advantage for Tkachuk's goal.
Coleman struck 45 seconds into the second period and again at 6:10 for a 5-1 Flames lead.
He redirected a Noah Hanifin shot for his second goal and put a rebound over a prone Koskinen during a scramble around the crease for his first.
McDavid glided in front of the net and patiently waited for Markstrom to commit before tucking the puck between the goalie's pads at 7:41 of the first period.
Ritchie scored his first career playoff goal at 6:05. He knocked Edmonton's Evander Kane off the puck at the Oilers' blue line, reached to collect the loose puck and got a shot away under Smith's arm.
From behind the net, Backlund dished to an undefended Mangiapane in the slot for the latter to beat Smith from close range 51 seconds after opening puck drop.
Lindholm converted Calgary's first shot of the game into a goal 26 seconds after opening faceoff. He settled a bouncing puck off a cross-ice dish from Rasmus Andersson and swept it far side over Smith's glove.
The Flames were minus top shutdown defenceman Chris Tanev a second straight playoff game. He was injured in Game 6 of Calgary's first-round series against Dallas.
Tanev skated in both Tuesday's practice and in Wednesday's morning skate, but did not dress for Game 1.
Notes: With his 94th career playoff win as a head coach, Darryl Sutter joined Pat Quinn ranked No. 6 all-time . . . With three assists in Game 1, Johnny Gaudreau joined Jarome Iginla and Martin Gelinas (2004) among Flames to carry a six-game point streak in the playoffs . . . McDavid was the first Oiler to score a goal in four straight post-season games since Michael Peca and Shawn Horcoff in 2006 . . . The red lot fan zone adjacent to the Saddledome was closed Wednesday because of high winds . . . Game 1 was the highest scoring playoff game involving Calgary and Edmonton surpassing the previous high of 12 goals scored in Game 3 of the 1983 Smythe Division final.
This report by The Canadian Press was first published May 18, 2022.
This is what Jason Kenney said as he stepped down as Premier of Alberta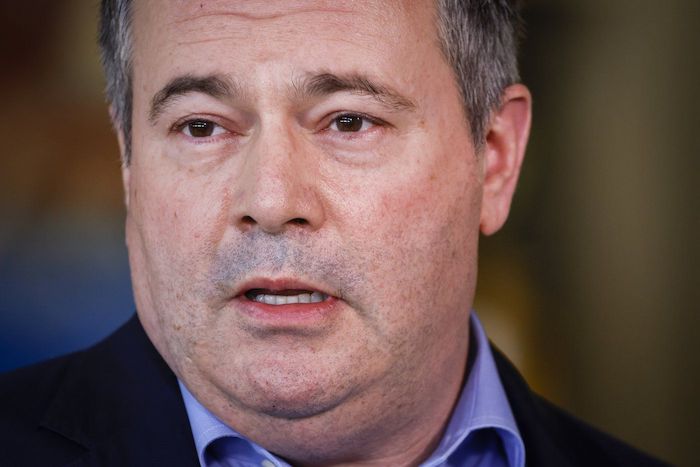 Premier Jason Kenney's address starts at the 10 minute mark and only lasts for 4 minutes.