Far From The Madding Covid Crowd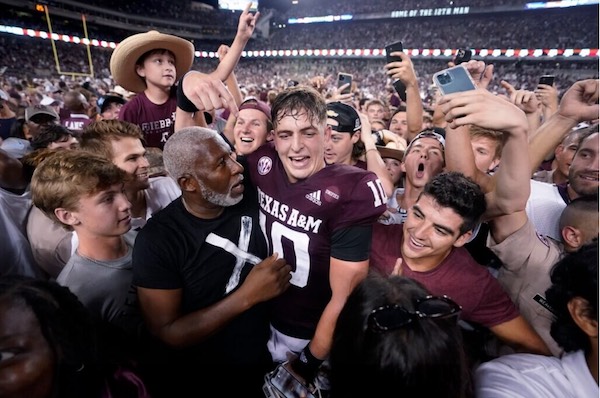 "The pandemic will end not when some arbitrary government mandated goals are met. It will end when people decide it should end. Texas has decided". Dr. Eli David
There's a Terminator quality to the mandatory-vaccine resistance movement. Ridiculed, fired, forbidden from dining, prohibited from flying… they abide. The often-imitated but never-duplicated Media Party has demonized them, while police strong-arm them at the mâitre 'd table.
And yet. Saturday there were 106,000 people gathered for the Alabama/ Texas A&M football game in College Station, Texas. Oblivious to the admonishments about masking, distancing, vaccinations and relentless PSA pounding they were in full-throated rapture about being jammed together like Hebrew National frankfurters.
They weren't alone. The NFL featured a huge crowd in London, England, for the Jacksonville/ Atlanta neutral-site game. And now the NHL opens its schedule (with some vaccination restrictions) this week to largely open arenas— with the NBA on the way.
You'd almost think they'd been lied to about Covid-19 being stopped by hand sanitizer (never!) . What is going on here? Do they not understand this is risky behaviour according to Dr. Fauci? Haven't they seen the un-vaxxed regretting their behaviour on TV from a hospital bed?
Or the texts that ask why Scotiabank Arena can host 16,000 screaming fans while families are told by the always-helpful Liberal shill Patty Hajdu to stay at home for Thanksgiving, tell the family not to come over and, egad, don't travel to see Grandma and Grandpa. What a bunch of yokels they must be.
In fact, despite the attempts to portray them as Pappy Yokums, almost all these people are now cognizant of the risks. Despite Big Tech censoring opposing viewpoints, they grasp the data. But they have had enough of the pandemic mentality. Specifically, they've turned off the righteous and moral wrath of the expert class. They want their lives back.
They have had their fill of being told by the knowledge industry how dumb they are with their online "prohibited claims". They're not worrying every moment about a 99 percent chance of surviving the virus with nothing more than a scratchy throat or a blocked sinus. They've seen too many deadlines come and go.
As Nate Silver of FiveThirtyEight observed,  "Low-probability risks are hard for our brains to compute, period. And after a year+ of having our brains rewired by (often legitimately very scary) COVID risks, it's even harder now." Author/ cartoon list Scott Adams notes, "Dear government, What level of virus risk do we need to reach before ending all mandates and restrictions? If you don't have a target, don't expect compliance."
Right now they only see word salads about certainty from laptop experts and disgraced politicians. And so the football fans in Texas are deciding the next move in the pandemic progress.
Or perhaps it's the employees of Southwest Airlines— whose work-to-rule campaign this week in protest of the mandatory vaccine policy of the airline— who have decided (United Airlines employees are said to be replicating the walkout). Or what look to be longshoremen unions and employee groups who resent being the whipping post for authoritarian behaviour. They are threatening to grind the economy to a near-halt to convince Biden to cease his demonization of anyone who has a different opinion.
It's a demonization that targets Biden's critics, says author Steven Pinker. "There is a myth that 'cancel culture' is a myth. But literally hundreds of scholars have been targeted, & a majority of the attacks result in punishment, often firings." To say nothing of Biden celebrating the firings of airline, rail and automobile industry workers in his latest tele-prompter ramble.
The crisis he's inviting, in case you didn't know, is caused by just 775 people in Canada who have serious or critical Covid-19 infections. And that, in a country of 38 million, has crippled our healthcare system. Here's Canada "overflowing with Covid" situation: 96,000 hospital beds; 2,700 allegedly with Covid-19. Ergo, 2.8 percent of hospital beds in Canada are reportedly Covid patients.
This is a Healthcare® fail not a virus problem. And Patty Hajdu, whose government can't sell ice cream in the desert,  wants you to shelter in place. Fans in football stadiums are united in saying "stuff it".
Apparently the public has computed the unreliability of the media, and— like MLB hitters turning down the shift to accept the easy bunt—are taking steps to reclaim their lives from the Fear Merchants. As long as fear won, the entrenched interests sought to exploit the observation of Canadian psychiatrist J.T. MacCurdy. "We are all of us not merely liable to being afraid. We are also prone to being afraid of being afraid."
What we now are— perhaps— seeing is an epidemic of people casting off fear. It might be the most healthy thing they've done since March of 2020Bruce Dowbiggin @dowbboy is the editor of Not The Public Broadcaster (http://www.notthepublicbroadcaster.com). The best-selling author of Cap In Hand is also a regular contributor to Sirius XM Canada Talks Ch. 167. A two-time winner of the Gemini Award as Canada's top television sports broadcaster, his new book with his son Evan is called InExact Science: The Six Most Compelling Draft Years In NHL History is now available on http://brucedowbigginbooks.ca/book-personalaccount.aspx
Insubordination: Why Black NBA Stars Don't Buy The Vax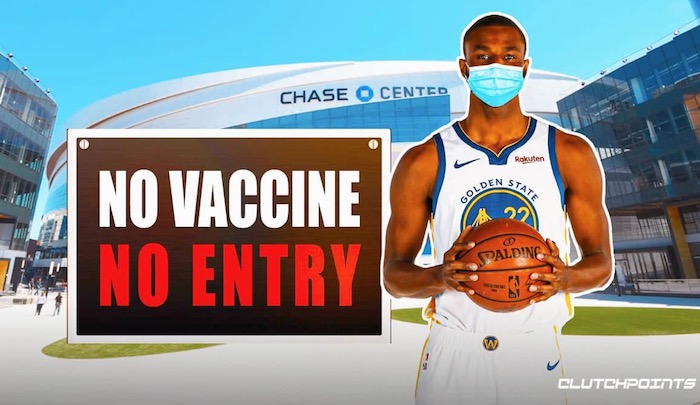 Canadian NBA star Andrew Wiggins was supposed to be known as a superstar when he was drafted No. 1 overall by Cleveland in the 2014 draft. Now, after seven seasons of mixed playing results, he may instead be best known as the guy who said no to the NBA on their mandatory vaccination rules.
In a delicious irony, he exposed the patronizing double standard of hyper-liberal white NBA media— which fanatically protects black players through every hypocrisy. Until now. And Wiggins, inadvertently, exposed the dirty secret about vaccine resistance: it's not Ted Nugent, bow-hunting whites leading the idealogical resistance.
It's people in the black community who, by a large margin, are telling Joe Biden and his liberal pals (gasp) that, while everyone else submits, dissent is their  God-given right in America. In New York City, devastated in 2020 by Covid-19 and governor Andrew Cuomo's ineptitude, roughly 72 percent of black New York City residents aged 18-44 are now banned banned from entering dining establishments, because they remain stubbornly unvaccinated.
In Florida, Black people have received 9 percent of vaccinations, while they make up 15 percent of cases, 17 percent of deaths, and 15 percent of the total population. (White people received a higher share of vaccinations compared to their share of cases in most states reporting data. )
The percentage of white people who have received at least one COVID-19 vaccine dose (53 percent) was 1.2 times higher than the rate for Black people (45 percent) as of September 20, 2021. This despite the pleading from race hustlers like CNN's Don Lemon ('It's Not About Freedom, It Is About Public Health') to force blacks to submit to the pressure for a jab.
Wiggins, now with the Golden State Warriors, refused to take the vaccine since his request for a religious exemption was denied. League rules say Warriors players must follow the guidelines of California, the home state of the Warriors. No needle, no playing at the Chase Center for Wiggins. That led the media in squishy NoCal to ask Wiggins' teammate Draymond Green if he'll pressure Wiggins to take the jab.
They didn't get what they expected— or wanted. "It's not my place or my business on whether he gets vaccinated or not — it's your own personal choice at the end of the day what you do with your body. It's not my place to tell him what he should or shouldn't do with his. Because he's not going to come tell me what I should do with my body."  [UPDATE: Golden State coach Steve Kerr now says Wiggins has had the vax. Wiggins insists he was forced. ]
Vax nothwithstanding, Green says, "We're dealing with something that, to me, feels like (it) has turned into a political war, when you're talking about vaccinated [people] and non-vaccinated [people]," "I think there is something to be said for people's concern about something that's being pressed so hard. Like, why are you pressing this so hard? You're pressing and pressing and pressing."
Green continued, "You say we live in the land of the free. Well, you're not giving anyone freedom, because you're making people do something essentially… That goes against everything America stands for."
In Washington, Wizards star Bradley Beal echoed Green's comments. "I would like an explanation to people with vaccines – why are they still getting COVID if that's something that we are supposed to highly be protected from?… It's funny that it only reduces your chances of going to the hospital. It doesn't eliminate anybody from getting COVID. Right?"
"Some people have bad reactions to the vaccine," Beal said. "Nobody likes to talk about that. And what happens if one of our players gets the vaccine and they can't play after that or they have complications after that? Because there are cases like that. But I feel we don't talk about those as heavily, because they're so minute maybe. But they are existent."
Fellow NBA stars Kyrie Irving and Jonathan Isaac echoed Beal and Green on their right to decide. (Here's Isaac dunking on Rolling Stone . Worse for vax boosters, the league's bell cow, LeBron James, echoed the feminist diktat that it wasn't his place to tell anyone what they can take in their body.
That brought out the hate from the press box, a hive of liberal/ progressive white thought if there ever was one.
"Draymond Green joins All-Hypocrisy team for vaccine stance" bugled there New York Daily News.
"Stop letting NBA anti-vaxxers spout COVID-19 misinformation" announced Yahoo.
"Bradley Beal Smugly Parades Ignorance On Covid Vaccines" pronounced Mediaite.
"On vaccines, NBA players are being told to shut up and dribble" noted  the Washington Examiner.
The supposed kill shot in all these jeremiads is the new dagger of promoting "misinformation" (as if the Media Party didn't do exactly that on Jussie Smollett, the Covington Kids, RussiaGate, Hunter Biden's laptop and 150 more. ) "Misinformation" now being the all-purpose cleanser for thought disapproved by Facebook, Twitter, Wikipedia and other tech oligarchs.
For the righteous knowledge industry, hearing both sides is now a quaint artifact of the past, like John Phillip Souza band music. As we wrote Nov. 23, 2020. "The sale has been made by those in authority. They call the shots. No one is allowed to dissent. That was the end game.  And there's no going back when the Woke media warns you that resistance will invite the cancel culture to ruin your life. This is the new reality. Get used to it. And if you value your freedoms, tough luck."
Almost a year later black NBA stars, of all people, are the ones making this point to the civil libertarians or free-speech liberals that freedom is for everyone, not just for those with whom you agree. Who'd have thunk' that?
Bruce Dowbiggin @dowbboy is the editor of Not The Public Broadcaster (http://www.notthepublicbroadcaster.com). The best-selling author of Cap In Hand is also a regular contributor to Sirius XM Canada Talks Ch. 167. A two-time winner of the Gemini Award as Canada's top television sports broadcaster, his new book with his son Evan is called InExact Science: The Six Most Compelling Draft Years In NHL History is now available on http://brucedowbigginbooks.ca/book-personalaccount.aspx
O Chi-Nada: The People's Republic Of Dunder Mifflin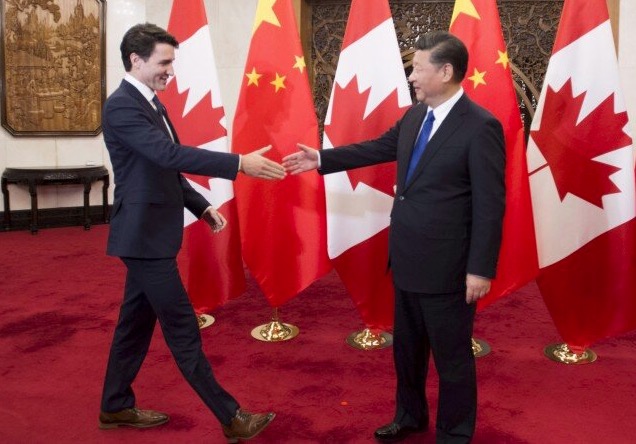 Former PM Lester Pearson once fashioned Canada as "honest broker" to the world. With its long history of showing up for the toughest fights, Canada had the credibility to referee between America and the world's other nations from its perch in the U.N., NATO, the Five Eyes Group and more. Pearson's crowning moment was negotiating an end to the Suez Canal crisis in 1956-57.
Today's PM, Justin Trudeau, has turned Canada into the Dunder Mifflin Paper Company with him as Michael Scott, the vain, ridiculous manager of the outfit. As the recent Two Michaels hostage drama demonstrates, no one takes Canada seriously anymore. They even create new security groups (the recent AUKUS) just so Trudeau's Woke frat party can be left out.
But in the best comic tradition, Trudeau and his coterie of activists and climate freaks don't get that they're laughed at. Like Michael Scott they believe that they're in charge, the situation is not hopeless. Like Scott, who claimed to be "two-fifteenths" Native American, Trudeau pretends to be simpatico with the indigenous people and a supporter of women whom he molests.
If you were looking to sum up just how hollowed-out the Canadian dream has become under Trudeau and previous Liberal governments, the China file might suffice. The brazen kidnapping of Michael Spavor and Michael Korvig– after Canada put Huawei executive Meng Wanzhou under house arrest pending extradition to the U.S.— is the most public sign of how Canada is now a non-entity globally.
Trudeau made cautious statements about repatriating the men, but it was always timid, don't-get-them-mad word salads. No one was fooled. NBA players show more gumption faced with the Chinese politburo— and they have none. While the rest of the Western alliance was rejecting Huawei to build 5G networks, Canada was an easy mark. No wonder China rejected Trudeau and his ambitious Sino-Canadian dreams package in December of 2017.
The Huawei/ Two Michaels pantomime is a small speck of an iceberg that has resulted from the Chinese infatuation established by Liberal PM Jean Chretien and son-in-law André Desmarais who planted their flag in China following leaving the PMO. Seduced by China's abundant markets and "easy" profits, they created a China cult in Canada of business and political leaders drawn in by Communist Party "efficiency".
The signpost that Liberals had it bad for the Chinese came in Trudeau's infamous 2013 fanboy quote: "You know, there's a level of admiration I actually have for China …. Because their basic dictatorship is allowing them to actually turn their economy around on a dime and say 'we need to go green  fastest…we need to start investing in solar.'" (How about that one-child policy, eh Justin?)
He wasn't alone. In the 2019 federal election, John McCallum, the former Liberal cabinet minister and Canadian ambassador to China who took $73,000 in free trips to China, was free with advice on how the Chinese might manipulate that election. "Anything that is more negative against Canada will help the Conservatives, (who) are much less friendly to China than the Liberals," McCallum told the South China News. ".. it would be nice if things will get better between now and (Canada's federal) election (in October)."
Over the past generation (the majority of it under Liberal governments) Canada has become a dumping ground for Chinese Communists looking to launder money, steal copyrights and control Canada's economy. With little pushback from Trudeau's government. Anthony Campbell, the former head of the Intelligence Assessment Secretariat of the Privy Council Office, noted Beijing was spreading around so much money— and the federal government was so inattentive to the implications— "that nobody at the centre of power in Canada was capable of articulating what the words "national security" even meant anymore."
The current panic over foreign ownership of Canada's residential housing stock is symptomatic of the passive takeover of its economy.
It's why Trudeau was happy to have foreign affairs left out of the Leaders Debates in 2021 in favour of the climate politics of 2050. Otherwise he might have had to reveal how People's Liberation Army scientists managed to obtain high-level security clearances to undertake research at the National Microbiology Lab in Winnipeg. And why they were spirited out of the country.
Such is Canada's supine relationship with China that it is no longer trusted by its former allies. In one of his coherent moments, U.S. president Joe Biden said his country has no better ally than Australia, which has been insubordinate to the Chinese while Canada's elite rolled over. Trudeau, dazzled by climate fantasies, doesn't seem to notice when G7 leaders mocked him for claiming he was the "dean" of the group with Angela Merkel's departure.
Or when a secret vaccine-development agreement with China's CanSino Biologics ended when Beijing reneged on the deal and blocked shipments to Canada.
If he were paying attention Trudeau might have been alert to the growing influence China exerts in Canada's politics. The CPP think nothing of reaching across the Pacific to smack Chinese Canadians who veer from the party line on the economy, trade, Taiwan, Hong Kong and more. When the Tories' platform said they would "stand up" to China on a list of issues by banning Huawei Technologies Co. from 5G networks and withdrawing Canada from the Chinese-led Asian Infrastructure Investment Bank you knew there'd be pushback.
Sure enough, Conservative candidates In the just-concluded election saw votes hold steady in almost all constituencies across the country. But in ridings with a heavily Chinese-Canadian vote CPC candidates were bombarded by third-party claims they were disloyal Chinese for attacking the CPP. China's ambassador, Cong Peiwu, said Beijing opposed politicians who were "smearing" China. Chinese state-run newspaper the Global Times described CPC policy as "toxic" and "hostile" to China.
On election night, Liberal preference in Ontario dropped 2.7 percentage points and the Conservative vote went  up 2 percentage points. But not in ridings with heavy Chinese concentrations.  In 2019, Conservative Joe Chiu won his seat over Liberal Joe Peschisolido, 41.7 per cent to 35.1 per cent. On Monday, he lost to Liberal Parm Bains, 42.8 per cent to 33.4 per cent.
In BC Richmond Centre, Alice Wong won in 2019 with a 20.5 point margin. In 2021 he was defeated by Liberal Wilson Miao, who led her by 39.4 per cent to 37.1 per cent. The drops were consistent in other heavily Chinese ridings across the country. The CPP had apparently won Trudeau re-election.
Not that Canadians are crying out for greater ties to China.  Terry Galvin points out in The National Post: " A poll carried out in August showed that two-thirds of Canadians want Ottawa to take a harder line with China. An Angus Reid poll released in March showed that only one in 10 Canadians agrees that Canada should pursue closer trade ties with China."
For all intents and purposes the modern Liberal Party's image of China remains lost in the gauzy Norman Bethune days of plucky Mao and the People's Party. The damage to its sovereignty is incalculable— and getting worse. Not that the PM knows. As Michael Scott said, "I love inside jokes. I hope to be a part of one someday."
Bruce Dowbiggin @dowbboy is the editor of Not The Public Broadcaster (http://www.notthepublicbroadcaster.com). The best-selling author of Cap In Hand is also a regular contributor to Sirius XM Canada Talks Ch. 167. A two-time winner of the Gemini Award as Canada's top television sports broadcaster, his new book with his son Evan is called InExact Science: The Six Most Compelling Draft Years In NHL History is now available on http://brucedowbigginbooks.ca/book-personalaccount.aspx