Primary Care Network gears up for annual Fun Run Proceeds help to support the Central Alberta Child Advocacy Centre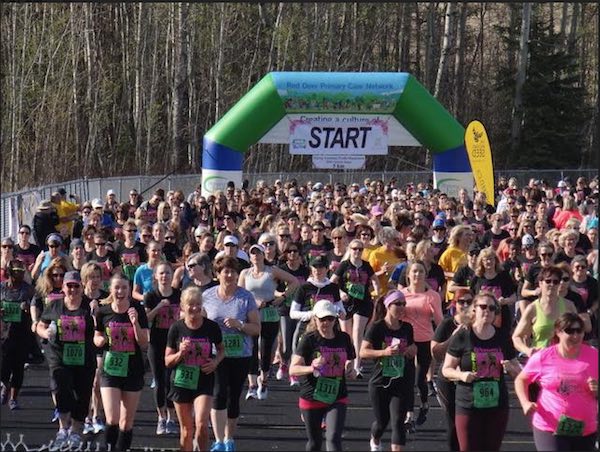 By Mark Weber
It's time to hit the trails for an exceptional cause with the annual Primary Care Network Fun Run right around the corner.
This year's event is slated to run May 7th in the Capstone area near downtown.
Anyone can take part, and participants can opt to sign up for 3km, 5km or 10km routes.
There is even a 'Dog Jog' this year for those who would like their furry friends to join in the fun.
Organizers point out that you can also choose to walk if you like.
The youngest members of the family can also get involved via the '500m Little Surfers' and the '100m Boogie Babies' events.
"The Fun Run is something that really fits with us – we are all about health promotion, encouraging people to be active and also encouraging families to get out there," explains Lorna Milkovich, the PCN's executive director. "And any funds being raised are going to the Central Alberta Child Advocacy Centre."
Although some registration deadlines have passed, it's not too late to get involved. Folks are welcome to even come down on May 7th and sign up. "There have been different deadlines for certain prizes and things, but you can do 'walk-on' registration," she said.
"It's also basically accessible to anyone!"
Adding to the action-packed day is a special 'beach' theme this year, according to the web site.
"You may have to use a little imagination to feel the sand between your toes as you run/walk your 10km, 5km, or 3km route, so put on your best sun gear to help set the mood – we're thinking bright colours, fun shades and beach hats!"
And it's not just about the Fun Run – there are loads of activities planned through the day from a Central Alberta Child Advocacy Centre Charity barbecue, face painters and lots of family activities and games by the Red Deer Family Resource Network to the CACAC Beer Gardens and Games area (partnered with Troubled Monk) and the Courage Cup Ball Hockey Tournament and After-Party.
The Central Alberta Child Advocacy Centre is a not-for-profit organization dedicated to the protection and recovery of children.
"The organization was founded in response to a community crisis," notes the web site. "An epidemic of youth suicides hit hard in Central Alberta, sparking overdue conversations and the need for a solution.
"A community coalition was formed with a goal to provide accessible mental health resources for adolescents, but the vision quickly expanded thanks to Sheldon Kennedy. It takes courage for a child to come forward and share that someone has hurt them – we are here to listen without judgment, provide a safe and comfortable space for them to share their story, to provide guidance and support – and to ultimately give them back the chance of a healthy future."
In the meantime, things continue to be very busy at the PCN – staff members are gearing up to run a bike corral at the Farmer's Market as they've done for years, said Milkovitch. It's a popular public service to protect people's bikes while they check out the market.
And of course, on the medical/health side of things, there is plenty going on via the organization's multitude of very helpful programs.
Staff are hosting a Health Café with the City of Red Deer and Alberta Health Services on May 17 at 1 p.m., and it's going to be on 'Year of the Garden'.
It's all part of a City of Red Deer initiative to encourage folks to get outside and be more active by gardening through the spring and summer.
And on June 15, a Health Café on 'Post-partum Mental Health' is set to start at 1 p.m. This session will be hosted by Ivy Parsons of AHS and PCN Family Nurse Michelle Abbott.
There are also plenty of regular programs through the PCN, which are free of charge, to check out from Anxiety to Calm, Happiness Basics and Moving on With Persistent pain to Relationships in Motion, Sleep, and Journey
Through Grief.
Others include My Way to Health (formerly Health Basics), Strong and Steady (which focuses on bolstering one's strength and flexibility) and H.E.A.R.T.S. which has been designed to help families through the loss of a child during pregnancy or shortly after birth.
Several individual programs are available as well from help with diabetes, blood pressure and cholesterol to pharmacy queries to assistance with everything from quitting smoking to learning more about housing or financing.
For more about the PCN, check out reddeerpcn.com or call the office at 403-343-9100.
For complete details about the PCN Fun Run, check out www.reddeerfunrun.com.
The Laft Hus celebrates 35 years in Red Deer
The Laft Hus is a replica of an 18th-century farmhouse in the Numedal district in Norway. It was created through the efforts of volunteers, and it officially opened to the public in 1987.
The museum contains many old artifacts and examples of Norwegian arts and crafts and a small butikk of Norwegian items and the house itself is of note due to its traditional sod roof.
The museum and gift shop are open to visitors every day (except Mondays) from June 1 through to August 31, 9:00 am to 3 pm. For the remainder of the year, the Norwegian Laft Hus is open each Wednesday when a group of ladies meet to work on Norwegian arts and crafts.
This year, the Laft Hus celebrates its 35th year in Red Deer. The annual festival will take place on June 18, 2022 and will have many activities, entertainment, Norwegian food and vendors for the visitors to enjoy. Help us celebrate!
For more information, visit their website.
Children's Fest is back in the park in 2022!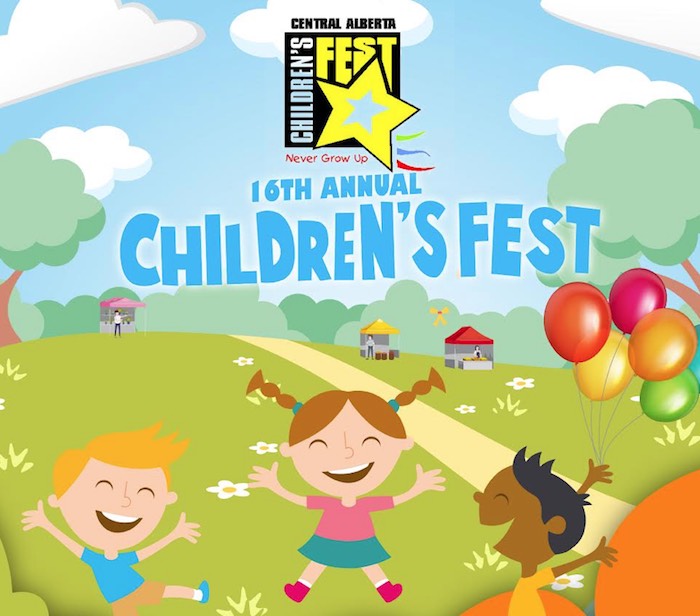 Groups and organizations come together to host the 16th Annual Central Alberta Children's Festival
Never Grow Up!
After 2 years of re-imagined festivals we are excited to be hosting the 16 th Annual Central Alberta Children's Festival back in the park. This family-friendly event is held over two days the first weekend of June. The festival is an opportunity for children and their families to get first-hand knowledge and exposure to the arts, to allow their creativity and imaginations to blossom.
June 3rd and 4th Rotary Recreation Park 4501 47A Ave, Red Deer will come to life with music, dancing, children running and laughing enjoying tons of interactive fun!
The community planning committee has been busy putting together a great two days that will enchant and engage children of all ages. With support from various community partners, the festival brings affordable, culturally diverse, and exciting entertainment through featured artists and interactive fun. We strive to allow families to actively engage in learning and playtime by fostering their imagination and creativity. From dancing, ultimate fort building, Laser Chase, Imaginate where you will learn from local artists, glitter tattoos, and performances this children's festival has it all.
Live shows include:
 Beppie a JUNO nominated recording artist and an award winning music educator based out of Edmonton,
 LANCE CARDINAL ᐊᐧᒐᐢᐠ First Nations artist, designer, and entrepreneur. Lance recently began a new role as Indigenous consultant and designer for the Edmonton Oilers, writing the new pre-game land acknowledgement video and designing the new Turtle Island Logo.
 The Joe Show – Start with a little magic. Add some breathtaking illusions. Stir in appearances from an amazing collection of animal friends with ventriloquism, Sprinkle in a healthy dose of jokes, laughter and fun, and you have the recipe for an amazing show known as the Joe Show
With our admission fee of only $7 per person, or $25 per family or anytime pass $40.00 for a family, every family can enjoy the world-class entertainment and all activities. Included with the admission, families will also have access to free
snacks and water (bring a bottle!), The Central Alberta Children's Festival welcomes kids ages 0 – 99!
For more information on the festival visit www.centralalbertachildrensfestival.ca