OVO – a buzzing Cirque du Soleil spectacular – is coming to Red Deer!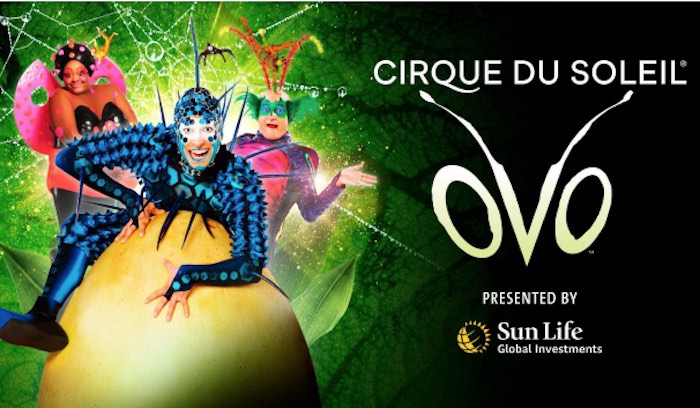 News release from Cirque du Soleir
Peavey Mart Centrium in Red Deer, Alberta │ July 7 – 10, 2022
Tickets available to Cirque Club members April 29, 2022!
General on sale starts May 2, 2022
Cirque du Soleil is thrilled to announce its return to Red Deer with its high-energy and high-acrobatic production OVO – presented by Sun Life Global Investments. An exciting Cirque du Soleil experience, OVO is a colorful intrusion into
a new day in the life of insects; a non-stop riot of energy and movement. Through show-stopping acrobatics highlighting the unique personalities and abilities of selected insect species, OVO explores the beauty of biodiversity in all its contrasts and vibrancy.
OVO will perform at the Peavey Mart Centrium from July 7 – 10, 2022 for 6 performances
TICKET INFORMATION
Starting on April 29, 2022, the tickets for OVO will be available online exclusively to Club Cirque members. For free and easy subscription, visit cirqueclub.com. The general on-sale starts on May 2, 2022 at cirquedusoleil.com/ovo.
ABOUT OVO
From mighty crickets bouncing off trampolines to a hypnotic spider contorting inside her web, OVO exudes extraordinary showmanship to tickle the imagination. Funny and chaotic, yet adorable and wonderful, OVO charms our inner child with its sweet exuberance. Comprised of 100 people from 25 different countries, including 52 artists, OVO ("egg" in Portuguese) brings to the stage high-level acrobatic acts redefining the limits of the human body. Since its opening in Montreal in 2009, OVO has thrilled more than 7 million people in 155 cities in 26 different countries.
OFFICIAL PARTNERS
Cirque du Soleil wishes to thank Sun Life Global Investments, presenting partner of OVO by Cirque du Soleil, and Mastercard, its official partner.
CIRQUE DU SOLEIL
Cirque du Soleil has redefined how the world views the circus; from small town talent to a household name. Based in Montreal (Qc), the Canadian organization went on to become a global leader in live entertainment with the creation of world-class immersive and iconic experiences, across 6 continents. Cirque du Soleil connects with audiences by being genuine, human and inclusive. Privileged to work with artists from 90 countries to bring their creativity to life on stages around the world, the company aims to make a positive impact on people, communities and the planet with its most important tools: creativity and art. Over the years, more than 215 million people have been inspired, in over 70 different countries. For more information, visit cirquedusoleil.com.
Follow #OVOCirque and #cirquedusoleil on social media: Facebook | Twitter | Instagram | YouTube| TikTok
Planet Of The Humans: A Scathing Exposé On The Sacred Renewables Sector
To celebrate the fiftieth anniversary of Earth Day, the Michael Moore-backed environmental documentary Planet of the Humans was released for free on YouTube.
I've been waiting for months to see this film, although I wasn't overly optimistic that I would get the opportunity because it seemed to have difficulty getting mainstream distribution. A few minutes in and I could understand why – it was damaging to the once-untouchable renewables sector. I'm still in disbelief that the powerful leaders of the climate alarmism movement were not able to stop its release, but that's the power of the internet. In one day it has over 500,000 views on YouTube.
Even though Moore and Director Jeff Gibbs have reversed their position on renewable sources of energy and call into question the integrity of the climate change movement, the film is in no way pro-fossil fuels. Quite the opposite. They include footage of a Syncrude oil sands mine and periodically mention the "tar sands" with utter disdain. There's no love for natural gas either.
I'm not opposed to renewables under certain circumstances, but my heart hurt when I saw footage of the destruction caused by mining the base materials for solar panels and wind turbines and the deforestation for biomass. It hurt even more when I saw how easily the projects were discarded after gobbling up millions of dollars of government subsidies, vast tracts of land, and precious natural resources. Because few jurisdictions have strong abandonment regulations, the equipment is often left to rust once it reaches end-of-life in a few short years or is replaced by newer technology.
I learned a lot about the makeup of the renewables sector. I had no idea there were so many biomass power plants in operation in the United States. I also didn't appreciate what is considered 'biomass' or 'biofuel'. I still can't clear the image out of my head of the dead animals being pulverized for animal fat-based biofuel.
What I found most confounding was the lack of energy literacy by many of the interviewees, including representatives of green initiatives and leaders of protest movements. There's one segment where a representative from GM excitedly showcases the release of a new Chevy Volt electric car. When asked for the source of electricity charging it, the women confidently says, "The building" (that the car is plugged into). Pressed further, she admits she doesn't know, and it's clear she hasn't considered, the source. Spoiler alert: it's about 95% coal. Perhaps this is why there is so much inconsistency and backpedaling by environmental groups.
Although this documentary is grim, and it doesn't offer any solutions, I give Michael Moore credit for standing behind it because he's sure to face backlash from people who were once his peers. His courage to put his name behind it and expose another side of the issue will help create better dialogue and stronger public policy.
I encourage everyone to watch it. Seeing the greed of Bill McKibben and the "prophet" Al Gore, it's time for real environmentalists to lead the environmental movement.
For more stories, visit Todayville Calgary
Drive in Christianity!  Coming soon to a church near you!
On March 20 more than 60 vehicles gathered on the corner of 39th Street and 30th Avenue at 10:15 a.m. for a unique experience.
It was not a family comedy, nor an adventure film that brought folks out, but rather the bold proclamation of the Gospel of Jesus Christ by Pastor Ben Elliot of Deer Park Church (formerly the Deer Park Alliance Church) via FM transmission (88.5 FM) for those in the parking lot and nearby neighbourhood.
Four rows of cars filled the lot with anywhere from 1 to 4 people per vehicle for an hour.
"This week I had the privilege of being home and was invited to be part of a province wide conference call with Premier Kenney and Minister Dr. Deena Hinshaw," said Elliott during his sermon on Sunday. "I was nervous when I suggested what we were planning for our service and we got the thumbs up from everyone. He also asked us as faith leaders to pray for government and ministry leaders to make good decisions in this difficult time."
He added that the church was going to ensure that the maximum number of 15 people was observed with only 4 volunteer parking attendants, 3 musicians and 1 pastor.
"I know it is tempting to get out of your car and chat with your friend but please don't, be like our youth and chat with them across a window," said Elliott who is also head of the Red Deer Ministerial Association. "We want to honor the restrictions while honouring God by gathering together."
Elliott spoke on cabin fever, an experience citizens across Canada are well familiar with.
"Robert Service wrote about cabin fever in a poem called Pious Pete and we are well familiar with the phenomena," he said. "Even King David, in 1 Sam 25 was not immune to the effects of continual exposure to the same people, except he lived in a cave!"
He noted that the good news is, that even while he was not in the public, David sought God and was corrected by God! He concluded his message by challenging us to honor God by being agents of peace and his salvation in our families.
Meanwhile, this particular drive-in was one of many services throughout the city and one of many formats.
Churches like Crossroads have live streamed their services for some time to service their growing congregation and others have moved to youtube presentations for viewing anytime.
Unity Baptist Church in north Red Deer has gone to Zoom for their services.
"This morning there was 40 people who logged into the sermon," said Kent Lindsay, a
Unity Baptist congregant. "It was a great interactive way to experience a service without being there."
Meanwhile, prayer groups like the Red Deer Catholic Mens Group have moved to Whatapp for communication and alerting members to Zoom sessions with other believers for rosary prayers and other intercessions.
"There are many ways for believers to meet and encourage each other during this time," said pastor Andrew Rilling of Deer Park Church. "From live streams to youtube personal phone calls, to our drive in format, Gods people need to encourage each other. His word is always working and He meets us in our needs. As a believer and a pastor I am encouraged and know that God is always working among us."