OVO – a buzzing Cirque du Soleil spectacular – is coming to Red Deer!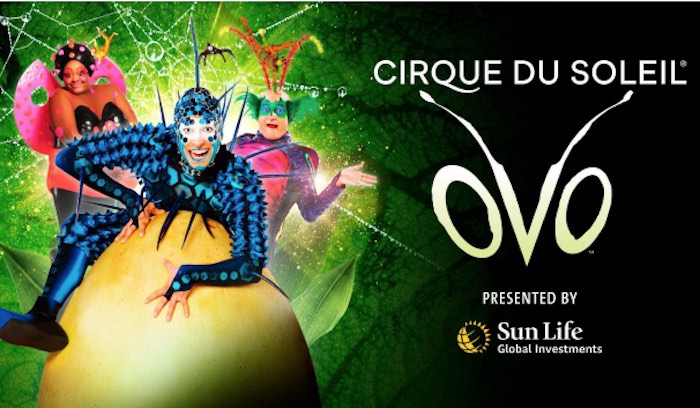 News release from Cirque du Soleir
Peavey Mart Centrium in Red Deer, Alberta │ July 7 – 10, 2022
Tickets available to Cirque Club members April 29, 2022!
General on sale starts May 2, 2022
Cirque du Soleil is thrilled to announce its return to Red Deer with its high-energy and high-acrobatic production OVO – presented by Sun Life Global Investments. An exciting Cirque du Soleil experience, OVO is a colorful intrusion into
a new day in the life of insects; a non-stop riot of energy and movement. Through show-stopping acrobatics highlighting the unique personalities and abilities of selected insect species, OVO explores the beauty of biodiversity in all its contrasts and vibrancy.
OVO will perform at the Peavey Mart Centrium from July 7 – 10, 2022 for 6 performances
TICKET INFORMATION
Starting on April 29, 2022, the tickets for OVO will be available online exclusively to Club Cirque members. For free and easy subscription, visit cirqueclub.com. The general on-sale starts on May 2, 2022 at cirquedusoleil.com/ovo.
ABOUT OVO
From mighty crickets bouncing off trampolines to a hypnotic spider contorting inside her web, OVO exudes extraordinary showmanship to tickle the imagination. Funny and chaotic, yet adorable and wonderful, OVO charms our inner child with its sweet exuberance. Comprised of 100 people from 25 different countries, including 52 artists, OVO ("egg" in Portuguese) brings to the stage high-level acrobatic acts redefining the limits of the human body. Since its opening in Montreal in 2009, OVO has thrilled more than 7 million people in 155 cities in 26 different countries.
OFFICIAL PARTNERS
Cirque du Soleil wishes to thank Sun Life Global Investments, presenting partner of OVO by Cirque du Soleil, and Mastercard, its official partner.
CIRQUE DU SOLEIL
Cirque du Soleil has redefined how the world views the circus; from small town talent to a household name. Based in Montreal (Qc), the Canadian organization went on to become a global leader in live entertainment with the creation of world-class immersive and iconic experiences, across 6 continents. Cirque du Soleil connects with audiences by being genuine, human and inclusive. Privileged to work with artists from 90 countries to bring their creativity to life on stages around the world, the company aims to make a positive impact on people, communities and the planet with its most important tools: creativity and art. Over the years, more than 215 million people have been inspired, in over 70 different countries. For more information, visit cirquedusoleil.com.
Follow #OVOCirque and #cirquedusoleil on social media: Facebook | Twitter | Instagram | YouTube| TikTok
Curtain set to open on Lindsay Thurber production, Head Over Heels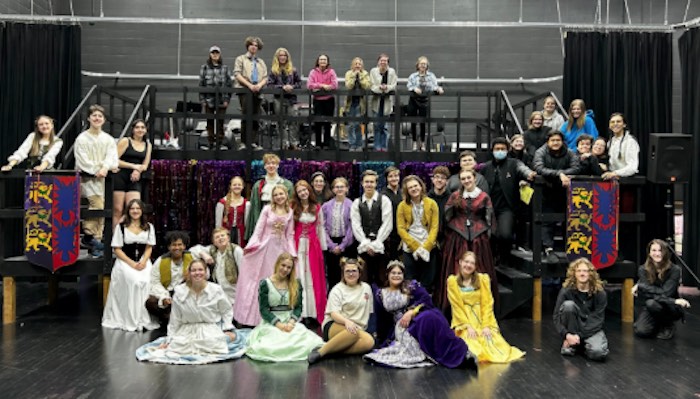 Get ready to laugh, party, witness exciting fight choreography, and groove to the music of The Go-Gos in Lindsay Thurber Comprehensive High School's production of Head Over Heels The Musical, High School Edition. Performances run March 17 – 25 in Studio A at the school.
A mash-up of posh and punk, Head Over Heels is an Elizabethan romp about a royal family that must prevent an oracle's prophecy of doom. In order to save their beloved kingdom of Arcadia, the family embarks on a madcap journey wrought with mistaken identities, prophetic riddles, scandal and self-discovery. Set to the exuberant beats of the 80s pop music of The Go-Gos, Head Over Heels is a heartfelt show where love is celebrated and the beat is divine!
About 50 students from Grades 9-12 are involved in the production. This includes three classes of Musical Theatre, Technical Theatre and Pit Band, who make up the show's actors, production crew, and pit band musicians.
"Head Over Heels is a show that is relatively new," said Tara Koett, Director. "I suspect that not a lot of the audience is familiar with it as it premiered on Broadway in 2018. It is a Renaissance comedy and the dialogue is written in verse. In tandem with this Renaissance comedy, it's also a jukebox musical of the music of The Go-Gos. It's very, very fun and it's a sweet and clever script that captures the modern sensibilities of what a lot of us go through on our journeys to find love."
Koett said one of her favourite aspects of the show is that while with many jukebox musicals, the songs can feel shoehorned in, in Head Over Heels, the songs are placed in the production in a way that feels organic. "For people who don't know The Go-Gos, like many of our high school students before beginning this course, it truly feels like those songs and those lyrics belong in the story or are from the characters themselves, so I think it's really well done for a jukebox musical."
Koett added she encourages students, family and friends as well as the general community to take in the production and see the exceptional skills of the high school students involved.
"This show is so much fun. It's such a beautiful celebration of all different types of love. It has such catchy, high energy music, relatable characters and representation, themes relevant to 2023, and it's a mishmash of posh and punk that is different from what a lot of people associate with musical theatre," she said. "It's a great opportunity for people to be back in live theatre again and to laugh together, maybe even cry together, to take in a beautiful story told with some really incredible music."
To purchase tickets, click here.
List of 2023 Oscar winners
Michelle Yeoh, left, reacts in the audience with excitement as she accepts the award for best performance by an actress in a leading role for "Everything Everywhere All at Once" at the Oscars on Sunday, March 12, 2023, at the Dolby Theatre in Los Angeles. Jamie Lee Curtis, from right, and Ke Huy Quan are seen in the audience. (AP Photo/Chris Pizzello)
By Jake Coyle in Los Angeles
LOS ANGELES (AP) — Oscar winners announced Sunday:
Best picture: "Everything Everywhere All at Once"
Best actress: Michelle Yeoh, "Everything Everywhere All at Once"
Best actor: Brendan Fraser, "The Whale"
Best supporting actor: Ke Huy Quan, "Everything Everywhere All at Once"
Best supporting actress: Jamie Lee Curtis, "Everything Everywhere All at Once"
Original song: "Naatu Naatu" from "RRR"
Film editing: "Everything Everywhere All at Once"
Best director: Daniel Kwan and Daniel Scheinert, "Everything Everywhere All at Once"
Best animated feature: "Guillermo del Toro's Pinocchio"
International feature film: "All Quiet on the Western Front" (Germany)
Documentary feature: "Navalny"
Live action short: "An Irish Goodbye"
Cinematography: James Friend, "All Quiet on the Western Front"
Makeup and hairstyling: "The Whale"
Costume design: "Black Panther: Wakanda Forever"
Documentary short: "The Elephant Whisperers"
Animated short: "The Boy, the Mole, the Fox and the Horse"
Production design: "All Quiet on the Western Front"
Music (original score): Volker Bertelmann, "All Quiet on the Western Front"
Visual Effects: "Avatar: The Way of Water"
Original screenplay: "Everything Everywhere All at Once"
Adapted screenplay: "Women Talking"
Sound: "Top Gun: Maverick"
___
For more on this year's Oscars, visit: https://apnews.com/hub/academy-awards