Premier Kenney blasts Biden for confusing US energy policy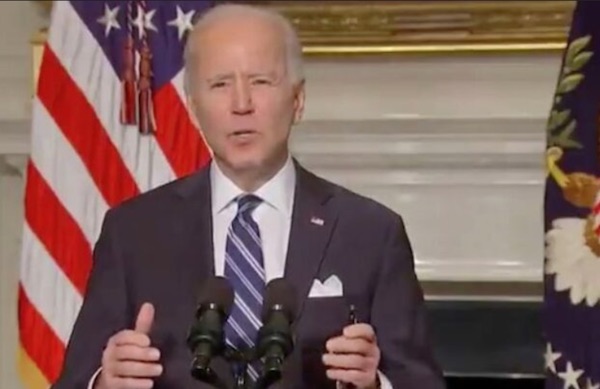 The first thing President Joe Biden did when he came into office was kill the Keystone XL Pipeline.  Those who understand global energy needs, knew that would eventually come back to haunt the US which is the largest consumer of energy on the planet.  Well it didn't take long.  Not even a year.  Eight months after taking office the US finds itself in a position of begging OPEC (an energy producing rival) to increase oil production to help bring down the price of oil.  It's enough to make Alberta Premier Jason Kenney boil over with anger and lash out at the President for a shortsighted and self-defeating energy policy.  
Here's a statement released today from The White House and a subsequent post from Premier Kenney reacting to the situation the US finds itself in.
From a facebook post by Alberta Premier Jason Kenney
The same US administration that retroactively cancelled Canada's Keystone XL Pipeline is now pleading with OPEC & Russia to produce & ship more crude oil.
This comes just as Vladimir Putin's Russia has become the 2nd largest exporter of oil to the US.
Ironically, Russia is now selling the US 840,000 barrels of oil per day, which is *exactly* the amount of Canadian oil that Keystone XL would deliver to the US.
At the same time, the US administration has lifted sanctions on Russia's Nord Stream 2 pipeline to Western Europe.
The same administration is also committed to ending the embargo on Iranian oil exports.
Why is the US government blocking energy imports from friendly Canada, while pressing for more imports from OPEC dictatorships & Putin's Russian regime?
Canada is the USA's closest ally. OPEC+ includes regimes that fuel conflict and instability around the world.
Canadian energy producers are transparent publicly traded companies. OPEC+ producers are overwhelmingly state enterprises, many financing corrupt regimes.
Canadian energy producers operate in compliance with the world's highest environmental, governance and social (ESG) standards. Producers in Russia, Iran, Venezuela etc. flagrantly violate those standards. Canada is a rights-respecting liberal democracy. Many OPEC+ countries are amongst the world's worst regimes.
So why is American energy policy opposed to more Canadian energy exports, but in favour of more OPEC+ exports?
And why is Canada's federal government silent about this gross double standard?
Veteran Canadian rider Mario Deslauriers wins Spruce Meadows Grand Prix
CALGARY — Canada's Mario Deslauriers and Bardolina 2 posted two clear rounds Saturday to take the Queen Elizabeth II Cup Grand Prix at Spruce Meadows.
In a jump-off with Mexico's Carlos Hank Guerreiro and Australian Katie Laurie, Deslauriers and the 12-year-old mare didn't put a rail down and topped the leaderboard with a time of 53.05 seconds.
Deslauriers said Bardolina 2 can be difficult to ride, but she was on her game Saturday in Calgary.
"Today, she jumped incredible," Deslauriers said. "She was straight like an arrow and she jumped beautiful."
Deslauriers and Bardolina 2 were Canada's lone show jumping entry in the summer's Tokyo Olympics where the duo placed 22nd.
"She was very good I think in the medal round (there)," Deslauriers said. "She had two fences down that were very cheap, but overall she jumped super well.
"Before she came here, she had to do three weeks quarantine because I was over my limit when I came back from Europe.
"Really, I jumped her one time at home, she got in the truck and came here, so I think she's matured a lot. I can count on her. I don't need to practise so much any more."
Deslauriers, 56, is from Saint-Jean, Que., but lives in New York.
The North American is the last of three September tournaments totalling $5.6 million in prize money.
Spruce Meadows resumed hosting international show jumping events after a two-year hiatus because of the COVID-19 pandemic.
This report by The Canadian Press was first published Sept. 18, 2021.
The Canadian Press
Mother and child lived in same complex as man charged in their murders: Alberta RCMP
HINTON, Alta. — RCMP in Alberta say a man charged in the deaths of a woman and her 16-month-old toddler lived in the same apartment complex as the victims, but otherwise had no connection to them.
Police say in a news release that Robert Keith Major, 53, from Hinton, Alta., has been charged with two counts of second-degree murder and one count of indignity to human remains.
Mounties in Hinton have said the bodies of the 24-year-old woman and her child were found after they'd been reported missing on Thursday night from the community 290 kilometres west of Edmonton.
Police say they are not releasing the names of the woman and child out of respect for the wishes of the family, adding the family has asked for privacy to grieve.
They say they are not seeking any other suspects in the case.
Major remains in custody and will appear in Edson provincial court on Tuesday.
Autopsies are taking place Saturday and Sunday, police say.
This report by The Canadian Press was first published Sept. 18, 2021.
The Canadian Press