Premier Kenney blasts Biden for confusing US energy policy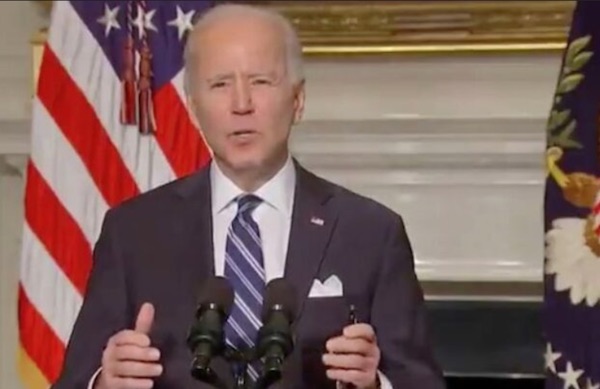 The first thing President Joe Biden did when he came into office was kill the Keystone XL Pipeline. Those who understand global energy needs, knew that would eventually come back to haunt the US which is the largest consumer of energy on the planet. Well it didn't take long. Not even a year. Eight months after taking office the US finds itself in a position of begging OPEC (an energy producing rival) to increase oil production to help bring down the price of oil. It's enough to make Alberta Premier Jason Kenney boil over with anger and lash out at the President for a shortsighted and self-defeating energy policy.
Here's a statement released today from The White House and a subsequent post from Premier Kenney reacting to the situation the US finds itself in.
From a facebook post by Alberta Premier Jason Kenney
The same US administration that retroactively cancelled Canada's Keystone XL Pipeline is now pleading with OPEC & Russia to produce & ship more crude oil.
This comes just as Vladimir Putin's Russia has become the 2nd largest exporter of oil to the US.
Ironically, Russia is now selling the US 840,000 barrels of oil per day, which is *exactly* the amount of Canadian oil that Keystone XL would deliver to the US.
At the same time, the US administration has lifted sanctions on Russia's Nord Stream 2 pipeline to Western Europe.
The same administration is also committed to ending the embargo on Iranian oil exports.
Why is the US government blocking energy imports from friendly Canada, while pressing for more imports from OPEC dictatorships & Putin's Russian regime?
Canada is the USA's closest ally. OPEC+ includes regimes that fuel conflict and instability around the world.
Canadian energy producers are transparent publicly traded companies. OPEC+ producers are overwhelmingly state enterprises, many financing corrupt regimes.
Canadian energy producers operate in compliance with the world's highest environmental, governance and social (ESG) standards. Producers in Russia, Iran, Venezuela etc. flagrantly violate those standards. Canada is a rights-respecting liberal democracy. Many OPEC+ countries are amongst the world's worst regimes.
So why is American energy policy opposed to more Canadian energy exports, but in favour of more OPEC+ exports?
And why is Canada's federal government silent about this gross double standard?
Edmonton school board to request vaccine clinics in schools as COVID infections rise
EDMONTON — One of Alberta's largest school boards wants the province to open vaccine clinics in schools as the number of students and staff infected with COVID-19 rises.
Trisha Estabrooks, chairwoman of the board for Edmonton Public Schools, says a letter will be sent to the UCP government by the end of the week.
It comes after the board unanimously passed a motion yesterday to try to get more five to 11-year-olds vaccinated and prevent further spread of the Omicron variant in classrooms.
Edmonton Public Schools says on its website that more than five per cent of its 105,787 students were absent yesterday due to COVID-19 — up from four per cent a day earlier.
Alberta Health says about 42 per cent of kids between the age of five and 11 have received a single dose of vaccine and about five per cent have had both doses.
Dr. Deena Hinshaw, the province's chief medical officer of health, has said the government is looking for ways to increase the vaccination rate in that age group.
Estabrooks says the school board is providing the government with a solution to prevent further infections and is hoping for a decision sooner rather than later.
The Canadian Press
Lunder headlines list of eight Canadian biathletes nominated for Beijing Games
CANMORE, Alta. — Emma Lunder is one of the headliners on the list of eight Canadian biathletes nominated Wednesday for next month's Beijing Olympics.
Lunder, from Vernon, B.C., opened the World Cup season last November with a career-best sixth-place finish in the women's 15-kilometre individual event in Sweden.
She's one of four Canadian biathletes who will return to the Games after making their Olympic debut four years ago in Pyeongchang, South Korea.
The others are Sarah Beaudry of Prince George, B.C., and Calgary brothers Christian and Scott Gow. The roster also includes Olympic rookies Megan Banks of Calgary, Jules Burnotte of Sherbrooke, Que., Emily Dickson of Burns Lake, B.C., and Calgary's Adam Runnalls.
"Being nominated to a second Olympic Games feels amazing," Lunder said in a release. "I've had a great team behind me for the last four-plus years helping me achieve this goal, and I have so much gratitude for all of the teammates, coaches, staff, family, and friends who have been with me on my journey."
Lunder and Beaudry helped Canada to a 10th-place finish in the women's relay competition in Pyeongchang.
Justin Wadsworth and Pavel Lantsov, both from Canmore, Alta., were nominated as coaches. Nadia Moser, one of the program's core athletes, was not named to the team after suffering an injury last month.
Myriam Bedard is the only Canadian to reach the biathlon podium at the Olympics. She won bronze in Albertville in 1992 and won two gold medals at the 1994 Lillehammer Games.
Biathlon competition is set for Feb. 5-19 at the Zhangjiakou Biathlon Centre.
"From the day I started biathlon, I've wanted to race at the Olympics and it's unbelievable that I will be doing exactly that in a few weeks," Runnalls said.
This report by The Canadian Press was first published Jan. 19, 2022.
The Canadian Press