Olympic focus at the Alberta Sports Hall of Fame – The Halftime Report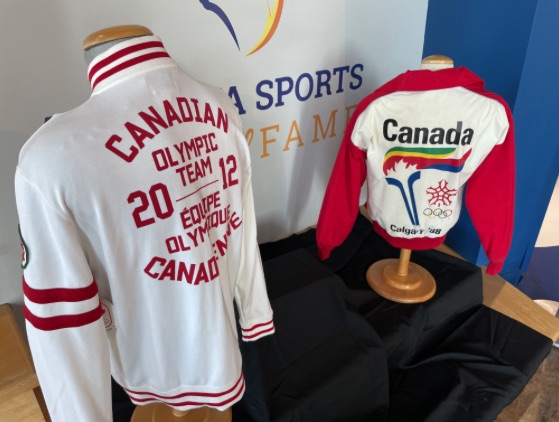 News from the Alberta Sports Hall of Fame
Team Canada
Red and white are not only the colours associated with our nations flag but are also represented in the Olympic apparel worn by Team Canada, often accented with black to make the maple leaf shapes as vibrant as possible.
These looks are also reinterpreted for spectator apparel sold through retailers like Hudsons Bay.
Do you have a favourite Team Canada outfit?
This newsletter is sponsored by the Innisfail Eagles.
Honoured Member in Focus: Kyle Shewfelt
Kyle Shewfelt began his gymnastic career in 1988, at the age of six.
At the 2004 Olympic Games in Athens, Greece, Kyle made history when he won Canada's first Olympic gymnastics medal – a gold on the floor exercise. He also placed fourth on the vault.
Kyle's international career began in 1996. That year, he placed first on floor and third on vault in Austria, and placed first on vault and second on floor in Hungary.
In 1999 and 2000, Kyle made his mark in the World Cup circuit. At the 2003 World Artistic Gymnastic Championships, Kyle captured two bronze medals – on floor and vault.
Kyle's autobiography, Make it Happen: My Story of Gymnastics. the Olympics, and the Positive Power of Sport was released in April and is available through www.kyleshewfelt.com as well as through Chapters/Indigo.
Welcome back, Alberta Olympians!
Congratulations to Alberta Olympians Claudia Holzner, Halle Pratt, Marco Arop, Sage Watson, Josephine Wu, Haley Daniels, Allison Beveridge, Kelsey Mitchell, Caeli McKay, Kasia Gruchalla-Wesierski, Nicole Hare, Jessica Sevick, Keyara Wardley, Lynda Kiejko, Stephanie Labbé, Yuri Kisil, Finlay Knox, Cole Pratt, Rebecca Smith, Blair Bann, Jay Blankenau, Lucas Van Berkel, Graham Vigrass, Kyra Christmas, Kelly McKee, Kindred Paul, and Danielle Lappage for competing on the Olympic stage in Tokyo.
Congratulations also to Honoured Members Kyle Shewfelt, who was an analyst for CBC's coverage of Olympic gymnastics, and Blythe Hartley, who was an analyst during the diving events.
We are incredibly proud of all you accomplished. Welcome home.
Provincial Sport Organization: Alberta Gymnastics Federation
The Alberta Gymnastics Federation values the growth and development of gymnastics and the opportunity to encourage and support the clubs, gymnasts, coaches, and judges who bring gymnastics to life. Gymnastics is a sport for everyone. It provides an opportunity to challenge oneself physically and enables one to explore various forms of movement in fun creative ways. We also strive to inspire gymnasts, coaches, and judges to meet their own potential through athlete and leadership development courses.

Tickets now available for Alberta Sports Hall of Fame Induction Banquet
Join us on Friday, October 22nd, 2021 when we induct the next group of provincial sports legends to the Alberta Sports Hall of Fame.
The Banquet, which had been postponed from its original date in May 2020, will now take place that evening at the Red Deer College (RDC) Arts Centre.
The timetable for the event is as follows:
5:30 – 6:30 pm: Cocktail Reception
5:30 – 6:30 pm: Silent Auction and Raffles
6:45 – 8:30 pm: Awards and Presentations
8:30 – 8:45 pm: Closing Remarks
8:45 – 9:30 pm: Dessert/Nightcap in RDC Arts Centre Lobby
The Class of 2020 includes athletes Deidra Dionne, Chris Phillips, Kelly Sutherland, and Michael Robertson; builders Jan Ullmark, Terry Morris, Ken Babey, and Derek Douglas; Bell Memorial Award winners Nancy Southern and Ian Allison; Achievement Award winner John Currie; Pioneer Award winner Stan Wakelyn; and Legacy Award winner Dennis Kadatz.
Tickets are $50 for Alberta Sports Hall of Fame Honoured Members and their guests, or $75 for general admission.
For tickets, email [email protected], call (403) 341-8614, or visit https://www.albertasportshall.ca/2020-induction-banquet to download the ticket order form.
Join us (and the Innisfail Eagles) on the links!
The Annual Alberta Sports Hall of Fame Golf Tournament is set to tee off off on Tuesday, September 14 at the Innisfail Golf Course. This season, we will be partnering with the Innisfail Eagles Hockey Team.
We are still looking for golfers, sponsors, and volunteers.
Don't miss out on the opportunity to support the preservation of Alberta sports by playing at one of the province's crown jewels.
Call (403) 341-8614 or email [email protected].ca for more information.
Join the Alberta Sports Hall of Fame on Saturday, September 18th, for a showcase of family fun, sport, and culture in celebration of Alberta Culture Days.

The event will include appearances by the Red Deer Aboriginal Dance Troupe, Association Canadienne Francaise de l'Alberta Régionale de Red Deer, Alberta Sports Hall of Fame Honoured Member and Olympic gold medalist Kyle Shewfelt, the Hungry Beast Food Truck and much more.

Events get underway at 10 am and wrap up at 4 pm.
Leave a legacy​
The Alberta Sports Hall of Fame needs your support to continue the ongoing preservation of Alberta's sports history and the development of museum exhibits. We are grateful and appreciative of the generosity of our supporters and friends. We would be happy to assist you in choosing how your personal legacy will be fulfilled and the many options available. Here is some information on donating shares to ASHFM and the benefits to you as a donor.
'Tragic accident' blamed for recent death of giraffe at Calgary Zoo
The Wilder Institute/Calgary Zoo says a "tragic accident" led to the recent death of an adult Masai giraffe. A statement from the zoo says the female giraffe named Emara died May 19 after tangling one of her horns on a cable surrounding her enclosure. THE CANADIAN PRESS/HO-Wilder Institute/Calgary Zoo-Sergei Belskey
Calgary
The Calgary Zoo says a "tragic accident" led to the recent death of one of its adult Masai giraffes.
A statement from the zoo says a female giraffe named Emara died May 19 after tangling one of her horns in a cable surrounding her enclosure.
The statement says a necropsy revealed Emara fell against the enclosure fence and died almost instantly of a broken neck.
Emara, who had just turned 12, came to Calgary from the San Diego Zoo in 2016.
The statement says she was a treasured member at the zoo and was known for her cautious yet curious personality and gentle nature.
The zoo says it is checking fencing within its African Savannah Yard enclosure to see if changes are needed to better protect the other giraffes and animals that share the space.
Doug Whiteside, interim associate director of animal care and welfare at the zoo, said Emara was in her prime and was in excellent health when she died.
"Major life changes such as this not only affect our people but can affect our animal residents as well," Whiteside said in the statement Monday.
He said the zoo's remaining giraffes, Nabo and Moshi, are doing well.
Grief counsellors are being made available to Emara's caregivers and other zoo staff.
This report by The Canadian Press was first published May 29, 2023.
Some of the memorable comments made during Alberta election campaign
United Conservative Party leader Danielle Smith makes an election campaign announcement in Calgary on Monday, May 1, 2023.THE CANADIAN PRESS/Jeff McIntosh
Candidates for both the United Conservative Party and New Democrats have been campaigning over the last four weeks for their party to form the next Alberta government. Election day is Monday.
Here are some memorable quotes from the campaign:
"(The NDP) devastated the Alberta economy. They created policies that drove investment out, drove jobs out, and we had to reverse all of that," UCP Leader Danielle Smith said on May 1, the day the writ was dropped. "The choice in this election couldn't be clearer. It's a choice between a UCP government that will cut your taxes and make life more affordable or an NDP government that will make you pay more across the board."
—
"Over the past four years, our health care has been thrown into chaos by the UCP," NDP Leader Rachel Notley said during the first week of the campaign. "They'll tell you they fixed it, but Albertans aren't feeling it and they're not buying it … our (emergency rooms) are still full, our ambulances are still delayed and many (patients) are waiting months and months for critical tests and surgeries."
—
"I am satisfied Mr. Pawlowski intended to incite the audience to continue the blockade — intended to incite protesters to commit mischief," Justice Gordon Krinke said in Lethbridge, Alta., on May 2, when he found Calgary pastor Artur Pawlowski guilty of charges related to his role in protests against COVID-19 public health measures. In a leaked phone call between Smith and Pawlowski, before his trial, Smith told Pawlowski the charges against him were politically motivated and she would make inquiries on his behalf and report back.
—
"(Smith) has a policy of not speaking publicly on matters before the courts, except when she's talking to the person who's before the courts about how she's going to interfere with the matter before the courts," Notley said when asked to comment on Smith's no comment on the Pawlowski case. "That is the most ridiculous thing I've ever heard from her. OK, maybe it's not the most ridiculous, because there's a lot of ridiculous."
—
"COVID was a really difficult and frustrating time for everyone, including me, and I don't think that there is a single one of us that wasn't deeply impacted in some way," Smith said on May 9, after past comments surfaced in which she equated those vaccinated against COVID-19 to Nazi supporters and said she would not wear a Remembrance Day poppy out of disgust for pandemic restrictions imposed by political leaders. "Sometimes I let my frustrations get to me during that time. I clearly shouldn't have."
—
"That little bit of poop is what wrecks it … it does not matter that we're in the top three per cent in the world,'" said Jennifer Johnson, UCP candidate for Lacombe-Ponoka. In a tape from September, she said Alberta's high-ranking education system counts for little when set against the issue of transgender students and compared their presence to a batch of cookies laced with feces.
—
"(Judicial independence) is a fundamental pillar of our democracy. The premier breached this principle by discussing the accused's case," ethics commissioner Marguerite Trussler said in her report released May 18 into Smith's actions as premier when she called her justice minister about Pawlowski's case.
—
"I've asked the ethics commissioner to give advice," Smith said May 19. "I am a non-lawyer. As premier, I do need to be able to get advice from my top official, my top legal adviser. If she has recommendations on how to do that better next time, I will absolutely accept them."
—
"More and more conservatives are coming to me saying, 'I'm a lifelong conservative voter, but what I see in Danielle Smith and this new UCP is not my values,'" Notley said on May 23."They often say that they're going to lend us their vote, and I say that's just great. Because, quite frankly, I think all Albertans should always only ever lend their vote because leadership has to earn it."
—
"(The phone call) was always about the charges, from the very beginning. I had nothing really else to say," Pawlowski told reporters at the legislature in the final week of the campaign. "This phone call was always about the same thing: when are you going to introduce what you promised, the amnesty bill for people like me and thousands of other Albertans."
—
This report by The Canadian Press was first published May 28, 2023.