It starts this week! Plenty planned for summer season on the Ross Street Patio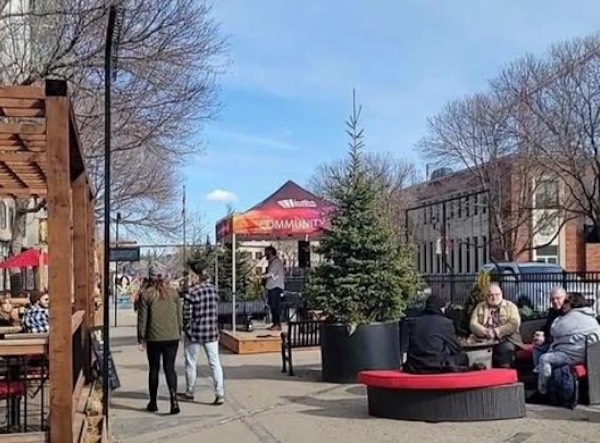 Plans are quickly taking shape for an exciting and entertainment-filled summer season on Red Deer's Ross Street Patio. Starting this Thursday, April 7, and every Thursday for the rest of the month, the Downtown Business Association is bringing live music to the Ross Street Patio between 4:30 and 7:30 p.m., explained Amanda Gould, the DBA's executive director.
Jeremy Doody and Dom Benzer are slated to hit the stage April 7, followed by Stephen Scott and Guests on April 14. Kayla Williams brings her engaging musical stylings to the Patio on April 21 and Jay Bowcott and Syd Zadravec round
out the month on April 28.
Gould also noted the next few weeks are still considered to be 'spring' programming – not quite the official launch of the patio's summer programming.
But it certainly promises to be an engaging taste of what is just around the corner.
"It will be great to see people, as the weather warms up, come downtown to explore everything that we have to offer, and then to relax at one of the restaurants on the Patio and enjoy the music," she said.
Another annual favourite, the Downtown Market, kicks off on Wednesday, May 25. An accredited farmers' market, folks are invited to come down and purchase all their fresh fruits and veggies between 3:30 and 6:30 p.m. each Wednesday.
"We are also looking forward to more vendors and visitors this year now that the pandemic restrictions have lifted," she added. Live music on the Ross Street Patio is also a key feature on Wednesdays as well.
"Wednesdays are a very popular day on the Patio because people come downtown, do a bit of shopping, go to the market, and then head to the Patio to have dinner and watch some live music! So, it's absolutely jumping on Wednesdays – and we are really looking forward to that coming back.
"And based on how busy it was last year during the pandemic, we expect it to be crazy this year," she said, adding that the Market runs through to the first week of October.
Gould added that Friday, May 27, is the official kick-off to summer on the Ross Street Patio.
"To celebrate, we have partnered with Sawback Brewing to introduce a limited-edition Ross Street Patio beer which is super exciting," she explained.
"Free samples will be available at 5 p.m. that day (May 27), and there will also be music and other activities, too. The special beer will be available through the summer and will also be featured at several downtown restaurants.
"It just continues to solidify the Ross Street Patio as an entertainment location."
Looking into June, performances on the Patio will run Wednesdays, Thursdays and Fridays.
Meanwhile, the DBA's mission is to build an engaged downtown community, develop a downtown brand and to enhance the downtown experience.
And that is indeed a year-long mission.
Over this past winter, programing was featured on the Patio, and it proved to be quite the draw as well – weather permitting of course. "We had ice sculptures which people loved – they were an absolute treat. We also offered a lot of free hot chocolate which also really did attract a lot of people."
Folks were certainly pleased to have outdoor things to do on the milder days, so the awareness about the year-long appeal of the Patio is building.
"I'm really excited about all this activity on the Ross Street Patio because we are making it a proper entertainment location now, and I think that is really becoming solidified more in people's minds," Gould explained, adding that she's very confident more locals will discover over the coming months all that downtown Red Deer really does have to offer.
"Because of the pandemic, people are feeling desperate to get out and enjoy what is being offered. We are also continuing to work on a brand for the downtown. That should be happening later this year, or the beginning of next year," she said, adding that is a project happening in partnership with the City.
"I think it will help to promote downtown as a destination, too."
For more information about all things downtown, visit www.downtownreddeer.com.
WestJet sets sights on low-cost leisure with purchase of 42 more airplanes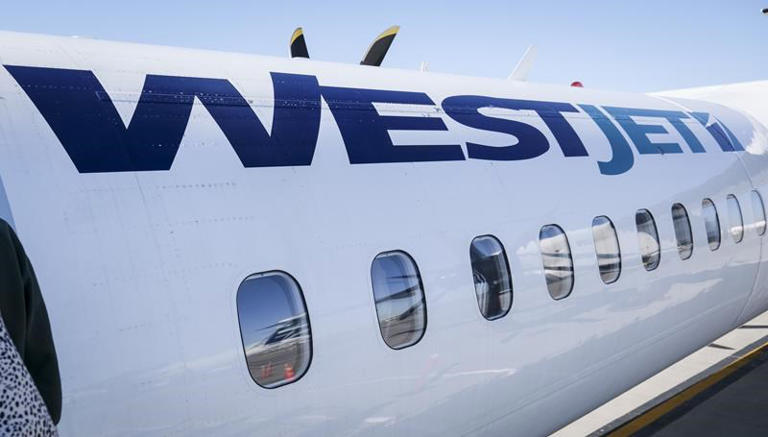 WestJet is making a substantial addition to its fleet with the purchase of 42 aircraft as the airline plans to expand its low-cost offerings, with plans to add routes to sun destinations from cities across Canada.
The Calgary-based airline announced the agreement with Boeing for the purchase of the 737-10 MAX planes on Thursday.
The purchase, which was on top of an existing order of 23 aircraft, includes the option to add 22 more planes depending on demand.
The purchase is a part of the airline's plan to expand its low-cost offerings and offer sun and leisure flying across Canada, said WestJet Group's chief executive officer, Alexis von Hoensbroech.
Earlier this month, WestJet said in a press release that it would be suspending several routes to Atlantic Canada, including flights between Halifax and Montreal, as of Oct. 28. Spring flight schedules are not yet available.
WestJet chief commercial officer John Weatherill said the decision was difficult but will help in the long run, as the airline shifts more of its eastern routes to sun and leisure destinations.
However, he said WestJet is not stopping Atlantic flights completely; instead, von Hoensbroech said the airline plans to ramp up its cross-country flights and flights from the East to leisure destinations including the Southern U.S. and the Caribbean.
"What we will do less, is flying within the East," said von Hoensbroech. "So flights between Montreal and Toronto will decrease but Montreal to Cancun will increase."
"We are a low-cost carrier and we want to improve our low-cost positioning," said von Hoensbroech.
Supporting this move is the pending Sunwing acquisition, given Sunwing's focus of servicing Eastern Canada's leisure market, said WestJet's chief executive officer.
Brought with the incoming aircraft is the need for more cabin crew, ground handlers and pilots, a challenge recognized by WestJet's chief executive officer, as staffing levels have been an industry-wide problem after the return of domestic and international travel.
While some roles are more challenging to fill, von Hoensbroech said that he is confident WestJet will find enough staff for the expansion and said it will create hundreds and thousands of additional job and career opportunities within WestJet.
"If you're a pilot and you are joining an airline that is growing, this will give you a faster track to become a captain than if you are joining an airline that is not growing as fast as we do," said von Hoensbroech.
WestJet says the Boeing 737-10 MAX provides the lowest cost per seat among mid-range aircraft and is part of the airline's plan to offer more affordable flights.
The order will start delivering at the end of 2024 through to 2028, expanding the fleet by 65 aircraft over six years.
WestJet wouldn't yet say whether the 42 additional aircraft will service WestJet alone or if they will also fly under Swoop, the airline's ultra-low-cost carrier.
This report by The Canadian Press was first published Sept. 29, 2022.
Caitlin Yardley, The Canadian Press
Vancouver gas prices pass $2.39, breaking North American record: analyst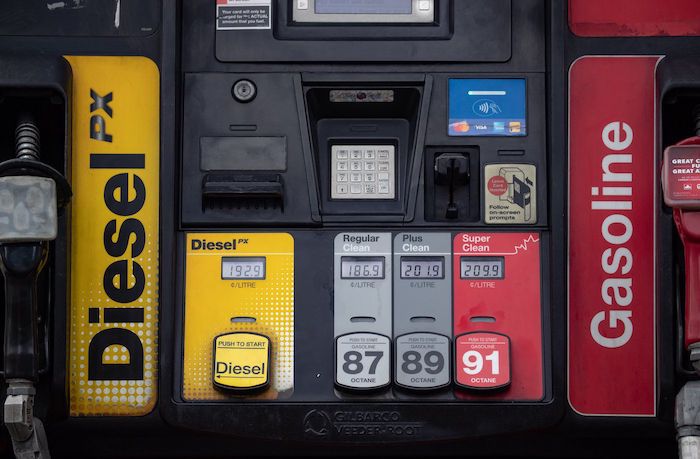 Vancouver – Gas prices in Vancouver hit a new high of more than $2.39 a litre at some stations Thursday, blowing past the previous peak set this summer.
One gas analyst said that's a new all-time record for North America, and expects prices to continue to rise this week.
Dan McTeague, president of Canadians for Affordable Energy, said prices passed the previous record of nearly $2.37 a litre, set in Vancouver in June, due to the temporary shutdown of refineries in the U.S. Pacific Northwest and California.
McTeague said prices will likely rise again then drop fairly quickly once the supply issues are resolved.
"I don't see the all-clear light at the end of the tunnel just yet. It's going to happen and when it does it will be a dramatic drop, probably about 20 cents a litre, not in one fell swoop but very close to that over two or three days," he said.
Gas prices jumped overnight across Canada by almost 20 cents in some places.
McTeague said no one could have predicted gas prices increasing at the speed they have over the past several days.
"The bottom line is that there's not enough supply out there and however we got here, we're going to have to spend a bit more time trying to figure this out because this is the kind of things that bring economies to a standstill," he said.
According to the CAA's price tracker, gas is up nationally by just over three cents on average at $1.58 per litre, with some provinces seeing higher jumps than others.
The CAA says the average gas price across Vancouver was $2.32 on Thursday.
This report by The Canadian Press was first published Sept. 29, 2022.