Parker Thompson takes his first win in the Porsche GT3 Cup Challenge USA
Thompson Earns His First Sports Car Win in a Wet and Wild Weekend at Mid-Ohio
MID-OHIO SPORTS CAR COURSE, LEXINGTON, OHIO
In a weekend mired in rain and cool temperatures, Parker Thompson navigated treacherous conditions to win his first sports car race in Race 3 of the 2019 Porsche GT3 Cup Challenge USA at Mid-Ohio. For Race 4, the second of two races at the Acura Sport Car Challenge at Mid-Ohio, Thompson finished 2nd. That result put him on the podium four times in four races to kick off his career in sports cars.
Weather was a big factor for official practice sessions on Friday, where many cars did not even venture out on track. Thompson however, showed promising pace in the #3 JDX Racing / Hertz / Byers Porsche, eclipsing the fastest lap time of his competitors by nearly 3 seconds.
With wet conditions continuing into Saturdays qualifying session, there were high expectations for Thompson. Multiple incidents on track however, ended the session with no timed laps completed. As a result, the starting order for Race 3 was determined by driver championship points standings. Thompson would start in third position, on the inside of the second row.
In steady rain, Thompson cleanly piloted the #3 car past championship contenders Riley Dickinson and Roman DeAngelis, before pacing away from the pack. In an incident filled race, with eleven out of 22 laps driven under a yellow flag, all except for five cars would fall a lap down to Thompson. In only his third race in the car, Thompson showed a dominant victory and solidified the fact that he is a contender for the overall championship.
With clearer conditions on Sunday, Race 4 began with Thompson on pole position, and championship leader Roman DeAngelis immediately behind him on the second row. The two Canadian drivers battled hard for ten laps before DeAngelis squeezed by to take the lead position. Thompson held second for the remainder of the race. Four races into the 2019 Porsche GT3 Cup Challenge USA season, and Thompson's sports car career, he has found the podium in each of four races.
"The results this weekend are truly exciting. With the help of Hertz and Byers Porsche, the JDX Racing crew has put together a great race car. While I was happy with my pace right from the start of the season, there is still room for improvement. This weekend was a great indicator of progress, and a sure sign that we can contend for the overall championship. I'm honoured to work with a great team of people, and so excited for what the future holds." – Parker Thompson
Now sitting second in the Porsche GT3 Cup Challenge USA championship standings, Thompson finds himself vying for two unique racing championships. He is the current championship leader in Indy Pro 2000,where he will be competing May 10th –12th at the Grand Prix of Indianapolis. ThePorsche GT3 Cup Challenge USA season resumes June7th at the Montreal F1 Grand Prix.
Canada's Mikael Kingsbury starts moguls World Cup season with gold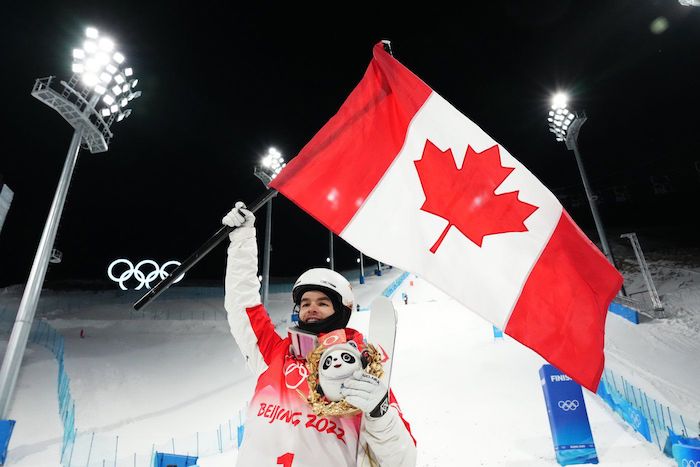 Ruka – Canada's Mikael Kingsbury has started the moguls World Cup season right where he left off.
Kingsbury won a gold medal at the first moguls World Cup event of the season on Saturday. After earning silver at the Beijing Olympics he finished the last freestyle skiing season with three consecutive World Cup wins.
The 30-year-old from Deux-Montagne, Que., reached the top of the podium on Saturday with a score of 84.50. Japan's Ikuma Horishima earned silver with an 80.48 and Australia's Matt Graham took bronze with an 80.12.
Kingsbury had the final run of the day and was surprised when he heard his competition's scores.
"They were lower than what I expected but I just had to stick to my game plan, do what I wanted to do," said Kingsbury. "It's nice that I was able to improve my scores from the Final 1 to the super final."
It was Kingsbury's 10th career victory in Ruka, Finland. He has now reached a World Cup podium 145 times in his storied career.
Now in his 12th season on the World Cup circuit, Kingsbury said that he's as motivated as ever.
"I'm always excited for the first race of the season. So I've never had a problem with motivation, really," said Kingsbury. "I want to be there. I want to be the last guy to go. I want to be in those positions. I want to feel nervous."
Gabriel Dufresne of Joliette, Que., was the only other Canadian to advance past the qualifiers. He finished 11th with a score of 75.24.
Elliot Vaillancourt (Drummondville, Que., 18th), Kerrian Chunlaud (Sainte-Foy, Que., 22nd), Alexandre Lavoie (Quebec City, 23rd), Daniel Tanner (Calgary, 33rd) and Julien Viel (Mont-Sainte-Anne, Que., 38th) were all eliminated in the qualification rounds, as were Laurianne Desmarais-Gilbert (Sainte-Adèle, Que.) and Maïa Schwinghammer (Saskatoon), who just missed making the top 16 in the preliminaries and moving on to the first elimination round.
This report by The Canadian Press was first published Dec. 3, 2022.
Queens Soccer rookie Sensation Sein Furuyama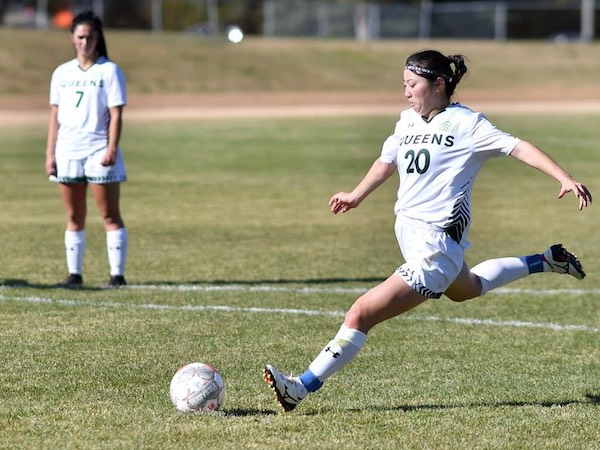 By Seth Slomp of Red Deer Polytechnic Communications
Sein Furuyama 'Lives. Eats. Breathes. Soccer. Repeat.'
Absolutely brilliant. Kind-hearted. Enthusiastic. Amazing. Caring. Team-player. Unbelievable. These are just some attributes that describe one international player, who made a mark on the Red Deer Polytechnic Queens Soccer team as well as in the Alberta Colleges Athletic Conference (ACAC). But all-in-all, no word can do justice to what this player accomplished this year Sein Furuyama, who hails from Kobe, Japan, is 21 years old and has been playing soccer since the age of seven. She chose the sport because her older brother played it and she liked it the most out of all the other sports she tried.
"I was playing in Fukui High School, and we made it to nationals. I was a right-wing at the time and we managed to just win one game. I scored a couple of goals, and it was also a good time similar to this season in Red Deer."
When asked about the differences between Japanese and Canadian soccer, Furuyama explained they do not have player of the game honours. If somebody played well, they did not get recognized. At the end of the season, they had a banquet but did not have supper or an awards ceremony. All that was involved in this formal event was speeches from players and coaches which Furuyama found boring.
"I really like the system in the ACAC because it was a rare experience for me as I was able to evaluate the results I had over the past season. The physicality in the matches is totally different as there are only like one to three fouls a game in Japan, where I find there are a lot more fouls called in Canada."
The Japanese-striker wanted to come to Canada and study English before her future was decided, which has been an incredible experience for Furuyama so far. She explained living away from home and her parents is something she is used to as the Academic Upgrading student-athlete started living alone at the age of 15.
Throughout two years in Canada, the ACAC rookie has toured Vancouver, Victoria and Montreal which she really enjoyed. Furuyama also really enjoyed a place not too far from Red Deer.
"These places were definitely a good experience as it was nice to get out of Red Deer for a bit and see a bit more of Alberta and Canada. I also went to Banff which was my favourite of all the places. It was really pretty. I like the life in Canada, and I am having a great time."
She did not just come here to tour around and learn English, Furuyama was recruited by Queens Soccer Head Coach Mahziar Peyrow to play for his team in the ACAC. The 2022 South Coach of the Year thought it would be nice to add an international athlete to a program that
has never had one.
"I wanted to bring something different to our game. I worked for many months on recruiting Sein. She came very highly recommended from her coaches in Japan and it showed in her game play. She's extremely disciplined, talented, and technically sound. Sein is very coachable even with the language barrier"
It took 18 months for Furuyama to play her first match with the Queens, but it did not take long for her to leave a mark on the ACAC. In her debut match against a strong SAIT Trojans squad, she scored two of the Queens' three goals in the 4-3. She went scoreless the next game but followed that up with a total of 12 tallies against the Medicine Hat College and the Ambrose University Lions. This started a goal streak which saw her score 23 goals in six games, which put herself in good position to break the ACAC Single Season Goal Record. This was previously held by Kayla Michaels, who played for the NAIT Ooks, and scored 26 goals in the 2014/2015 season. At this point, she was just two away from breaking the record, but it took some time as she went scoreless against the University of Alberta-Augustana Vikings and the Lethbridge College Kodiaks. On October 16, history was made for Furuyama as she capitalized on two shots against the Rattlers to tie and break the record in the same game. She added two more goals to extend the record in a single season to 29.
The captain of the Queens, Alisha Coules, who is graduating from the Queens Soccer program this year, explained Furuyama is amazing and unique in her own way.
"Despite her successes and accomplishments on the provincial and national collegiate level, she acknowledged everyone that contributed to her achievements and looked at the team who got her there. She 'Lives. Eats. Breathes. Soccer. Repeat.' which is definitely evident in her commitment to the sport, her gameplay and to the team."
With a record-breaking season in her first year playing in Alberta, she was awarded not only the Women's South Rookie of the Year but also the South Player of the Year honour. On top of all this, Furuyama was named to the All-Conference and All-Canadian squad for her incredible performance in her rookie season and also finished with a gold medal around her neck at the championships in Lethbridge.
Sein and Alisha became a dynamic duo in the conference at the top of the Queens formation and Peyrow said they both understood what the team worked on every training session and were able to break the back line well. They stayed close to each other and worked off each other's touch very well. When asked about why Furuyama, a natural goal scorer, and herself worked well together, Coles described she was able to do what she did best – playmaking.
"This year was phenomenal because it allowed me to do what I did best and fulfill my role as a playmaker on the team. Sein is phenomenal at working off and on the ball. She has an amazing shot, so it created that dynamic duo at the front end, which gave the opposing team something to worry about."
The graduating nursing student added the international player was game smart and was able to exploit gaps in the opposing defensive line. Coules said that she seemed to be a lot quicker than the rest of the league and had a powerful shot, which made her stand out from the rest of the female athletes.
Even though all her honours were individual awards, Furuyama the kind-hearted, caring, enthusiastic person that she is, recognized her accomplishments as a team win.
"I really enjoyed my time with my teammates and was happy with everything. My individual results are thanks to everyone: my teammates, coaches, and of course the fans. I can't get those awards without the people that supported me throughout the year. Lastly, I want to thank my parents too. I really appreciated the support I got from the bottom of my heart."
As of now, Furuyama is considering coming back next year but first must go back to her university in Japan and graduate. Once this happens, the South Player of the Year hopes to come back to play with her Queens teammates as this was a season Furuyama will never forget.