Opioid Treatments Expand Across Central Alberta
Officials with Alberta health Services have announced their opioid treatments are expanding across central Alberta. They have shared the following news release outlining those details.
Story by Shelley Rattray
Opioid dependency treatment has been expanded to nine communities throughout Central Alberta.
Alberta Health Services' (AHS) Rural Opioid Dependency Program has improved access to opioid replacement therapy in Camrose, Drayton Valley, Olds, Ponoka, Rocky Mountain House, Stettler, Sylvan Lake, Wainwright and Wetaskiwin.
"Thanks to the use of video-conferencing technology we are able to provide Albertans with access to programming that normally wouldn't be possible," says Dr. Nathaniel Day, Medical Lead for the Rural Opioid Dependency Program.
"It can be difficult to access opioid replacement therapy outside of larger urban centres," he adds, "however we are able to help eliminate barriers to care by providing video-conferencing sessions between physicians and patients in remote areas."
The program began accepting patients in April and has the capacity to assist approximately 300 patients.
"Opioid dependency is a growing issue, and we are continuously is working to increase access and availability of substitution treatment," says Dwight Hunks, Executive Director, Addiction and Mental Health, Central Zone. "This program will help Albertans receive the care they need in their own community. It will help save lives.
"One of the best approaches to treat fentanyl and other opioid addictions is substitution maintenance therapy in addition to counselling and other social support services," adds Hunks. "This program will help Albertans receive the care they need, closer to home."
The program was established following the Government of Alberta's commitment to provide $3 million over three years to expand Opioid Dependency Treatment and increase access to treatment services and counselling across the province.
Since 2016, AHS has also opened a new clinic in Cardston in southwest Alberta, and a satellite clinic in Fort McMurray. More recently, an Opioid Dependency Program launched in Grande Prairie this spring.
Currently, there are now 16 clinics that treat opioid dependency across Alberta. Five of the 16 clinics are provincially funded and delivered by AHS and provide a full range of counselling and support services. A full listing of the clinics can be found on the College of Physicians and Surgeons website.
For more information about Opioid Dependency, please visit www.ahs.ca or call Health Link at 811.
Trevor's Story: I Have Anxiety and Depression. Where Can I Get Help?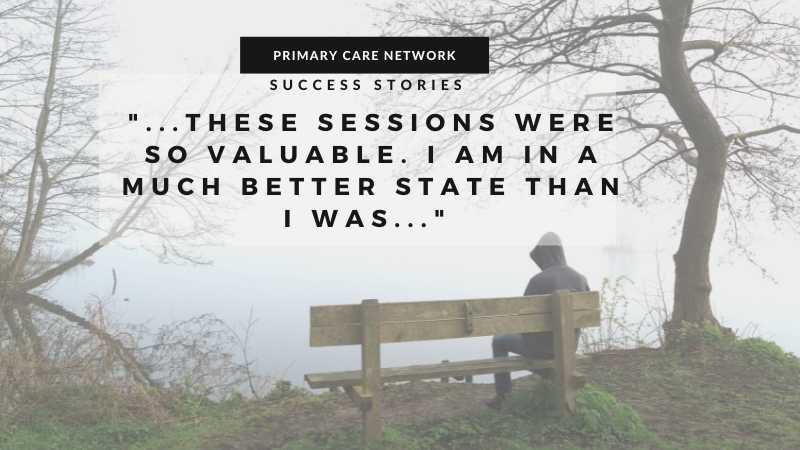 Trevor has suffered from anxiety and depression for a while. He had no idea where or how to get help with this. In discussing this with his doctor, he was referred to a Mental Health Counselor at Red Deer Primary Care Network.
Trevor says, "I, the skeptic, didn't expect that I would get much help but did decide to work with the counselor. I needed to do something. We had 6 sessions together. The counselor provided me with insight on things that should have been so obvious to me but they weren't. You don't know what you don't know. The counselor provided me with very practical and valuable tools. I came away with a different, more positive way to think about things. And it was just great to have a non-judgmental person to listen to me. It is a relief to just be able to tell someone who was really listening about my struggles.
These sessions were so valuable. I am in a much better state than I was. My struggles are not over but I manage to get through each day using the tools and improved mindset that I learned.
If anyone else is struggling like me I recommend no matter if they think it won't help  just go, go in with an open mind. Even if you just feel you need someone to talk to you will get valuable tools to help manage your situation."
To learn more about the RDPCN programs, visit www.reddeerpcn.com
Read more Success Stories from the Red Deer Primary Care Network.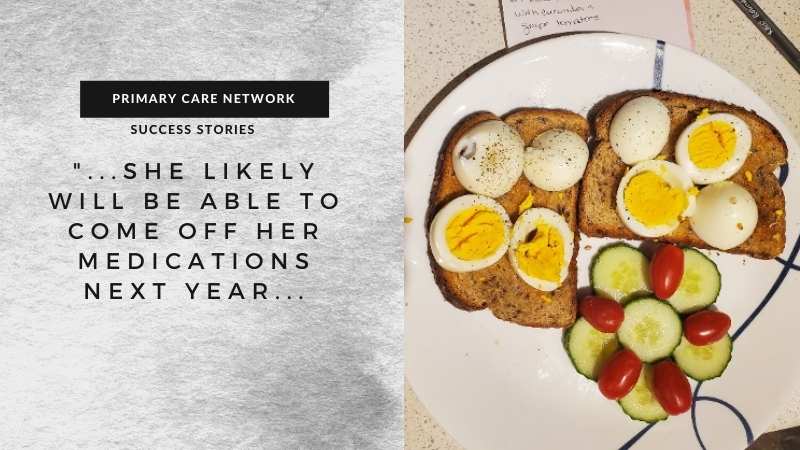 Sue Ann went to the doctor. While the doctor addressed the issue at hand, he also did a bunch of tests. Sue Ann was in the 225-pound weight range and not surprisingly when the test results came back her blood sugar value was very high. The doctor started her on metformin right away and went through some trial and error to get the right dose and combination of mediation for her condition. She started out losing about 10 pounds every 6 weeks.
Before she knew it, she was down 30 pounds. She met with a dietitian to learn the best healthy eating strategies.  She now journals her food intake and plans her meals. She met with the RDPCN family nurse to learn more about her blood sugar and how her lifestyle choices affect it, to plan her exercise activities and for overall support and motivation. Sue Ann states she often loses motivation at about 3 months into any lifestyle intervention but this time she has the drive and support to keep going.
Sue Ann has made great progress. Sue Ann has a deteriorating spine syndrome so losing weight has really decreased her back issues. She feels so much better, more energetic and more confident. She has gone from a size 18 to a size 10 and lost 3 inches off her top, her waist and her hips. Her blood sugar is now in the normal range. She has a plan and is willing to put in the hard work to accomplish her plan. Her doctor says she likely will be able to come off her medications next year- another motivating factor. Sue Ann is very thankful to all the team members that have helped her make these positive changes!
To learn more about the RDPCN programs, visit www.reddeerpcn.com
Getting My Blood Glucose Back in the Normal Range Gave Me Tears of Joy