Larger Heliport Now Open At Rocky Health Centre
Residents in the Rocky Mountain House Region now have improved access to critical care, thanks to the new, larger heliport now being operational. Officials with Alberta Health Services have shared the following news release outlining those details:
The new and bigger heliport at the Rocky Mountain House Health Centre is now operational.
Transport Canada has issued a flight certificate confirming air ambulance helicopters, including STARS, can now land at the Alberta Health Services (AHS) facility.
"We are pleased to announce the heliport is operational in time for the August long weekend," says Kerry Bales, Chief Zone Officer of AHS Central Zone. "It has been a lengthy process but we have very much appreciated the collaboration with the town and community."
The new heliport can accommodate both models of STARS helicopters: the BK 117 and the AW139. A town-owned water tower near the flight path had to be removed or painted before Transport Canada could give approval to land at the heliport. The tower was dismantled this spring; the Transport Canada inspection occurred July 26.
"A super job well done," says Rocky Mountain House Mayor Fred Nash. "It's been a pleasure working with the professionalism of Alberta Health Services for the betterment of the town of Rocky Mountain House, the county and the many visitors who come here."
Until now, all STARS helicopters were landing at the Rocky Mountain House airport, located about eight kilometres from the health centre. Ground ambulances were used to transport patients to and from the health centre and airport.
"The ability to have all sizes of medevac helicopters land right here at the Rocky Mountain House Health Centre will improve access for patients who need critical care transport," says Bales.
STARS helicopters are more than an ambulance in the air; they are sophisticated medical environments brought directly to the patient. This can mean the difference in the health outcome of a patient when time is of the essence.
On board, a full array of medications and equipment is at the disposal of the air medical crew. STARS personnel are able to administer life-saving drugs, defibrillate a patient's heart, transfuse blood, and peer inside a patient using portable ultrasound.
"Many lives have been saved because of our ability to provide transport and medical expertise to critically ill and injured patients via air ambulance," says Mike Lamacchia, Vice President of Alberta and Saskatchewan Operations at STARS.
AHS' Emergency Medical Services (EMS) team, including dispatch services, ground ambulances and fixed-wing air ambulances, work with STARS as a key partner to provide an integrated emergency medical response service. STARS physicians, nurses, paramedics and pilots work with a team of dedicated support staff and community partners to be there for Albertans and to save lives 24/7.
AHS spent $430,000 to pay for the tower demolition and the relocation of the town, county and regional fire communication antennas that were located on top of the tower.
Alberta Health Services is the provincial health authority responsible for planning and delivering health supports and services for more than four million adults and children living in Alberta. Its mission is to provide a patient-focused, quality health system that is accessible and sustainable for all Albertans.
Health Basics was my Kick Start to a Healthier Weight
Editor's note: The concepts outlined in this article are important and can be adapted to our current isolated lifestyle.
Health Basics was my Kick Start to a Healthier Weight
I am a retired nurse so I know quite a bit about living healthy. However over my last year of work, I had a sedentary job and I felt tired so I did not put as much energy into my own lifestyle and my weight crept up. I was getting a lot of heartburn and I knew weight loss and lifestyle are the first line treatment.
So, after I retired I asked my doctor to send me to Health Basics. It was good to go every week, to have to be accountable, to have others to discuss my choices with as well as to pick up on things from class that I had let slide. I went through the 8 week program and lost 9 pounds. As I know how important it is to continue living healthy and be accountable to myself, I rejoined TOPS which I was a member of a number of years ago. I also continued with exercise classes and yoga at the Golden Circle and now I am down 17 pounds just over 4 months after I started down this path. I am feeling great: stronger, fitter and I have almost no heartburn. Health Basics has helped me to enjoy retirement!"
PS: "I knew Health Basics is a great kick start on healthy living as my husband had attended it years ago when he was diagnosed with diabetes. He followed the class recommendations and has lost more than 75 pounds over the years and feels great too."
For more information regarding COVID 19 – visit 
Alberta Health Services.
If you are having ANY issues with your health call your family doctor.  They can help with whatever ails you, not just Covid-19.  
For life threating emergencies visit the emergency department or call 9-1-1 IMMEDIATELY.
As always Red Deer PCN is here to support your health and wellness. Call 403.343.9100.  Mental Health Counsellors are available for therapy and other concerns.  (For Crisis call CMHA 780.482.4357 or 403.266.4357)
This article was originally published in April 2020.
Trevor's Story: I Have Anxiety and Depression. Where Can I Get Help?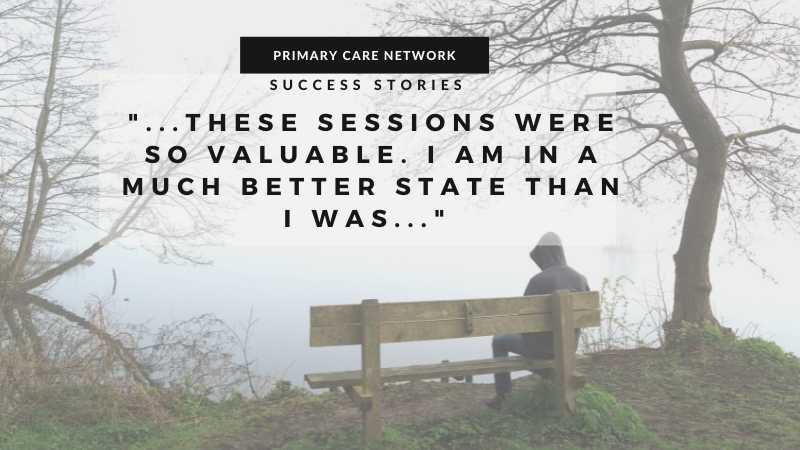 Trevor has suffered from anxiety and depression for a while. He had no idea where or how to get help with this. In discussing this with his doctor, he was referred to a Mental Health Counselor at Red Deer Primary Care Network.
Trevor says, "I, the skeptic, didn't expect that I would get much help but did decide to work with the counselor. I needed to do something. We had 6 sessions together. The counselor provided me with insight on things that should have been so obvious to me but they weren't. You don't know what you don't know. The counselor provided me with very practical and valuable tools. I came away with a different, more positive way to think about things. And it was just great to have a non-judgmental person to listen to me. It is a relief to just be able to tell someone who was really listening about my struggles.
These sessions were so valuable. I am in a much better state than I was. My struggles are not over but I manage to get through each day using the tools and improved mindset that I learned.
If anyone else is struggling like me I recommend no matter if they think it won't help  just go, go in with an open mind. Even if you just feel you need someone to talk to you will get valuable tools to help manage your situation."
To learn more about the RDPCN programs, visit www.reddeerpcn.com
Read more Success Stories from the Red Deer Primary Care Network.